Excuse me as I bombard you with a million photos. It's just that I still can't believe I was able to pull this wedding off. Remember when I made my cousin, Achi Bernice's engagement gown? (Read all about it here.) I mentioned that I'm making her wedding gown and entourage gowns as well. Well, here it is! I survived! We survived! The sleepless nights are all worth it!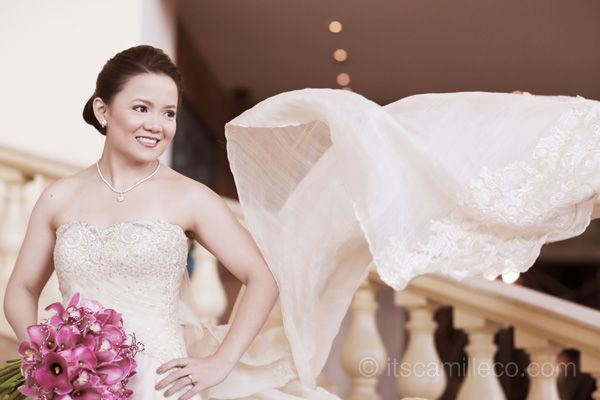 When Achi Bernice and I first sat down to discuss her wedding gown, the first thing she told me was she wanted a bias-cut gown in piña with embroidery. She wanted something simple and classic. Nothing too fancy and fussy. As a designer, I welcome brides like my cousin. She's decisive but not overbearing. She knew what she wanted but she gave me room to create the design for her and to release my creative juices.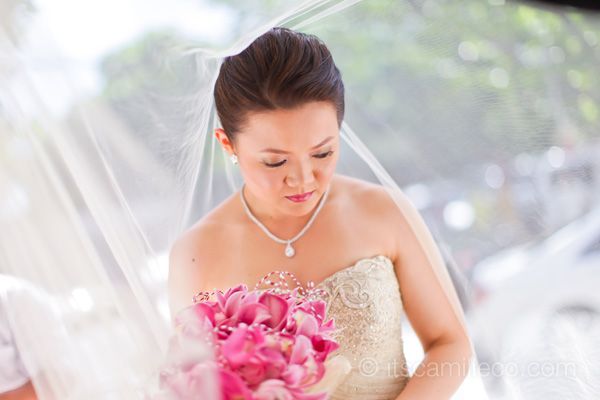 Being that this is my first piña wedding gown and my first gown with embroidery, I was both nervous and excited. The first challenge I came across was to look for piña that's both wide enough for the bias-cut and beige enough for the color that Achi Bernice requested. When I was finally able to get a good supplier for this, it was time to design the embroidery. Achi Bernice didn't want the usual leaves + flowers type of embroidery seen on tradional Filipinianas and barongs. She wanted something a bit more modern. Because embroidery takes a lot of time, I made sure to finish my sketch as fast I could. I even remember doing it on the plane back from Barcelona when I went there for the final round of Mango It Girl. I probably looked like a little girl doing homework on the plane with the largest pieces of paper lying around! Needless to say, I'm so attached to this gown's embroidery. It's definitely my baby!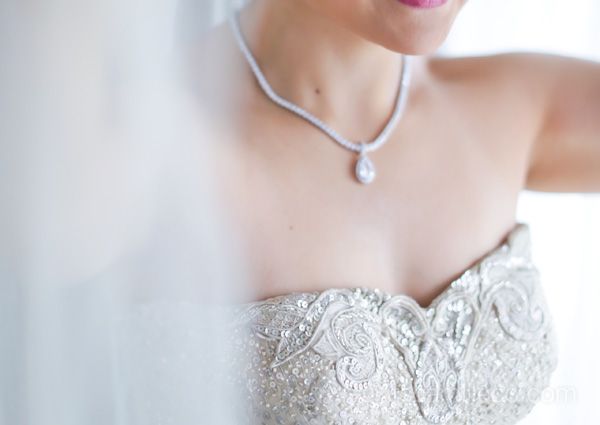 Of course, in order to add a little bit more oomph to the gown, I had to add beads as well. Achi Bernice didn't want any beads at first, but after a little persuading, she finally gave in. Piña gowns are usually very flat. The color isn't that eye-catching. And given that the gown's design is already so simple, the beads are essential in bringing the gown to life, especially in photos. A lot of people, especially younger ones, think that beads are a little outdated. I think it depends on how you combine the different types and colors of beads. With the right combination and placement, they work wonders.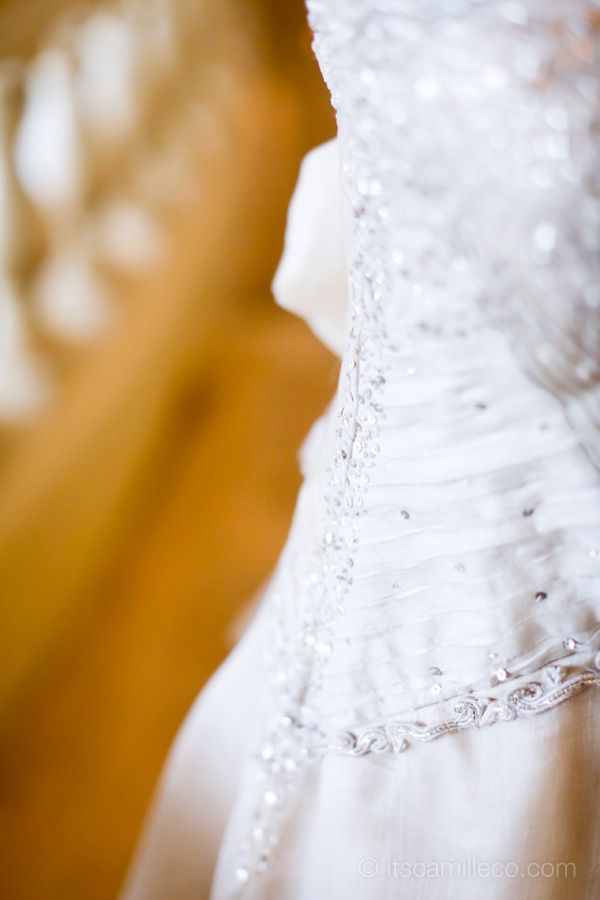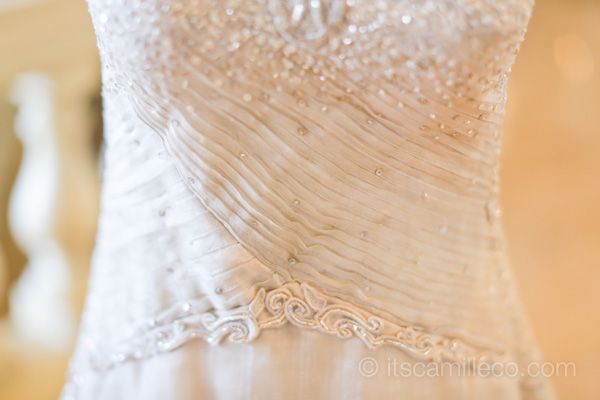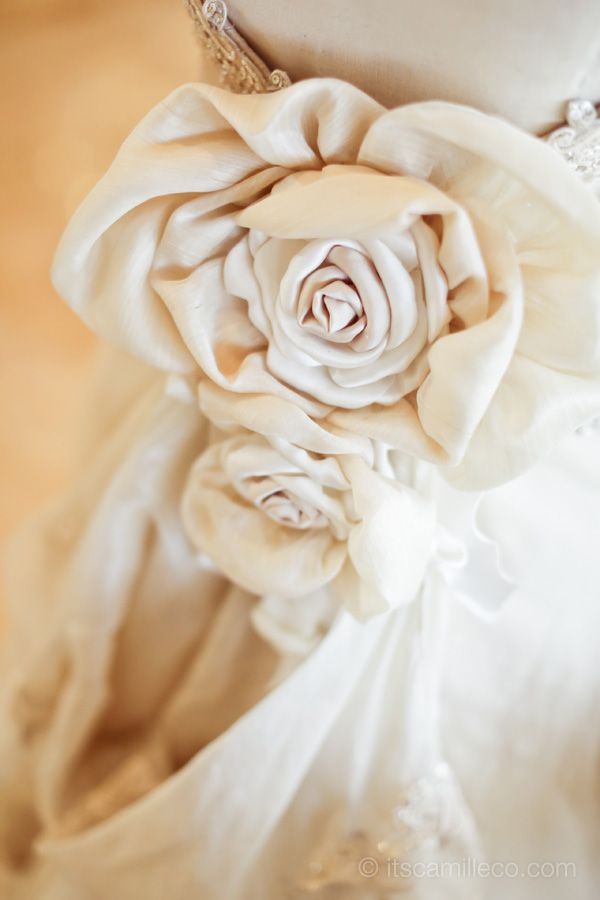 If you've noticed, I really enjoy creating drama on the back of the gowns I design. And in true Camille fashion, this one is no different. The train and huge flowers are actually detachable. Once removed, you'll see the beautiful mix of embroidery, beads and lace underneath (see photo below).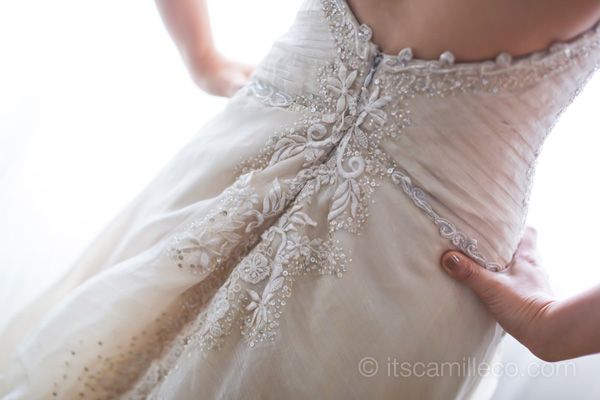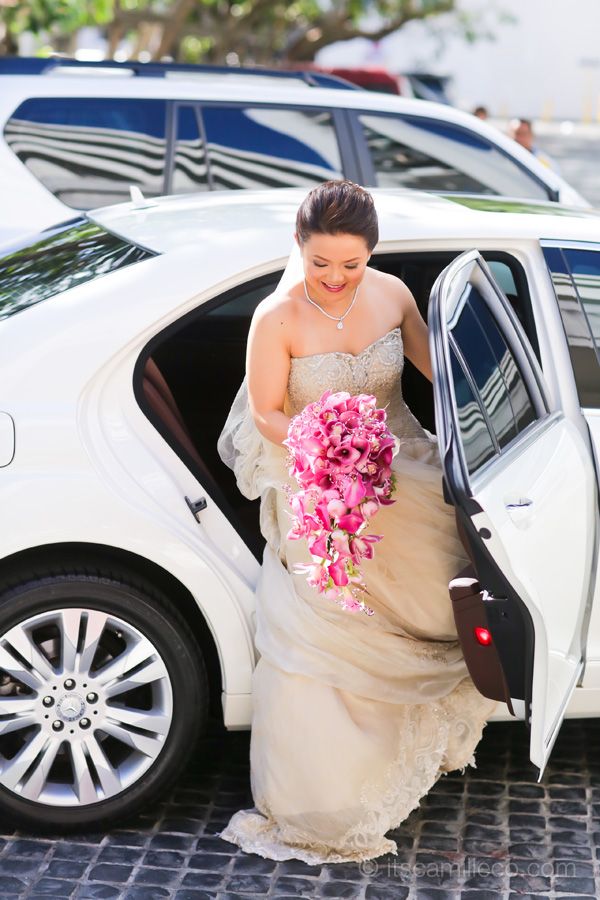 The skirt's hem is embellished with lace, beads and embroidery as well. They go all around the hem and then slowly climb up the back of the skirt.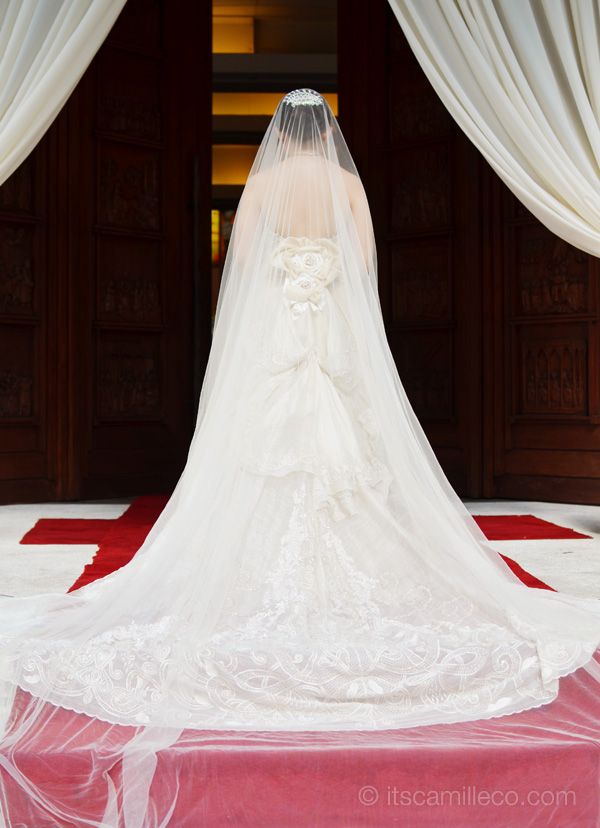 Kilig! I felt like a mom giving her daughter away–and by daughter, I meant my design. This was such a proud AND nerve-wrecking moment for me!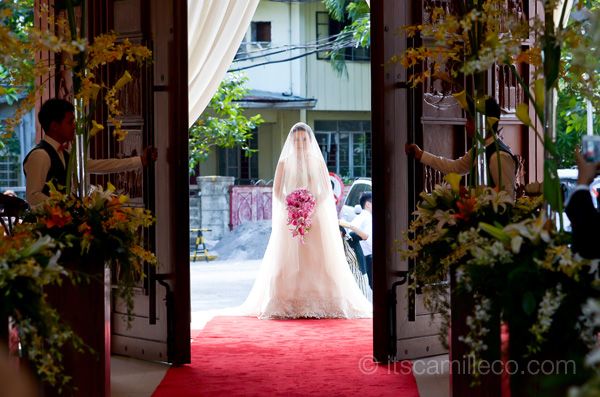 Doesn't my cousin look beautiful?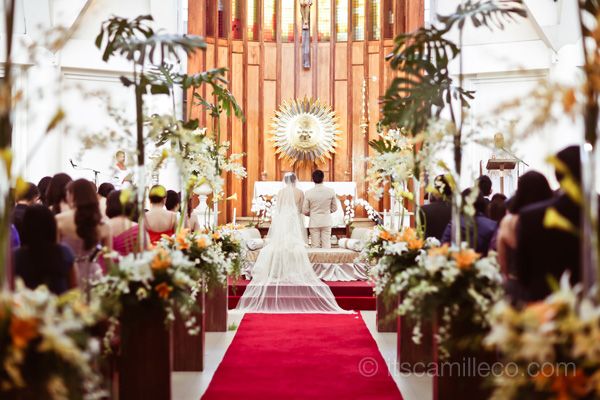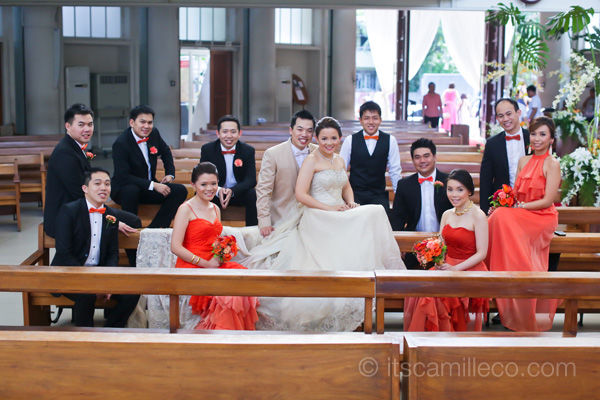 Time for the entourage! I only make entourage pieces for women. For this wedding, I made all the gowns for the moms, maids of honor, bridesmaids, secondary sponsors and flower girls.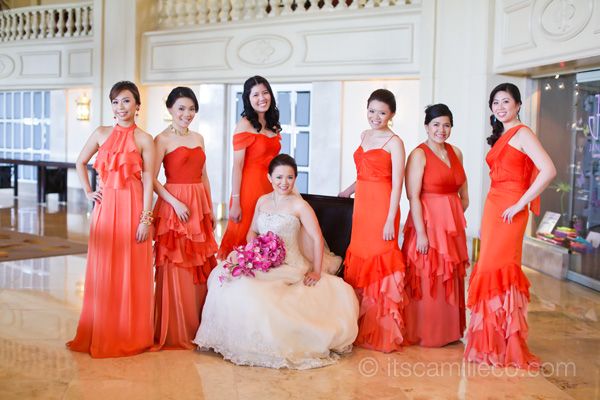 From left to right, secondary sponsor, maid of honor, bridesmaid, bridesmaid, maid of honor and bridesmaid. This isn't the compete entourage but you can already have an idea of the theme we were going for. Achi Bernice's favorite color is orange so I played around with the color's various shades.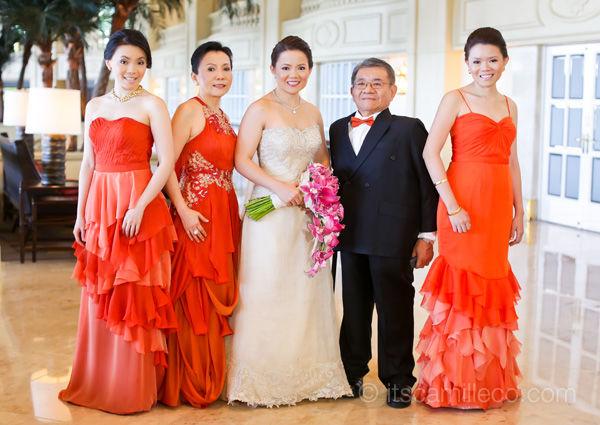 The bride's family–my cousin Clarice (maid of honor), my aunt (mom of the bride), my uncle (dad of the bride) and my cousin Denise (bridesmaid). As you can see, the mother of the bride's gown has a different skirt design. The bride didn't want any beads on the entourage gowns so I made use of drapes and a few lace appliques instead for the moms' gowns.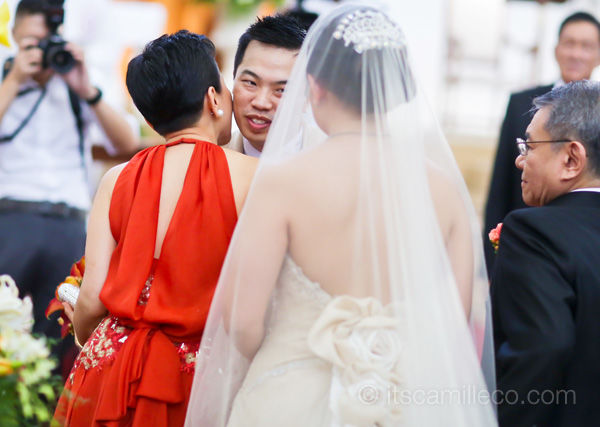 The mother of the bride's gown from the back. I told you I like back drama!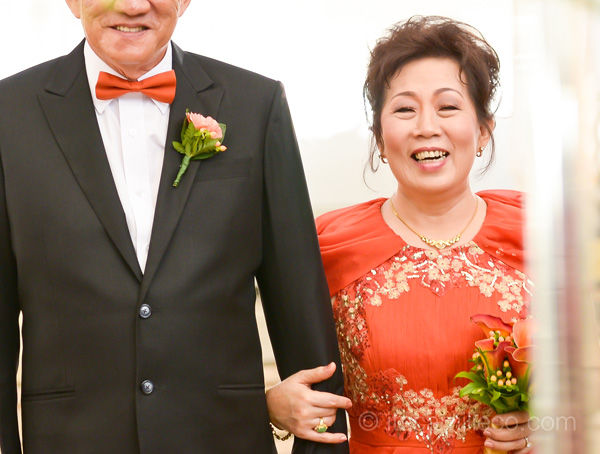 The father and mother of the groom.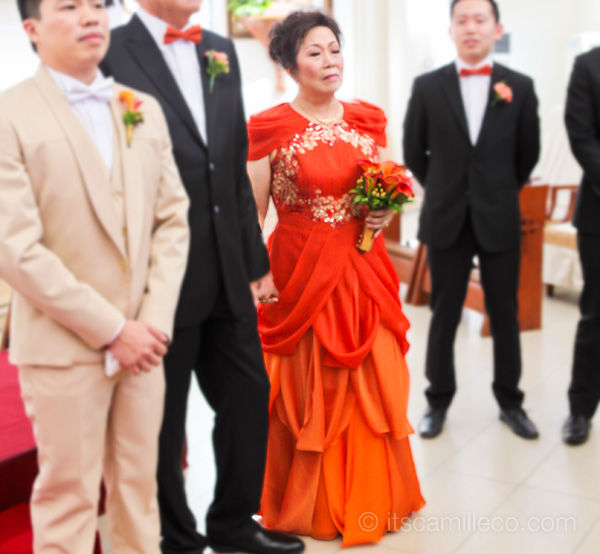 The mother of the groom's gown is a little similar to the mother of the bride's gown. When I design for wedding entourages, I like working with similar key design points for gowns of entourage members that belong to the same group–moms, maids of honors, bridesmaids, and so on. This is so that when it comes to that Kodak moment, you can easily see which group that member belongs to. But even with the different themes among groups, all the gowns still look cohesive when placed beside each other.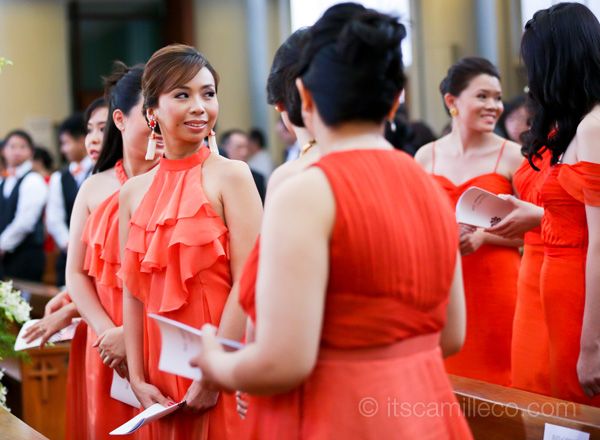 Secondary sponsors and maids of honor.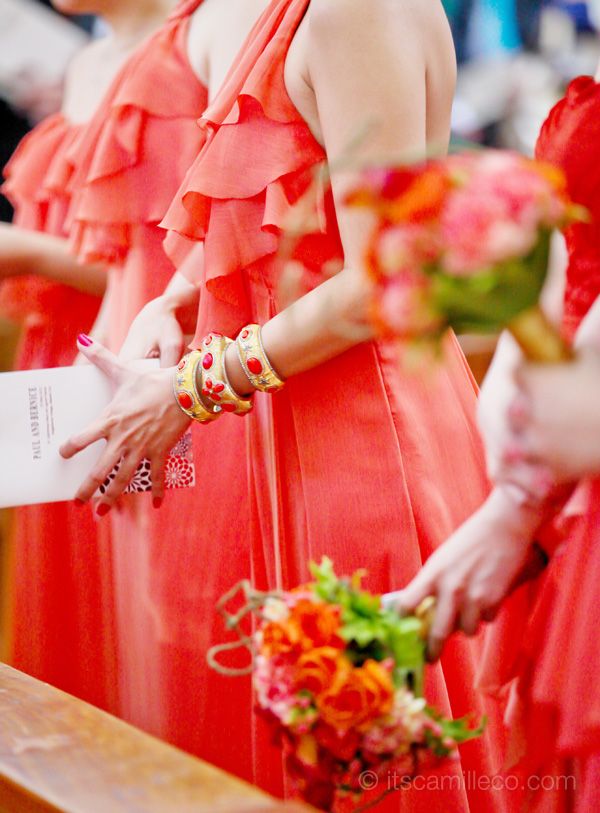 The sexiest secondary sponsor! Take a look at that low-cut back!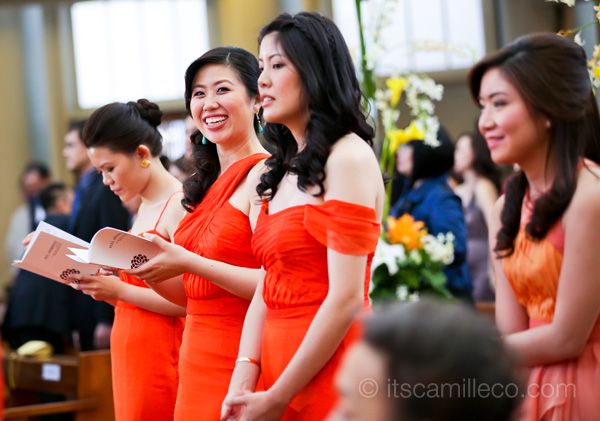 Bridesmaids and adult flower girls.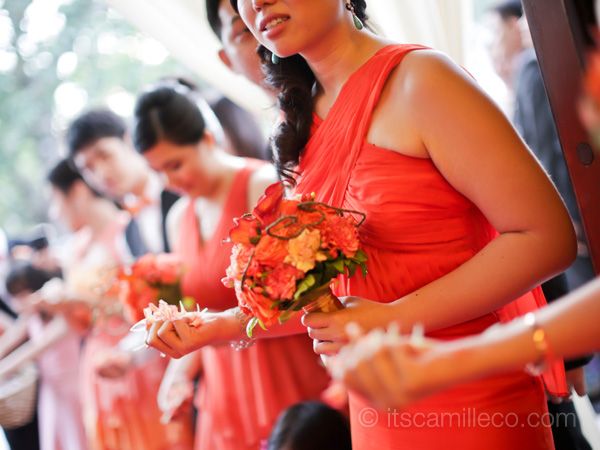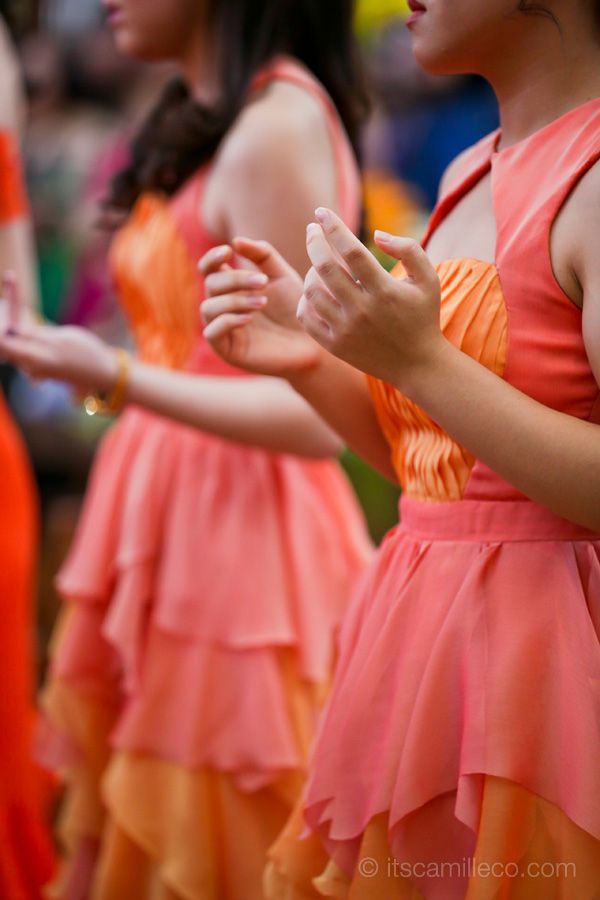 I intentionally made the flower girls' dresses much more fun–brighter colors and playful cuts…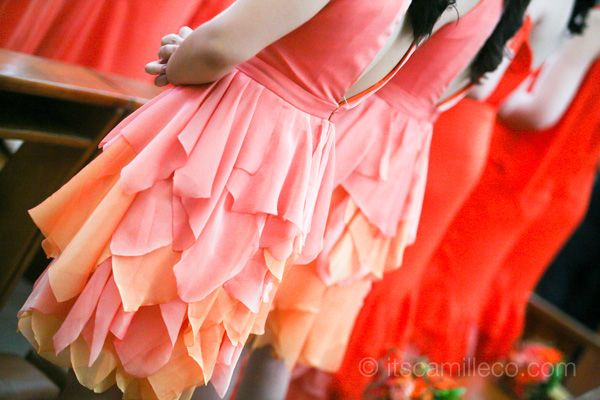 With cute little cut-outs on the back as well.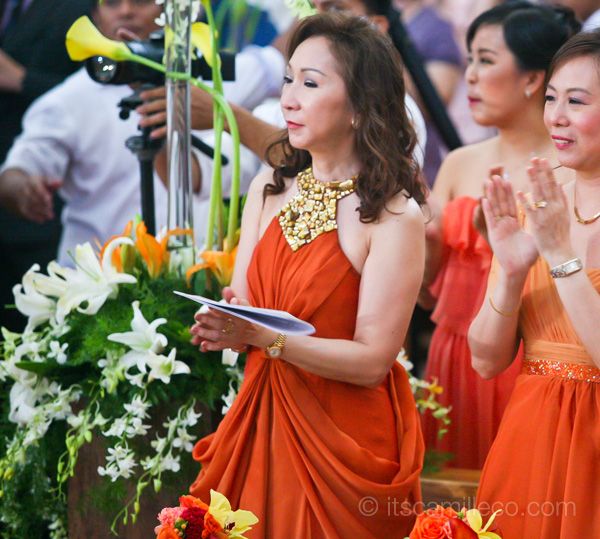 Another one of my aunts who was a principal sponsor. Gown by yours truly.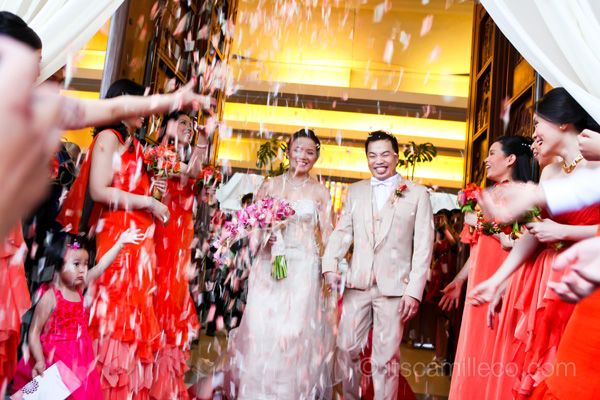 And there you have it! Mr. and Mrs. Paul Tan! Congratulations again Ahya and Achi! Thank you for trusting me with your wedding!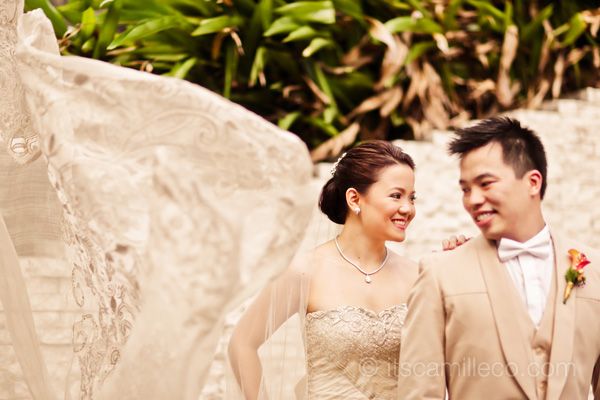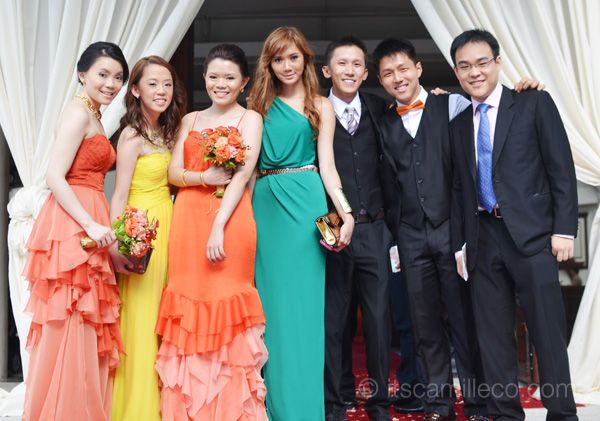 To end this post, I'm leaving you with a photo of my cousins and an awake-for-almost-72-hours-straight version of me. Intense wedding! But again, all worth it! Weddings will probably always cause me the most stress in my life, but I'll keep doing it over and over again. The fulfillment I get from designing for weddings is incomparable!
Photos by Pat Dy