How fitting is it that I modeled for Sparkling Magazine, a magazine that is dedicated to all things KPOP? I can no longer count how many times I've been mistaken for a Korean (or Japanese. Come to think of it, more times as a Japanese than Korean). Even fellow Chinese people ask me if I'm really full Chinese. I'm not complaining though. I'm actually a fan of Kpop. Although extremely selective fandom because I only know 2ne1 and Big Bang members and songs by heart. There are just too many KPOP groups out there! And so many of them have more than 5 members! I might end up not sleeping at all with all the stalking I have to do haha! :)
Fun fact: you'll be surprised at how many people in the fashion industry are KPOP fans! Sooooooo manyyyyyy!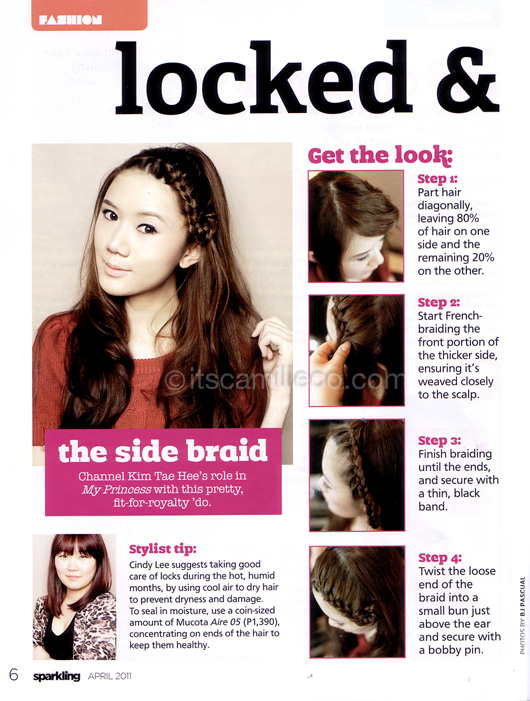 Modeling the side braid. I've actually been doing the hairstyle since way back and I love it! I recommend the 'do for long days or when your bangs don't fall the way you want them to. Go ahead and try it!
(Make-up by Katie Kim of Park Jun Beauty Lab | Hair by Cindy Lee of Park Jun Beauty Lab | Styling by Cindy Go | Photography by BJ Pascual)
The shoot took place at Park Jun, the salon I go to! Too bad it wasn't my stylist, Jinny Kim, who made me up (although she did help out, which made me love her even more). Nonetheless, Katie and Cindy did an awesome job. I loved my hair and make-up that day! Korean make-up always looks so effortless, dewy and fresh. I don't know how they do it! But I did learn a trick or two! Like for my lips, Katie used a close-to-bright-red lipstick. Initially, my heart skipped a beat when Katie whipped it out because I thought she was going all out! I really can't, for the life of me, pull off red lips, no matter how much I want to. But then Katie started applying it on the center of my lower and upper lip. She then got a lighter shade (close to pale) and used that to spread the color, dabbing from the center outwards. Voila! Sweet lips!
Koreans and their ways. SO COOL!