It's not too late to grab a copy! As seen on Preview Magazine's May issue: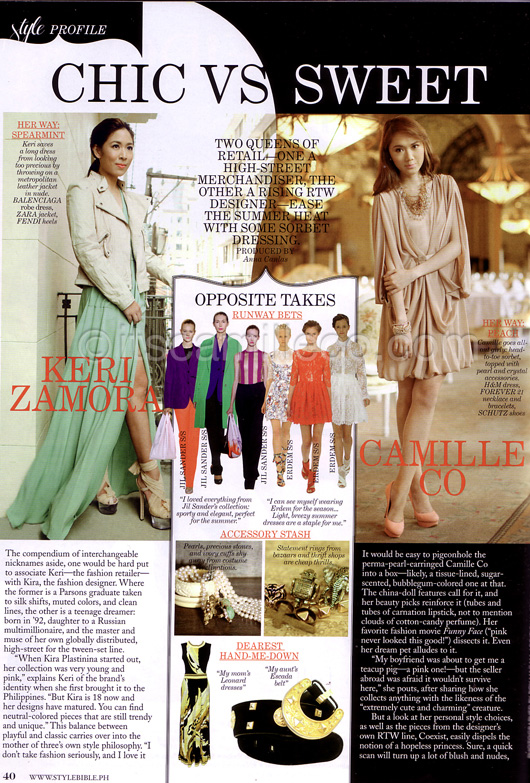 I was asked to bring at least one nude colored outfit, which is what you see in the photo above. While looking through my closet, I was surprised to learn that I don't own a lot of nudes! Note to self: buy more nudes!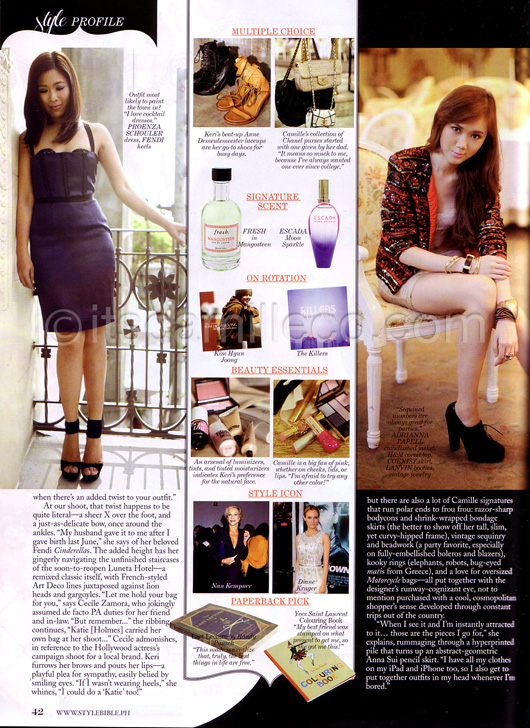 The 2nd out of the 3 outfits I was asked to prepare. I'll be posting some photos that didn't make the cut in a separate entry.
The write-up:
It would be easy to pigeonhole the perma-pearl-earringed Camille Co into a box–likely, a tissue-lined, sugar-scented, bubblegum-colored one at that. The china-doll features call for it, and her beauty picks reinforce it (tubes and tubes of carnation lipstick, not to mention clouds of cotton-candy perfume). Her favorite fashion movie Funny Face ("pink never looked this good!") dissects it. even her dream pet alludes to it.

"My boyfriend was about to get me a teacup pig–a pink one!–but the seller abroad was afraid it wouldn't survive here," she pouts, after sharing how she collects anything with the likeness of the "extremely cute and charming" creature.

But a look at her personal style choices, as well as the pieces from the designer's own RTW line, Coexist, easily dispels the notion of a hopeless princess. Sure, a quick scan will turn up a lot of blush and nudes, but there are also a lot of Camille signatures that run polar ends to frou frou: razor -sharp bodycons and shrink-wrapped bondage skirts (the better to show off her tall, slim, yet curvy-hipped frame), vintage sequinry and beadwork (a party favorite, especially on fully-embellished boleros and blazers), kooky rings (elephants, robots, bug-eyed matis from Greece), and a love for oversized Motorcycle bags–all put together with the designer's runway-cognizant eye, not to mention purchased with a cool, cosmopolitan shopper's sense developed through constant trips out of the country.

:When I see it and I'm instantly attracted to it–those are the pieces I go for," she explains, rummaging through a hyperprinted pile that turns up an abstract-geometric Anna Sui pencil skirt, "I have all my clothes in my iPad and iPhone too, so I also get to to put together outfits in my head whenever I'm bored."
Thank you Anna Canlas for the wonderful write-up! I love how Anna was able to point out that I'm not JUST sweet, which is what I've been trying to show everyone. There's so much more to my style or everyone else's for that matter that there really isn't one word that can perfectly describe a person's style. We're all multi-dimensional and we all have a lot to offer, much more than a word can ever encapsulate. I used to always fight it whenever I get labeled sweet. But you know what, there's nothing wrong with being labeled that. Sweet can still be chic, classy and sophisticated, don't you think? :)