Here's the fashion show I was talking about in my previous post.
Last September 13, Rexona lauched it's latest product Rexona Crystal for Women through a fashion show featuring black dresses made by female designers, Michi Calica, Charina Sarte, Czarina Villa and me. Each designer was assigned a theme. I was assigned club wear.
Before anything else, let me just say how incredibly flattered I am to be included in this line-up. My fellow designers are all great designers with much experience in this industry, and to be invited to present a collection with them is a huge honor. Thank you Rexona Philippines and Fuentes Manila!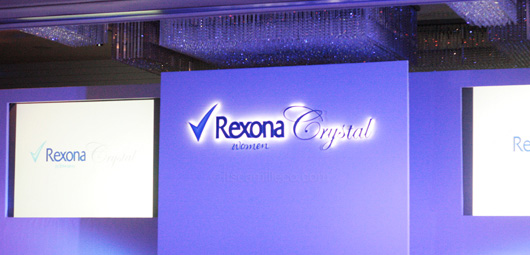 The fashion show was held at the Makati Shangri-la Hotel.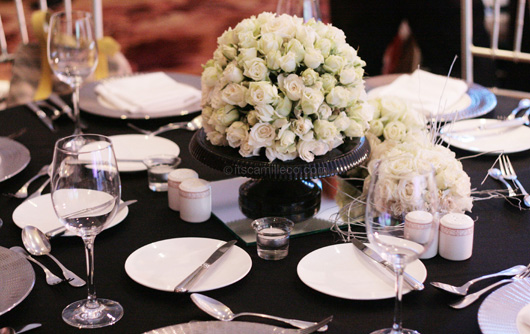 Before the show, the media and personalities invited were served lunch first. The buffet was really delicious!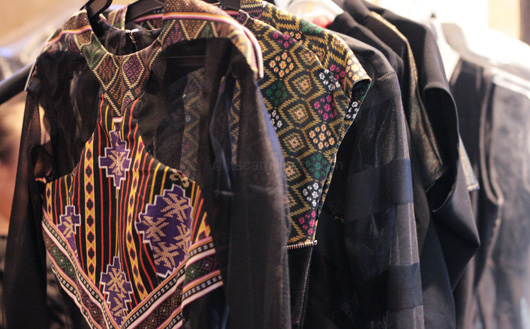 Our clothes backstage.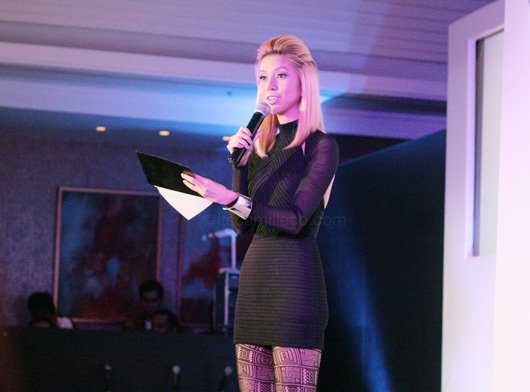 The talented Bianca Valerio hosted the event.
Now on to my collection, tribal chic club wear. Special thanks to Michael Antonio for sponsoring my shoes.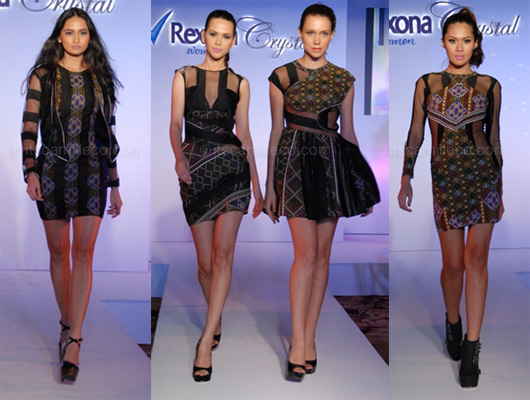 If I were to give my collection a title, it would have to be "bold"—"bold" because the cut-outs and sheer panels are dangerously sexy; "bold" because the mix of vibrant tribal prints, stripes and metal zippers form a strong combination; and finally, "bold" because this collection is for the modern woman who is confident in her own skin and is unafraid to show it, which makes her the sexiest woman in the club.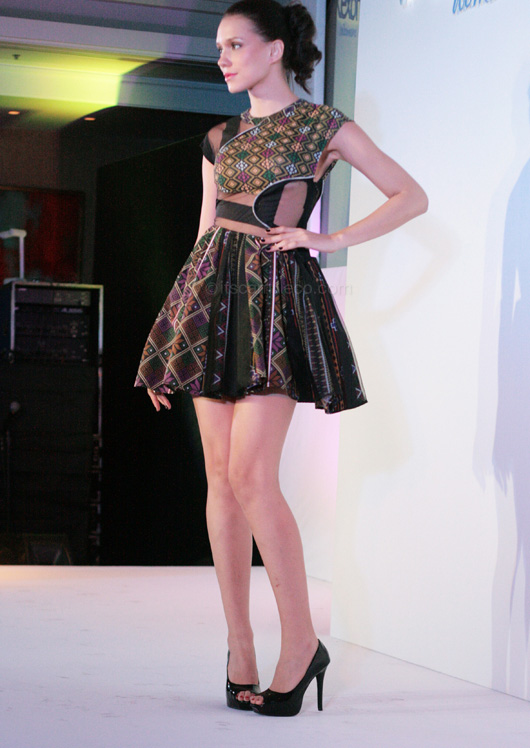 For this dress, I mixed 2 different tribal prints with the sheer striped fabric. You can see the metal zipper trimmings in between the patchworks.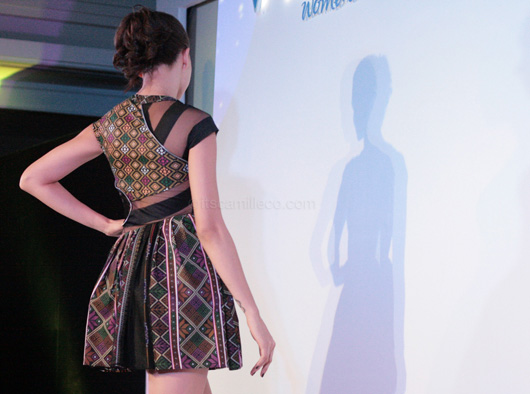 I also attached the sheer striped fabric on top of the other half of the skirt to darken the tribal print fabric a bit.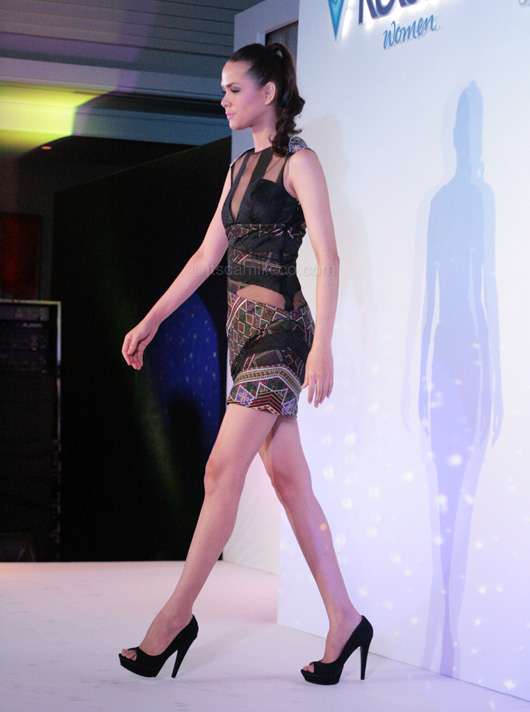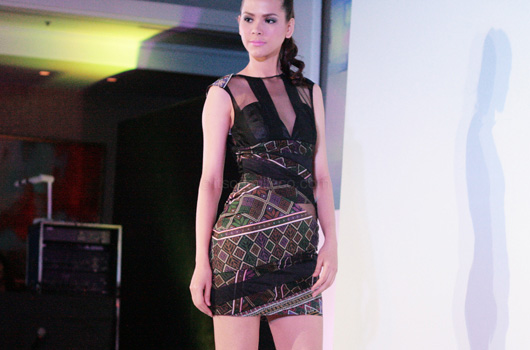 Notice the metal zipper trimmings on the shoulder detail?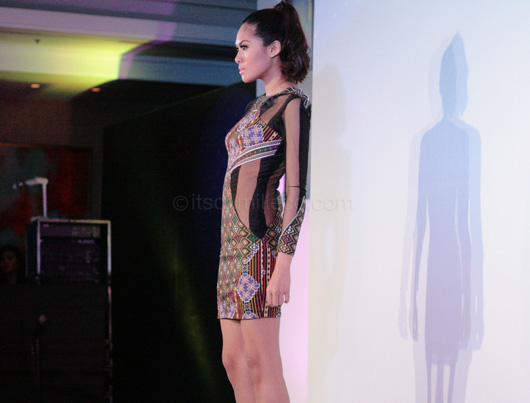 I love love love making long-sleeved minidresses. I find them the sexiest which might be the reason why this dress is my favorite.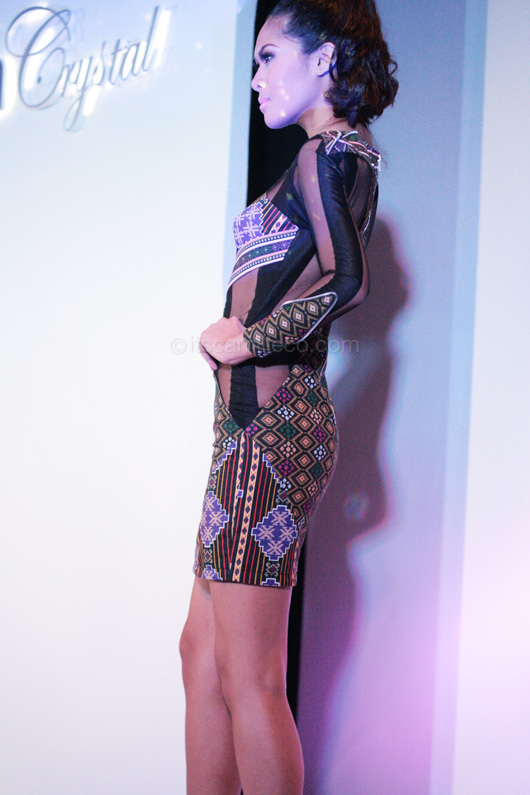 For this, I mixed 3 different tribal prints and the sheer striped fabric. Metal zipper trimmings were attached along the lower part of the sleeves and on the back of the dress.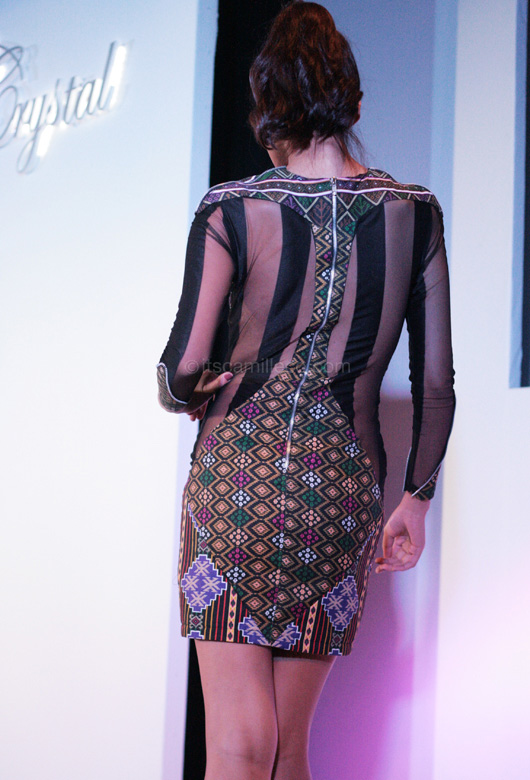 Back of the dress.
For my 4th design, I made a halter dress with a sheer striped jacket trimmed with metal zippers again.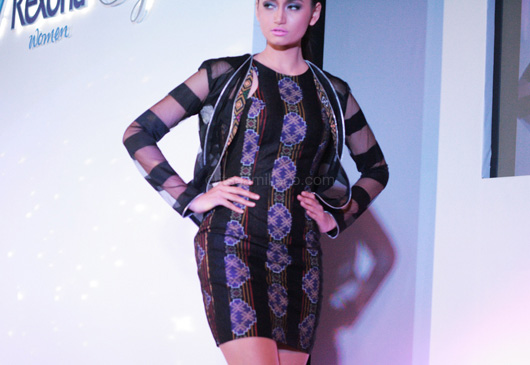 I find this dress is really simple because I wanted the jacket to stand out. Basically, I just placed the striped sheer fabric on top of the tribal print fabric, then finished off with a metal zipper enclosure at the back.
After the fashion show, a video was shown.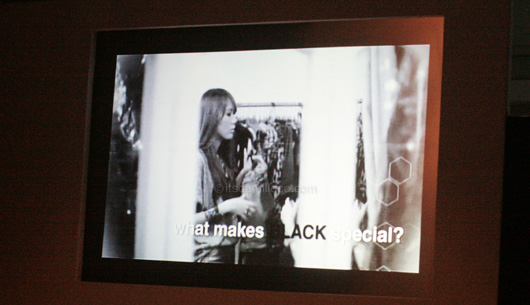 As you can see on the video, that's me! In my atelier! :) All four designers were asked about what makes black special.
If you're wondering what's all the hoopla about black, let me tell you more about Rexona's new product, Rexona Crystal. Apparently, a lot of women's major problem when it comes to wearing black is that some deodorants tend to leave white stains on these garments. Personally, I had no clue deodorants do this. Apparently, they do! Imagine going to a club, partying and dancing with your hands up, only to find white stains on your sexy black mini dress. Major turn-off, I'm sure! Well, count on Rexona to solve the problem!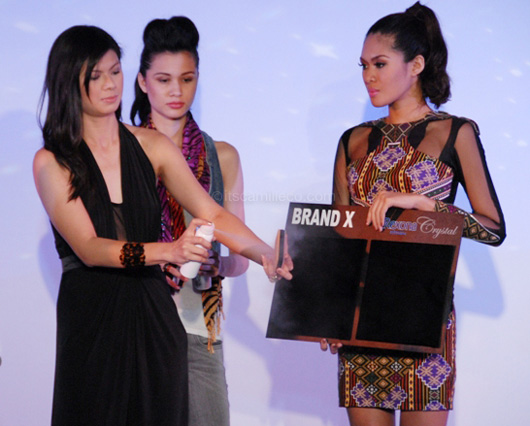 Demo: Brand X deodorant was sprayed on a stamp with the words "White Stains" on it. True enough, the stamp left a visible "white stain" mark on the black cloth. With Rexona Crystal, no white stains were visible. I actually tried this test myself when I got home because all the guests were given test kits with stamps and strips of black cloth to test Rexona Crystal.
Here are my results: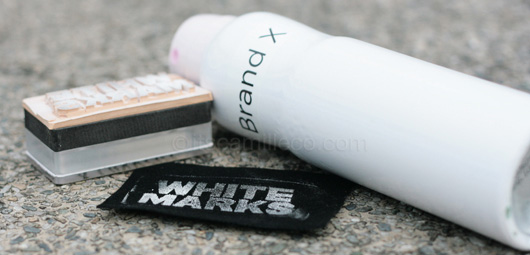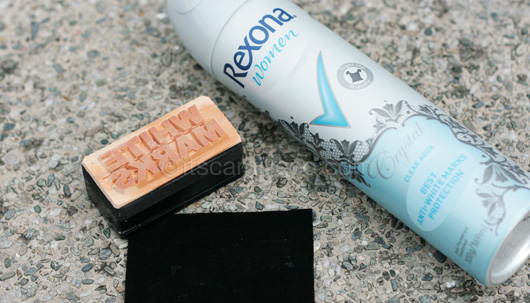 HUGE difference.
If you want to get a hold of Rexona Crystal, it's already out in the market!
P.S. Thanks to Bea Ledesma for this article on Philippine Star.