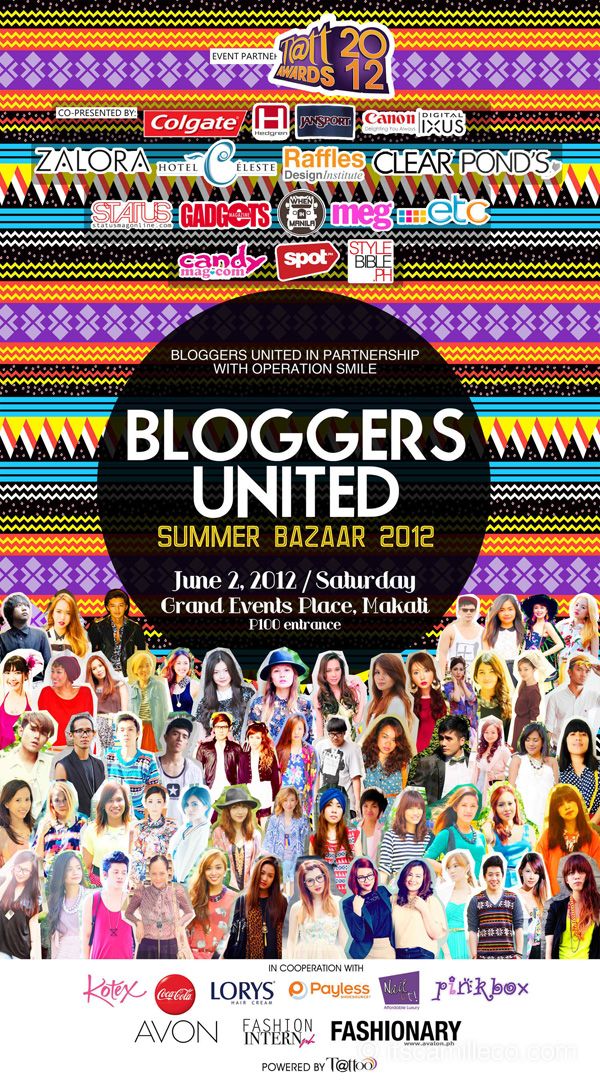 It's that time of the year again when you're favorite bloggers all over the Philippines come together in one huge and fun-filled event! It's the Bloggers United 3 (BU3) Summer Bazaar! I can't believe this is already our third! It's definitely bigger and better! With so many bloggers added to the roster of sellers, I'm sure you won't go home empty handed! I, for one, am bringing my whole house with me once again. Seriously! I have so much stuff to sell! I'm saying goodbye to a lot of my clothes, accessories, bags, shoes and even gadgets (iPad 1, BB Torch, iPod, etc.) so I hope you can give them a new home. Just like before, I'll be selling them at crazy affordable prices:
Accessories – PhP 30 to PhP 200;
Shoes – PhP 150 to PhP 2000;
Clothes – PhP 60 to PhP 550;
Bags – PhP 50 to PhP 7000;
Gadgets – PhP 200 – PhP18000
So will I see you at the Grandview Events Place, Makati tomorrow? Tickets will be sold at the venue for PhP 100 each. Drop by anytime between 11am til 9pm! You'll not only shop til you drop but you'll surely enjoy all the games and prizes BU3 has prepared for you! See you there!!!
Bloggers United is in partnership with Operation Smile and Globe Tattoo | Co-presented by Colgate, Hedgren, Jansport, Canon, Zalora, Raffles, Clear, Pond's and Hotel Celeste | Official Media Partners: ETC, Meg, Status Magazine, When in Manila and Gadgets Magazine | In cooperation with Kotex, Payless, Nail It, Fashionary, Pinkbox, Coca Cola and Lorys | Special thanks to The Closet Goddess, Le Plume, Asian Vogue and Bubbles