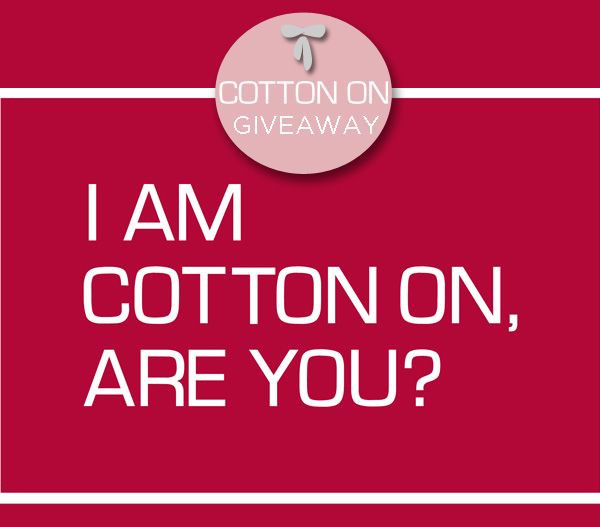 As I've previously mentioned here, our favorite Aussie fashion brand has finally arrived in Manila! YAY!!! To celebrate this momentous occasion (how dramatic haha), I, along with Bench/Suyen Corp. a.k.a. the great people responsible for bringing Cotton On in, have decided to throw a little giveaway for my readers. Note: readerSSSSSS. Just how many of you? Oh, only about a hundred.
Yes!! That's right! 100 of you will get to win 10% discount coupons valid for use during Cotton On's opening this September 7 at SM Mall Of Asia! Ten percent is a lot, mind you, especially when you can consider how affordable Cotton On's items already are.
So, are you ready to join? Before you start typing away in my comment box below, follow these steps CAREFULLY! The first 100 to fulfill all these steps win!
LIKE CottonOnPh on Facebook.
Follow @CottonOnPH on Twitter.
Tweet this: "I can't wait for @CottonOnPH to open this Sept. 7 at @themallofasia! I hope I win the 10% discount coupon at itscamilleco.com !"
Leave a comment below with your full name (must be the same with valid ID) and photo that proves you liked CottonOnPH on Facebook, followed them on Twitter and tweeted step #3. (If you can't attach a photo here, upload the photo/s to a public album on Facebook or Twitter, and put the link to the album/photo here. Make sure it's viewable by the public for me to see it.)
This contest is open for local residents only. Deadline for entries is on September 6, 11 PM. No multiple entries please. All comments will be published here only after I review them so once you've submitted your entry, don't be surprised if you don't see it published right away. (Mysterious kung mysterious!) I will announce the names of the 100 winners here in the comment box below on September 6, not later than 11:59PM. Winners should claim their discount coupons on September 7, 9 AM onwards at the registration table set up at Cotton On, SM Mall of Asia. Please bring a valid ID to claim your coupons. All coupons must be used on September 7 as well.
Good luck everyone!