Put some sparkle onto your outfit and you can take any outfit from drab to fab. I always do this whenever I'm in a simple dress and I'm too lazy to change for an event later in the day. It's a quick and easy way to glam anything up!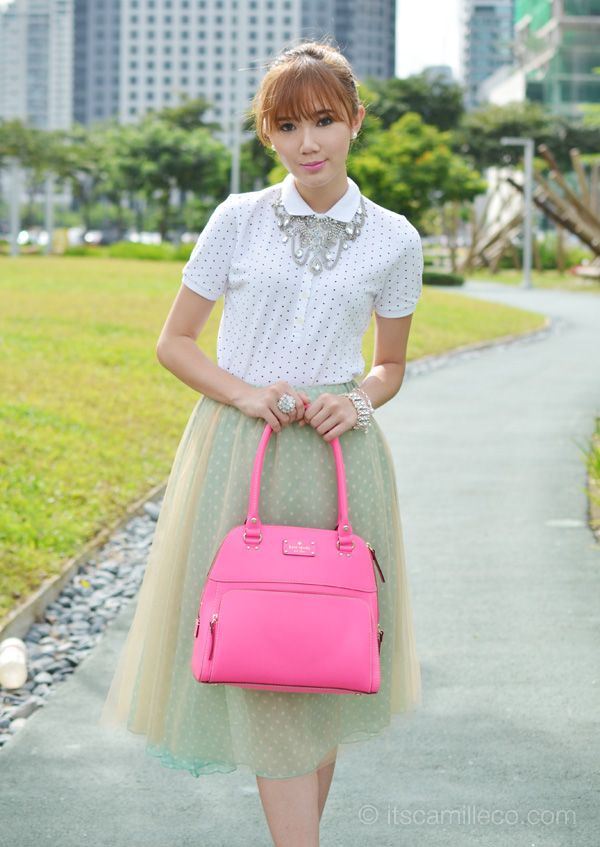 This time around, I decided to try this trick on something different: basic knit shirts! I used to always wear basic knit shirts like this back in college. I was channeling Mischa Barton circa The O.C when Marissa Cooper hasn't gone coo coo yet. I loved wearing them because they're so comfy and preppy. Plus, they're casual but not too casual to be considered inappropriate for school. I always wore them with super basic shorts, pants or skirts though. I never really tried turning them into something dressy.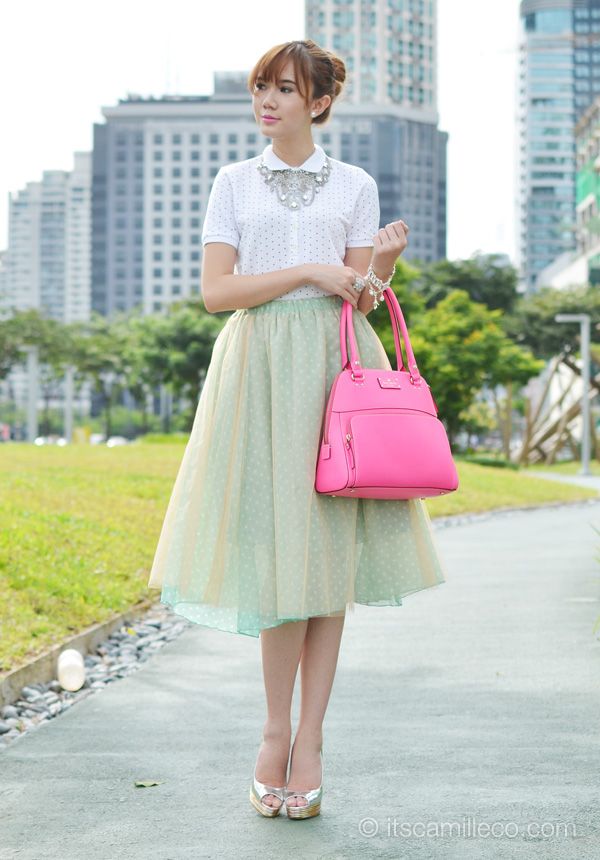 So here's how I turned my casual knit top into something a little bit dressier: lots of bling, a tulle skirt, a nice looking bag and a cute little bun. If you noticed, my top and skirt are actually matching, polka dots all the way!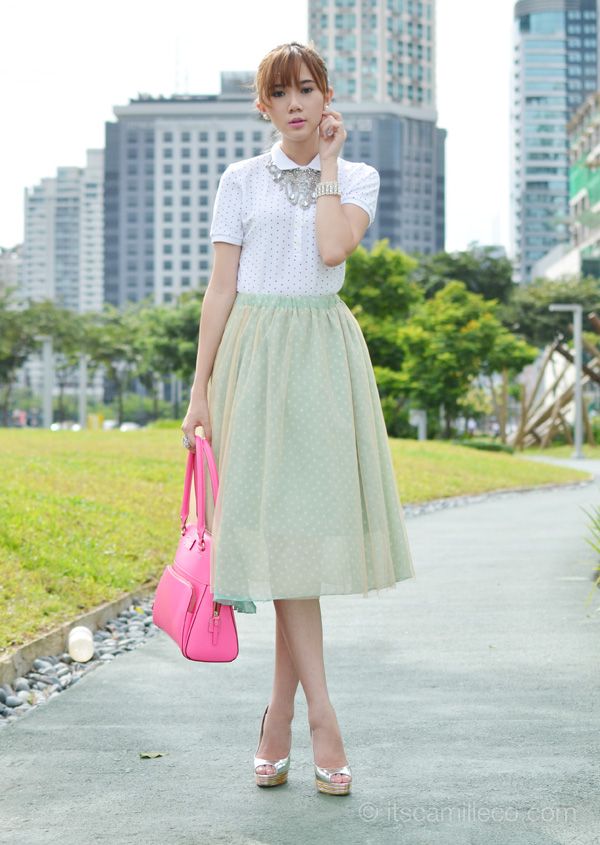 Tulle skirts can make anything look dreamy, sweet and feminine. I love them!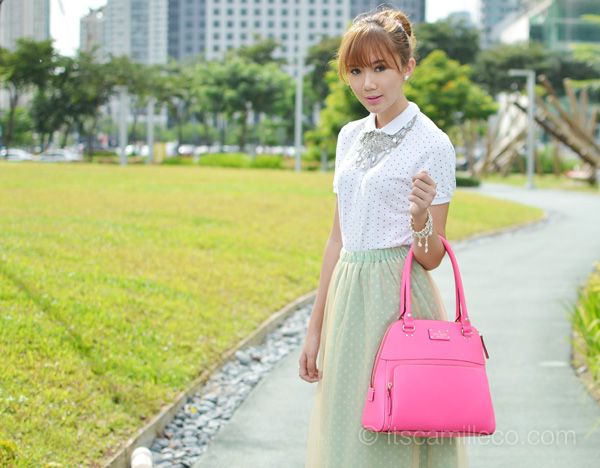 [button link="http://lookbook.nu/look/4009828-Lucky-Dots" size="small" bg_color="#e5b3b9″ window="yes"]Hype this look at Lookbook.nu here[/button]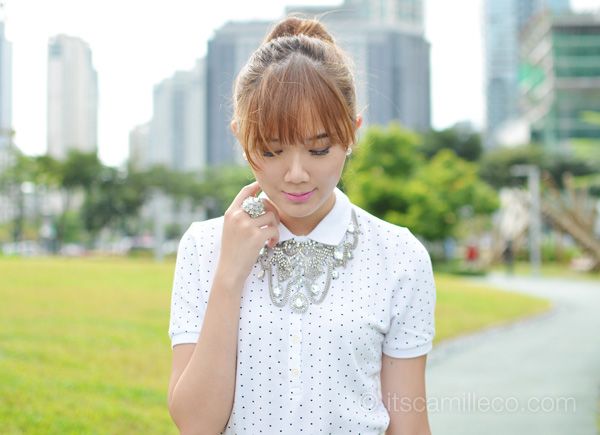 Muji top (available at SM Mall of Asia)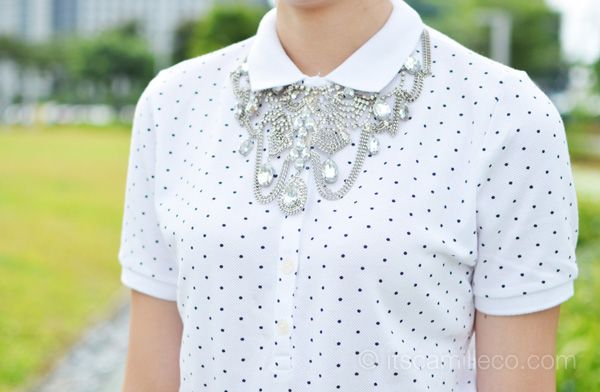 Forever 21 necklace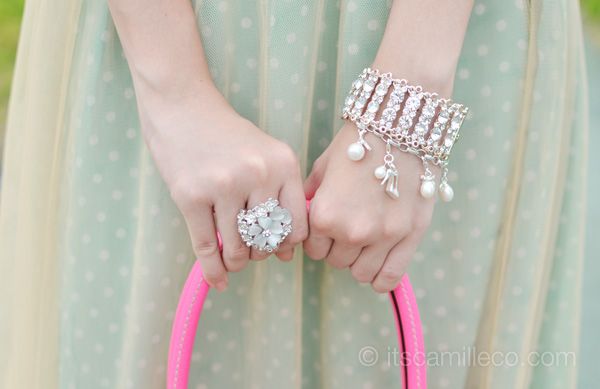 Apple & Eve ring (available at SM Mall of Asia) | Thomas Sabo charm bracelet (available at SM Mall of Asia)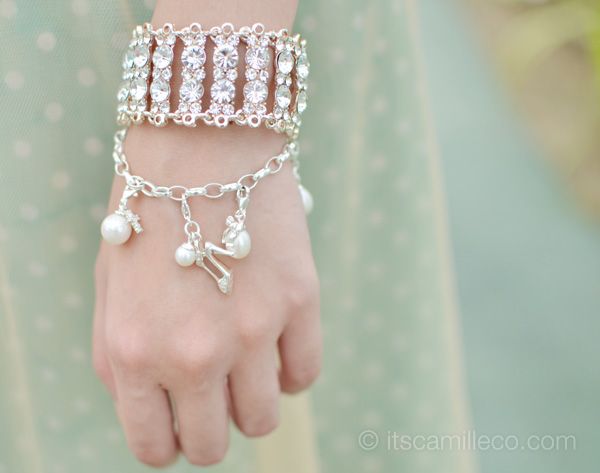 To make my look even sweeter, I accessorized with a pretty charm bracelet I picked out from Thomas Sabo. Instead of the usual silver charms, I went with the pearl charms to make my bracelet look dainty. The pearl charms I chose are the one with a diamond cross, another with a diamond shoe, another with a nice little ribbon like my blog's logo and the last with a silver heart that has the word "LOVE" engraved on it. Sigh. Charm bracelets are really so… charming. I apologize for the lack of a better word, but they really are!!! They can get addicting!
Kate Spade neon pink bag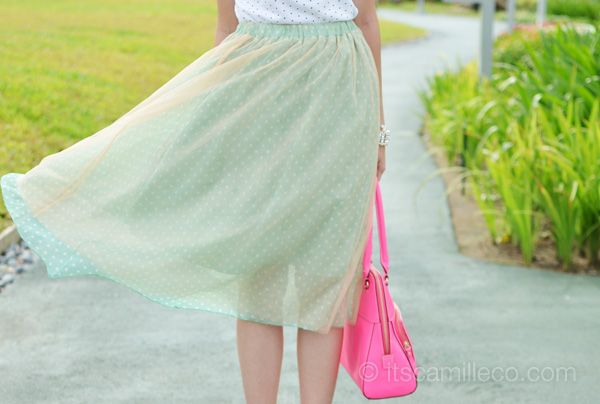 SM GTW polka dot tulle skirt (available at SM Mall of Asia)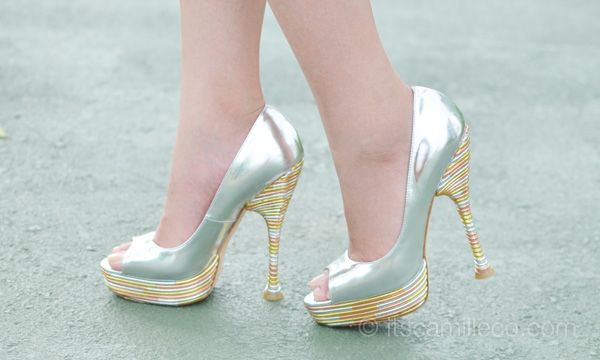 Brian Atwood shoes
Again, most of the items I'm wearing here are available at SM Mall of Asia (MOA) which is already on a mall-wide sale for up to 70% off, starting today until Sunday. The mall is open everyday until 12 midnight for the big MOA sale so there is a lot of time for you to shop to your heart's content, like how I did below har har!
As if I haven't shopped til I dropped already, I'm going back to MOA again tomorrow for the Come Play with Goody Event where I will speak about blogging and judge the fashion show auditions; right after that, I'm definitely shopping some more! If you're free, drop by too why don't you? You won't regret it! Aside from the Goody event and awesome shopping deals, there's also the beauty/make-up workshop event by Shu Uemura, Mens Fashion Show featuring Daniel Matsunaga and Hideo Muraoka plus a raffle draw where you can get a chance to win 1 of 2 Chevy cars! Selected restaurants from Bistro group will also be on sale! (Told you the sale is BIG, even dining is on sale! Geez!)
Always the best and biggest sales, only at SM Mall of Asia! For more updates, follow @themallofasia on Twitter.