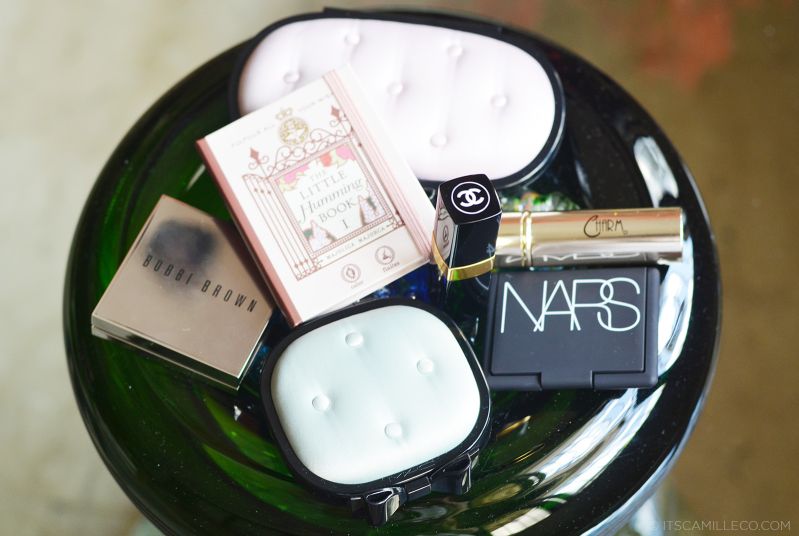 It's been a long time since I last blogged about what's new in my beauty box so here it is! For all of you who have been requesting for one, I hope you'll find something you like here.
Charm leopard brush set, retractable brushes and brush covers
Let's start off with the brushes. Charm brushes have always been my favorite every time I travel abroad. Aside from being so soft and easy to handle, they're always beautifully designed and packaged. I'm actually a little hesitant to use this new leopard brush set in gold. It's just too darn pretty, it would be sinful to make them dirty! But just like a mind-reader, Sophie of Charm Makeup Brushes also sent me these useful makeup brush covers. You see those little white things on the table? They give extra protection for my brushes especially for travel and storage. I usually use them after cleaning my brushes to retain their shape.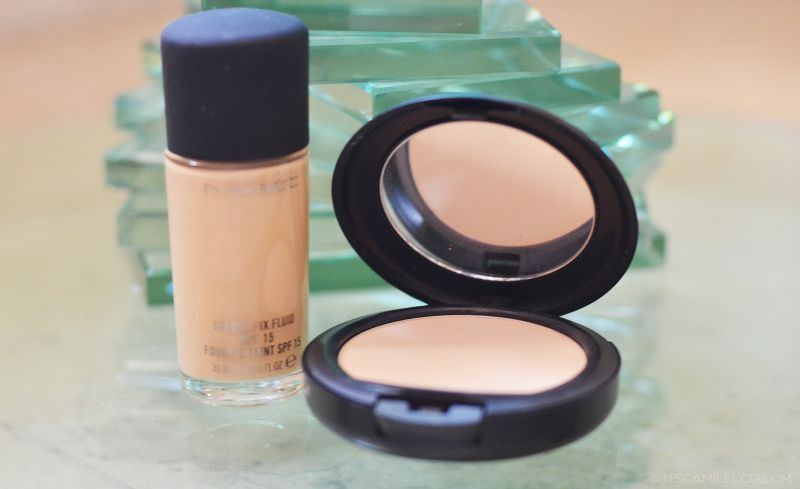 MAC Studio Fix Fluid SPF 15 | MAC Studio Fix Powder plus Foundation
Would you believe that this is my first ever MAC foundation? I've always used the brand for eye makeup, blushes and lipsticks but never for foundation. One of my all-time favorite makeup artists Pong Niu is actually from MAC so she uses these on me all the time whenever she does my makeup. She knows I get oily easily whenever I have makeup on so she figured it's about time I have my own set. I love them! They're now my go-to foundation for events. Although I've said before that I don't like using foundations for my everyday makeup, I still keep the Powder plus Foundation in my bag for emergency touch-ups especially since I only spot apply my BB cream.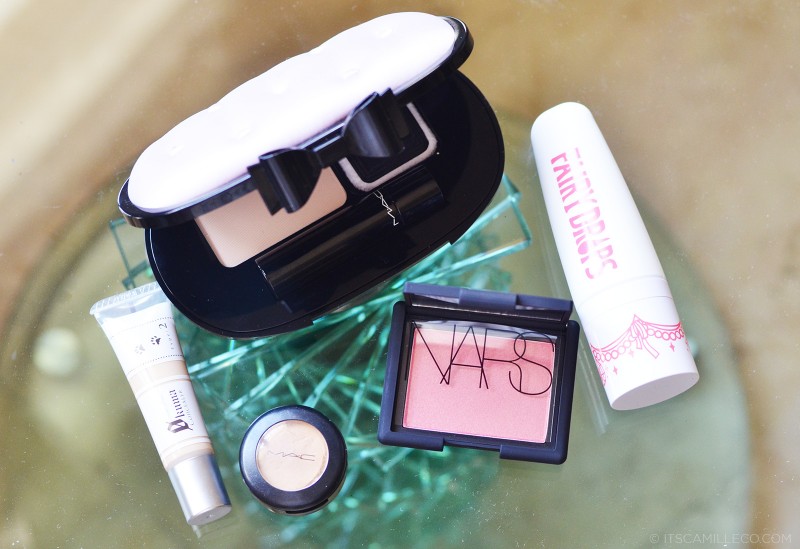 (Clockwise from top) MAC All For Glamour Touch Up Kit | Fairydrops Candy Bar BB Cream (available in Beauty Bar) | NARS blush in Orgasm | MAC Studio Finish SPF 35 Concealer | K-Palette Zero Kuma Cover Control Concealer (available in Beauty Bar)
For the times I'm wearing heavy makeup and I need to touch up, I prefer using light powders that are specially made to blot oil away. This kit from MAC does all that and more! It's from Mac's Glamourdaze collection hence the pretty little packaging. It includes 1 blotting powder and 1 Sheen Supreme lipstick in Fashion City. If you're wondering what color the lipstick is, it's a nice satiny coral color. If it doesn't work with my makeup, I sometimes change the lipstick and put other lipsticks in the case instead. How handy!
As I've previously mentioned, I like using BB creams for light makeup days. This new cutie from Fairydrops is a recent discovery of mine. It's a Japanese brand which explains the cute packaging. It says here that this BB cream contains a high-tech treatment essence that will make your skin look photogenic and telegenic. I tried sampling it on the back my hand and it felt really creamy and soft. It comes out through a sponge so you can just apply it directly on your face and even it out easily. I have a feeling this BB cream is good especially in creating that dewy and pearl effect.
For concealers, I have 2 new additions in my beauty kit–MAC and K-Palette's Zero Kuma. All makeup junkies know how MAC can do some heavy duty concealing. You need to hide a stubborn mark? MAC's Studio Fix can do it! On the other hand, K Palette's Zero Kuma Cover Control Concealer is a brand that's new to my ears. In all fairness, it does the job well. It's lightweight and long-lasting. It has a brightening effect that's especially suitable for under the eyes and contains a beauty serum that contains Vitamin C and Prune Extract to correct dark circles, dullness and skin pigmentation.
The last item in this photo is NARS' Orgasm Blush. It's a great replacement to my already empty box of Benefit Dandelion. I love the natural pink flush it gives. I sense a new favorite!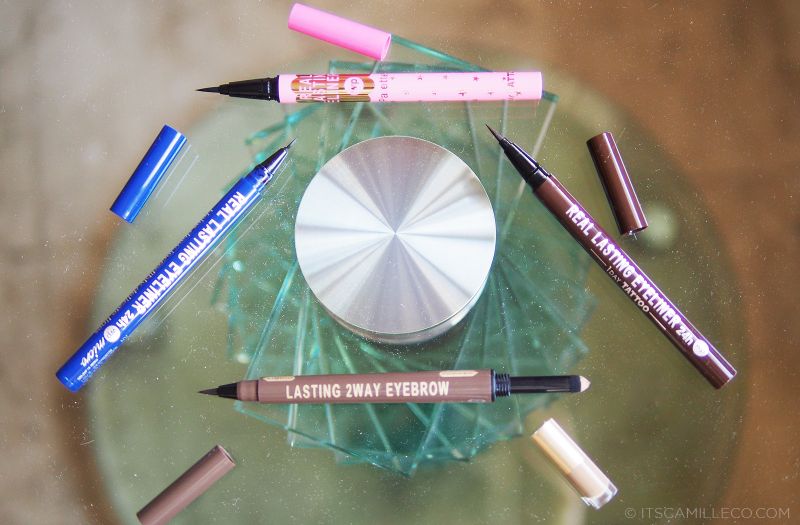 K Palette 24H Real Lasting Waterproof Eyeliners in Real Black (blue packaging), Jet Black (pink packaging) and Dark Brown (all available at Beauty Bar) | K Palette Lasting 2Way Eyebrow Liner (available at Beauty Bar)
24-hour Japanese eyeliners are the best and these eyeliners from K Palette are no different. They have a patented soft-brush application to ensure they don't drip messily or draw heavily on your eyelids. They're also waterproof so you're sure they'll stay on as long as you want them too. When it comes to removal, soap and water easily does the trick. It's no wonder K Palette eyeliners are rated consistently as one of the top selling eyeliners in Japan! I personally like using the brown color for light makeup days and the dark black ones for more dramatic makeup.
Another nice product from K Palette is its eyebrow liner. It's actually a 2 -way eyebrow liner that comes with an additional powder tip to enhance brows more naturally and evenly. You can choose to use the powder tip for the inner eyebrows and then the liquid tip for the outer eyebrows. Clever, right? Like the eyeliners, K Palette's eyebrow liner is waterproof and long-lasting as well.
Shu Uemura gold eyelash curler | FairyDrops Waterproof Volume Burst Mascara (available at Beauty Bar) | Majolica Majorca Lash Expander Edge Meister | FairyDrops Volume Burst Mascara (available at Beauty Bar)
This is my first time trying Fairydops' mascaras and I must say, they work like magic!!! My non-existent lashes come to life whenever I use these. The purple one is the waterproof version that's perfect for the beach while the pink one is only water-resistant. It says on the packaging though that the pink one can be used on lash extensions. I'm a little scared to try them on my lash extensions but if you're brave, by all means try it and let me know. Anyway, lash extensions or not, both mascaras are great and highly-recommended.
Another mascara worth mentioning is Majolica Majorca's Lash Extender Edge Meister. It's not as great as the Lash King, but if you already have full volume lashes, then all you need is this to add length to your lashes. You may also opt to mix this with a mascara that focuses on volume to achieve the Lash king effect.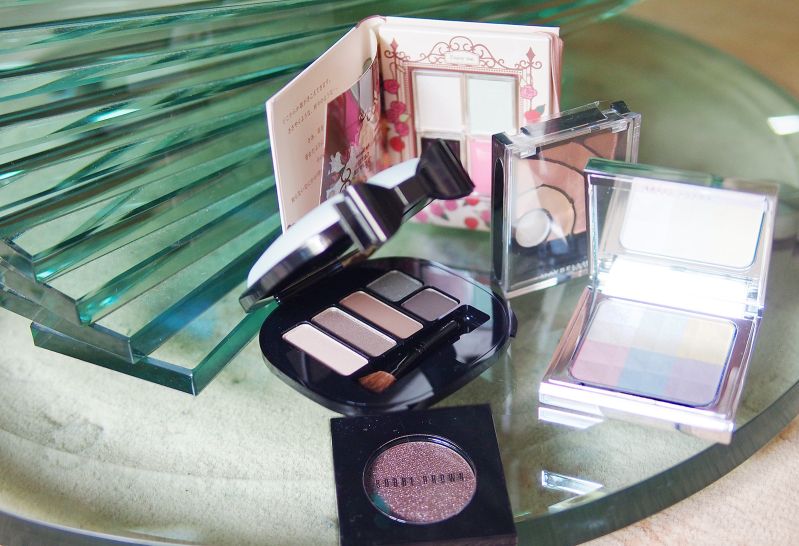 (Clockwise from bottom) Bobbi Brown Eye Shadow in Black Chocolate | MAC Fabulousness Eyeshadow in 5 Neutral Eyes | Majolica Majorca Little Humming Book Eye and Lip Palette | Maybelline LuminEyes in Coral Pink | Bobbi Brown Brightening Finishing Powder in Porcelain Pearl
Spot the odd man out! Do you see the Bobbi Brown makeup in the silver case? That's the only one here that isn't an eye shadow. I use it as a highlighter on top of my blush and on areas I want to add a nice little shimmer and porcelain finish to.
The rest of the items in this photo are new eyeshadows I've added to my beauty kit. I'm loving neutral and brown eye shadows now so the MAC eye shadow palette is definitely a new favorite. In case you want to get some of the eye shadows in that palette, they are Blonde Mink, Magical Mist, Brun, Enviable and Smut. I sometimes add the Bobbi Brown eye shadow into the mix to make my eyes pop even more. I love applying it on the outer area of my eyes.
For a more natural eye makeup look, the Maybelline eye shadow palette is a nice candidate. It has shades of gold, rose and brown which goes really well with daytime looks.
Lastly, there's the Majolica Majorca Little Humming Book palette as well. It's doesn't have any brown or golden tones at all. Instead it has a nice dark plum eyecream base color with 2 light eye shadows in powder form for illuminating the eyes.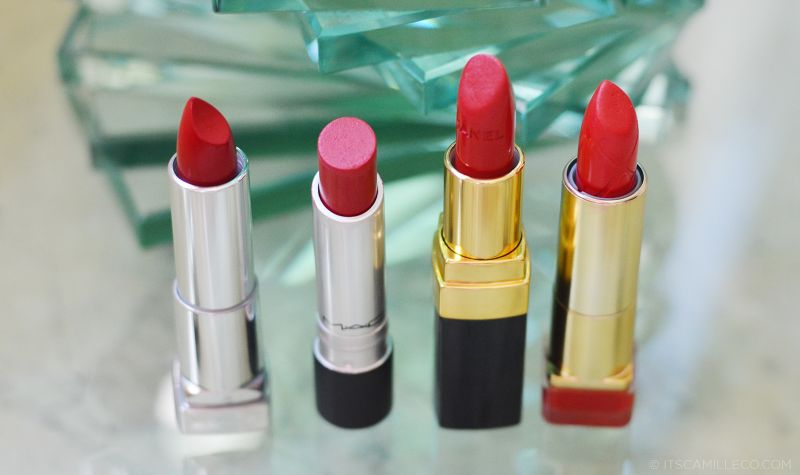 Maybelline in Red Revival | MAC Pro Longwear Lipcreame in Prolong | Chanel Rouge Coco in Gabrielle | Max Factor in Ruby Tuesday
New red lippies just in! Who doesn't know Chanel's Gabrielle? It's such a classic sexy red color. If you're looking for something more matte and has a blue undertone, MAC's Prolong is for you. On the other hand, Max Factor's Ruby Tuesday glides on the easiest and is the brightest among the 4. Maybelline's Red Revival is a little similar to Max Factor's except it's not as satiny.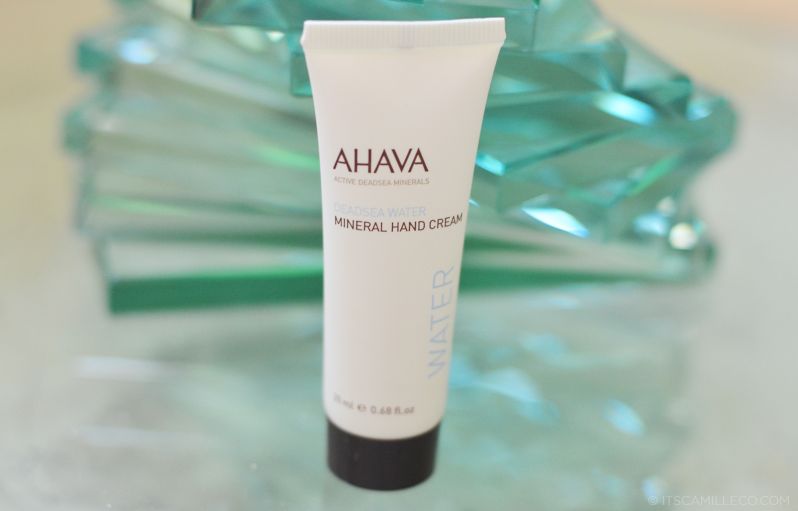 Ahava Mineral Hand Cream from Sample Room
I've added hand creams to my on-the-go kikay kit as well. This Ahava Mineral Hand Cream is from Sample Room which is why it's in a cute sample size, perfect for travel. If you're not familiar with the website, it's the Philippines' first beauty sampling website where consumers can try samples of their favorite beauty brands first before committing to a full-sized purchase. As women, we all know how expensive beauty products can get. All of them have claims and promises but not all of them work. Through Sample Room, you can now try first before you buy. All you need to do is register and you automatically get 100 points as "play money" which you can use to "grab" the product you want to try. The more luxe the product, the higher the points it requires for you to be able to "grab" and try it. All you have to pay for is shipping which is only P100 for areas within Metro Manila and P130 for areas outside Metro Manila. Once you get the sample, you can leave a review of the product at Sample Room and earn back the points you spent plus incentive points so that you can grab more products to try and sample. Cool, right? It's fun little community for beauty junkies!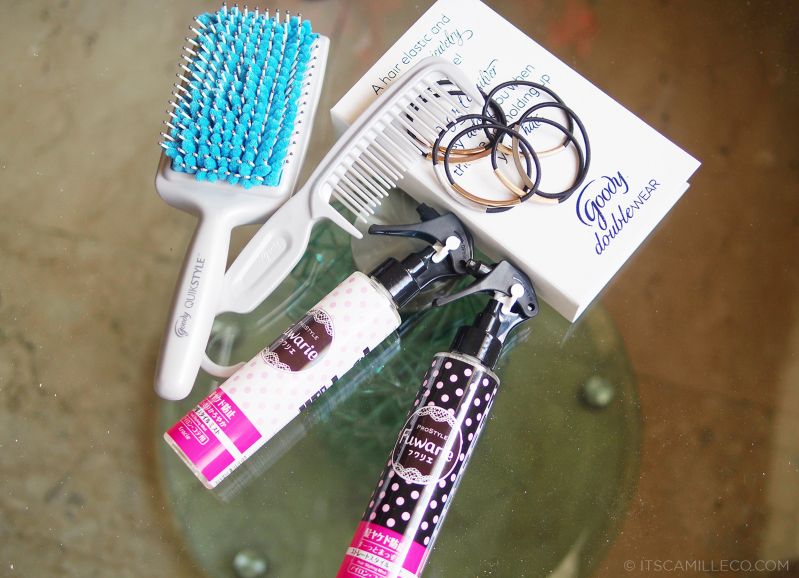 Prostyle Fuwarie Straight Styling Mist (available at Beauty Bar) | Prostyle Fuwarie Curl Styling Mist (available at Beauty Bar) | Goody Quikstyle brush and comb | Goody Doublewear Elastics

For girls like me who love styling their hair, these are all the tools you need to prevent your hair from getting damaged. Wet/damp hair are more brittle and susceptible to breakage so it's important to use the right combs and brushes. This new Goody Quikstyle comb is perfect for damp hair. It easily detangles hair like magic! To help dry your hair faster, you can use the Quikstyle brush right after. The towel-like bristles in between the real bristles help remove excess water from your hair which then leads to less time using the hair dryer, meaning less damage.
If you need to use a curling iron or straightening iron, spray Prostyle Fuwarie Styling Mist on your hair first to prevent your hair from getting burned. They help set your hair in place as well and prolong the straight/curly style you have on. Unlike hair sprays, these smell quite good!
And finally, if you need some elastics to hold you hair up, check out these new Doublewear elastics from Goody. They're called Doublewear because they can double as bracelets as well. You've probable already seen me wear these as bracelets. I love mixing them in with my arm candies.