So last month, Liz Uy's assistant Lissa (who's also a fashion blogger), asked me if I was willing to do a piece for Preview Magazine's May Cover. This was the first time I actually said yes. Crazy I know! It's not as if I didn't want to before (HELLO! It's PREVIEW! As much as possible, no is not an option for me), but I (or our atelier) was always busy with something else during those times so I just couldn't commit. Thankfully, this time, it wasn't that hectic so GAME ON! Plus, when I saw the pegs for the shoot, the theme was "swak na swak" (in English: perfect match) to my RTW line Coexist' June/July collection fabric story, which meant I no longer have to source for fabric and other materials. No hasslepuff!
Here are just some of the photos/pegs they sent: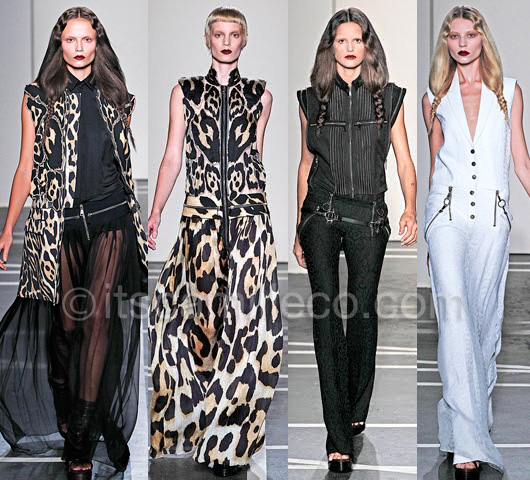 Givenchy SS '11
So obviously, Givenchy was the look they were going for, except mostly just blacks and whites. In their words, "The look should be more punk than goth. Details include zippers, leopard prints, leatherette, sheer, leggy trousers, structured jackets. Everything should look SLEEK, so it should be more structured than flowy and the clothes need to look SHARP."
With that in mind, I opted to make a sheer black and white leopard print buttondown with metal zippers and leatherette as accents. You can't quite see it clearly on the photos below but the leopard print fabric has a a few bluish gray colors on it too, which I love because it's the little details like this that make the fabric extra special.
Speaking of little details, here's a short breakdown of the design. For the placket, I opted for white duchess satin to add further contrast. I originally wanted white leatherette instead of duchess satin but I had no time to buy it, so it was time to get resourceful! The placket's outer edges have metal zipper teeth attached on them too. Such a small detail but weirdly enough, it's my favorite part. Sucky you can't really see it here but if you squint hard and focus, you'll see it haha! Lastly, to finish off the look, I also added metal zippers horizontally on the center of the leather collar and cuffs.
Punk not goth, CHECK!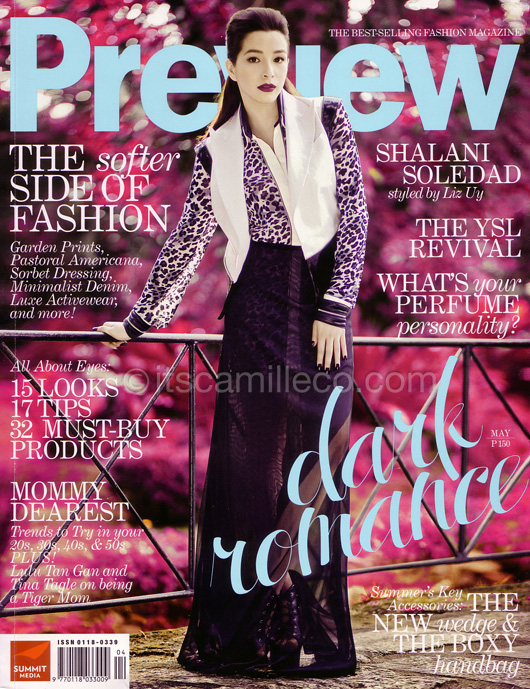 As seen on Preview Magazine's May 2011 issue
Yayyyyyy! I was already more than happy to find out that they were able to use my buttondown for the cover shoot but when I found out that my design made it to the cover, double YAY! THIS DESERVES AN "ALL-CAPS MOMENT".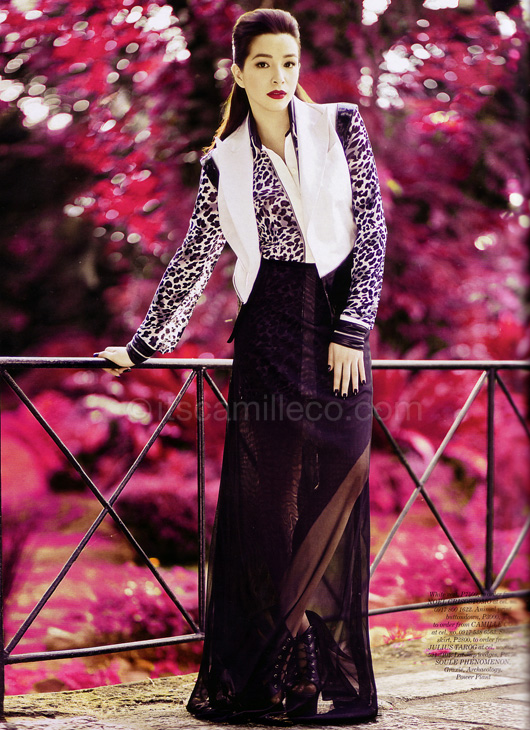 Woohooo Pinoy pride all the way: white vest by Noel Crisostomo | leopard print buttondown by me | sheer skirt by Julius Tarog | lace-up wedges by Soule Phenomenon
Here's to more covers! Fingers-crossed! :)