Many of you might have known that I am an avid Apple fan. I've been using everything Mac for sooooooo long, I don't even remember how Windows looks like. Since switching to everything Mac, I've been afraid slash lazy to try out other brands. But when opportunity came to try out the Blackberry Torch for a few weeks, I immediately said yes. Of course I had my apprehensions at first. I've always thought of Blackberry as complicated. I don't know why but it just looks like it to me. Little did I know that I would enjoy the Blackberry Torch as much as I enjoy using my iPhone.
So here goes my attempt at reviewing something techie. Please bear in mind that I'm not at all techie. I'm just stating my opinions like any other average, non-techie person out there.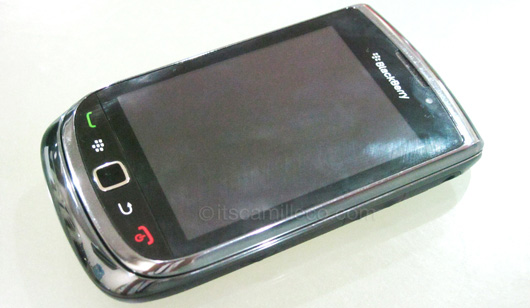 If you're an iPhone user and you want to make the switch to Blackberry, I think the Torch is the most suitable for you. I didn't experience any difficulties in adjusting to the unit because it uses the same touchscreen technology as the iPhone's. And when you slide it down…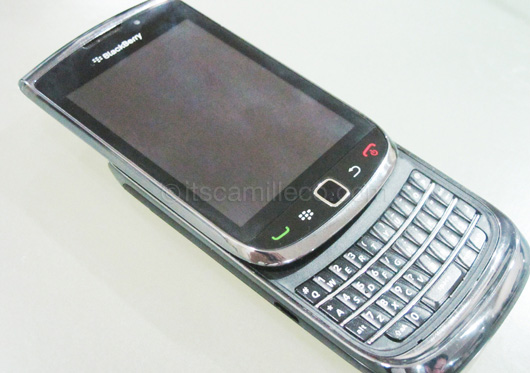 Tada! Physical Qwerty keypad too! It wasn't hard to handle at all. In fact, I loved the feel of the phone!
Anyway, enough about the physical appearance and more about the Blackberry. What I loved most about it is the social networking convenience. It's so easy to check your Twitter, Facebook and other sites on it. Blackberry has an app called Social Feeds where all the news feeds from all the social networking sites you belong to are merged, so you don't need to switch from one site to another. They're all there! Neatly arranged for you to read. Checking emails is also extremely easy. Just like the iPhone, you can have multiply accounts and merge them so that you don't have to switch from one account to another.
Of course, this wouldn't be a Blackberry review without mentioning the Blackberry Messenger. BBMs can make text messaging obsolete. Seriously. I loved it! Plus, there are BBM conferences too. The whole time I had the Blackberry Torch with me, Laureen, Kryz and I were exchanging updates about our lives through the BBM conference. We'd just update each other with totally random happenings, EVERYDAY. (Now, I'd have to text Laur, ask her something, then text Kryz to tell her what Laur said, then text Laur to tell her what Kryz said. The cycle never ends haha)
Another thing I found fascinating (although not really important) about BBMs is that whenever you send someone a message, you'd know when the person already read it or not because there's a little indicator beside the message; so no more pretending "I'm away so I'm sorry I missed your message, but really I'm just ignoring you" scenarios. Yay! (except if you're the one pretending, then boohoo)
After all that I've said, I think the number one advantage of using a Blackberry is still the affordable data plan options available for it. You can update all you want via BBMs, Twitter or whatever other site you use, without having to worry about your bill. (I've never tweeted more in my life than the 3 weeks I had the BB Torch with me). And for some reason, I feel like it also has a much better network reception compared to the iPhone.
So will I make the switch? I don't know. But I'm thinking of getting myself a BB in addition to my iPhone. I don't know how many times I'm going to say this, but BBs are extremely convenient to use, especially for busy people on the go.