Let me share with you my first-ever bride. Although I didn't make her wedding gown, I still consider her my first because she's the first bride I made entourage pieces for. Her name is Bianca Santiago (now Bianca Santiago-Reynoso. Woohoo!). I met her when I modeled for Chalk Magazine a few years back. She's one of ABS-CBN's leading celebrity stylists and is also Chalk Magazine's and Maven Magazine's fashion editor. I can truly say she's one of the few people who've witnessed my growth as a designer.
Bianca came to me a few months before her wedding (medyo chasing time lang ang peg). I was game for the challenge because, one, she's been one of the most supportive people in the industry when it comes to Coexist and me, and, two, I really liked her peg. Bianca, being the fashion editor that she is, came to me complete with a Powerpoint presentation of her wedding theme and moodboard. Just my kind of bride!
Here's one of the slides: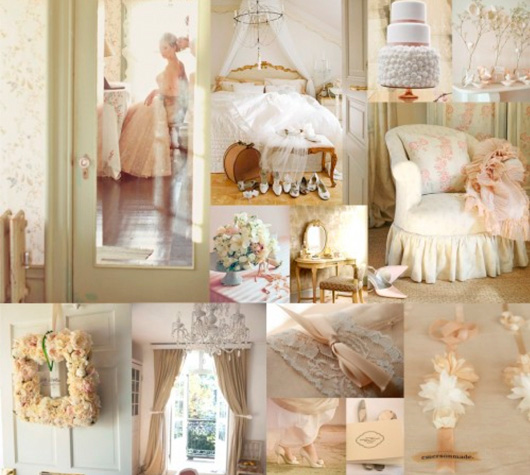 She calls it Barely There Pink with neo-vintage as the main inspiration. She said she immediately thought of me because she felt that it's very me. Truelaloo.
So after a few meetings, I came up with this: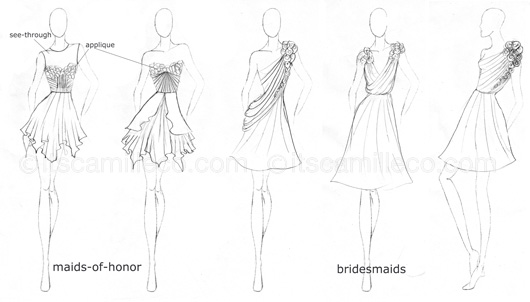 These aren't the only sketches I presented but most of the final designs we settled with are from this set. Actually, only one of the bridesmaids' dresses was modified. Not included are my sketches for the secondary sponsors.
Here is the final product: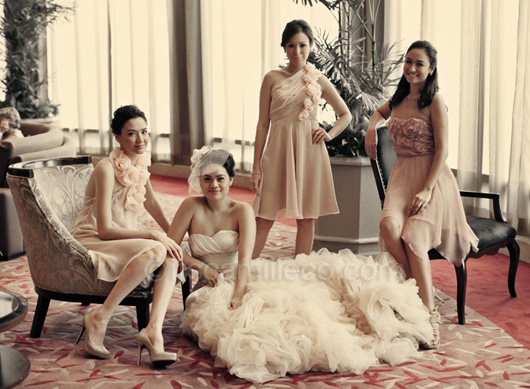 Photo by Pat Dy. The beautiful bride with one of her 2 maids-of-honor (Kelly Misa, seated far right) and 2 bridesmaids (Ornusa Cadness, seated and Nicole Hernandez, standing up). All of them are models so it was pretty easy (and exciting) to dress them up.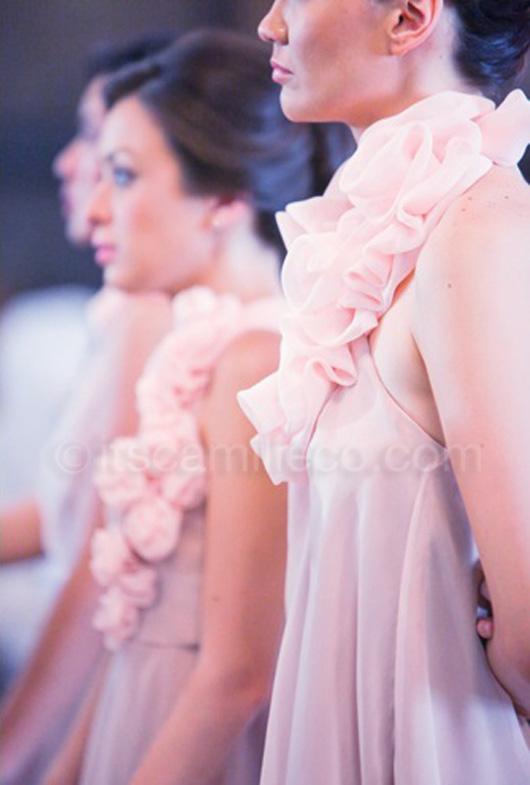 When designing for a wedding entourage, it really is a collaboration between the designer and the couple. The biggest hurdles are time and budget constraints. Of course, the artist in me always automatically imagines various designs once I get all excited over the theme or peg (plus I'm a girl, so weddings in itself are enough to send my brain into fairytale land). But at the end of the day, there's always a compromise to be reached and a bride to satisfy. I hope my bride was!