Scans of the feature Chalk Magazine did on me and other fashion bloggers: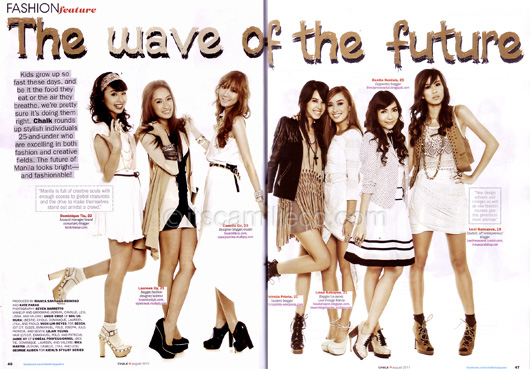 For the shoot, we actually did 2 concepts. The first one was all serious and fierce a.k.a. "fasyowwwwwn". The 2nd one was happy, fun and candid a.k.a "chums lang", which they ended up using. Patricia and I were actually trying to swing our skirts (well, fringes on her part) in the photo above. We were HHWSPSSP (holding hands while SWINGING, pasway-sway pa!).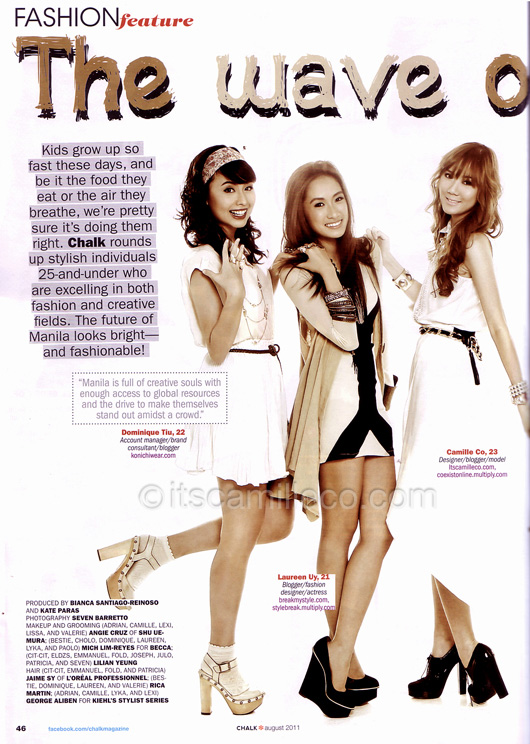 For those who haven't grabbed a copy yet of Chalk's August issue, the feature is all about 25-and under stylish individuals who Chalk Magazine feel are excelling in fashion and creative fields. We're all fashion bloggers on this spread but they also featured other youngsters such as budding photographers, artists and stylists.
Shoots like these are always fun. Everyone comes together and helps each other out. There's nothing but love here! :)
P.S. Thank you Bianca and Kate for the feature! I love Chalk! I remember telling Bianca how I feel like I've come full circle. Chalk is the first magazine I've ever modeled for. :) Awwww how time flies!