Century Tuna is collaborating with a few fashion bloggers like me to give you sexy men and women out there the chance to flaunt your assets in one of our country's hottest magazines! The winner for this giveaway will join us, fashion bloggers, in a photoshoot for a 4-page spread to be published in Cosmopolitan Magazine!
Interested? Mechanics are simple!
Like Century Tuna on Facebook and follow them on Twitter.
Leave a comment below with your Twitter name, Google Friend Connect username and answer to this question: Which Century Tuna shirt design do you like the most and why?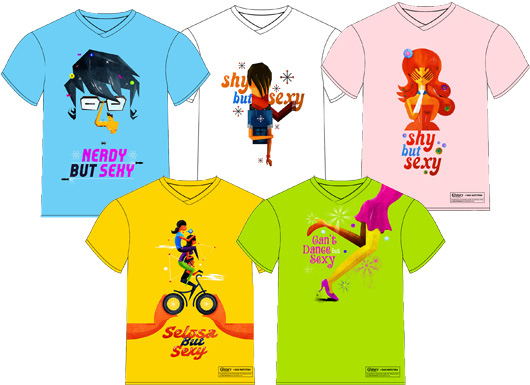 Choose from: nerdy but sexy | shy but sexy | selosa but sexy | can't dance but sexy (shirt designs by Dan Matutina for Century Tuna)
Tweet this: Get a chance to appear in Cosmopolitan Magazine by joining the @itscamilleco x @Century_Tuna giveaway on https://itscamilleco.com!
Deadline for entries is on September 11 (Sunday). I'll be choosing the best answers first then Random.org will pick the winner from there. Winner will be announced via my Twitter. (If you win, I'll be asking you to send me screencaps to prove you've fulfilled all the steps required to join.)
And because I want in on the fun too, here's an outfit post with my Century Tuna shirt of choice! Nerdy but sexy!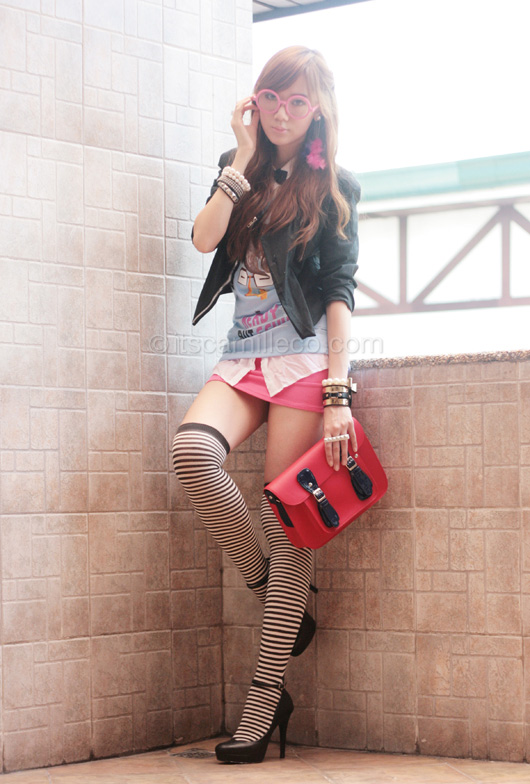 If you've been following my blog, I think it's no secret I've been the studious type all my life. However, I'm not your typical nerd. I "share" my answers to my friends wholeheartedly, tolerate my classmates' antics while the teacher's not looking and joined the cheering squad and dance troupe instead of academic orgs. But even so, I think everyone knows I'm a nerd at heart.
Regarding the "sexy"part, I had no choice, so please don't throw stones at me! Haha! It's quite obvious that I'm not well-endowed! But there really was no escaping the "sexy" part of the slogans. All the shirt designs had it! -_-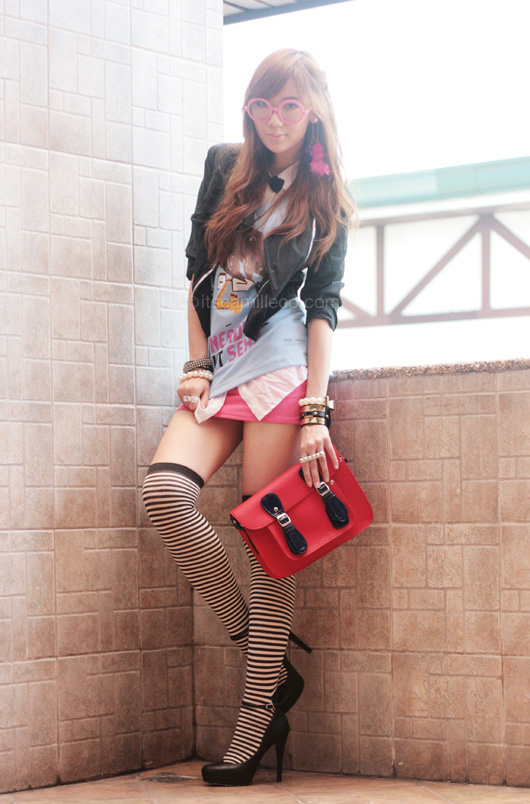 From bazaar jacket | Century Tuna "nerdy but sexy" shirt | Forever 21 white button-down top | H&M hot pink skirt | H&M socks | Aldo shoes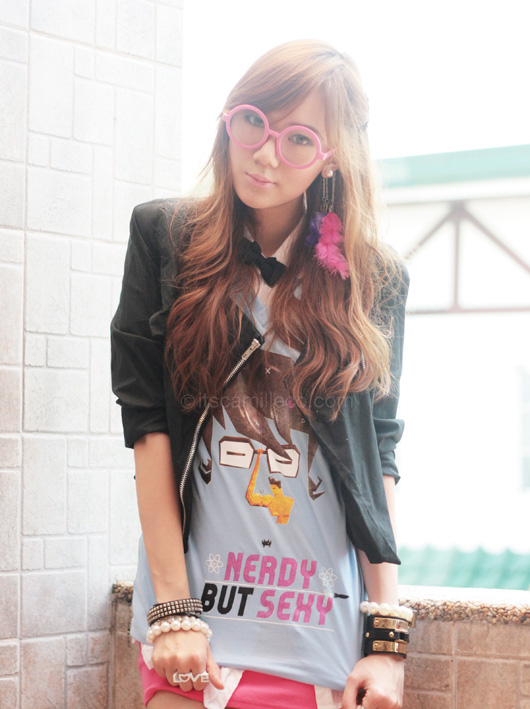 The shirt I'm wearing is actually for men! As for the huge pink nerd glasses, I don't know where you can get these. I only got them from the Smart Netphone event I attended a few days ago (more about Smart Netphone and its awesome features next time).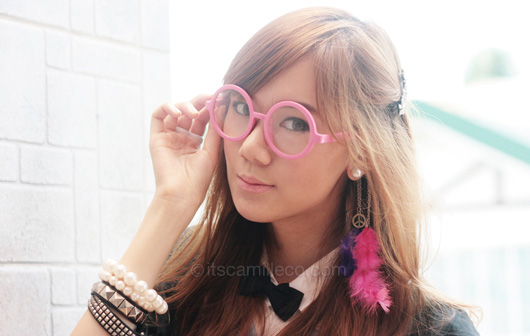 The Style Prodigy ear cuff | Luvlicious bow tie
I really love this feather ear cuff sent to me by The Style Prodigy. It's not just made of feathers but it also has this cute little peace pendant dangling from it. I actually have a few more with cross pendants and pearls instead. I can't wait to wear them out!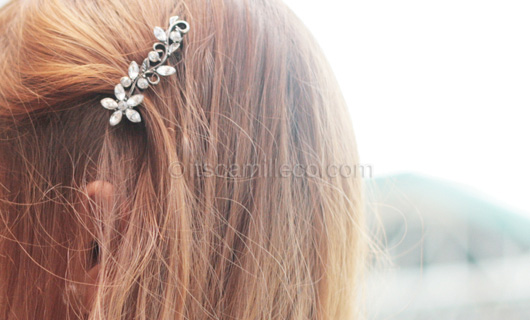 Thank you Goody Philippines for this! I'm loving all my Luxe hair pins! I feel so special knowing that only a few others can get their hands on these. :)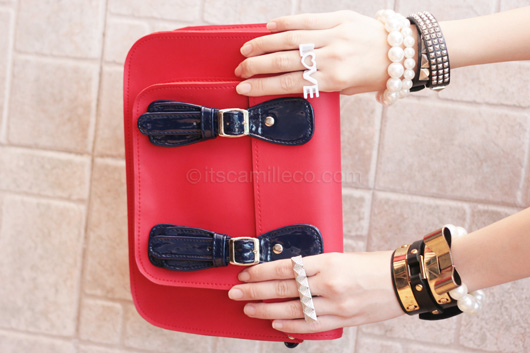 Basic Bags Manila satchel bag | Crave More love connector ring | Crave More silver connector ring | The Ramp black and gold leather cuff | Gold Dot pearl with ribbon bracelet | Gothic Princess (Singapore) black leather bracelet | H&M pearl bracelets
The bag actually has a long strap but I decided to use it as a clutch instead for a more mature look. For more colors and sizes, visit Basic Bags Manila on Facebook.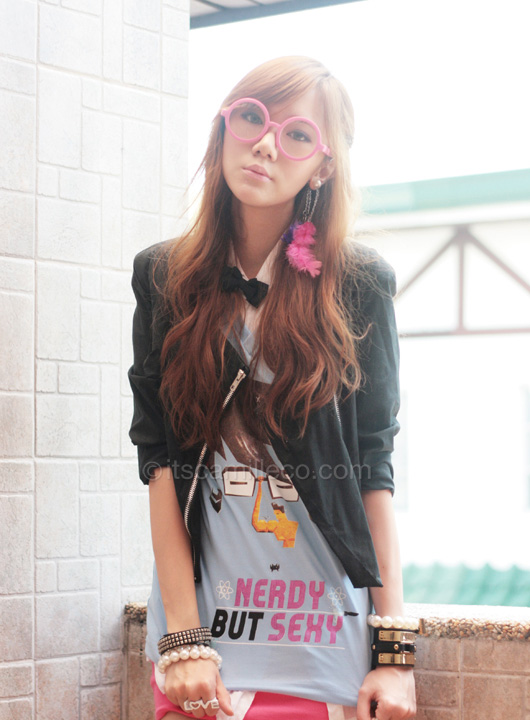 Hype this look on Lookbook.nu here.
There you have it, my "nerdy but sexy" attempt! I tried my best to mix edgy and sweet pieces together to achieve the look. I hope you like it!
Don't forget to join this contest! Good luck!
To whoever will win this, I can't wait to meet you!