If you've already been following my blog over at Chictopia last year (way before I started this blog), you might have read about my being a brand ambassador for the Keratin Complex Express Blowout a little less than a year ago. Fast forward to now, I've been asked to try the Keratin Complex again at Smooth and Straight Salon (part of Piandre Salon's group). This time I tried the original version. Express takes only an hour or even less. You can wash your hair after 8 hours. The effect lasts until 6 weeks. On the other hand, the original Keratin Complex treatment takes around 2-3 hours (depending on your hair length and thickness). You can't wash your hair until after 72 hours and the effect lasts from 3-5 months.
For those unfamiliar, what exactly does the Keratin Complex do? Keratin Complex "gives you the benefits of having beautiful hair, without damaging chemicals as it rebuilds, restores, and rejuvenates all kinds of hair with products specially formulated with 40% natural keratin. Keratin is the protein that makes hair shiny and healthy." So technically, Keratin Complex is not similar to rebonding or relaxing. I think the key word here is Keratin Complex restores. It doesn't inject more harmful chemicals into your hair to make it straight and frizz-free. It actually makes your hair genuinely healthier, not just in appearance. Keratin Complex sort of provides a coating around your hair cuticles and promotes healing while keeping the toxins in the environment such as smoke, pollution, and ultraviolet rays from entering your hair. In effect, it reduces up to 95% of frizz and repairs damaged hair due to bleaching, rebonding, and chemicals. After treatment, customers can still color, highlight and style their hair as much as they want.
So how did mine go?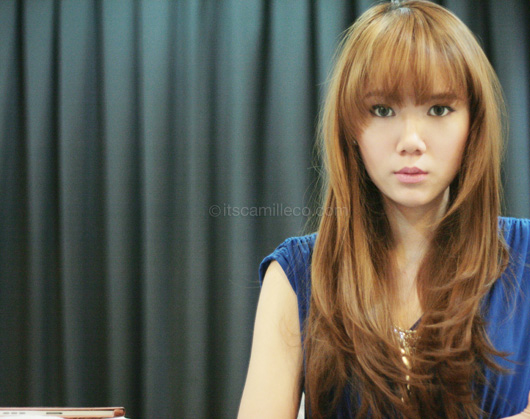 This photo was taken right after my treatment. I told them I still want to stick to my natural waves so they took note of this while doing the treatment. Tada! Stick-straight? No. Still my natural waves? Yes.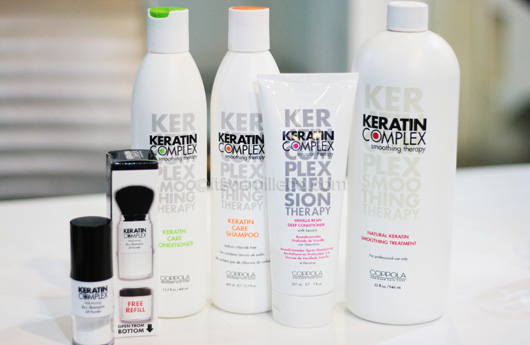 (L-R) Keratin Complex Volumizing Dry Shampoo | Keratin Care Conditioner | Keratin Care Shampoo | Keratin Complex Vanilla Bean Deep Conditioner
After the treatment, I was given all the products above (except for the last one on the right).
The Keratin care shampoo and conditioner are specially formulated for Keratin Complex-treated hair. They're supposed to help make the treatment last longer because both products have no sodium chloride.
The wonderful people at the salon threw in the Vanilla Bean Deep Conditioner too. I told them I felt my hair is extremely damaged so they recommended this product. it's supposed to provide intensive repair. I tried it lately and I must say, it smells really nice (vanilla!) and it made my hair extra soft and shiny.
Lastly, they also gave me the Keratin Complex Dry Shampoo. Yes, you read it right! D-R-Y! I told them my apprehensions about trying the Keratin Complex treatment at first because I didn't want to wait 72 hours before I can wash my hair. I had events to go and people to meet. Going out of the house with smelly, oily and flat hair just wasn't an option. With the Dry Shampoo, I was able to "clean" my hair without having to wash it. How cool is that??! All I had to do was apply the powder form dry shampoo onto my scalp, blend it in with the brush included and voila, perfect hair! Plus, the volumizing effect works too! Don't want to believe me? Check out my blog entry here. That was taken on the last day of my 72-hour wet shampoo ban. I swear by the Dry Shampoo. I love it so much I plan to buy some more! It's perfect for long days when I'm already out early in the morning and I don't have time to go back home for a quick shower before a party or event during the night. It's a quick and hassle-free hair fix. And it's so small it fits in my make-up bag too!
Anyway, so what's the verdict? I have no regrets. I don't really like spending so much time on my hair. With the Keratin Complex, it takes even a shorter time to fix it. It really gives instant sexy and smooth hair. I've also noticed that since getting the treatment, a lot of people have been asking me if I colored my hair lighter. I guess it's because my hair got shinier so in effect, my hair color became much more vibrant. A word of advice though, make sure to tell your stylist how you want your hair to look (straight, wavy, etc.).
For those interested, the Keratin Complex and Keratin Complex Express Blowout are available at Jing Monis Salon, Piandre salons, Toni and Guy Essensuals, Henri Calayag Salon, Louis Phillip Kee Salon, Philippe Salon, Alex Carbonell by Studio Fix, Studio 546, Emphasis Salon, Regine's Salon, Profiles Salon, Indigo Salon, Justine Barbara Salon, Bridges Salon and Expose Salon in Cebu, Pink and Gold Salon in Davao and some branches of David's Salon.
Visit the Keratin Complex Club Philippines Facebook page, Global Facebook page and  Keratin Complex official website for more details.