Online shopping destination, Multiply.com, is throwing a one-of-a-kind party for shopaholics!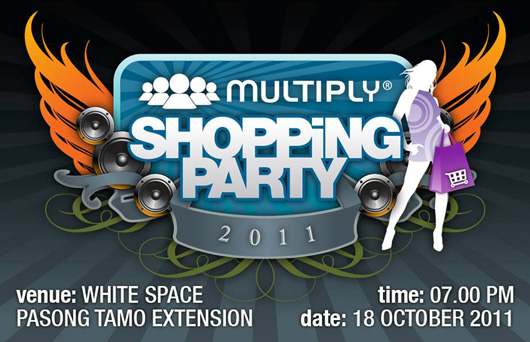 So what can you expect at the party?
A fashion show featuring designs from newly-discovered fashion designers found on Multiply
Music by DJ Mars Miranda and Techy Romantics
Celebrity and blogger sightings
SHOPPING! Everything from fashion finds to gadgets to mom and baby products, shoppers will surely leave the venue satisfied!
What's the catch?
This party is by-invitation only. However! You're in luck! I'm giving away 2 tickets each to 5 lucky readers! All you have to do is go to Chalk Fashion Rocks tomorrow, October 15. Look for the Coexist booth and show my saleslady, Clariss, print outs of screencaps proving that:
You have already followed me on Twitter and Google Friend Connect (GFC). (You'll find the link to my GFC on my sidebar to your right. Just click "Join this site")
You have already liked Multiply's Facebook Page and followed them on Twitter.
So what are you waiting for? The first 5 to approach Clariss and show her the aforementioned requirements WIN!
To the lucky 5 and their plus ones, SEE YOU THERE!