Who wants some oreo truffle goodness?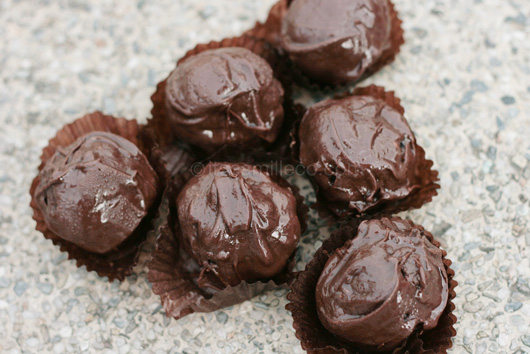 I received these oreo truffles from SweeTetite by Marione Diorgio a few weeks back. Just by looking at the photo above, you can already tell they're from chocolate heaven. Each truffle is filled with low-fat oreo and coated with less sugar. But even so, it doesn't taste like it. It still tastes every bit as rich and delicious as your normal chocolate, just less sinful. Win win! I really recommend these truffles. I especially love that they're just the right amount of sweet, not excessively sweet that it makes you want to vomit after just a few bites. SweeTetite's truffles let you enjoy the chocolatey goodness down to the last bite!
For those interested, a box of half dozen oreo truffles is just P185, while a dozen is priced at P350. If oreos aren't your thing, SweeTetite by Marion Diorgio also sells the following:
No Sugar Chocolate Truffles (No sugar ganache): P300/dozen; P160/half dozen
Belgian Truffles (filled with Belgian chocolate and coated with Nutella chocolate): P380/dozen; P200/half dozen
Baileys Truffles (filled with a drop of Baileys wine and no sugar ganache, coated with no sugar dark chocolate): P350/dozen; P185/half dozen
Mocha Truffles (filled with imported coffee ganache and coated with semi-sweet chocolate): P350/dozen; P185/half dozen
Black Truffles (filled with semi-sweet ganache and coated with dark chocolate): P300/dozen; P160/half dozen
Almond Chocolates (Less sugar chocolates with almonds): P200/dozen; P110/half dozen
Plain Premium chocolate cups (Plain less sugar chocolates): P150/dozen; P85/half dozen
Dipped Pretzel (Pretzel rods dunked in Nutella or less sugar premium chocolates) – with Nutella: P150/box; with no sugar chocolates: P110/box
Dipped Strawberries (Fresh strawberries dunked in Nutella or semi-sweet chocolates) – with Nutella: P400/dozen; P210/half dozen; with no sugar chocolates: P380/dozen; P200/half dozen
You may contact SweeTetite by Marion Diorgio at 09166814420 or e-mail them at sweetetite@gmail.com. For more updates on their freshly baked chocolates, like them on Facebook.