Remember the extremely successful Bloggers United Bazaar last May? You know, the bazaar I brought my whole house to and sold a lot of my preloved stuff at? Well, the wonderful people behind this first ever interactive shopping affair are at it again!
Presenting: Bloggers United 2! Get ready to raid your favorite bloggers' closets this December 3!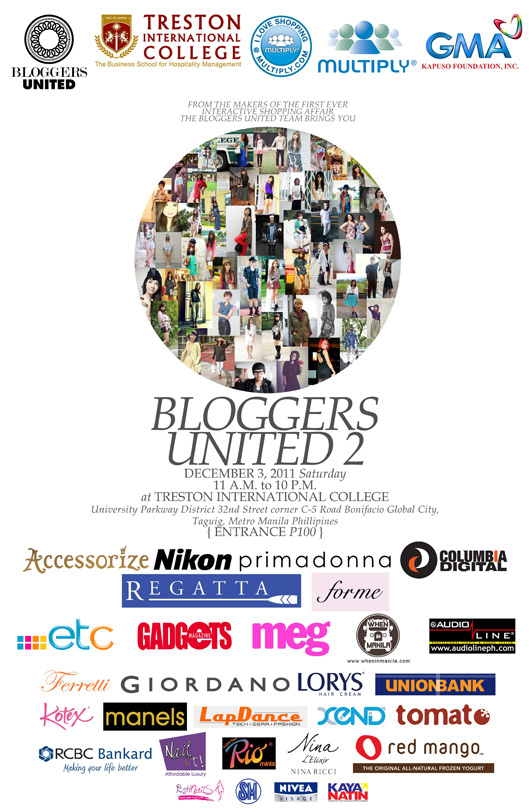 So what makes this Bloggers United Bazaar different from the first one? For starters, The BU team has partnered with the largest online shopping website, Multiply Philippines to make this event possible. Second, part of the proceeds will go to GMA Kapuso Foundation to aid its school project. And last, but not the least, BU has also opened its doors to more bloggers, meaning MORE shopping bargains for you! Divine Lee, Daryl Chang and Andre Judd are just some of the new additions to the BU family. A lot of your favorite bloggers from Cebu will also be participating! Bongga!
And because this Bloggers United Bazaar is clearly bigger and better, we're also transferring to a bigger and better venue. Bloggers United 2 will be held at Treston International College located at University Parkway District, 32nd Street, corner C-5 Road, Bonifacio Global City.
How exciting!!!! I'm already ransacking my closet for items to sell. I don't think I'll be bringing my whole house again since most of my items already got sold in previous bazaars, but I'm definitely bringing nicer ones. Most of my old clothes are gone, so I'll probably sell more recent purchases. You better be excited BECAUSE I AM!
Just a tiny tiny bit of bad news though. Although I'll be selling my preloved items on December 3, I won't be able to go the event. :( This is because I'll still be on the plane back from Barcelona for the Mango It Girl competition. Not to worry, my sister is coming to my rescue so she'll be there to man my booth. Please know that I may not be there physically, but I'll be there in spirit! Haha! Cheesy! If you have time, I'll see you the next day on December 4 from 2-7pm at WAGW, Robinsons Galleria for the meet and greet with the bloggers.
See you soon! :)