A few weeks back, I tweeted about a review I'll be doing on the 3 latest mascaras I've received. With so many of them coming out these days, each making claims bigger than the other, it's getting harder and harder to choose which one is actually legit. I should know! I'm of Chinese descent so I'm definitely not blessed with long and luscious lashes. Falsies aren't for me either because as I've mentioned before, it takes me forever to wear them and I always ruin my eye makeup whenever I do! Plus, I'm not really a fan of wearing falsies on a normal day. They're so heavy on the eyes!
So here's my review to help you out a bit. I didn't apply any eye makeup aside from my mascara so that you can clearly see the effects of each on my eyes. You be the judge! Presenting 3 of the most well-received mascaras in the market today: Lancome's Hypnôse Doll Eyes, Majolica Majorca's Lash King and Maybelline's Falsies.

First up, Majolica Majorca's Lash king. Majolica Majorca's mascaras are always great volumizers and this one is no different. Its brush fibers are really fine and compact so it's no surprise that it gave much volume to my lashes. But what makes this better than all of Majolica Majorca's previous mascaras is that it delivers not just volume but length too! The fibers on its brush is the longest in Majolica Majorca's history–5 mm long!

I love the natural falsies effect it gave my lashes. Lash King doesn't clump much too.

Application is easy. Around 3-4 strokes are good enough!

Tada! Take note, I have really short and scarce lashes okay? And look at them now after applying Lash King!

Lash King costs around P795.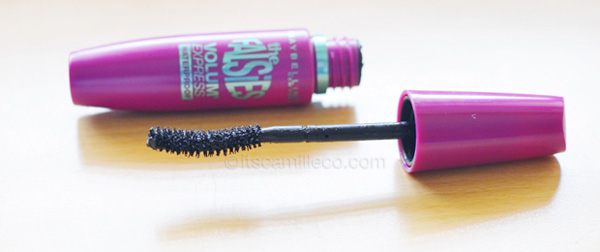 Up next, Maybelline's Falsies. The good people from Maybelline have informed me that this is the Asian counterpart to their widely successful Great Lash. Who haven't heard of Great Lash?! I've seen this in practically every make-up artist's stash! And now, they formulated one especially for us! Anyway, upon opening the tube, I noticed that its brush wand actually bends. I guess this is for easier application and better precision. The brush head is also shaped differently, with a slight curve.

I actually applied less of the product so please keep that in mind. What I love most about this is it volumizes while still keeping the strands of my lashes fine. It kinda makes a crisscross effect.

Falsies, like Majolica Majorca's Lash King, is great for the lower lashes as well. It doesn't make them look all weird and spider-like.

(I have no idea why my lashes look kinda blue here. I think it's because of the light.)

Falsies are priced at P449.

Last but not the least, Lancome's Hypnôse Doll Eyes. I love the hybrid cone-shaped brush! I can really see how it made application so much easier and much more effective. You'll really see the difference in the photos below.

I must admit, I was really skeptical at first. I've always found drugstore mascaras better than these expensive ones but Lancome's really works!
Usually, you see the effects after a few strokes but with this one, I could already see the difference with just the 1st stroke.

It also doesn't hurt that it smells really good! This is because Lancome added a unique perfume creation to its formulation.

The Hynôse Doll Eyes is priced at P1895.
There you have it! All 3 performed really well in my opinion, better than all the mascaras I've tried before. So if ever you do decide to get one of these, you won't go wrong. I'm sure some of you would ask me to rank them but I won't, just because all 3 are really different. It really depends on what effect you want your mascara to make on your lashes. I hope the photos above help you decide!