The heat is getting unbearable here in Manila. Summer really IS here! I'm not a fan of the uncomfortably hot weather that comes with it but if there is at least one thing I love about it, it's the abundance of color!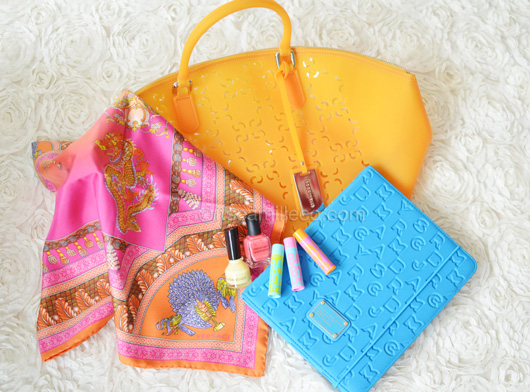 Coccinelle bag | Versace scarf | Marc by Marc Jacobs iPad case
My mom's timing couldn't get any better! She bought this jelly bag from Coccinelle for my sister and I during her recent trip to Hong Kong. I've been looking for THE perfect beach bag and this is it! At first glance, I thought the little holes on it were actual holes so there goes my hopes of using it for the beach. But upon close inspection, they'e actually just transparent rubber/jelly, so the bag is really hole-free! Yay! Sand and water-safe! Plus, it goes really well with this colorful scarf from Versace! I'm hoping this inspires your beach fashion must-haves this coming months!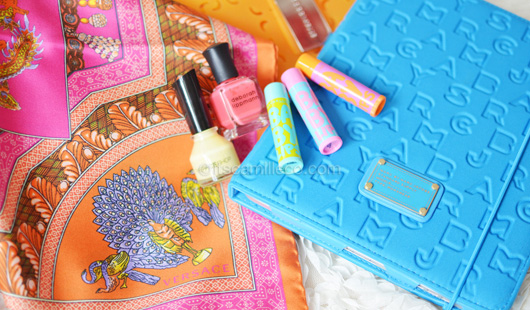 Deborah Lippmann "Daytripper" nail polish | The Face Shop powder yellow nail polish | Maybelline Baby Lips lip balm
And since we're already talking about the beach, don't forget your beauty regimen! I prefer going bare-faced when I'm at the beach so proper skincare is a must. This includes your lips. Chapped lips are major no-nos! Try these perfectly packaged for summer lip balms from Maybelline. They smell (and taste) really great too! My favorite is the anti-oxidant berry flavor (pink packaging) for its extra yumminess or the menthol (green packaging) for its cooling mint flavor. Don't forget about your nails too! I'm thinking of combining this powder yellow nail polish from The Face Shop and this bright coral one from Deborah Lippmann. I'll let you know how it goes.
Summer, I love you!
P.S. To my dear blogger besties, we still don't have a hotel for Bora. I'm preparing myself physically, emotionally and mentally to the possibility of sleeping on the white sands of Boracay. I suggest you do the same. HAHA!