I've been receiving a lot of requests to do a What's In My Bag blog post for quite some time now, so here it is! These are my everyday essentials. Obviously, I'm one of those girls who just can't carry around a small everyday bag. People who are close to me are always baffled as to why my bag always weighs a ton. It's cause I bring my whole house with me! Haha! That or I've got secret gold stashed somewhere in that huge bag of mine.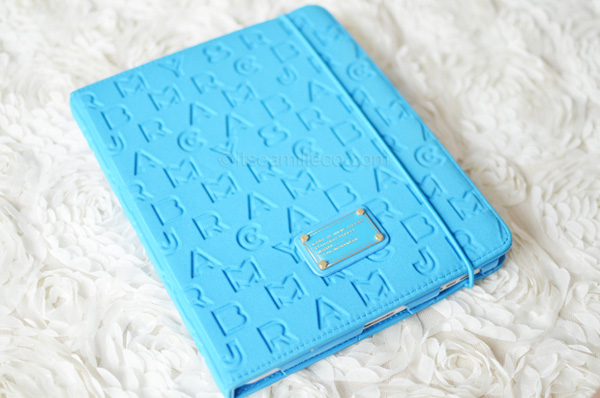 iPad in Marc By Marc Jacobs cover: This is the prime suspect as to why my bag is always so so heavy. But I just can't leave it at home. I use this as my planner and video player. Whenever I'm stuck in traffic and I'm not working, I watch the latest episodes of my favorite series here.
(from top left, clockwise)
Fino leather case: This was a gift from one of my aunts a few years ago. I love the personalized touch with my name engraved on it. For those who are not aware, Fino is truly Pinoy and in my opinion, one of the best luxury leather brands out there. I store all my gift certificates and receipts in this Fino case to keep my bag free from any paper mess. (Trust me, I have so many GCs, I can actually live off them!)
Vintage Dior leather case and Celine sunnies: Don't you just hate those big bulky cases sunglasses come in? Solution? Find an alternative case. This Dior case is a hand-me-down from mom and I use it to store my sunnies for the day. I usually change my sunglasses all the time and my current fave are these sunnies from Celine. They're in dark brown leopard print and have such an edgy and modern frame.
Prada wallet: I prefer wallets like this than those small foldable ones. It has so many compartments which is a must for me.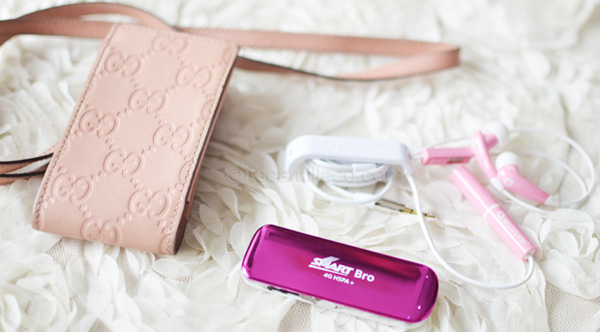 (from L-R)
Gucci leather case: I was heartbroken when I lost my old classic Gucci case so I'm so thankful my sister gave me this! Before pouches and straps for mobile phones were invented, I would ALWAYS leave my phone everywhere!
SMART Bro Rocket Plug-it Chic: I've already blogged about all the wonderful things this little thing can do here. But the SmartBro Rocket Plug-It Chic is just so awesome I have to tell you once again how incredibly fast it is! I SWEAR! I work a lot whenever I'm on the road (because time is of great value), so this broadband stick is a godsend! It really is the best!!! I mean look at all the exclamation points I'm using here haha! IT'S SO FREAKING FAST!!! Trust me, I've tried all of them and so far, nothing beats this. This will never leave my bag. Never! There's also a nice bonus/surprise for Smart broadband subscribers, find out what it is here.
Accutone Aquarius Headset:Â I'm a music lover so I can't leave the house without my earphones. I'm so happy that I finally found a headset that is both great for music and compatible with my iPhone. It has a built-in remote and microphone that works just like the default iPhone headset and comes in yummy colors. My favorite feature? The rotatory volume control! Instead of pressing high/low buttons, you rotate! Such a small detail but so cool. This Accutone headset is also compatible with other mobile phones, Blackberry and Android phones and tablets.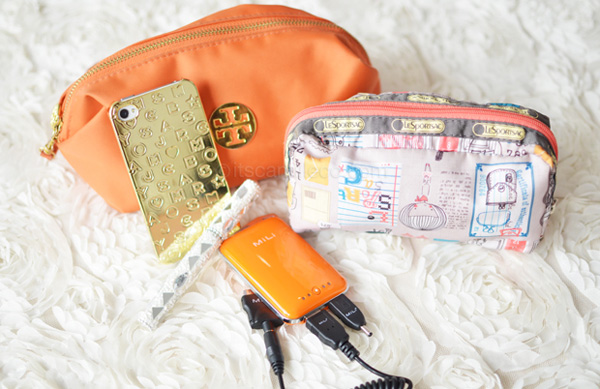 (from top left, clockwise)
Tory Burch pouch: This little thing contains my makeup touchup essentials. I won't show you what they are anymore because I've already blogged about most of them here and here.
Lesportsac pouch: I use my gadgets heavily so I bring a lot of the gadget accessories around. Everything that is for my gadgets, I store here–earphones, chargers, etc. As you can see, I have a lot of pouches in my bag, it just makes things easier and tidier. I used to use bag organizers but they're usually so tiny for my huge bags.
MiLi Power Crystal: How cute is this orange external charger? Whenever I have no time to charge my phone, I just bring this around with me. I'm not always in cars where I can use my car charger or in places with outlets where I can charge my phone so this is perfect. It's compatible with a lot of brands too!
Pen: I got this pen in Hong Kong. My mom and I fell in love with that store. It was full of embellished items like this pen from India.
iPhone 4s in Marc By Marc Jacobs case: Need I say more? I can't leave the house without this!
Travalo atomizers: A new addition in my kikay kit. These little things contain my favorite perfumes. With an already heavy bag, bringing a huge bottle of perfume around with me is just not practical. With the Travalo atomizers, I can not only spritz my favorite perfume on me anytime but I don't have to choose which one to bring! I can bring a whole lot of different scents with me for every occasion without having to lug around all those heavy bottles! These things may look small (they're just the same size as your ordinary lipstick), but they can carry a lot! They actually last me a few months before I have to refill again.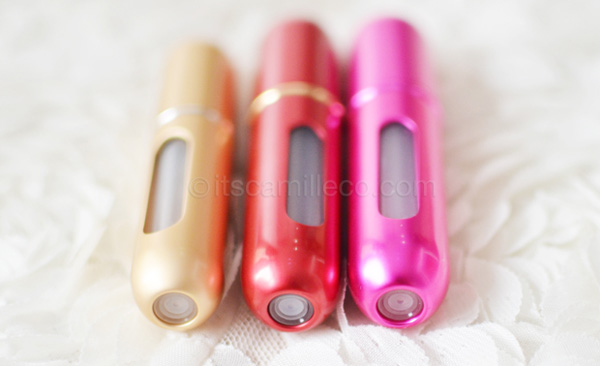 So why Travalo and not just some ordinary atomizer? Don't you just hate it whenever you spill your perfume while transferring them to your ordinary containers? Or when you have to transfer perfume to your ordinary atomizer one spray at a time? With Travalo, no funnels are needed and no spills will ever happen! You see those little things at the bottom of the Travolo atomizers? All you have to do is insert the nozzle of your perfume bottle through that hole and pump away! Your Travalo is instantly refilled! Not one drop of perfume wasted! I urge you to watch this video to see how easily this Cosmopolitan Beauty Awardee works. The Travalo is not only convenient but tough, light and safe too! It's made of aircraft grade aluminum body and has no glass at all so it's safe to bring anywhere, even in an aircraft! It comes in a variety of colors and sizes. I couldn't decide which color to get so I ended up getting 3!
So there you have it. That about wraps it up for What's In My Bag. I hope you liked it! :)