2 months ago, I got a text from the one and only Liz Uy asking me if I was available on a certain date. When I said yes, she then revealed that it's for a cover shoot with bloggers. At that time, I wasn't jumping up and down hysterically in celebration just yet. When Liz said "cover shoot", I didn't realize it was THE cover shoot of my life! (Dramatic, I know.) I was thinking to myself it's impossible this cover shoot was for Preview. I mean really…just impossible. I figured maybe Liz was styling for some other magazine, which I now realize is stupid of me to think so since Liz is Preview Magazine's fashion editor-at-large. But can you blame me? IT WAS REALLY JUST THAT UNBELIEVABLE!!!! Hello! It's PREVIEW!
Anyway, to settle my confusion, I quickly sent my fellow blogger and friend Laureen, who is also Liz' sister, a text to ask her what exactly this cover shoot was for. She calls me up and tells me: "Girl, ano ka ba! PREVIEW!!!" I'm sure you all know what happened next–a series of AHHHHH's and OMG's followed in several variations. When we finally calmed down, my first question was, "is it just the 3 of us? As in bloggers only? They're not even going to throw in a few celebrities to help us out?" After learning that it was indeed just the 3 of us (namely Laureen, Tricia and I), I go, "OH NOOOOO! WHAT IF WE BECOME THEIR LOWEST SELLING ISSUE EVERRRRRR!!!" We were definitely scared AND pressured. But more than that, we were on cloud nine! Who wouldn't be? Fashion bloggers, not even celebrities or models, just fashion bloggers on the cover of one of the country's most successful fashion magazines ever! Who would have thought?! We certainly didn't! So much so that Laureen and I even made a pact not to tell anybody else until the shoot finally happens. We were so scared we might jinx it!
Thankfully, jinx we were not. Meet Preview Magazine's cover girls for September. (Naks! I still can't believe I'm a Preview cover girl. AHHHHH!)
Of course, I know all this would not be possible without you, my dear dear readers. YOU made this happen. YOU put me up there. Every time I read your comments, tweets and emails congratulating me about the cover, I could feel that you are just as excited and happy as I am! Thank you! A million thanks to all of you!!! So allow me to share with you what happened behind-the-scenes on the day one of my wildest dreams came true, again all thanks to you (and Preview of course).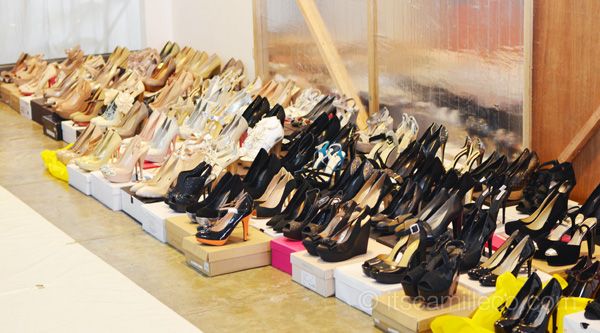 It was an early Sunday morning when I arrived at the studio. These shoes were some of the first things I saw. I would just like to note, all these shoes were pulled out for 3 people, Laureen, Tricia and I. I repeat, just THREE!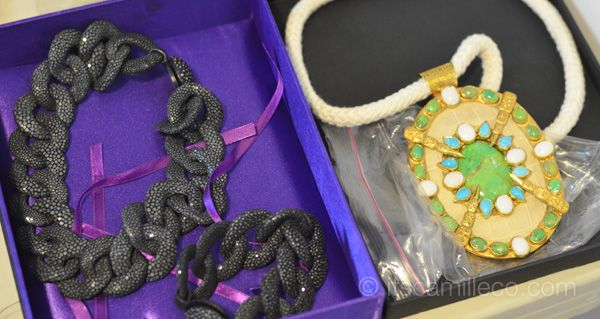 Just some of the accessories that caught my eye.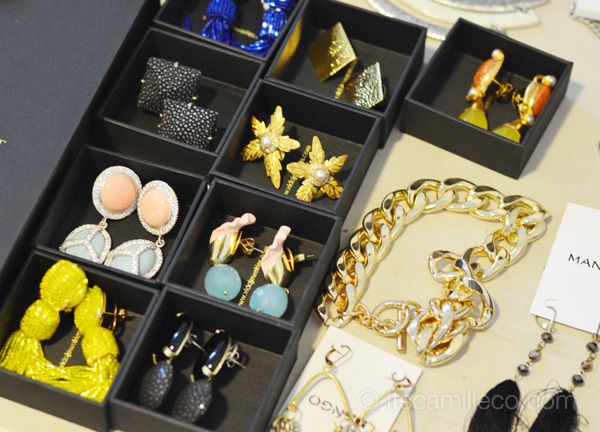 Love these earrings! Too bad we weren't able to use any of them.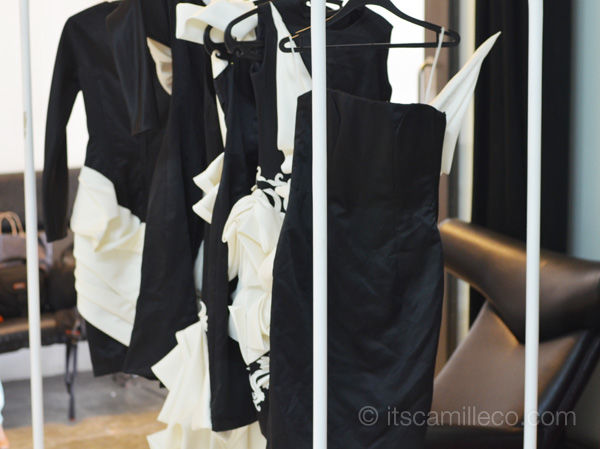 The wardrobe. I died when I learned we were going to wear Cary Santiago! I admire him so much! I can not even explain how much I love his work. Seriously!!! I've always wanted to be a Cary Santiago bride so to be able to wear his creations is another dream come true!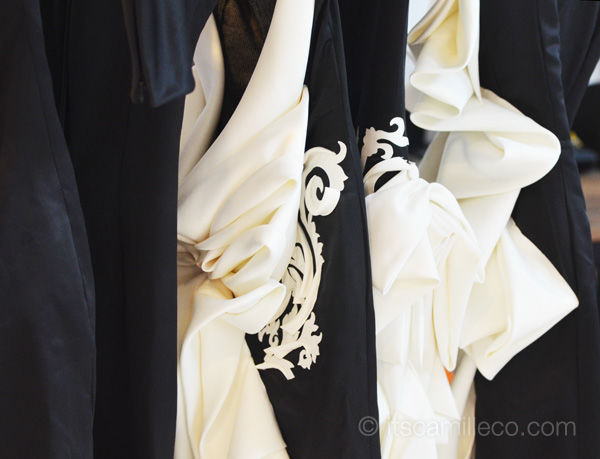 Look at that craftsmanship! Only Cary Santiago!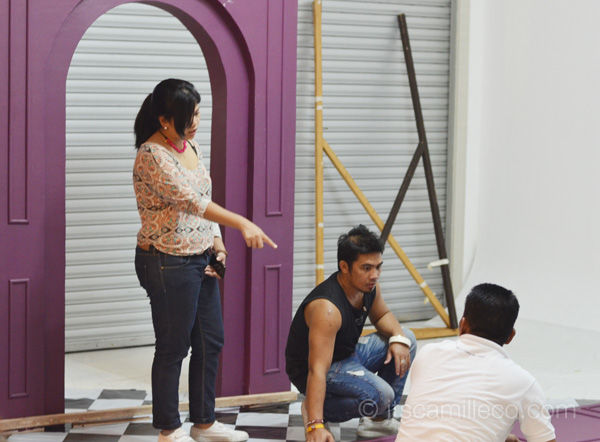 The set was being built on the spot. We were supposed to shoot outdoors but because the weather was really really bad that week, the Preview team decided to shoot indoors instead. Since we can't go to Versailles, we brought Versailles to us haha!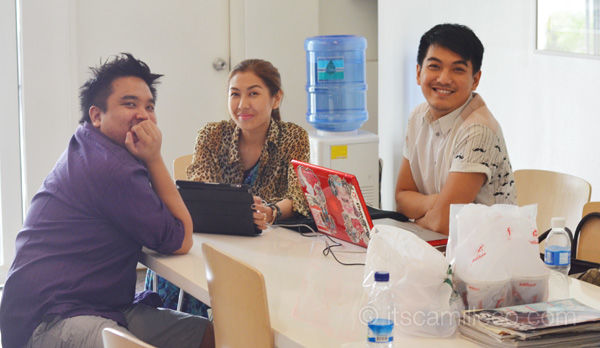 Meet our photographer, Paolo Pineda, together with Liz and Preview's creative director and one of the people I look up to the most in this industry, Vince Uy.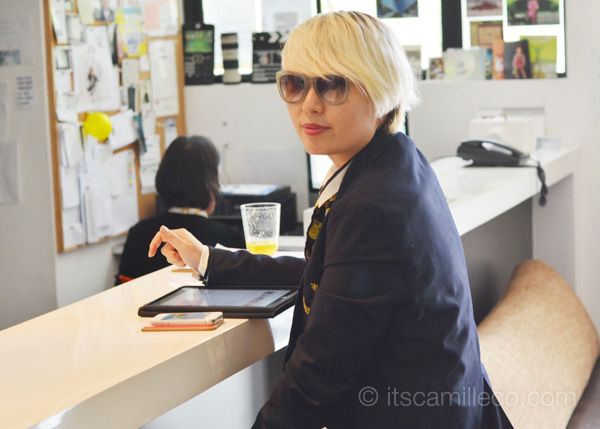 Preview Magazine's fashion editor, Daryl Chang.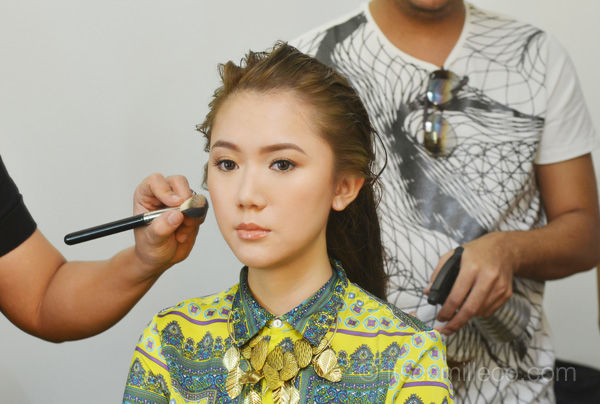 I came into the shoot not knowing what to expect. I didn't even know what the concept was. I didn't need to know anyway. All I know is I'm in good hands!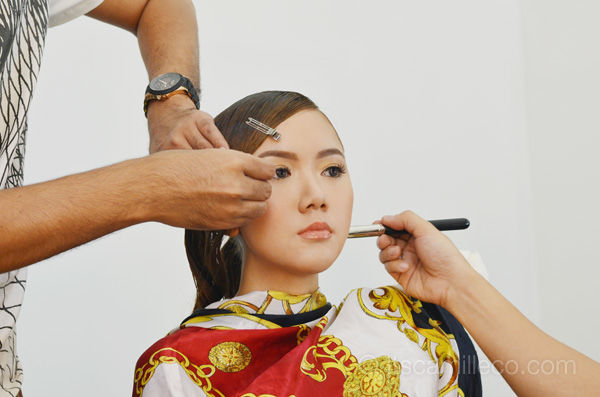 The look for our shoot was clean and simple. Preview wanted to veer away from our usual hair and makeup–always smokey with our hair down. This time, they wanted us in natural and light makeup with all our hair up in a neat up-do. I must admit, I didn't think I'd be able to pull it off but MAC Cosmetics' Owen Sarmiento is a genius!!! He is a magician, I swear!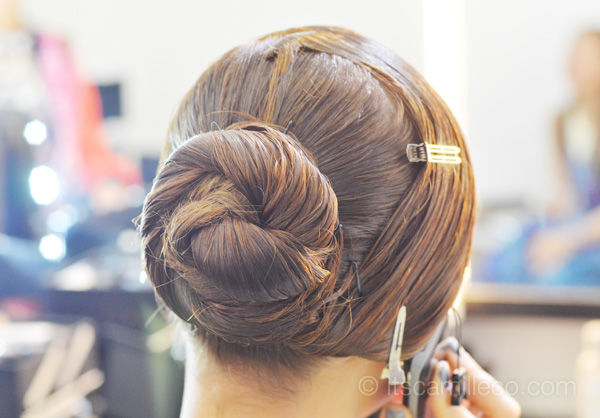 My hair was done by Buern Rodriguez and Mark Familara, both great as well. A lot of you were really surprised with my hairstyle. It's Camille without bangs! Haha! Can I just say, the amount of hair product on my hair was no joke!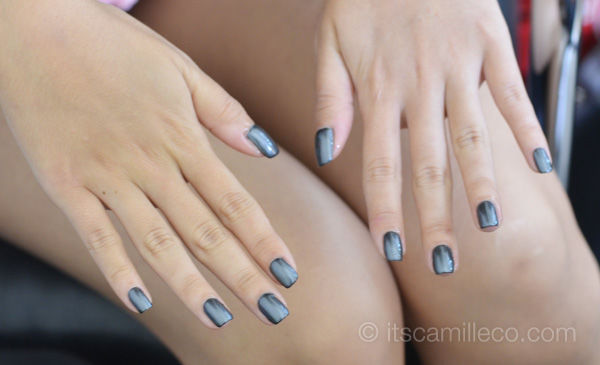 Tricia's pretty nails. All 3 of us had our nails done in this color.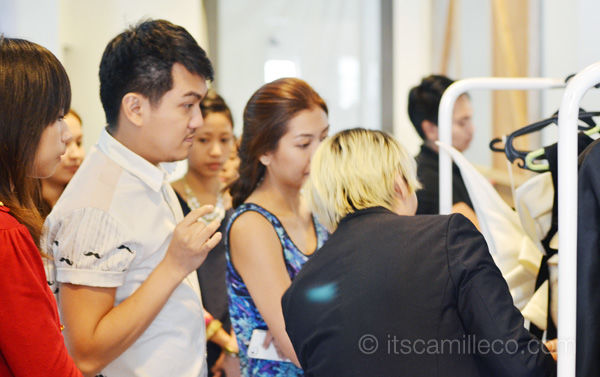 While we were busy having our hair and makeup done in the other room, the Preview team were already hard at work. I felt so special having all 3 of Preview's best overseeing our shoot!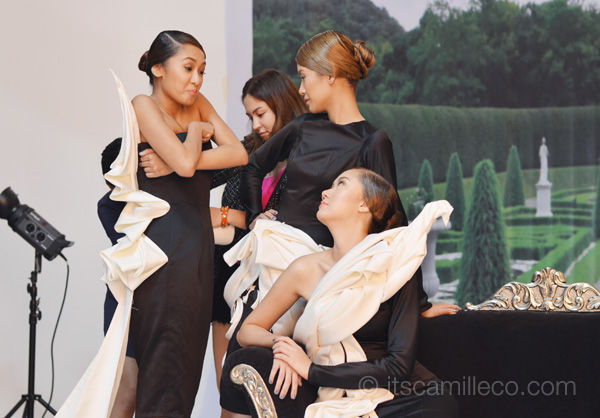 We're finally ready to shoot, but not without a few clips and pins here and there. (And chitchats too!)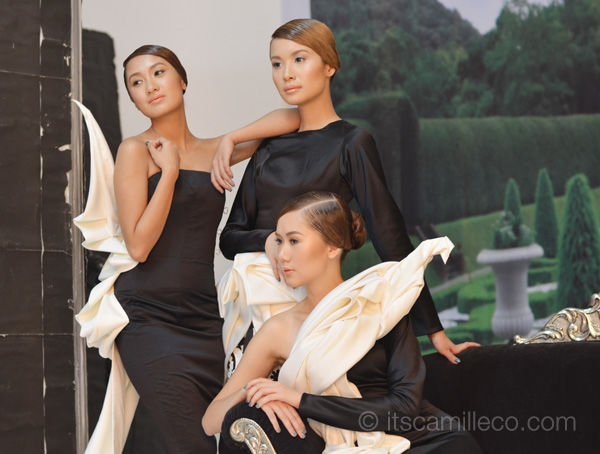 All clipped up and ready to go! Game face, ON!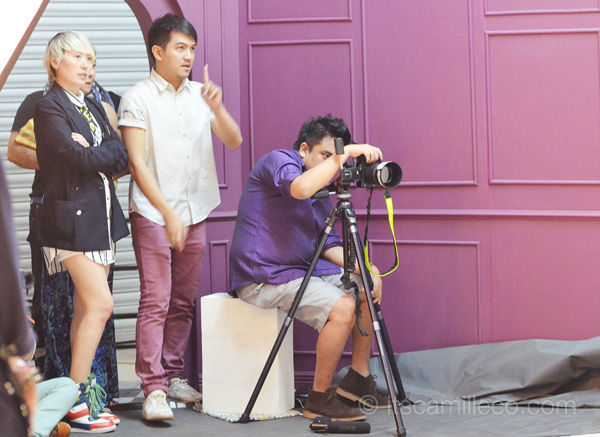 Vince directed our every move. Have I mentioned how much I admire this guy? He is the best!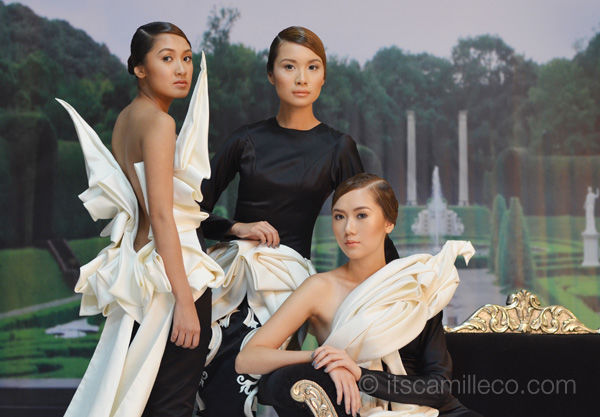 I'm a hundred percent certain I was in this pose for almost, if not more than an hour. The result? Stiff neck! But no complaints, this is a once in a lifetime opportunity. Go lang!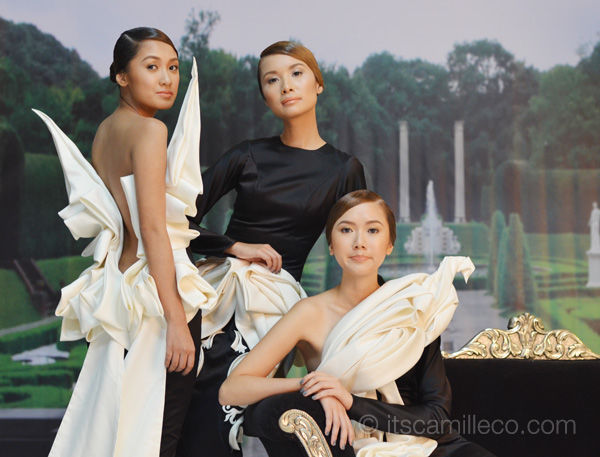 What I do in between takes. Stiff neck, be gone!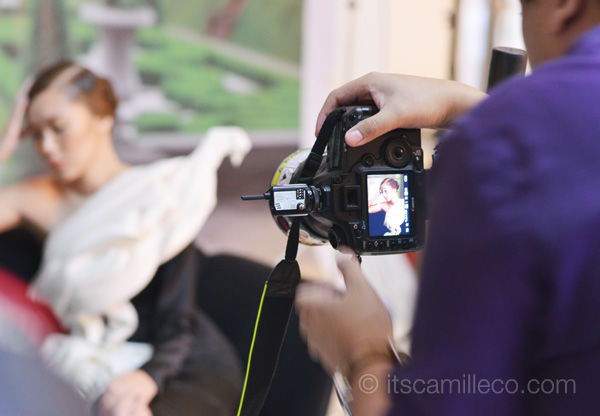 After our first cover option, time for our solo shots. This is the my-head-is-aching pose.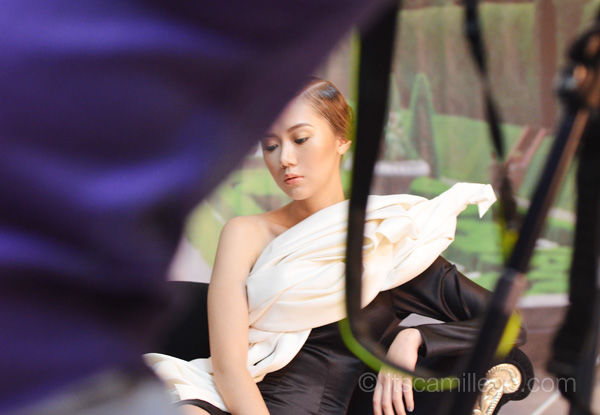 So  how do you like my peacock dress? :)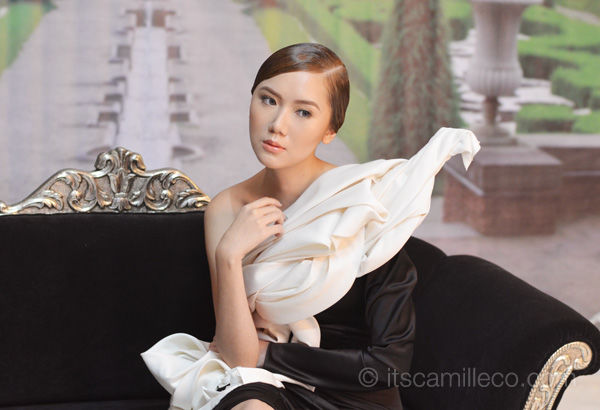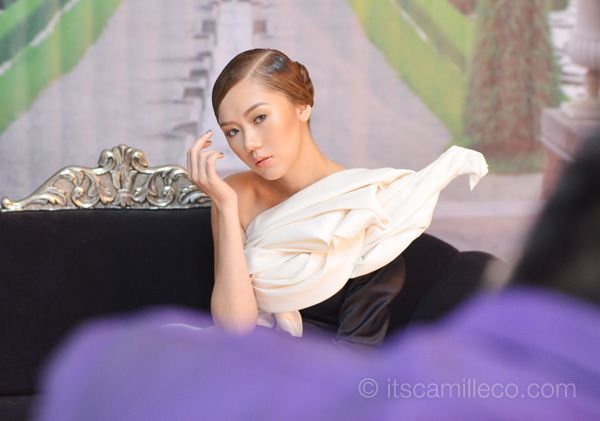 Put a ring on my finger and this can be a jewelry ad haha!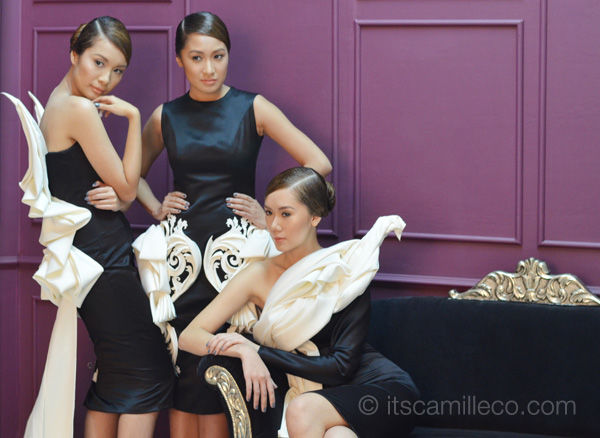 Cover option number 2 with Tricia now wearing the sexy backless dress Laureen was wearing earlier.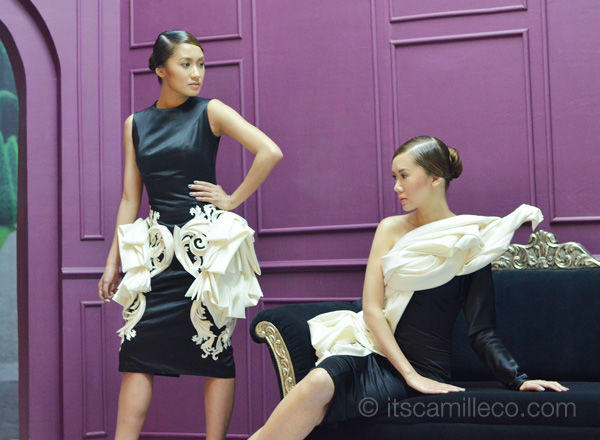 Pwede nang pang kontrabida! This is soap opera/telenovela material! LOL!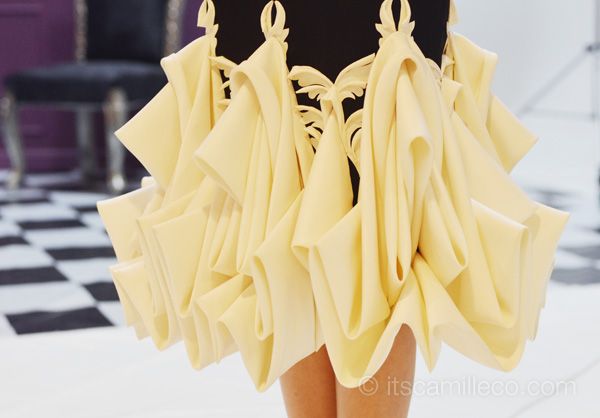 My 2nd dress. Look at that draping!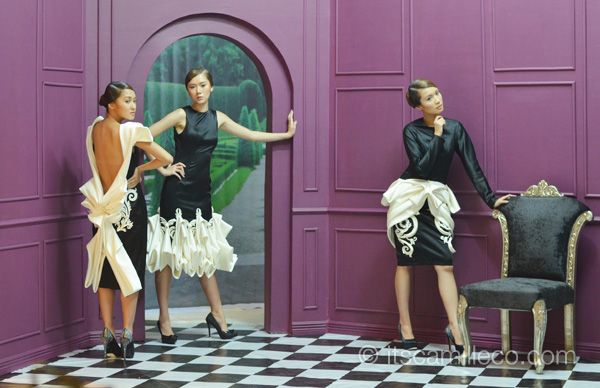 A few more group shots. Yay! I'm no longer sitting!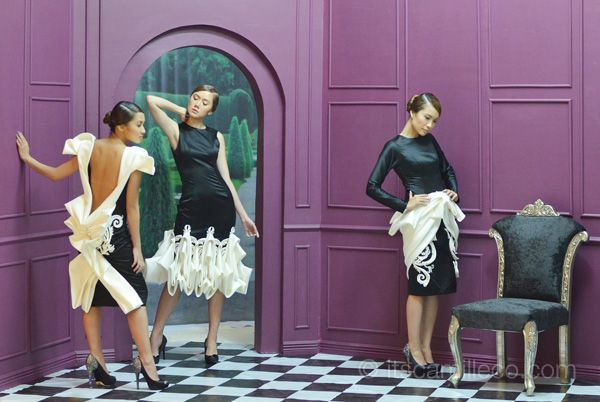 I learned later on from photographer BJ Pascual that the pose Vince asked me to do here is one of the classic Vince Uy poses! Haha!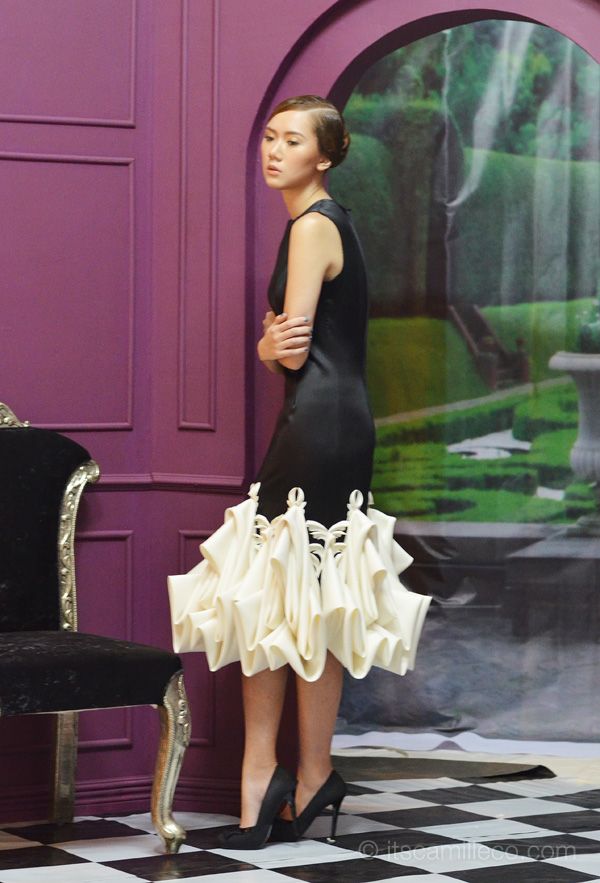 2nd solo option.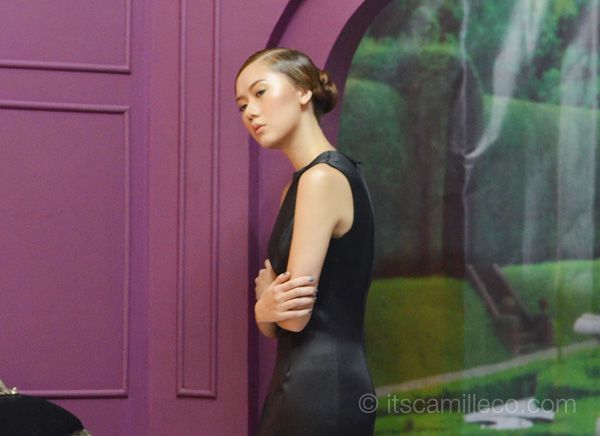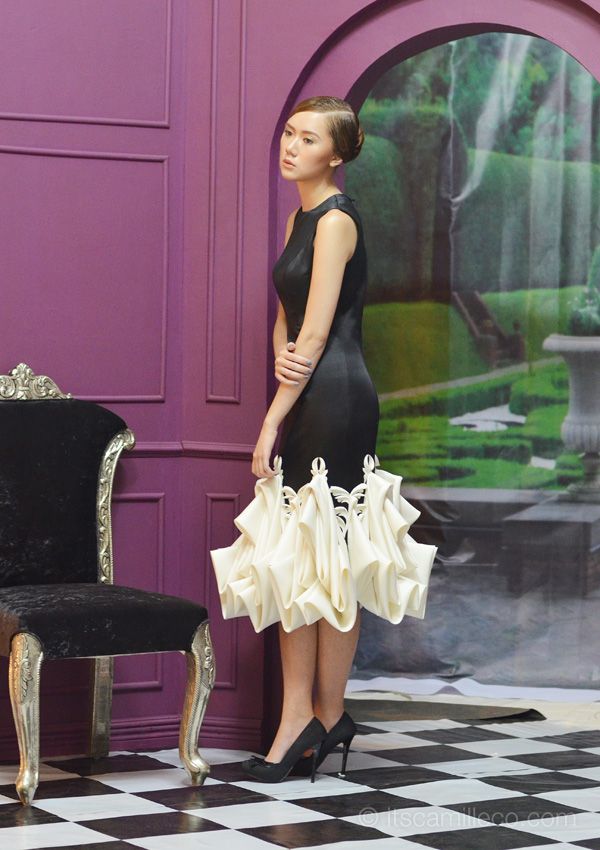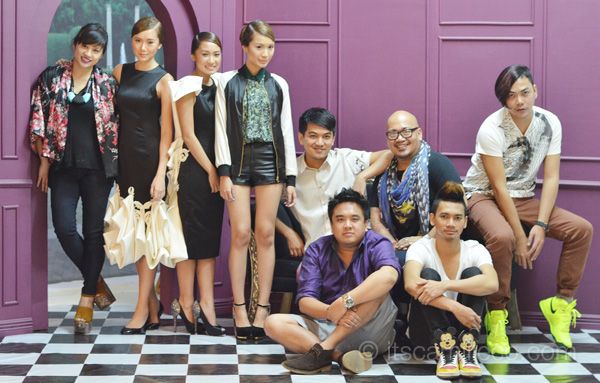 And that's a wrap! Spot me tiptoeing in my flats haha! From left to right, that's MAC Cosmetics' Pong Niu (who did Laureen's makeup), me, Laureen, Tricia, Vince, Paolo, Shu Uemura's Omar Ermita (who did Tricia's makeup), Mark Familara and Buern Rodriguez.
Sigh. This experience is definitely one for the books. From being featured as a young designer on Preview's designer profile to being featured as my normal self on their Style Profile, then being included in Preview's Emerging Fashion Talents (PEFTA) and later as one of their best dressed women of 2011, I thought that was it. I  didn't know Preview could ever top that. Thank you Preview and most especially, Preview's editor-in-chief, Pauline Juan. This isn't just any cover. It's THE September issue, the BIG FASHION ISSUE! This is such a huge risk! Thank you for believing and putting your faith in us, actually, not just in the 3 of us, but in all of us fashion bloggers. Thank you for giving us this opportunity to spread awareness on what it is exactly that we do. I don't know how many times I'm going to say this, but really, THANK YOU. I am more than grateful for everything!
To my dear readers, please support us by getting your own copy of Preview Magazine's September issue. Don't make us Preview's lowest selling issue ever haha! Kidding aside, it's really jampacked so you won't regret it. I promise!