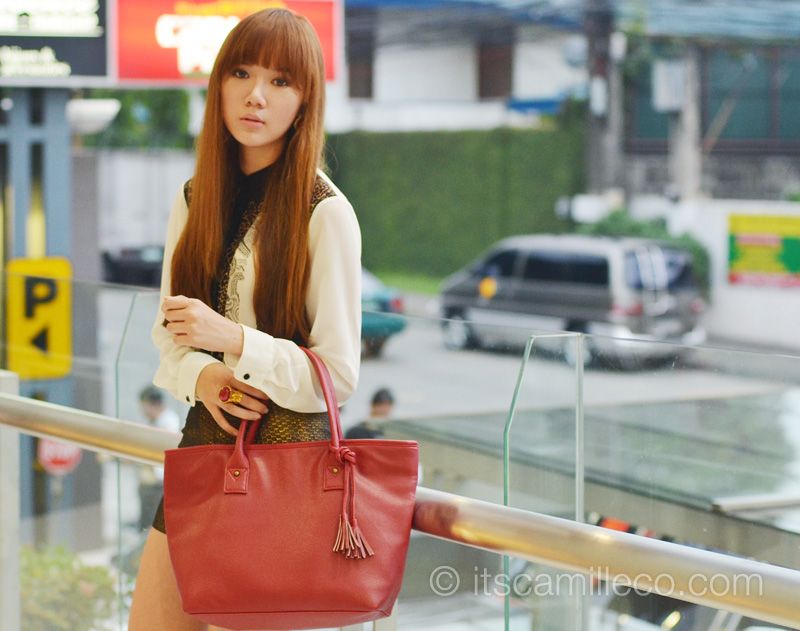 Before we talk about this latest giveaway, let me say something about my outfit first. I know, I know. You really want to know how you can score this red tote. Hold your horses! This will be quick. I promise!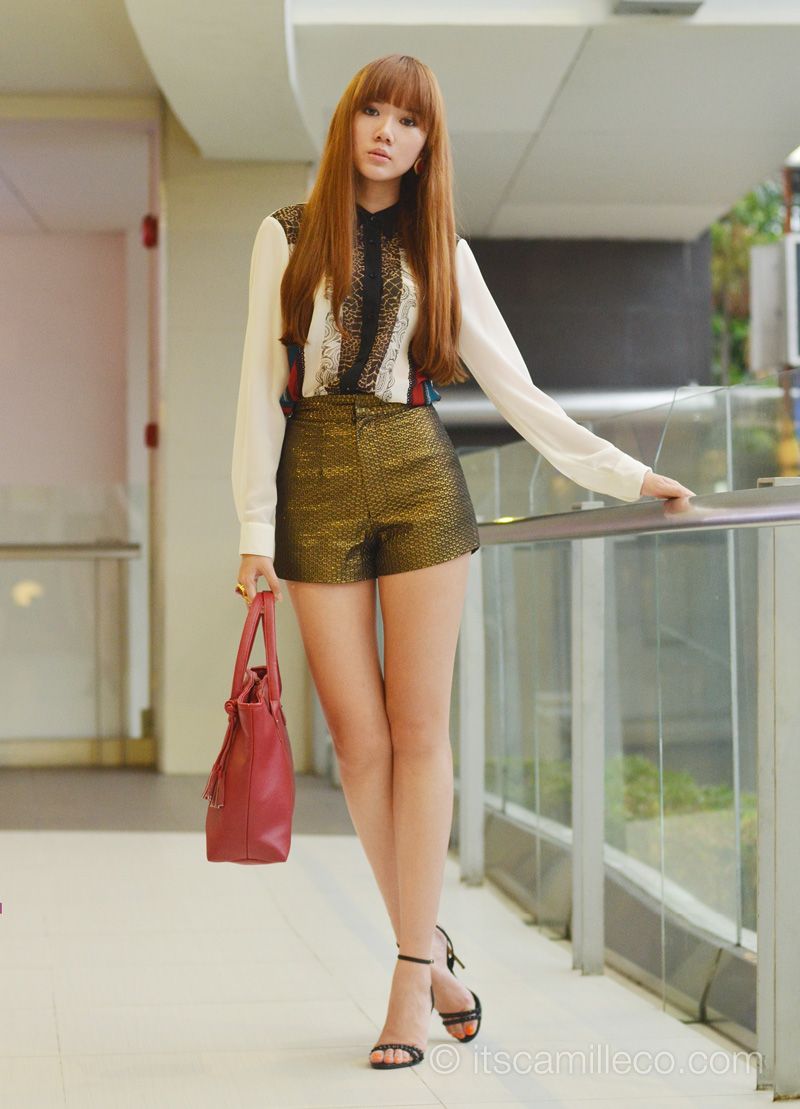 It's already been a habit of mine to raid my mom and my sister's closets whenever I feel like I've run out of clothes to wear. Now before you judge me and shout "ugh Camille, you hypocrite," let's get real. Us girls, no matter how big our collection is, there will always be days when you feel like you've got NOTHING to wear. Hello, have you watched The Rachel Zoe Project? Even she has days like this and my closet is nothing compared to hers. Today was one of those days.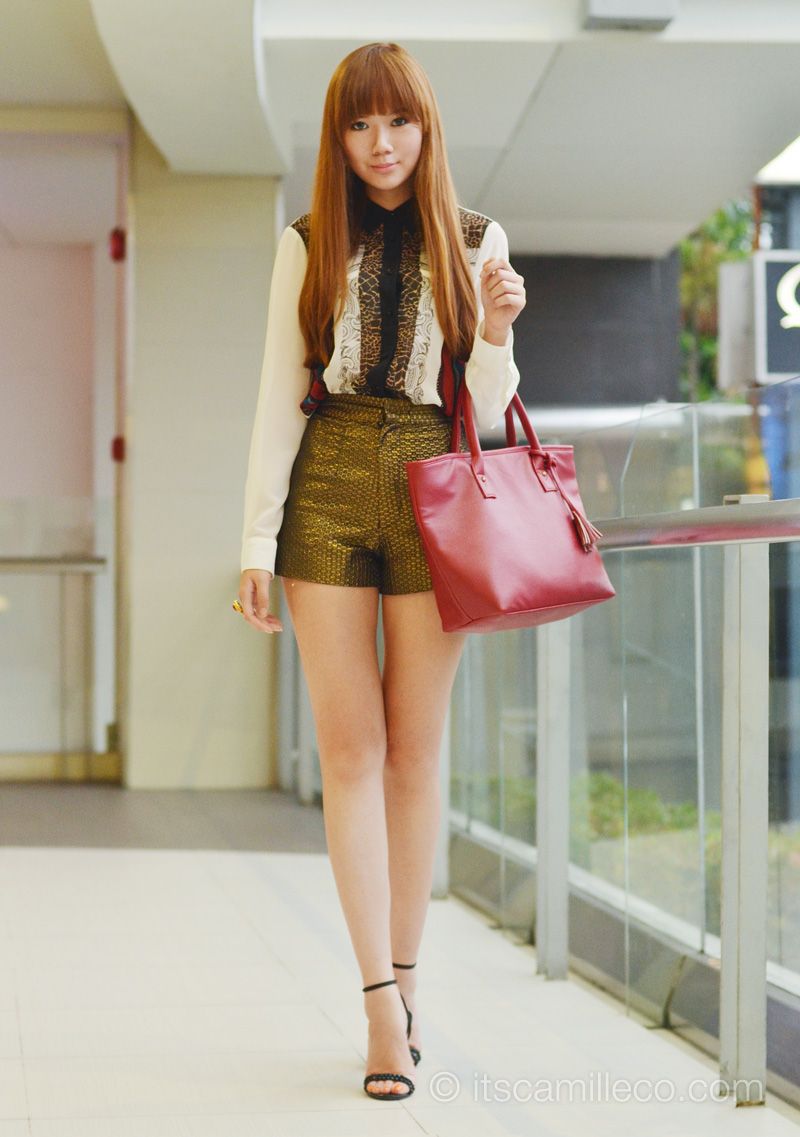 So whose closet did I raid? Mom's the victim this time around. My mom and I share the same love for buttondowns and prints. She wears a bigger size but I make do. Isn't it fun living with 2 other women in the house?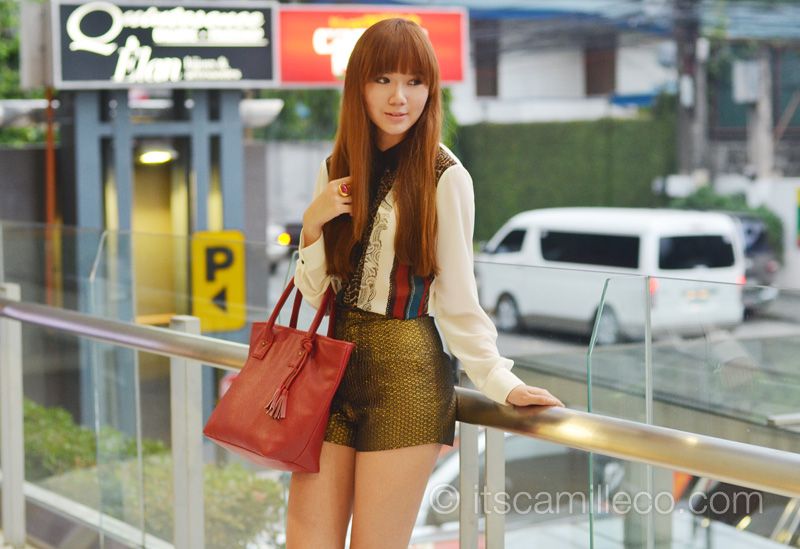 Since this is a bag giveaway, I styled my outfit according to the bag. It's pretty easy actually. The bag is the perfect everyday bag– size is just right; design is a classic; and the color isn't hard to match. These are actually the reasons why I chose this bag for the giveaway.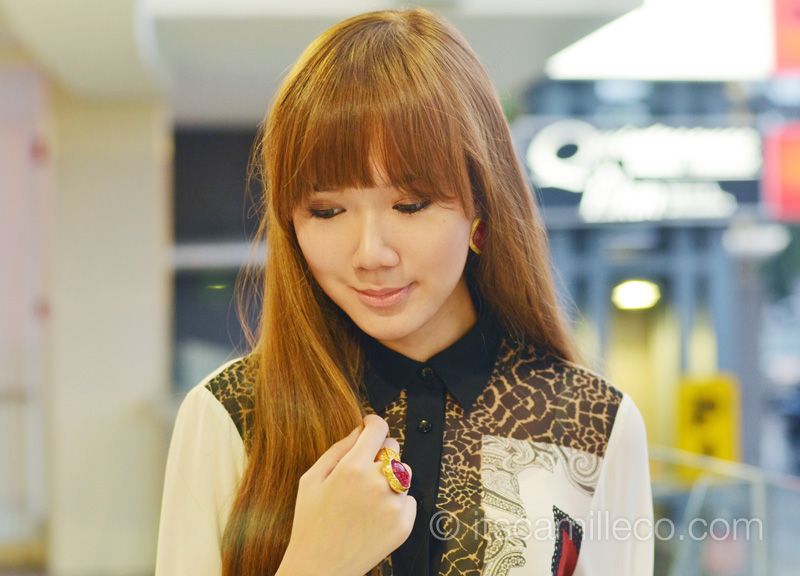 SM Accessories earrings
Marks & Spencer top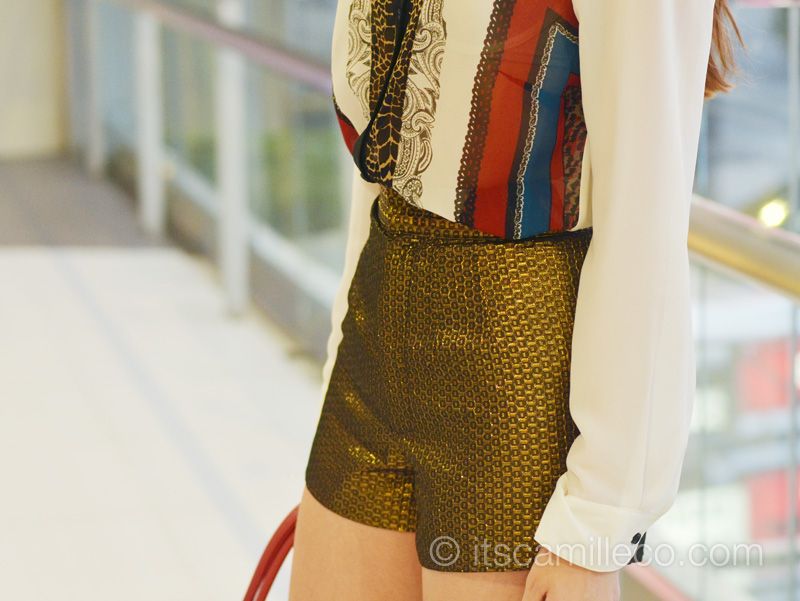 Pinkaholic shorts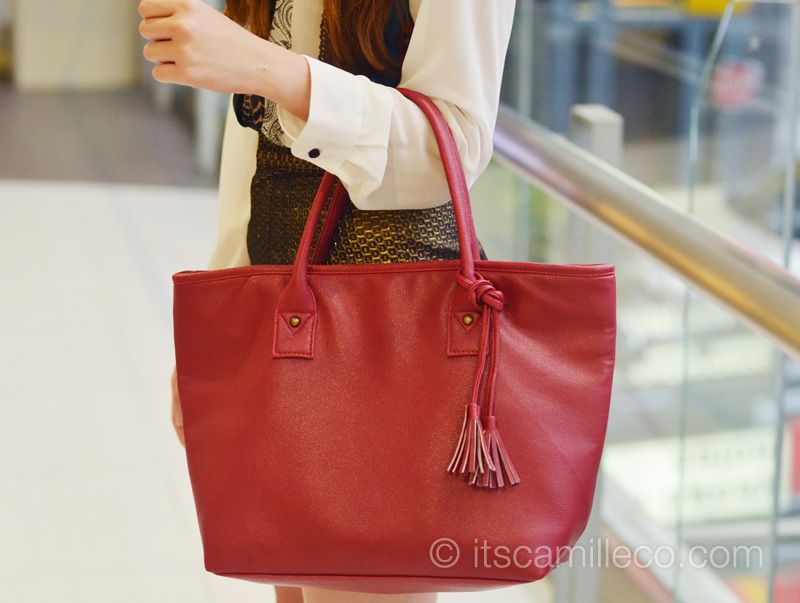 Abby Jocson red tote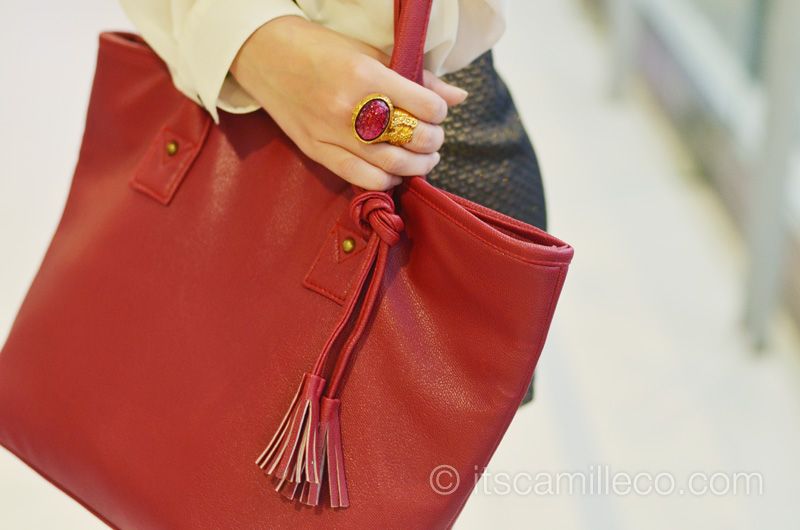 YSL Arty ring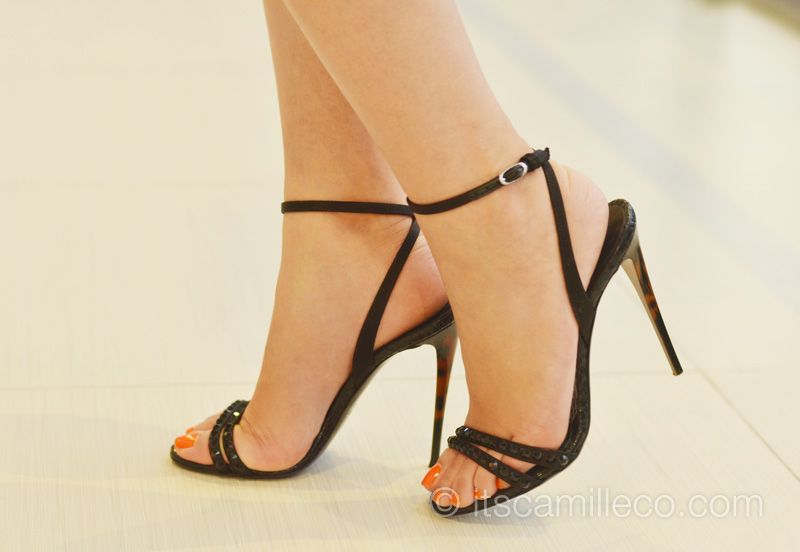 Giuseppe Zanotti heels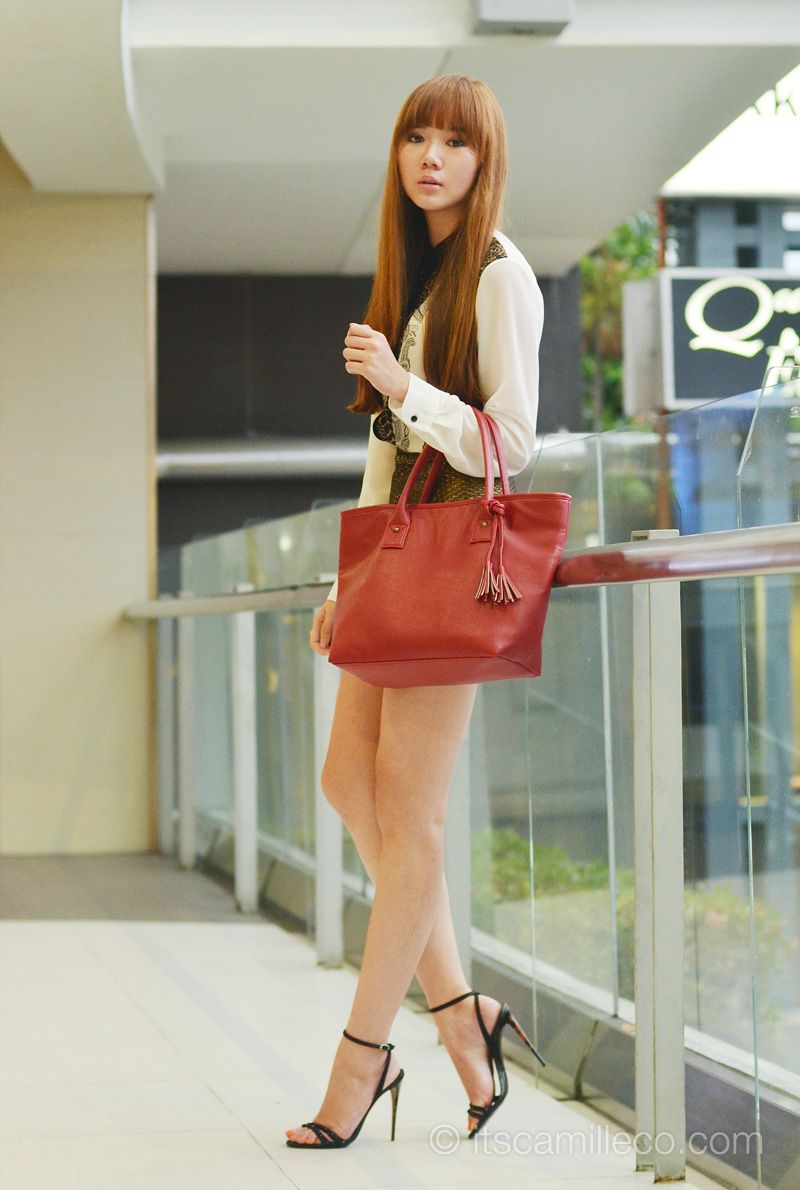 [button link="http://lookbook.nu/look/4270327-Blog-Giveaway-Win-This-Red-Tote" size="small" bg_color="#e5b3b9″ window="yes"]Hype this look at Lookbook.nu here[/button]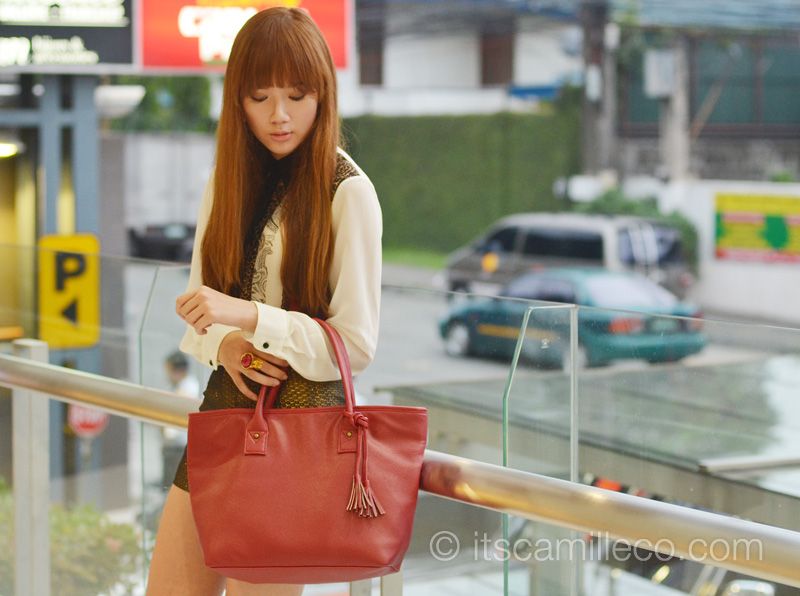 Just a little info on Abby Jocson, all her items are proudly Filipino made. The brand sells mostly chic tote bags like this and a few accessories as well like cellphone pouches.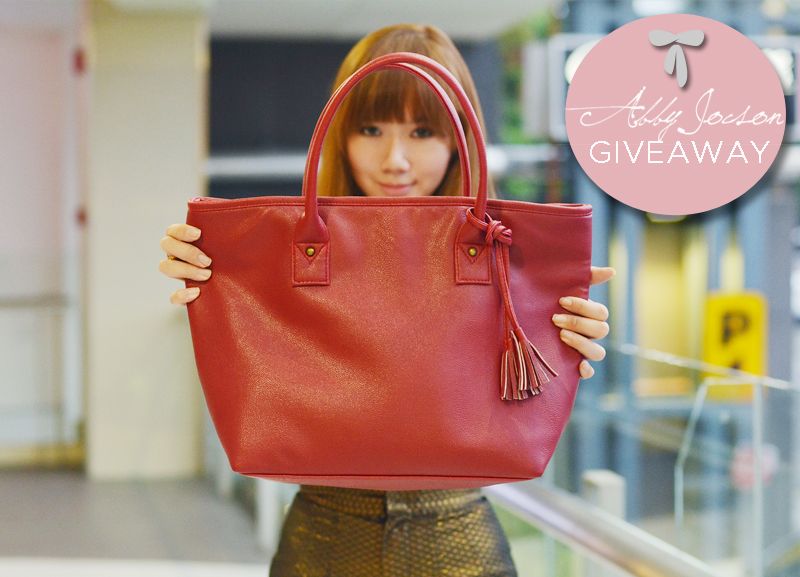 So are you ready to join my Abby Jocson giveaway? Win a bag like this and let's be bag twins! Just follow the steps below to join:
Follow me on Twitter and Bloglovin'. If you don't have these accounts, it's easy to make one!
Tweet this and tag 2 of your friends: "I want to win an #abbyjocsonbag on itscamilleco.com ! Join the giveaway too @(insert friend's Twitter name) and @(insert friend's Twitter name) ! #ItsCamilleCoGiveaways"
Leave a comment below with your name, Twitter name and link to your tweet.
Deadline for entries is on December 1 at 11:59 P.M. This contest is open to Philippine residents only. Again, no multiple entries please. The winner will be chosen via Random.org and announced here, so make sure to check the comments section after the deadline.
Good luck everyone! A month and 4 days to go before Christmas! Woohoo!