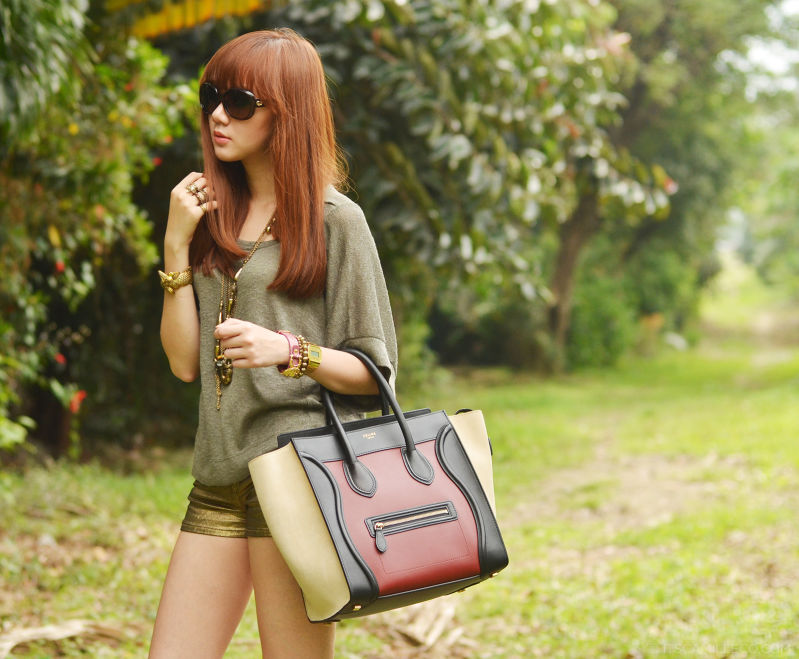 Notice anything different?? My shorter and no-longer-blonde hair is finally making its debut here on my blog! Woot! If you've been paying attention to my tweets and blog posts, I mentioned that I'm changing my hair color to red. This isn't red yet though. My hairstylist Maiya from Park Jun Salon dyed it copper first because my hair was too light to transition to red right away. I'll probably have it colored to red in a few weeks. But for now, I'm making the most out of my copper hair. I'm really loving the change!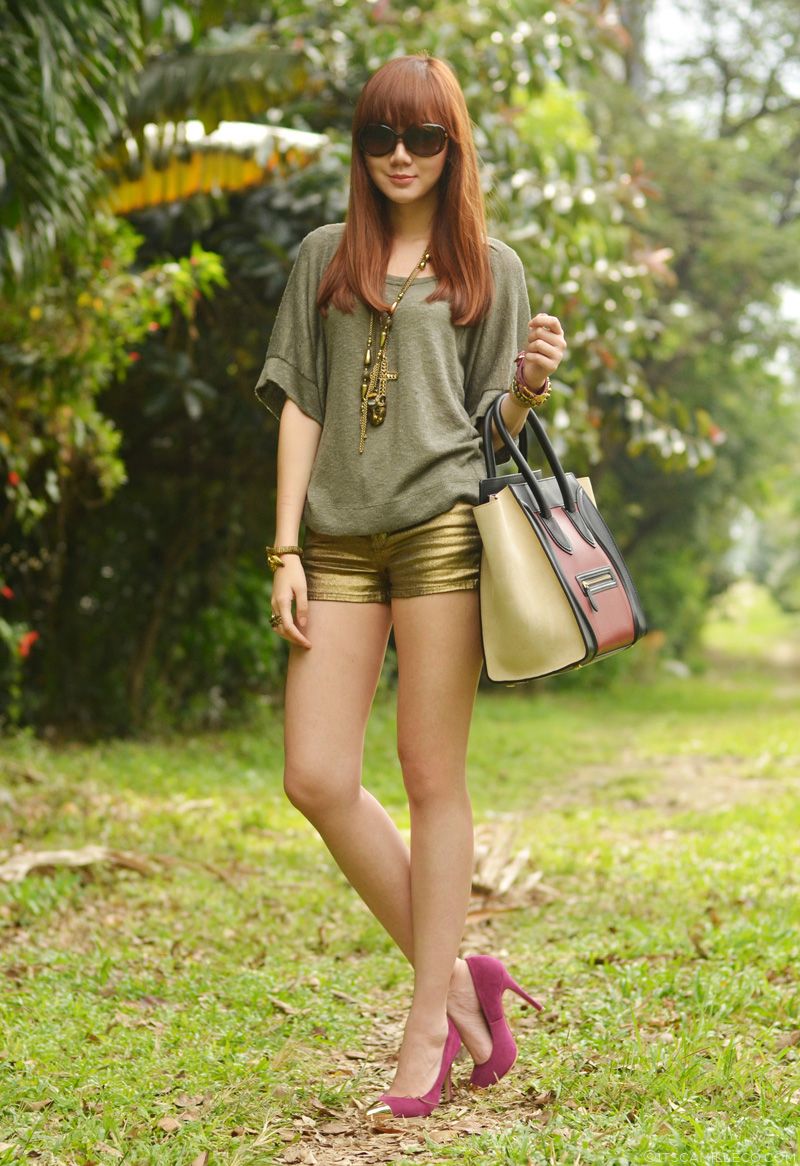 It's so funny how whenever I go to Park Jun Salon, the people there always tell me how they get inquiries about my hair all the time. A few even request for "Camille Co color" or "Camille Co bangs". LOL! I didn't even know there was such a thing as "Camille Co this and that"! I'm baffled, but flattered! Teehee.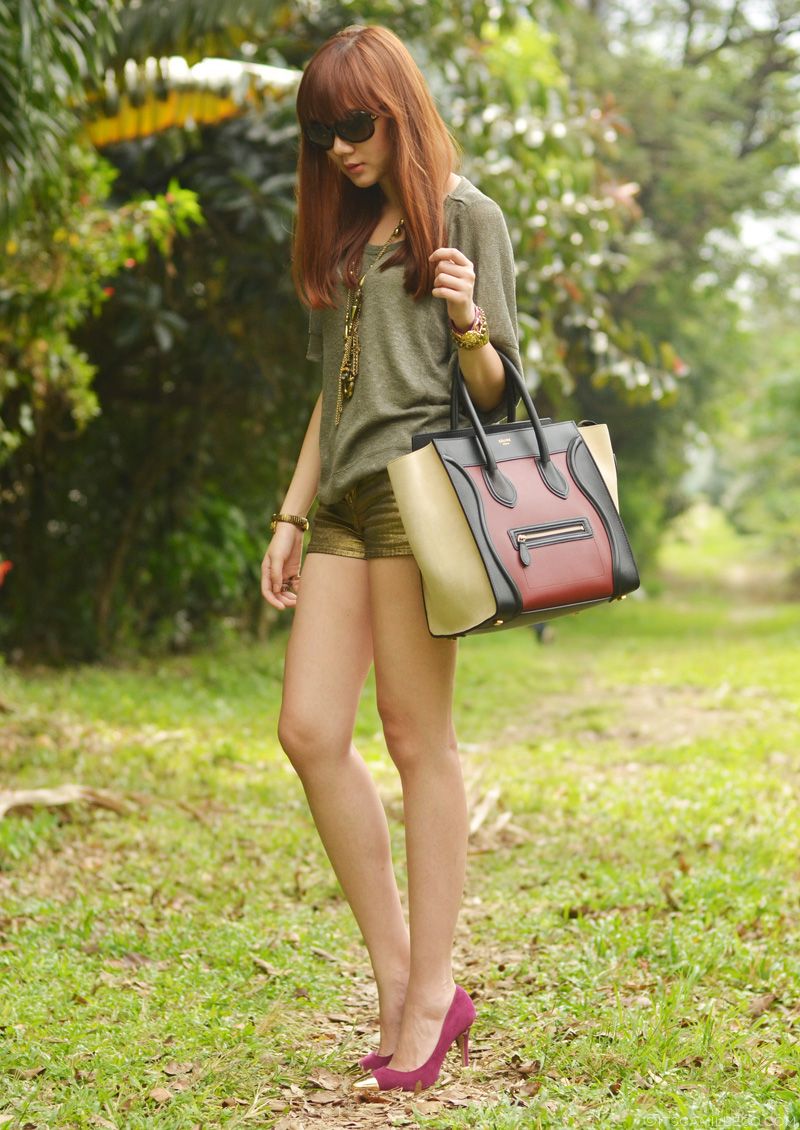 So anyway, enough about my hair. Let's talk fashion! I'm in a noticeably laid back outfit once again. I was feeling a little lazy this day so there's nothing like good old comfy knits and denim to do the trick. When it comes to basics like these, I thank God for the presence of stores like Forever 21 and Cotton On. They always have what I'm looking for!
Cotton On gold denim shorts (available at SM Mall of Asia)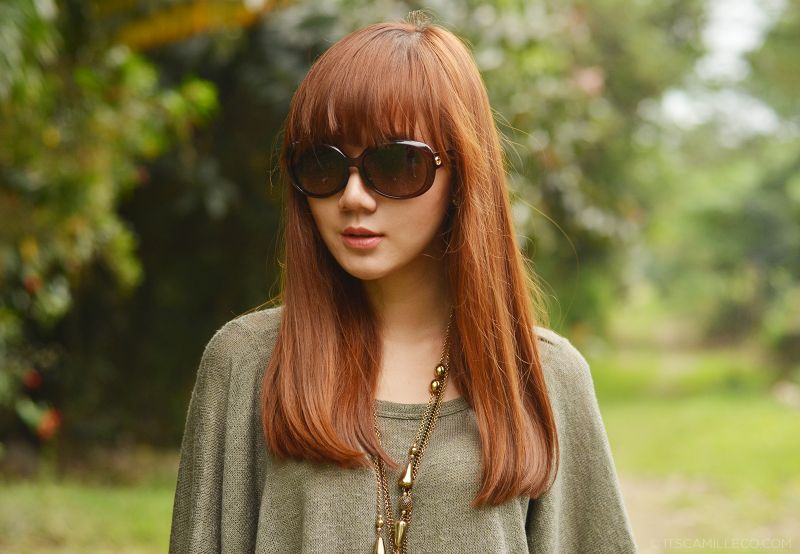 Forever 21 top (available at SM Mall of Asia)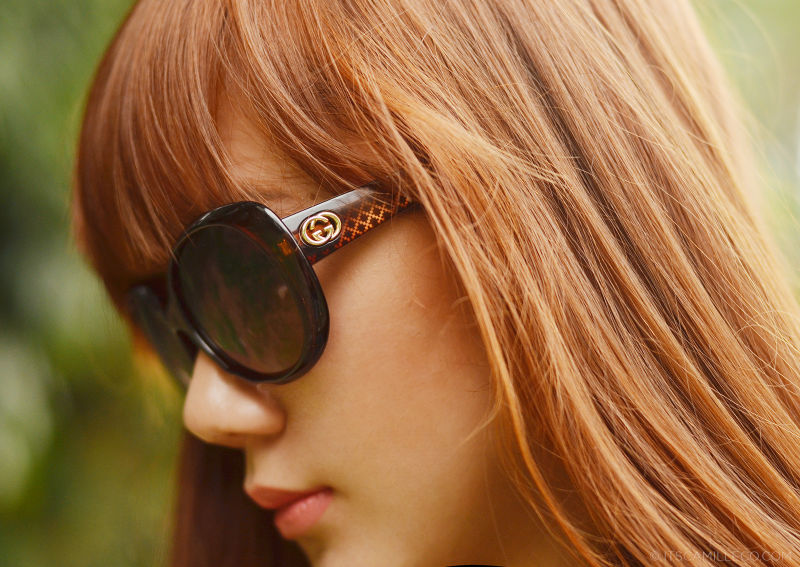 Gucci sunnies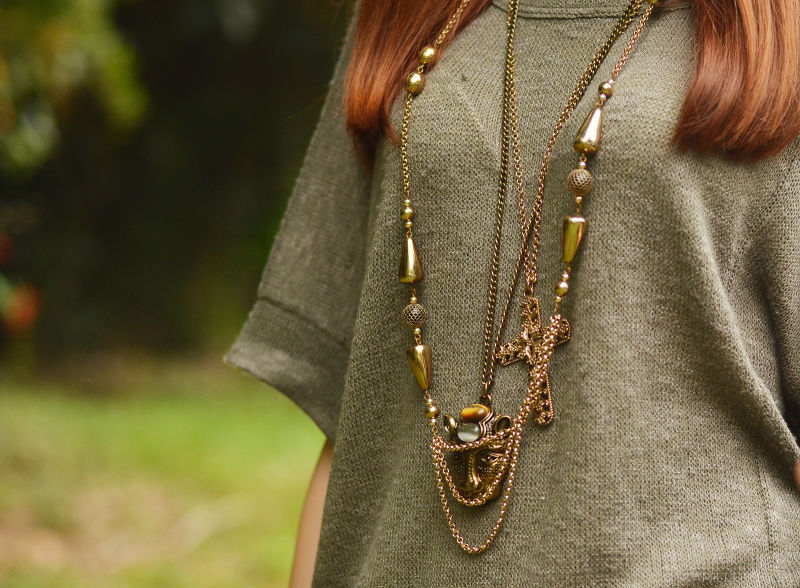 Mango cross necklace and tiger necklace
When it comes to lazy dressing, the trick is to make it seem like you weren't lazy at all. Accessories can do this for you. Everything from your eyewear, arm candies, bag and shoes can help take your look from drab to fab.
Kandi Treats lion leather cuff |  Mia Casa crocodile cuff | Casio watch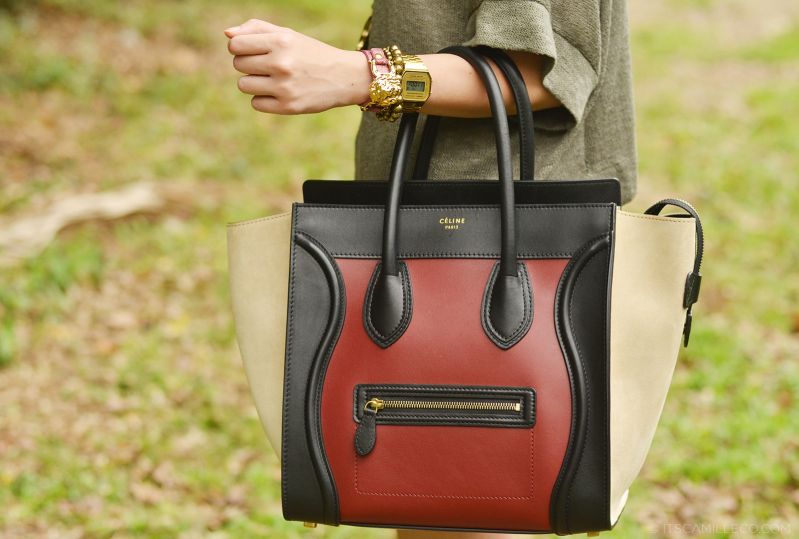 Celine bag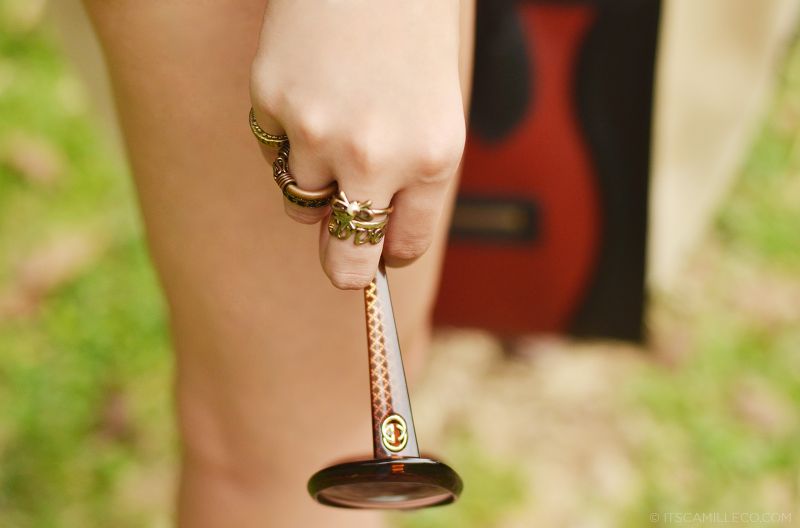 Naturally, when you're lazy to dress up, you're probably lazy to do your makeup as well. If this happens to you, sunnies are your besties. They can easily hide your dirty little secrets. LOL! If you're planning to get a new pair like this, I suggest hitting up SM department stores like the one at Mall of Asia. You can get a P500 worth of SM Accessories Gift Certificate for every pair of eyewear you buy from brands like Gucci, Celine, Jimmy Choo, YSL, Tommy Hilfiger, AX and Juicy Couture until January 15. It's like hitting 2 birds with one stone! You get a new pair of sunnies plus a gift certificate to buy accessories with. You're practically lazy-day-dressing ready!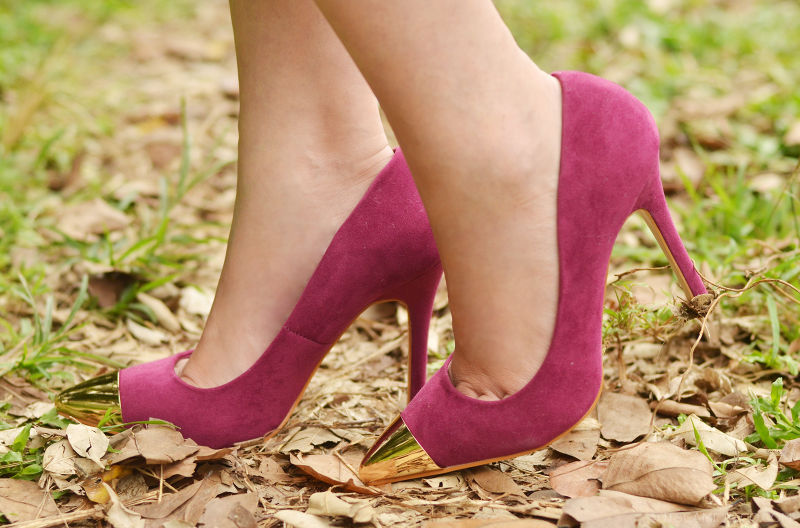 CMG heels (available at SM Mall of Asia)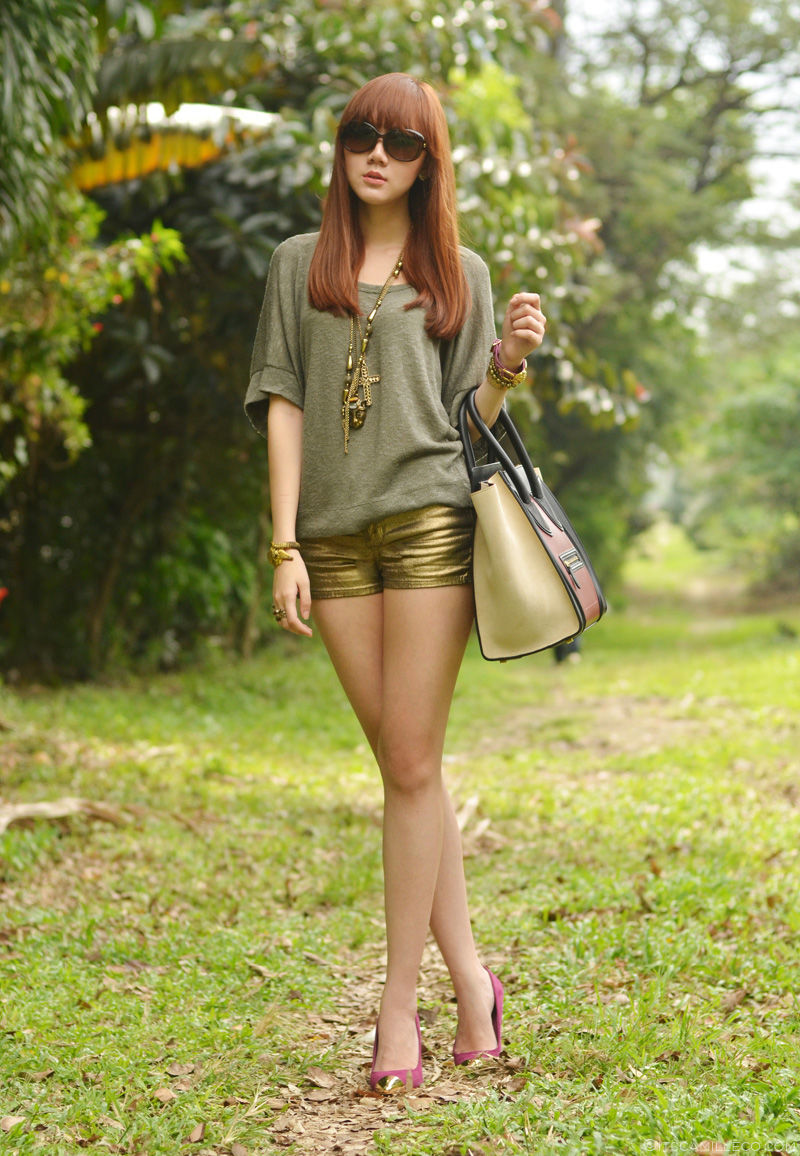 [button link="http://lookbook.nu/look/4445903-Green-Gold" size="small" bg_color="#e5b3b9″ window="yes"]Hype this look at Lookbook.nu here[/button]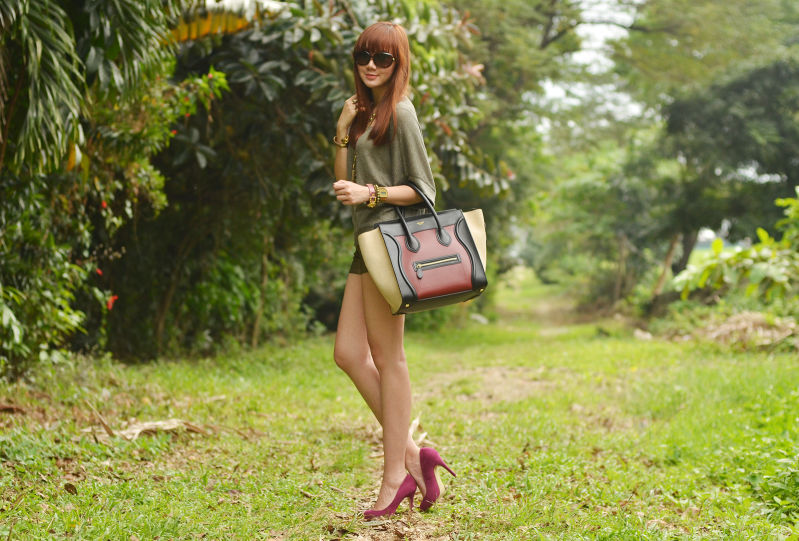 And since you're already at Mall of Asia, make the most out of their end of season sale why don't you? The brands I'm wearing, namely Cotton On, CMG, Forever 21, Gucci Eyewear and Mango, are just a few of the many many stores available at the mall. So just imagine how many great deals you'll find during the sale! You can get up to 70% off on selected items from participating brands until January 13, 2013!
To learn more about sale and the participating brands, follow @The MallOfAsia on Twitter and like SM Mall Of Asia on Facebook.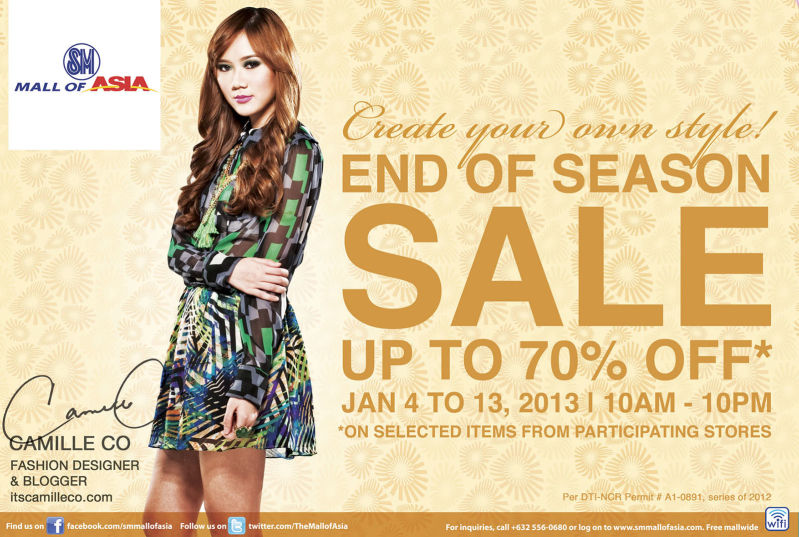 Don't miss out! The shopping gods will be disappointed if you sit this one out!