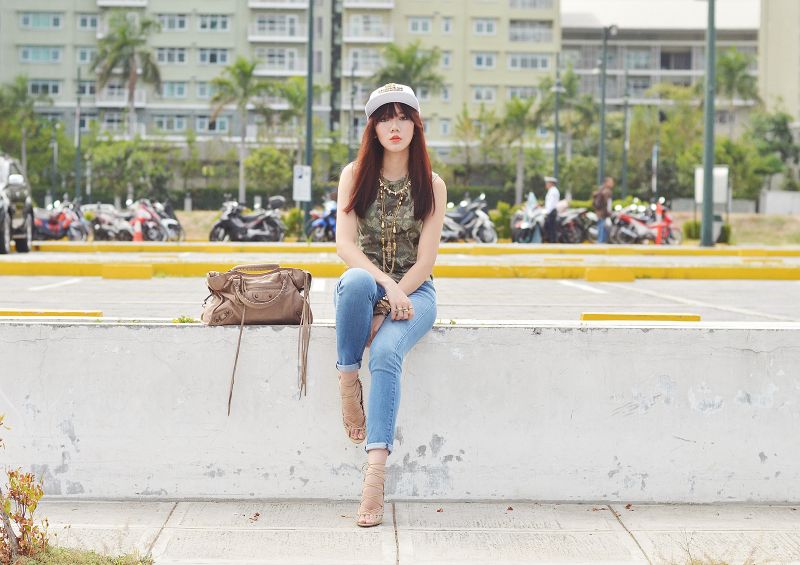 Camille Co, reporting for duty! I didn't really notice it at first but my cap actually matches my camou top, doesn't it? I can pretend to give first aid care. Although I doubt anyone would trust me with their health problems, especially in an outfit like this.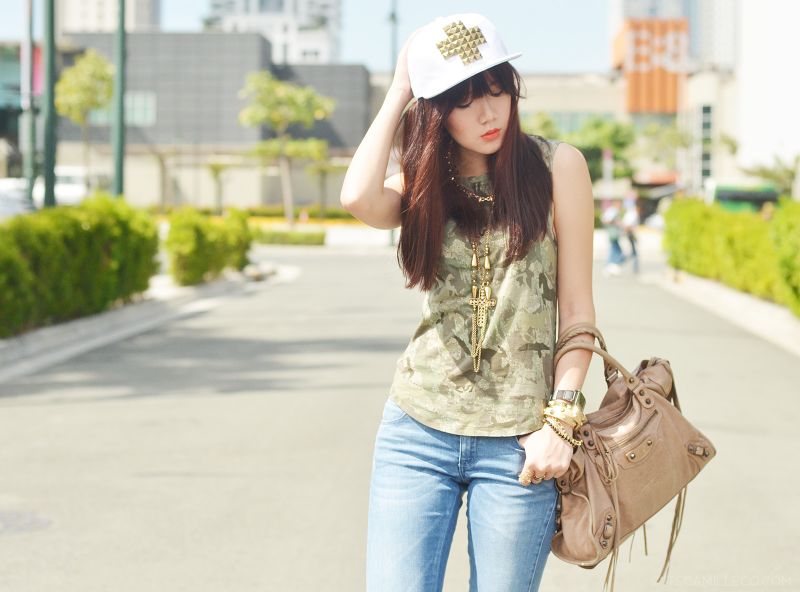 Yes, you're eyes are not deceiving you. I am wearing denim jeans! I'm sure a lot of you have noticed that I don't really wear denim jeans often. It's because of the heat really. It's so uncomfortable wearing jeans in this weather! I feel like they constrain movement, cause so much friction on my skin and trap heat in. So what made me wear these?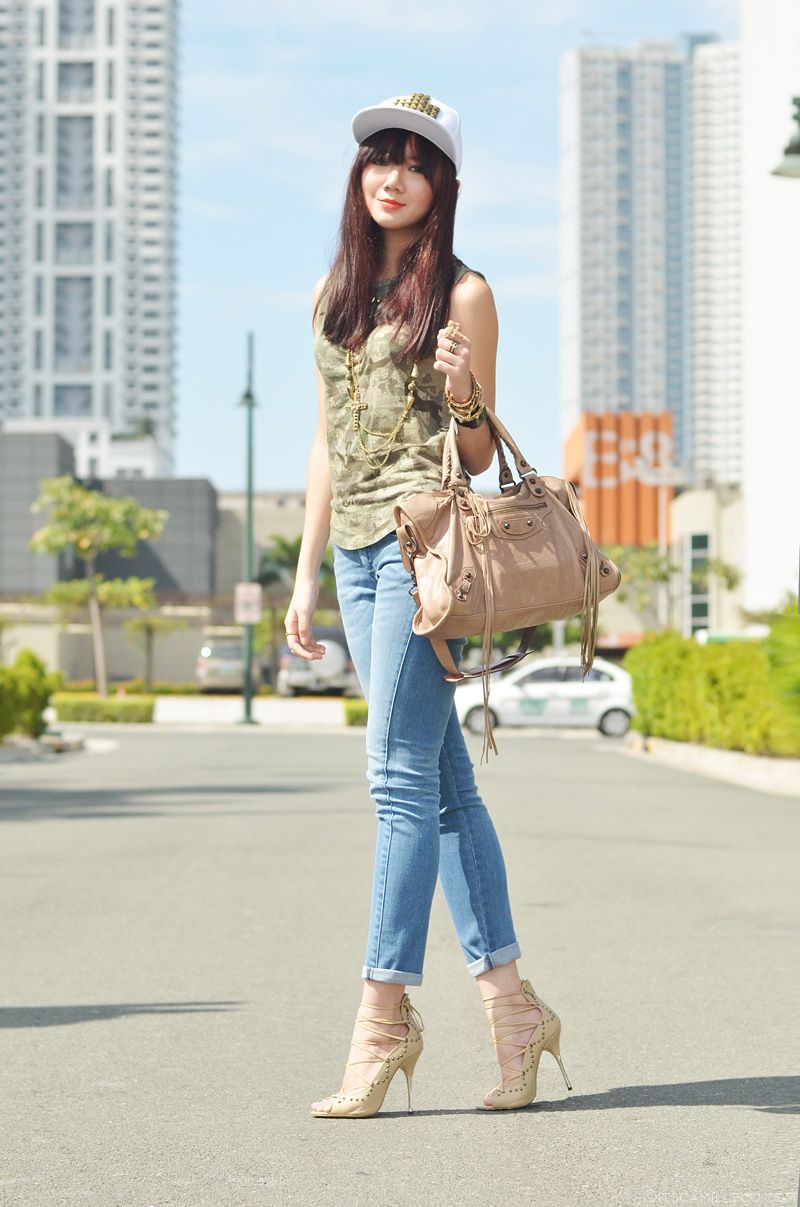 Let me tell you a little something about these magic pair of jeans. Yes, I call them my magic jeans because they defy all the characteristics I dislike about normal jeans. These magic jeans come from well-loved American heritage brand Wrangler. Early this year, Wrangler launched their new collection called Denim Spa in Europe and America. This collection is a range of ladies' jeans that are infused with special skin care ingredients embedded in the fabric. These ingredients are enclosed in micro-capsules that are activated on your skin whenever they are exposed to friction which then produce therapeutic benefits. So cool, right? Oh the wonders that science can do!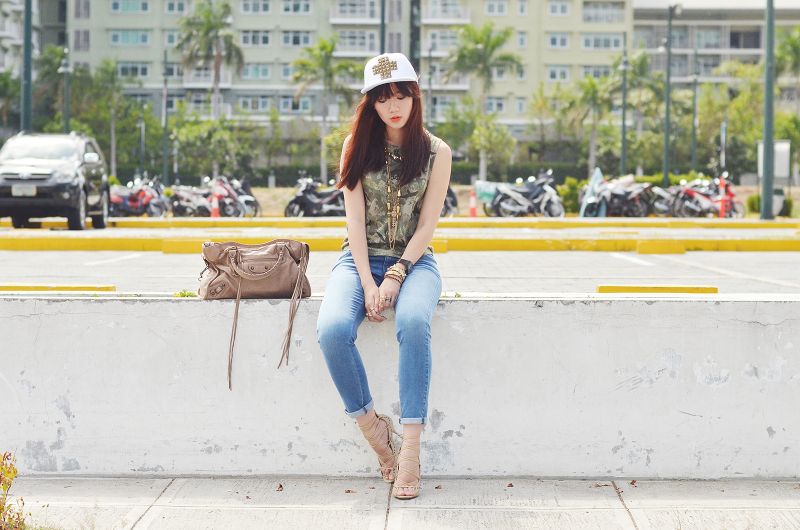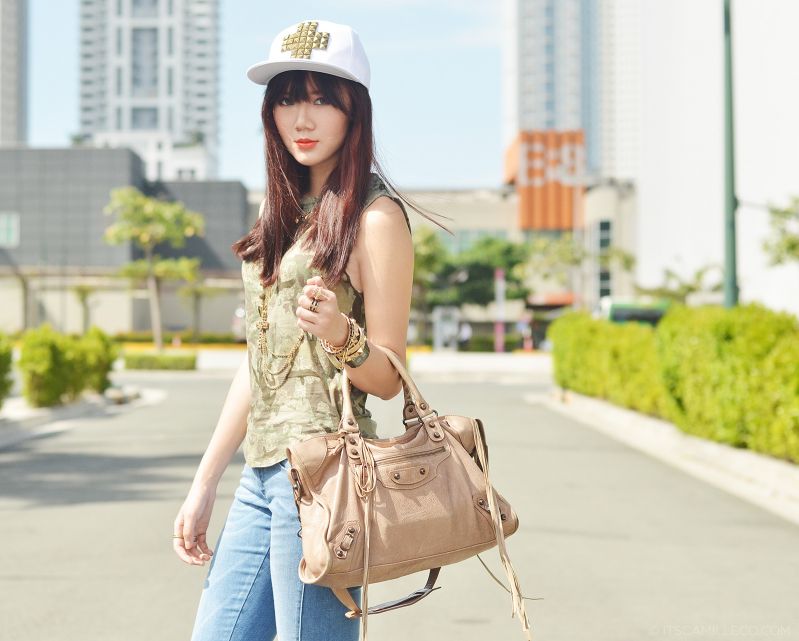 The jeans I'm wearing here are from the Ultimate Olive model. I chose these because I need something that lets my skin breathe. Would you believe I've actually worn this to crowded Divisoria when I went fabric sourcing? That was my ultimate test for this pair of jeans and they survived. Most importantly, my legs survived!!! Aside from being functional, I also like the color of these jeans the most. They're the lightest of the 3 models.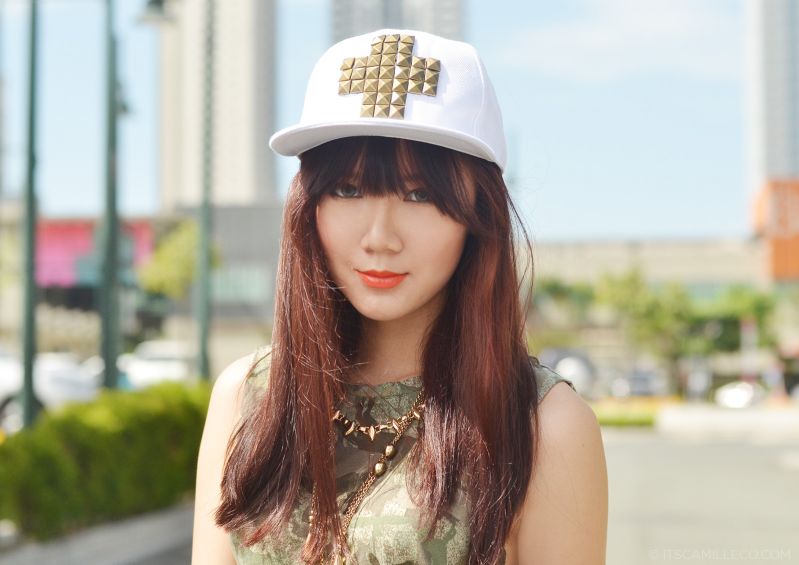 H&M top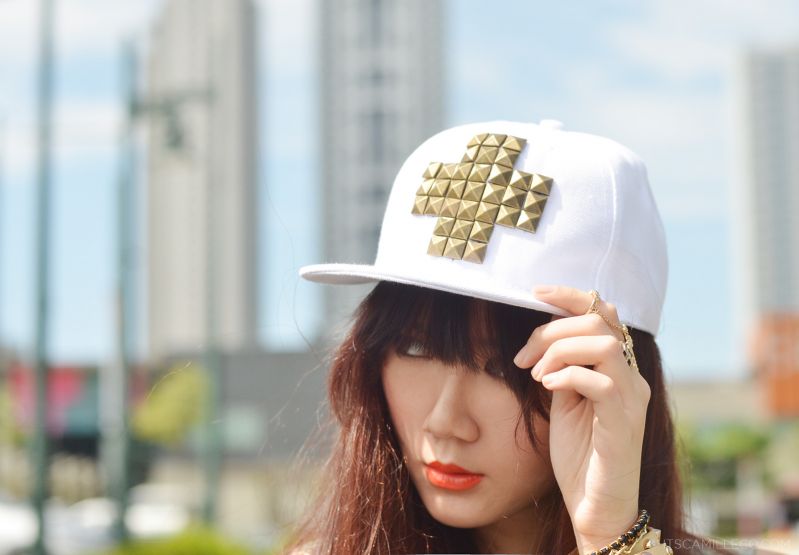 Love Eyecandy cap | Lannel Boutique MAC Morange lipstick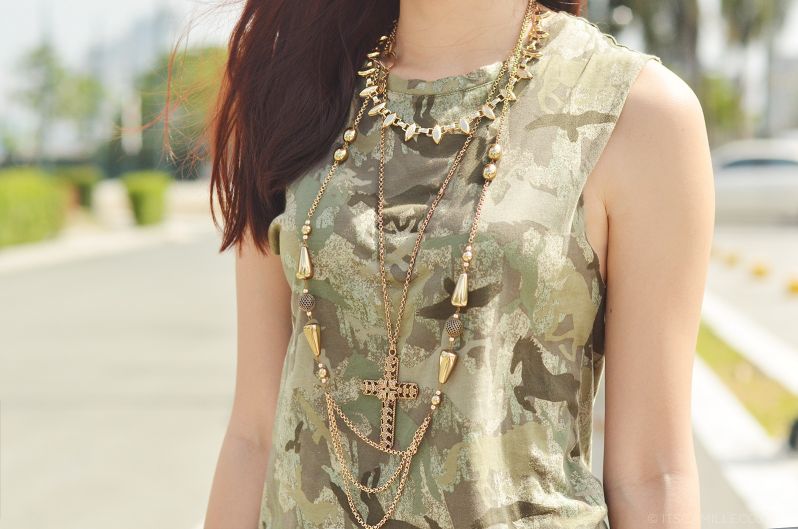 Thrifted long necklace | Mango cross necklace | H&M short necklace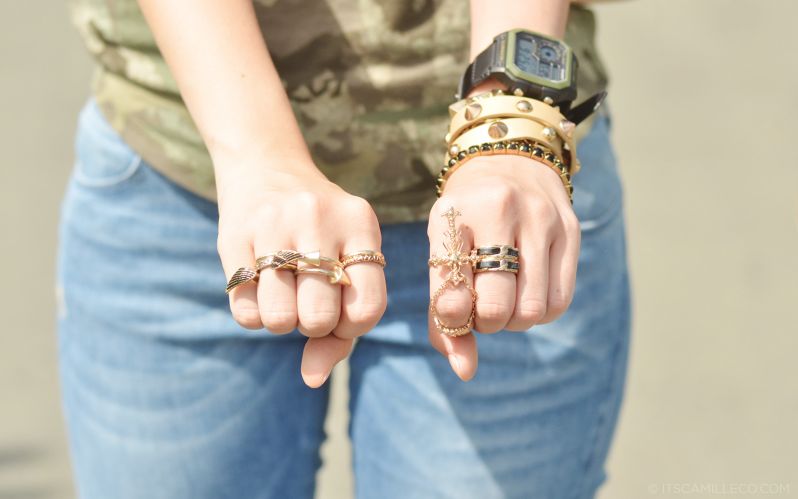 H&M cross ring | Mango black/gold ring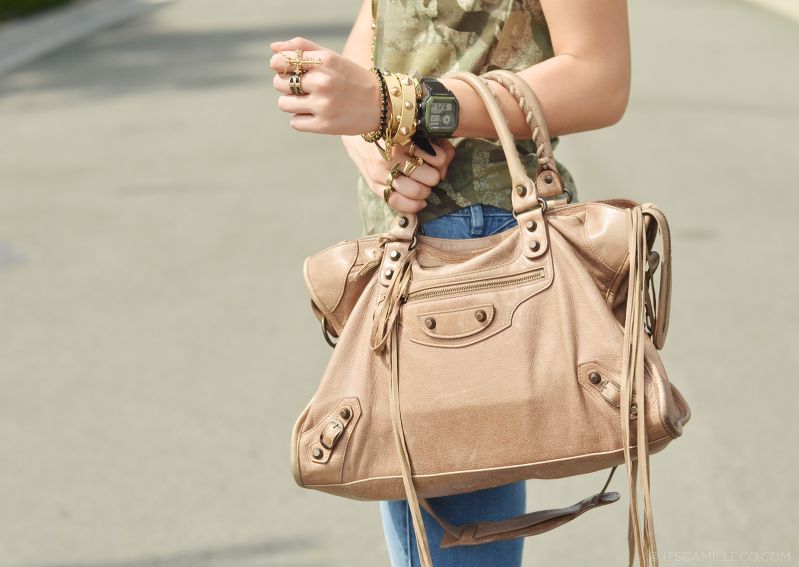 Balenciaga bag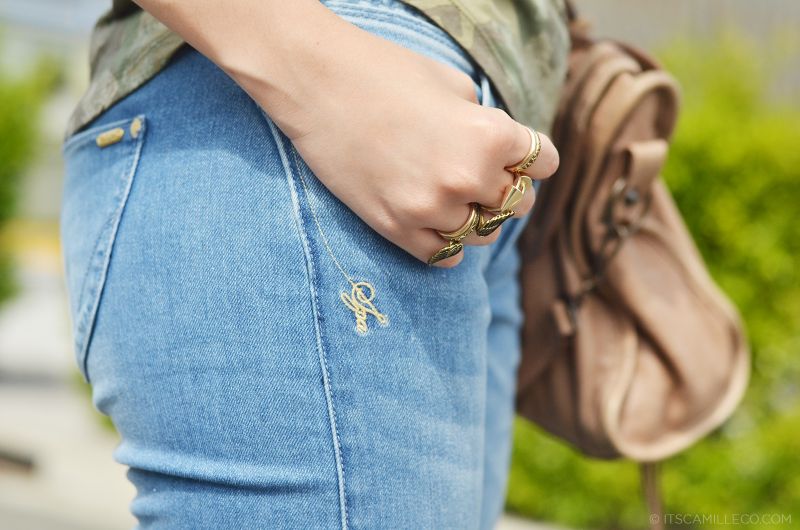 Wrangler Denim Spa Ultimate Olive jeans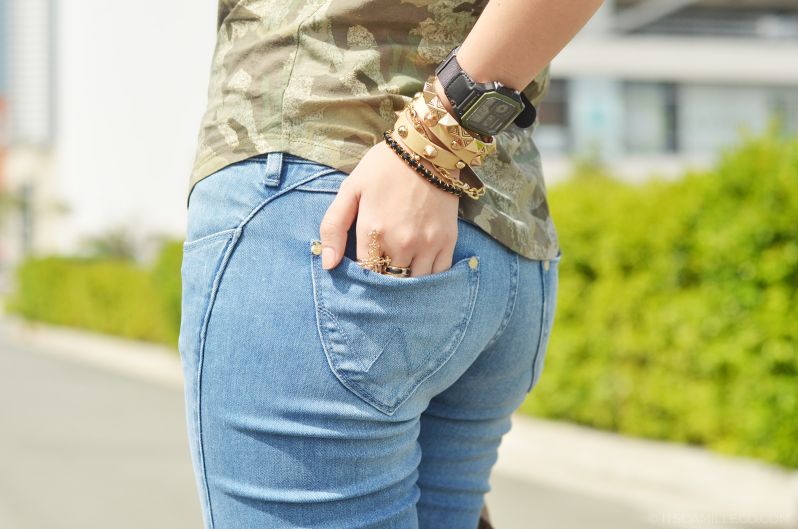 Vintage Coco Casio watch | Kandi Treats gold leather cuff | H&M tag bracelet | Forever 21 studded bracelet | Peaches On Top black bracelet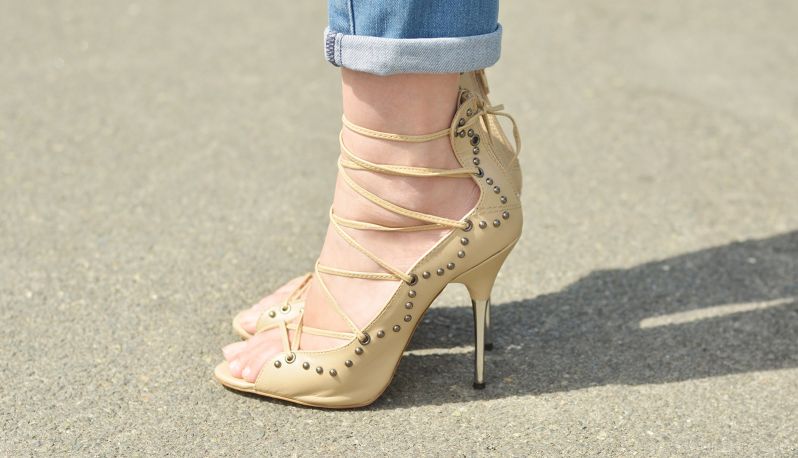 Choies heels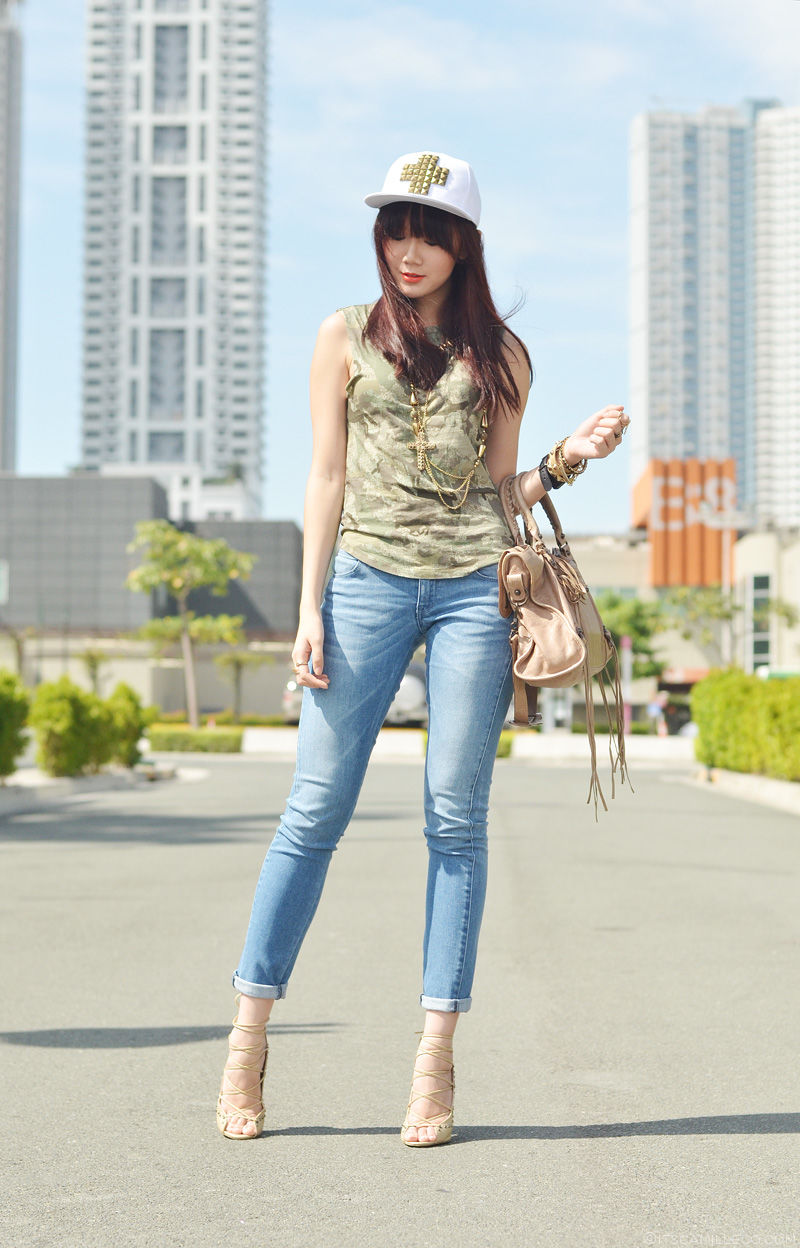 [button link="http://lookbook.nu/look/4876095-Wrangler-Denim-Spa-Jeans-Choies-Heels-Love-Cap" size="small" bg_color="#e5b3b9″ window="yes"]Hype this look at Lookbook.nu here[/button]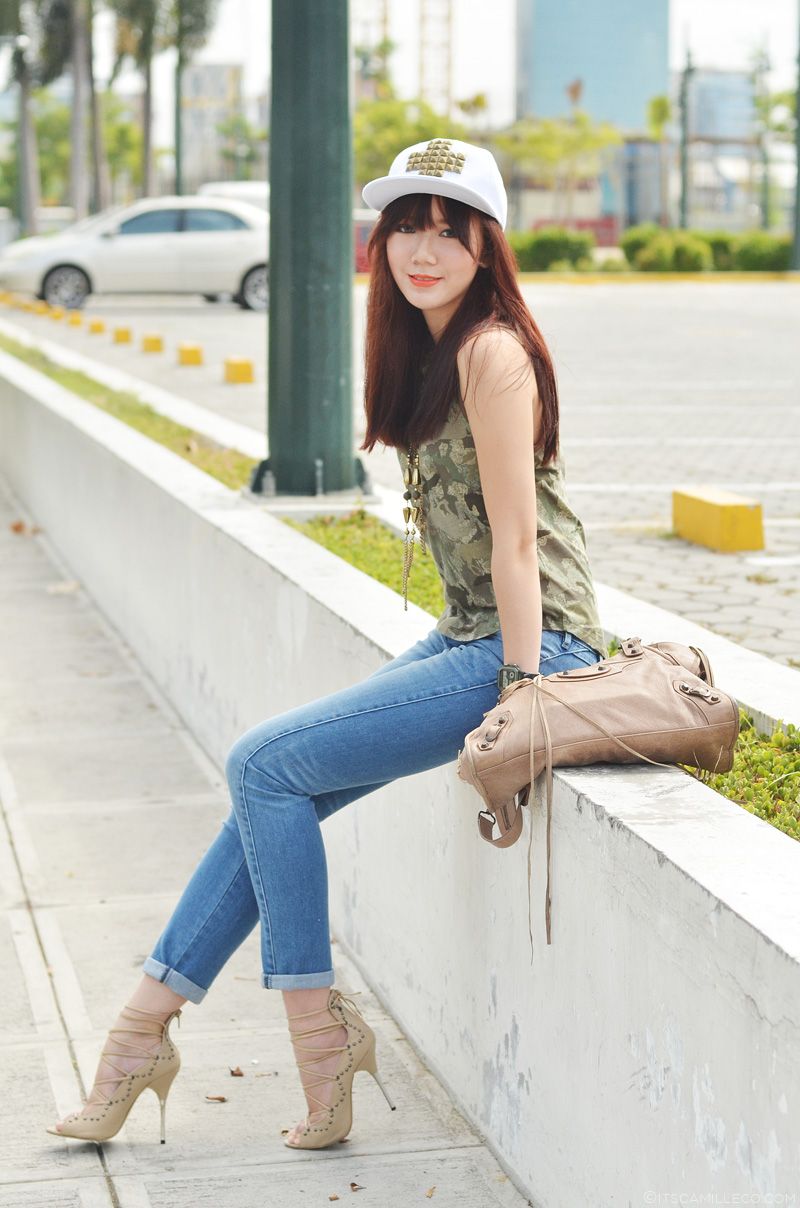 For those of you who want to get a pair of Denim Spa jeans, they're already available at Wrangler stores. They just launched it recently so go grab a pair! Speaking of the launch, I'll leave you with a few photos from the event just because it's so different from all the product launches I've been too. The launch was held at The Spa. Such a unique choice of venue!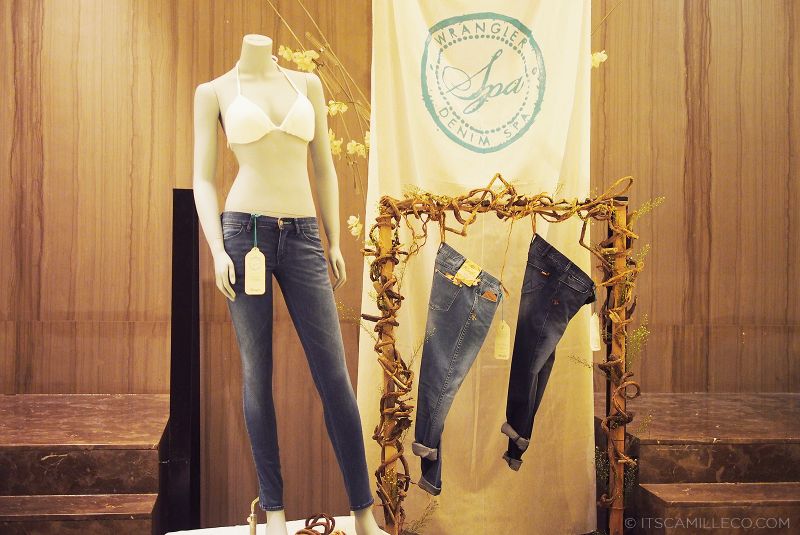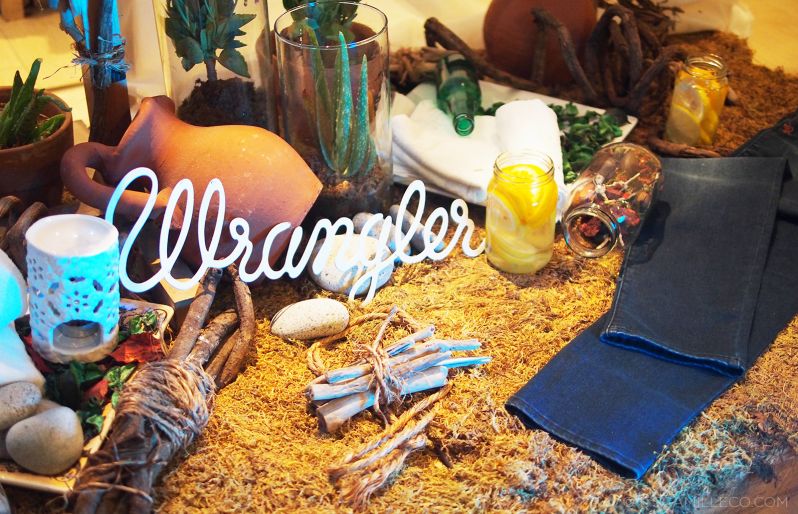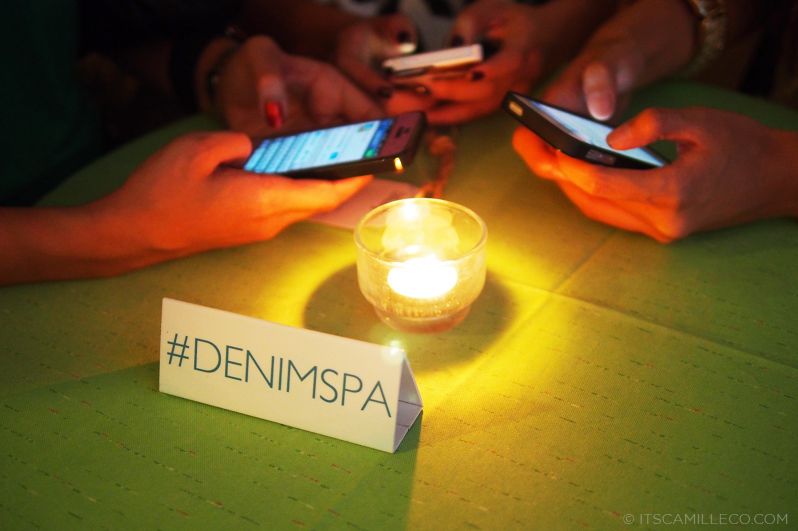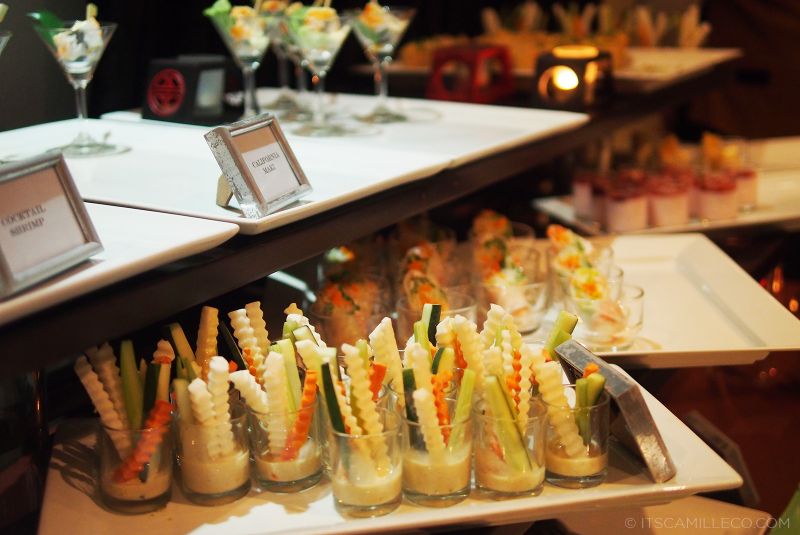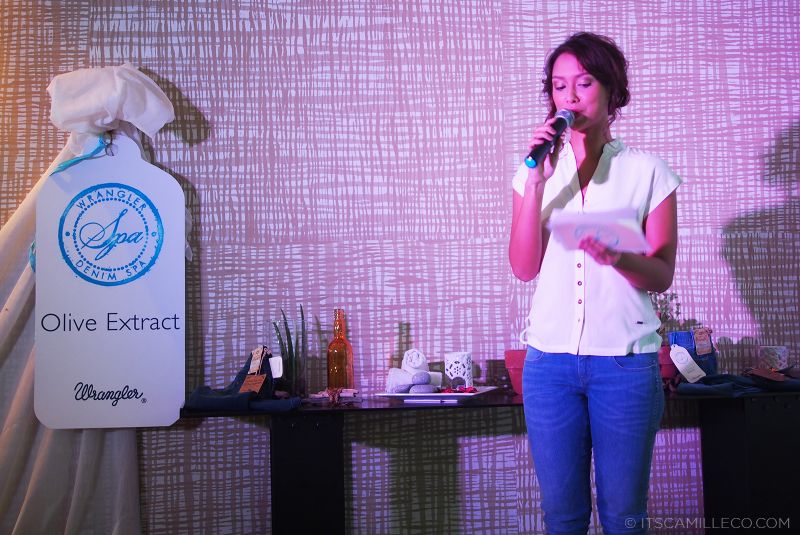 Host Karen Pamintuan wears Denim Spa as she explains the various benefits of the collection.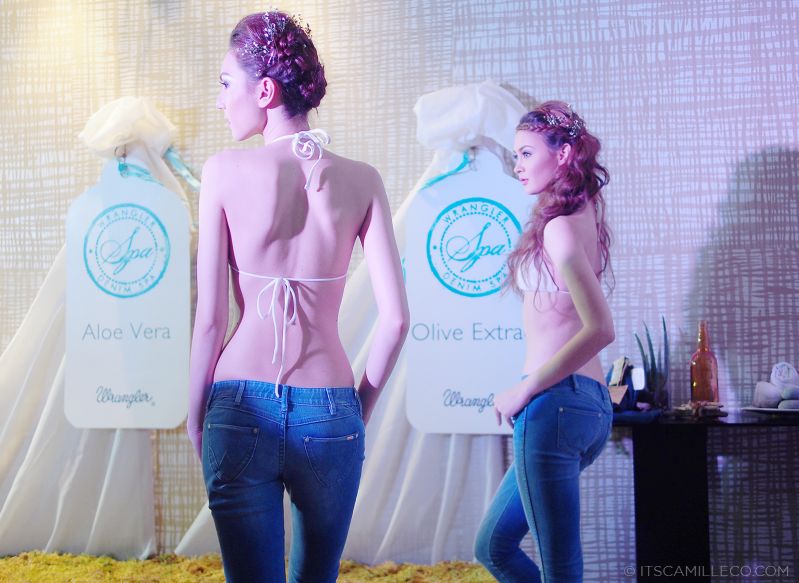 If I were just half as sexy as these models!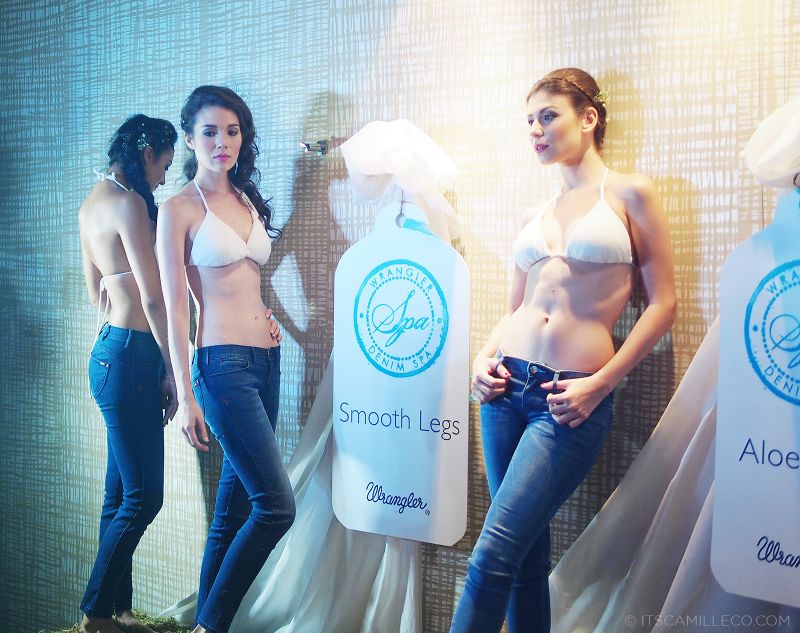 They make me want to buy all the jeans!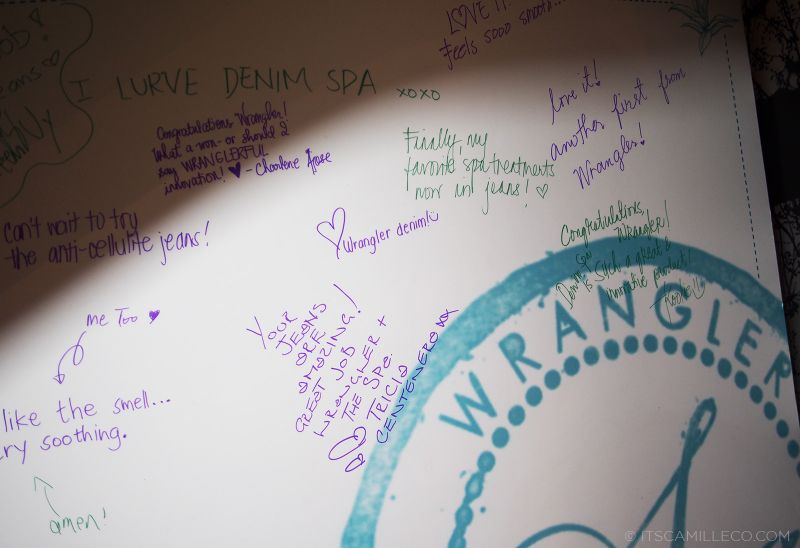 Testimonials from all of us. Clearly, we all love the collection!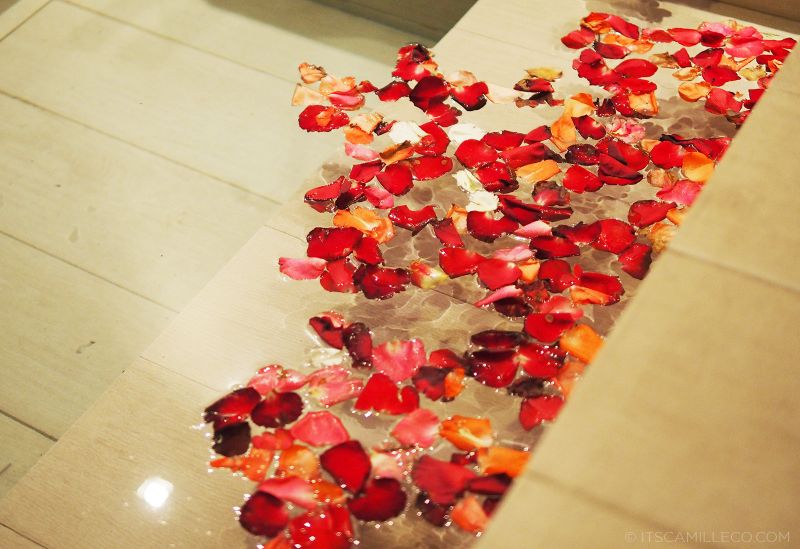 Best part of the launch? The Spa and Wrangler treated all of us to massages! I wish all launches are as relaxing as this!
For more info and updates, follow @wranglerphil on Twitter and LIKE them on Facebook.