It's finally here! After months and months of waiting, my capsule collection for local retail brand Tomato is finally coming out! This collaboration came about during the first quarter of the year. Originally, my collection was slated to be released for June/July, but due to unforeseen circumstances, it got delayed. You can just imagine my happiness when I was told that it'll finally be released this month! HOORAY! Granted it's ghost month (an unlucky month for the Chinese) but you'll help make sure it'll be a hit right? Pretty please? *Bats my false eyelashes*
I hope you like the pieces I came up with. They're pretty versatile and I made sure all the separates can be mixed and matched seamlessly. We've got all the bases covered! You've got something for school, work, casual days and night-outs!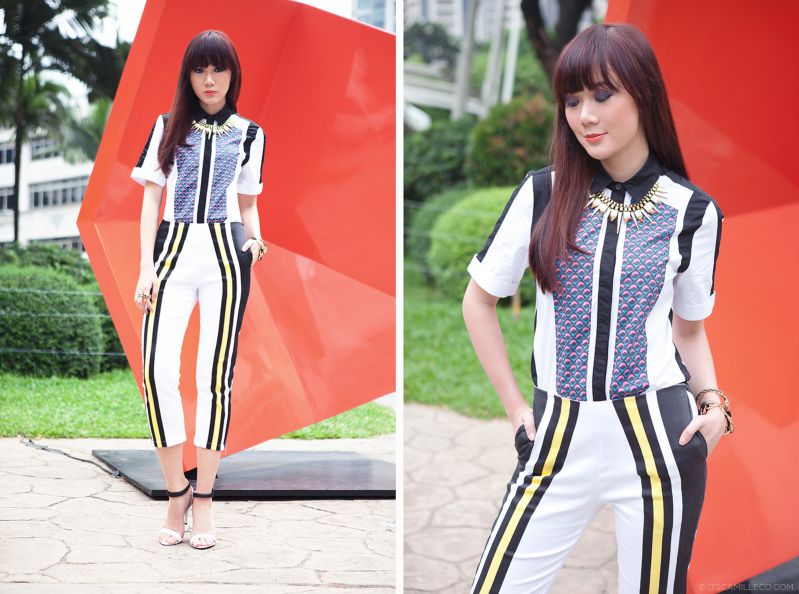 These two may look like they're meant only for each other but trust me when I say, they can have multiple partners. (You, on the other hand, should only stick to one. -Doctor Love Camille) Imagine this top paired with a black skater skirt for school or a black and white pencil skirt for work? Then, when you're free to hang out with your friends, change it up and pair it with your favorite pair of shorts! And as for these pants, inject a little sportswear inspiration to your work/school/party wear. These pants are just the right amount of fun but at the same time, they're basic enough to easily mix and match with your favorite tops. Personally, I love pairing them with a loose black sweater. Comfort!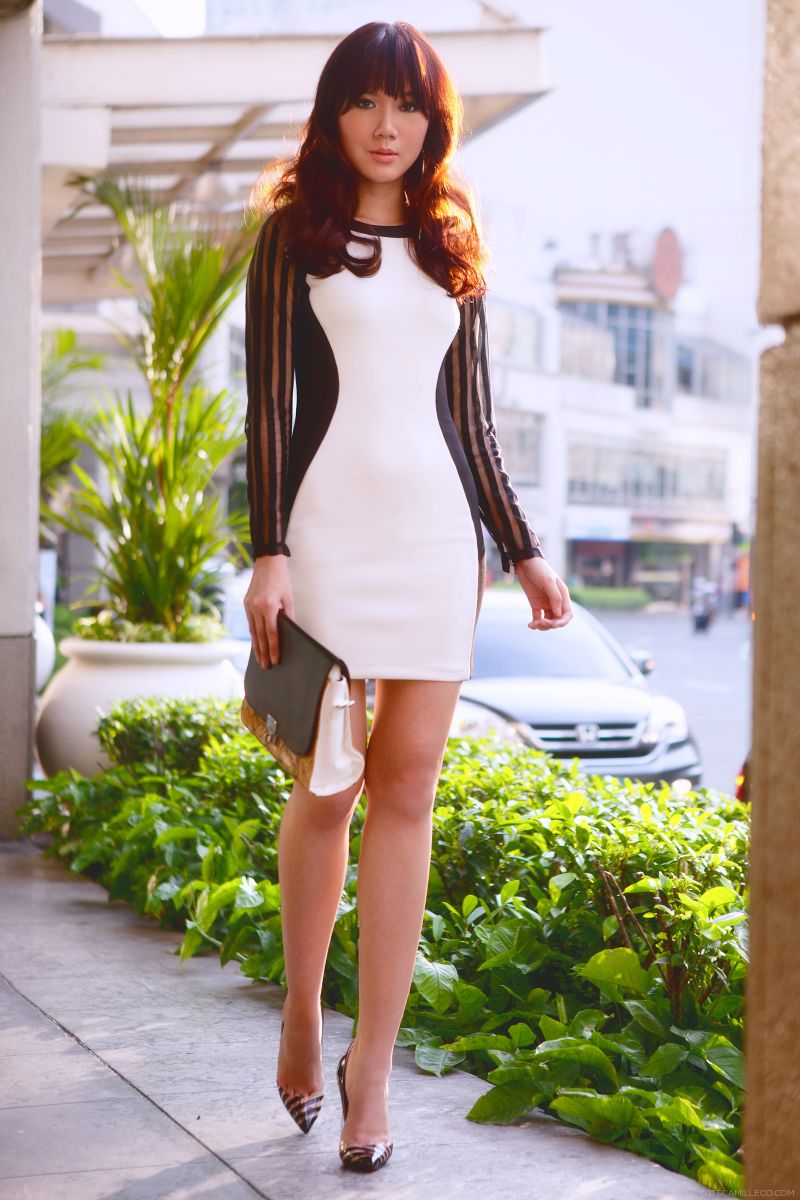 This wouldn't be a Camille Co collection without a subtly sexy dress or two, right? Presenting, dress number one! Oh, the power of illusions. This dress can give you that Coca-Cola (bottle, not can) body you want!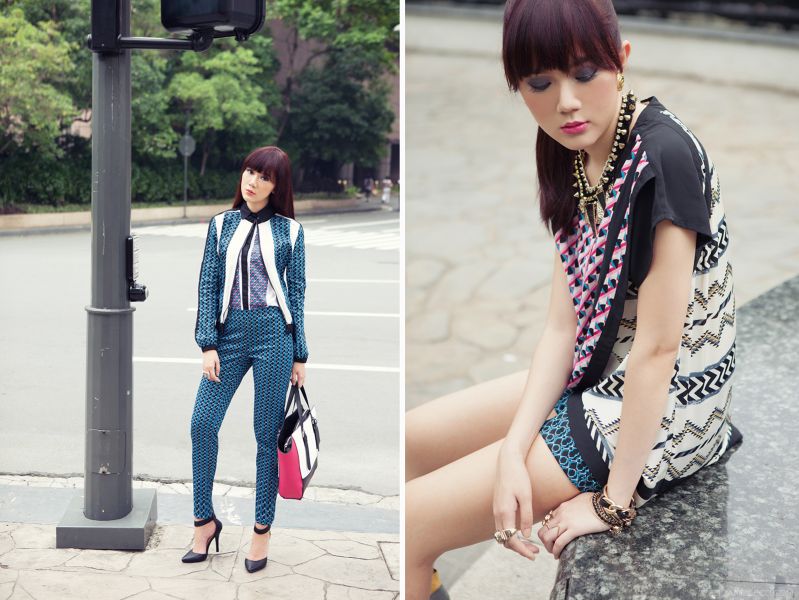 You see that top on the right? That's my mom's favorite! It's so comfortably loose and easy to move around in. Basically, I wanted to share my love for loose tops to all of you which is how this design came about. Usually though, loose tops are so boring and plain so I figured, why not make it print on print? If you want to do the print on print look but can't seem to get it done, this top is for you. It's already print-on-print by itself!
And since the -ber months are coming, I made sure to design a jacket that you can use to give you a little warmth as well. If you want to wear it like a suit, I designed a pair of pants and shorts you can match it with too!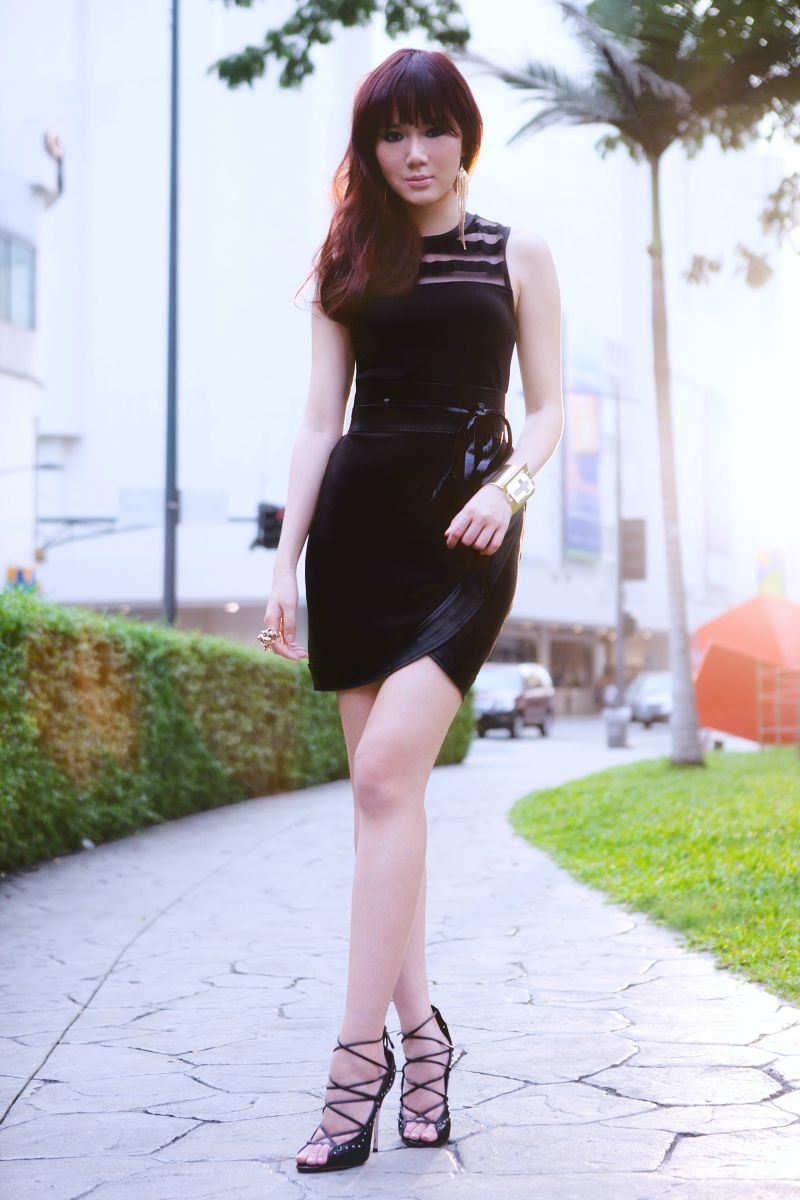 This is my favorite dress from the collection. It's actually a jersey dress with leatherette trims and a lovely obi belt. It's such a sophisticated and sexy dress. FYI, that tiny slit is essential!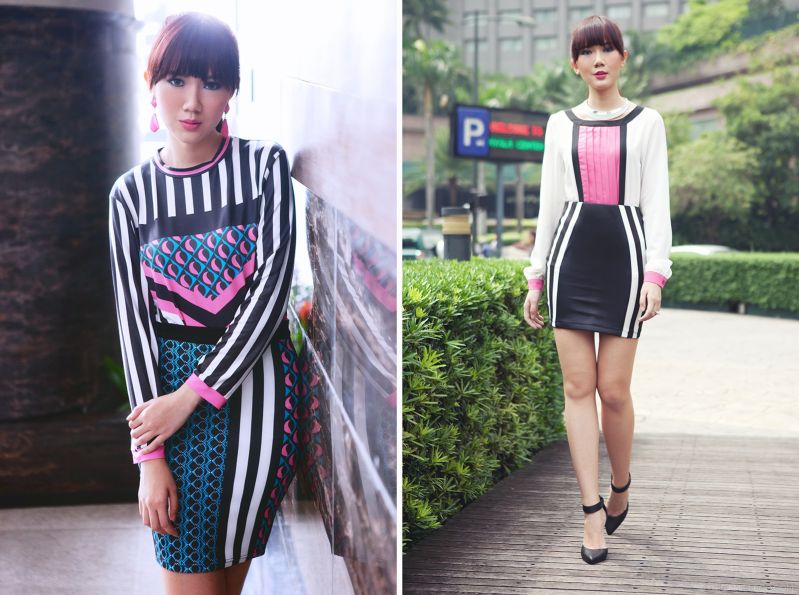 This is another favorite–my sweater and pencil skirt combo. Don't you just love my prints? All my prints are actually especially designed for the Camille Co For Tomato collection, so I'm proud to say you won't be seeing these prints anywhere else. No 168 or Greenhills copycats, that I can assure you of!
Have I gotten you excited? I really hope I have! It'll be a sad sad thing if I'm the only person here that's excited. LOL! My capsule collection will be available from August 21 onwards at Tomato branches in Glorietta, Trinoma, SM MOA, SM Megamall, SM San Lazaro and Alabang Town Center. For international readers and those who can't go to these branches, don't fret! My collection is also available ONLINE! And the good news is, it's actually already AVAILABLE ONLINE TODAY! I'm even giving you a special treat! From today until 11:59 PM of August 18, you can get 20% off on all Camille Co For Tomato items by using this discount code: camillecoxtomato. Hooray! Start shopping at www.tomato.ph/camille-co!
Photos by Joseph Pascual
P.S. In line with this collection, Tomato and I have two meet & greets and A LOT OF PROMOS planned for you in the coming weeks, so follow me on Twitter and Instagram to get the latest updates!