Hey hey! I'm back in Manila which also means, I'm back to the daily grind. I apologize for not being able to blog for a few days. You know what happens when I come back from a trip abroad, works get piled up and I just can't find the time to squeeze in a blog post. But finally, a new blog entry is here! And it is packed!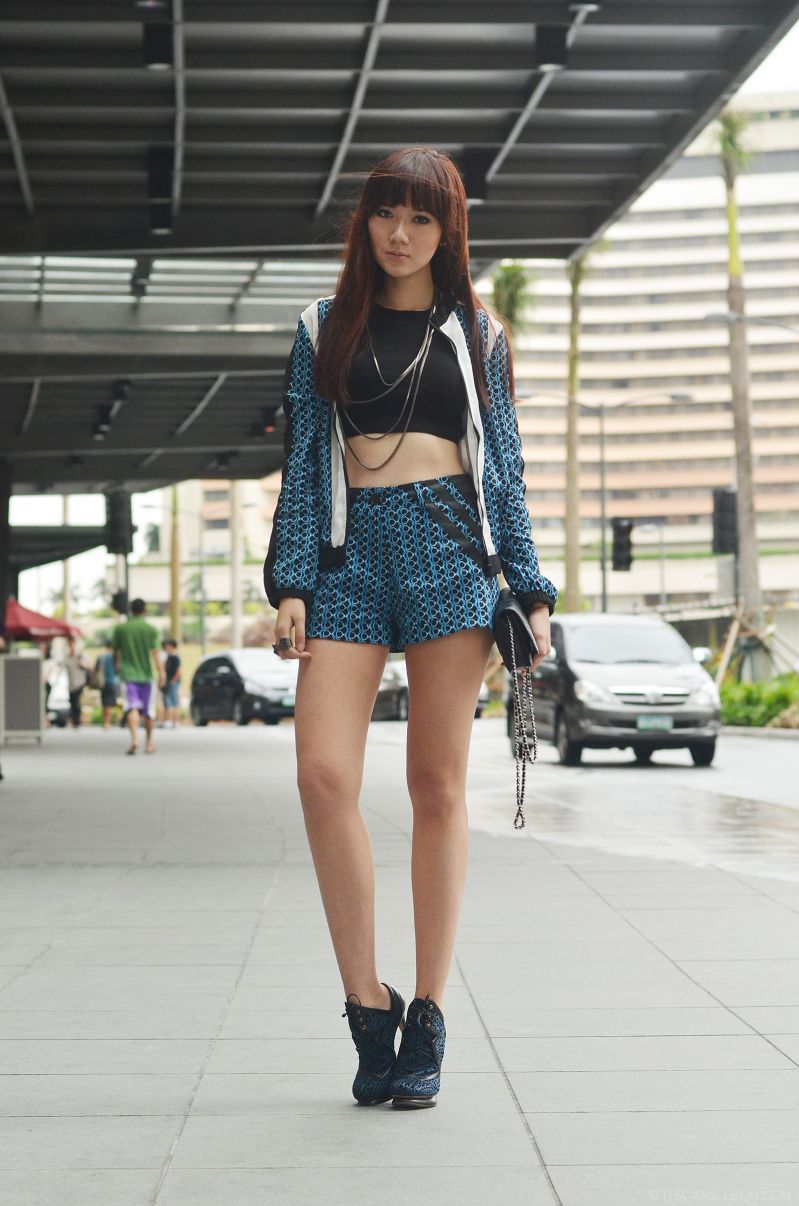 Tada! I'm wearing Camille Co For Tomato! It still sounds so weird to refer to myself in the third person. LOL! I wore this during my meet and greet 2 weeks ago at Tomato's Glorietta branch. It was raining real hard and the wind was so strong! Look at my hair getting blown away! Good thing I was wearing my jacket to protect my tummy from getting chills.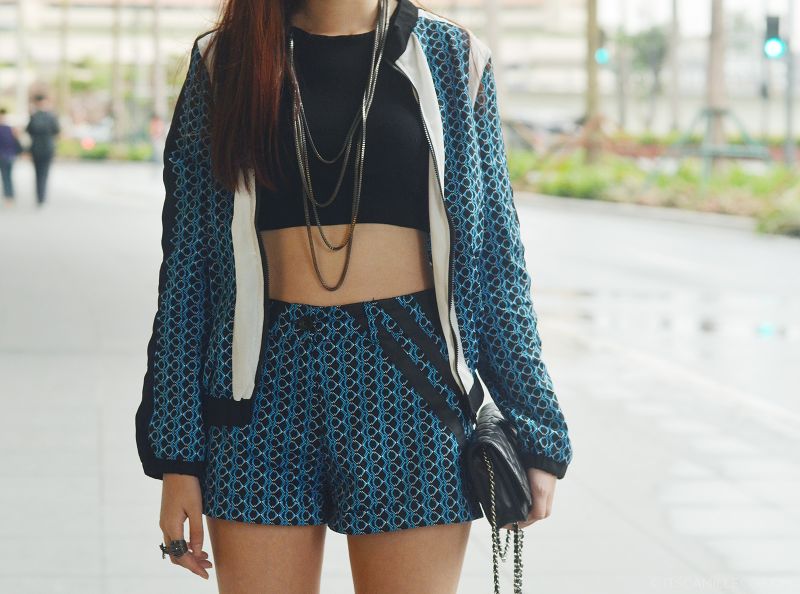 I really made it a point to have at least one jacket in my collection in preparation for the -ber months' weather. It's still lightweight though because let's face it, we're living in a tropical country, the fabric can't be too thick. I want you to be able to wear this jacket as many times as possible! Of course, my favorite way of wearing it is matching it with these shorts. Suit up!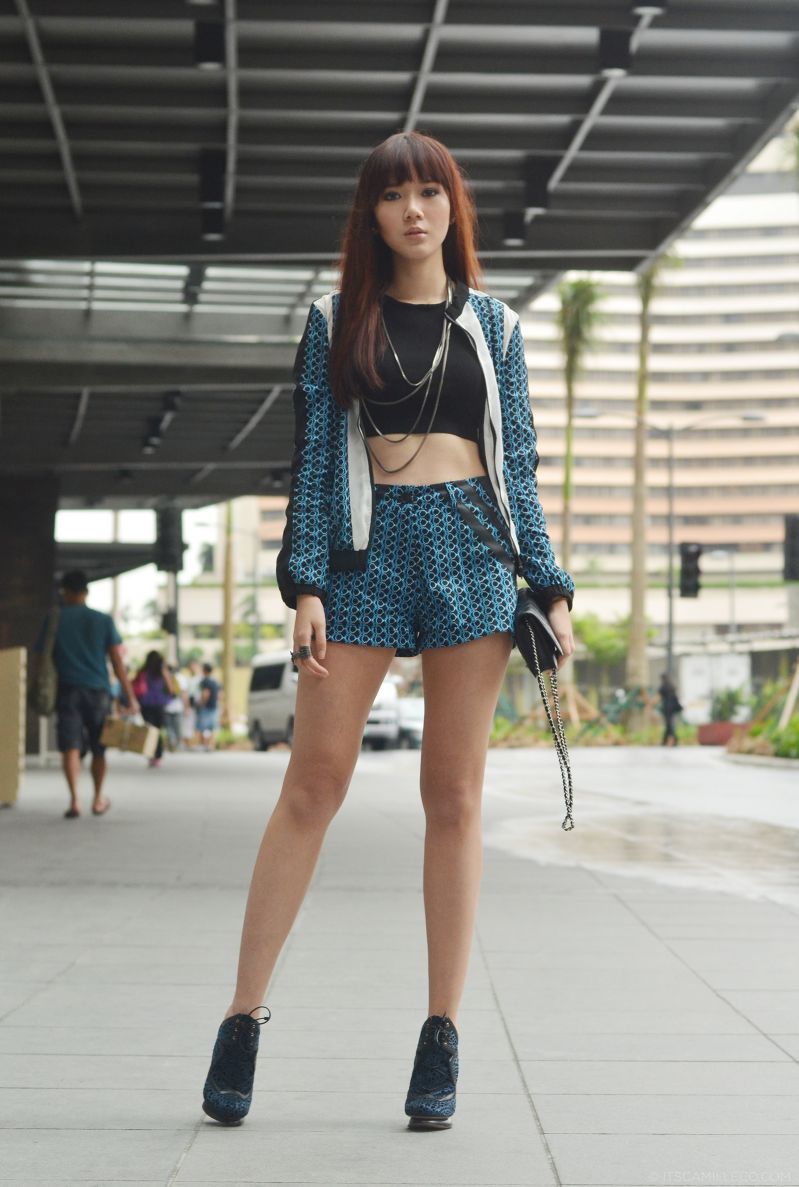 [button link="http://lookbook.nu/look/5315968-Camille-Co-For-Tomato-Jacket-Shorts-My-Meet-Greet" size="small" bg_color="#e5b3b9″ window="yes"]Hype this look at Lookbook.nu here[/button]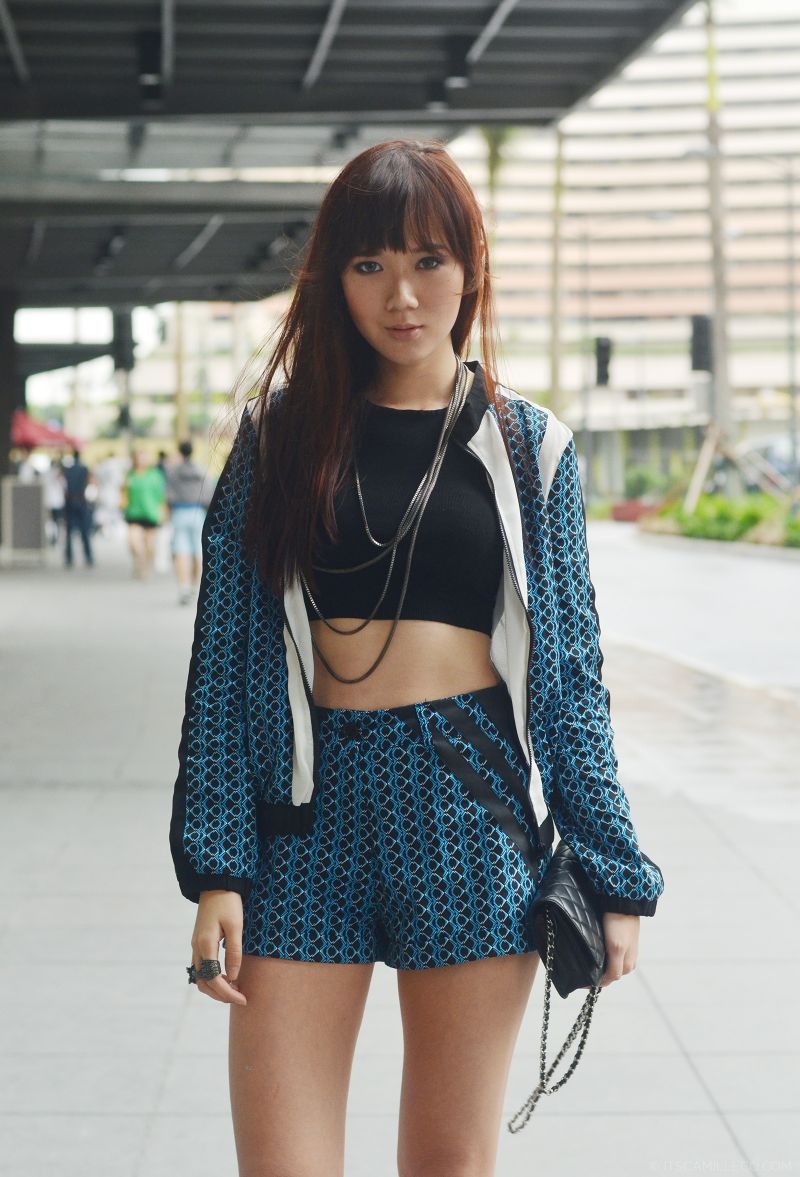 Camille Co For Tomato jacket 
Chanel bag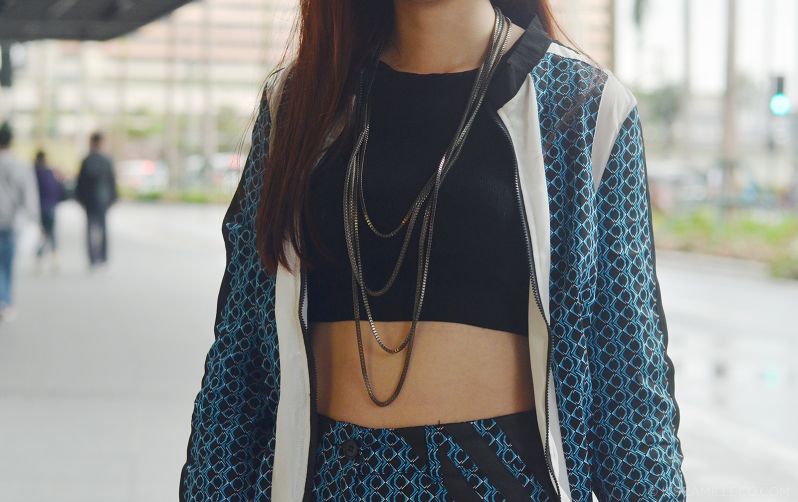 SM Accessories necklace | Topshop cropped top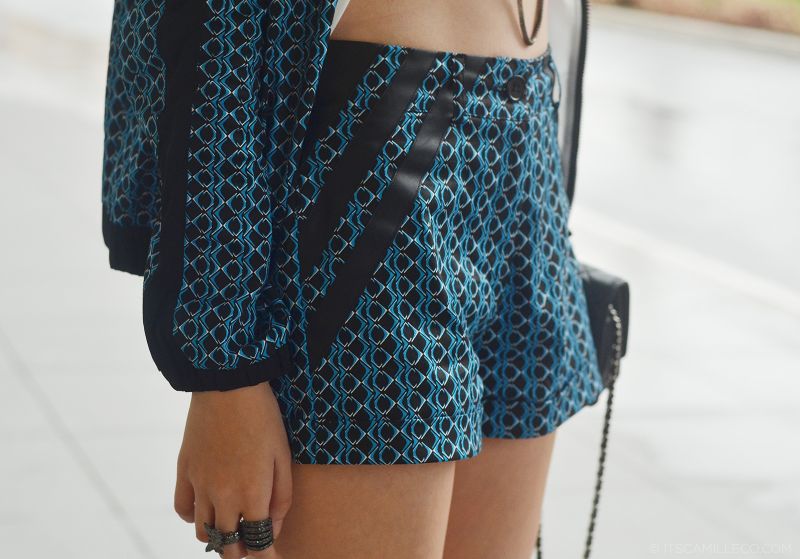 Camille Co For Tomato shorts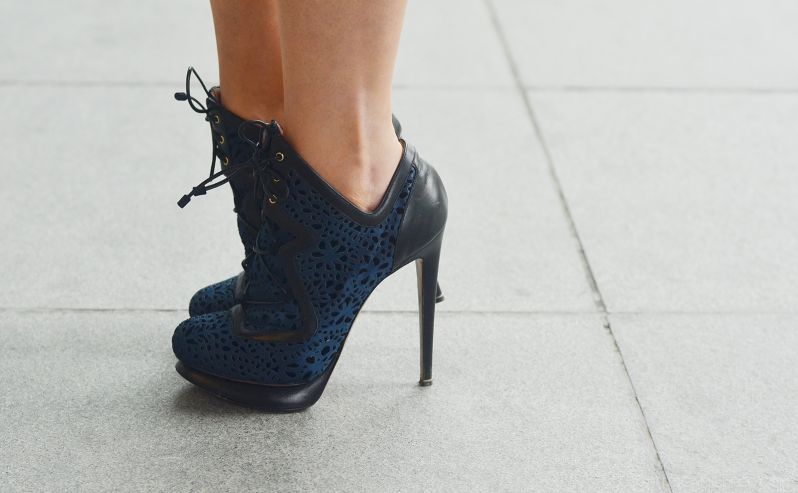 Nicholas Kirkwood heels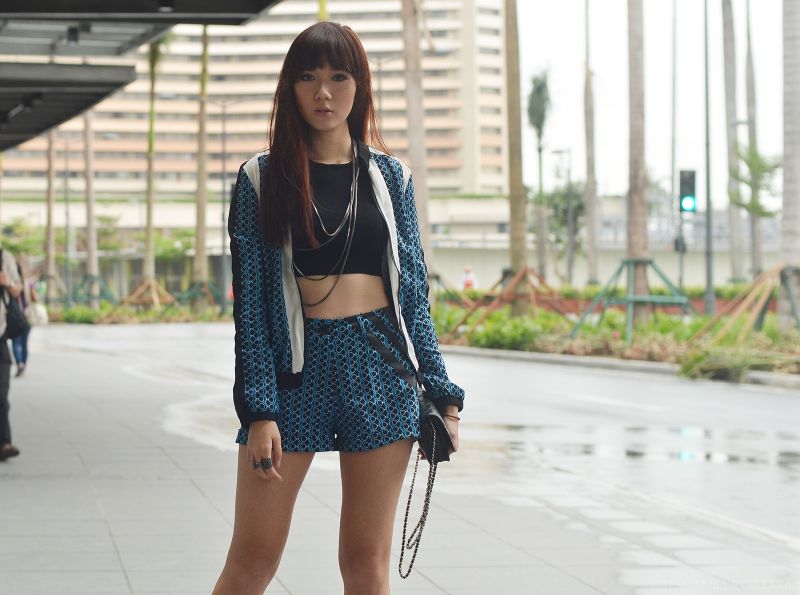 If you're wondering what happened during the meet & greet, here's a few photos from the event. I was really nervous it wouldn't be a success but because I have the best readers, I had such a wonderful time!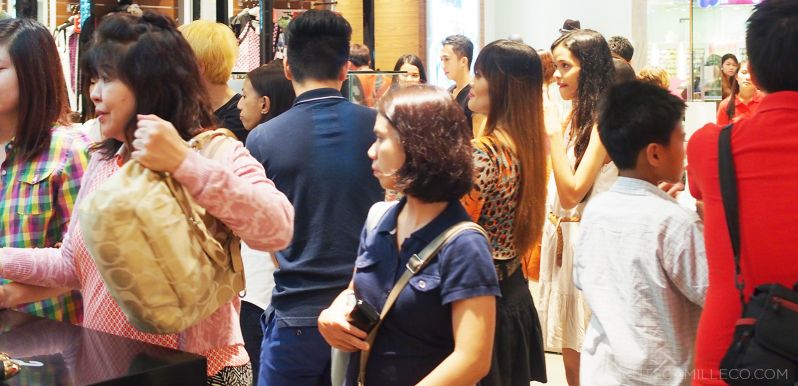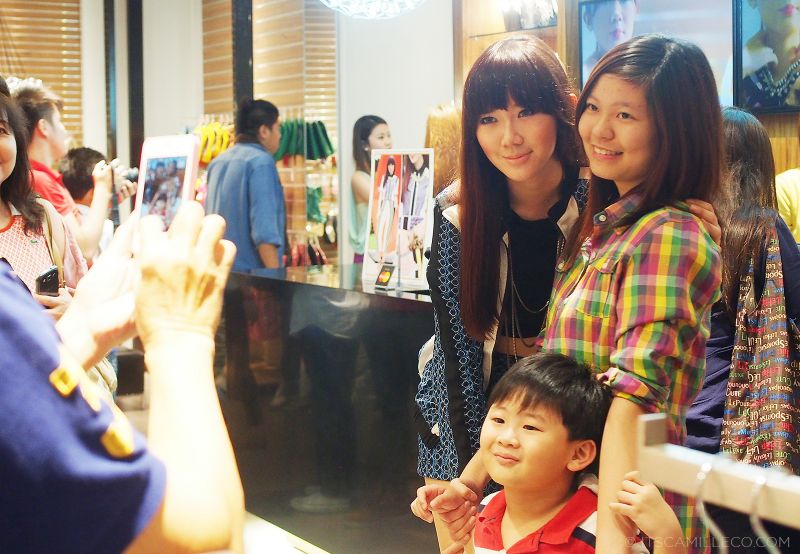 It's always a pleasure to meet all of you! Nicole, right? I hope I remembered your name correctly! I'm really trying my best to memorize everyone's names. Thank you for the yummy gift and for bringing your cutie little brother too who is such a sweetie pie!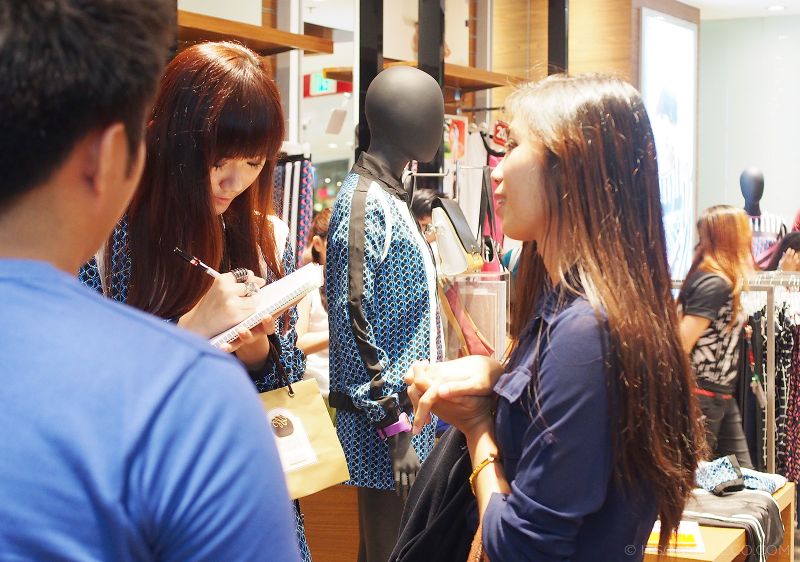 This reader right here is going to become a military nurse! WOW!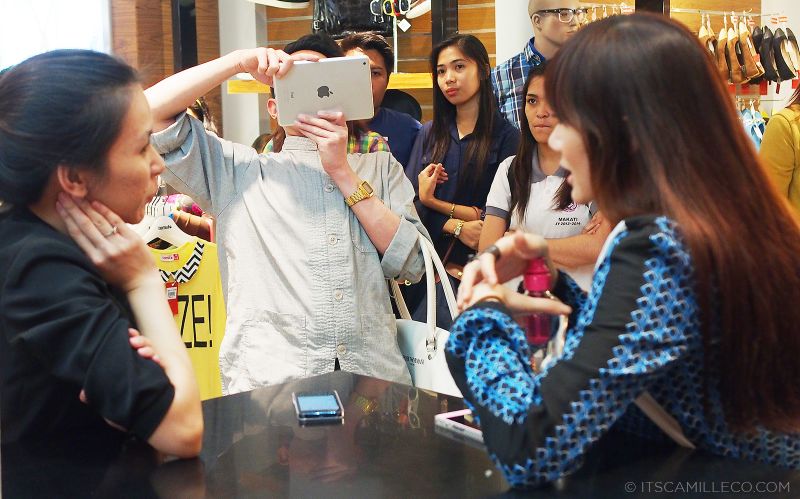 This fashionable twosome took the opportunity to interview me for their school project and even gave me red velvet cupcakes too! My favorite! I hope you guys were able to get even just a few decent answers from me. LOL!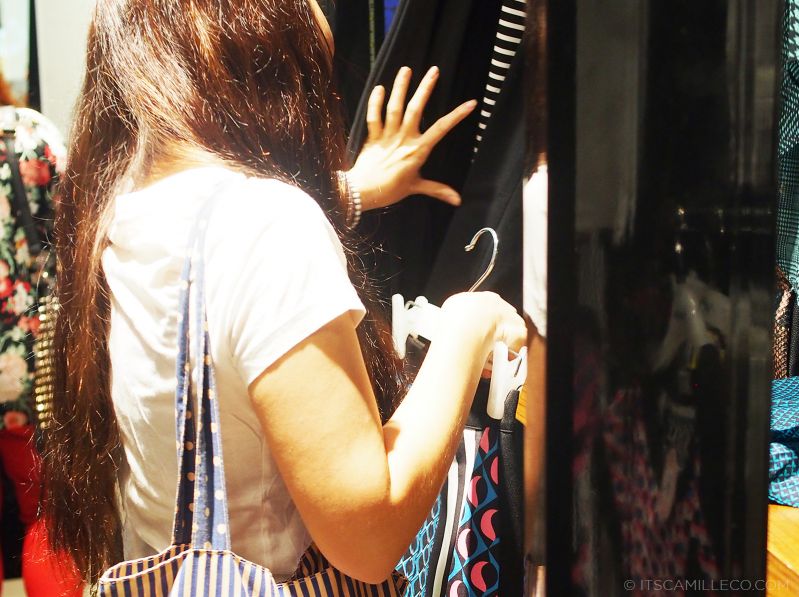 Readers were able to shop my collection at 20% off for one day only!
Woohoo! Many took advantage on the one-day only sale and went home with Camille Co For Tomato items. Thank you so so much for buying!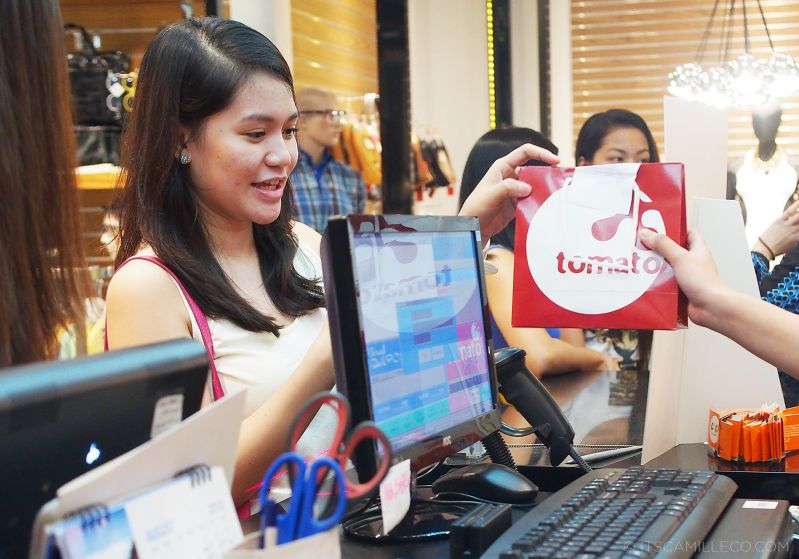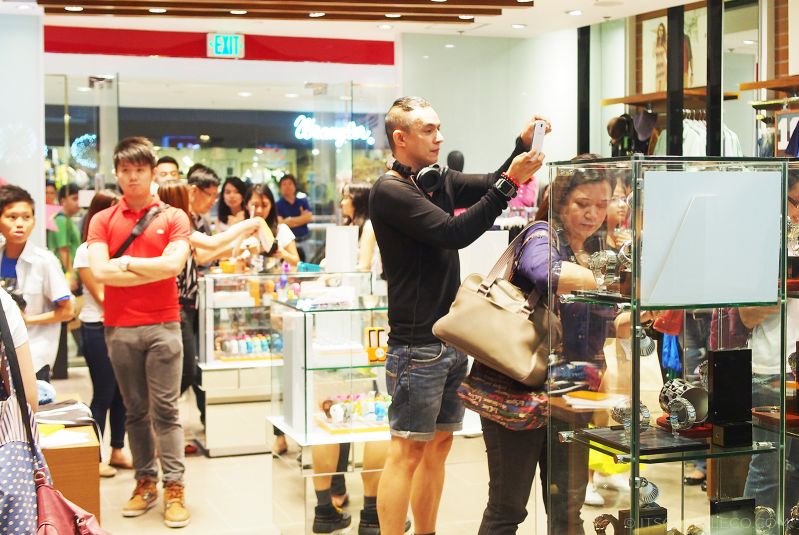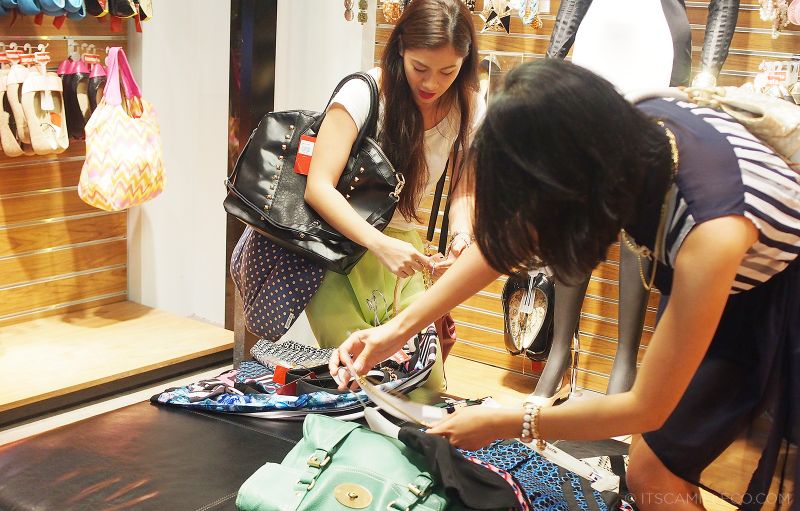 I had a styling challenge as well for the 4 contestants that Tomato picked from hundreds of applicants online. Here they are scrambling to style away the perfect outfit to win a Camille Co For Tomato outfit of their choice.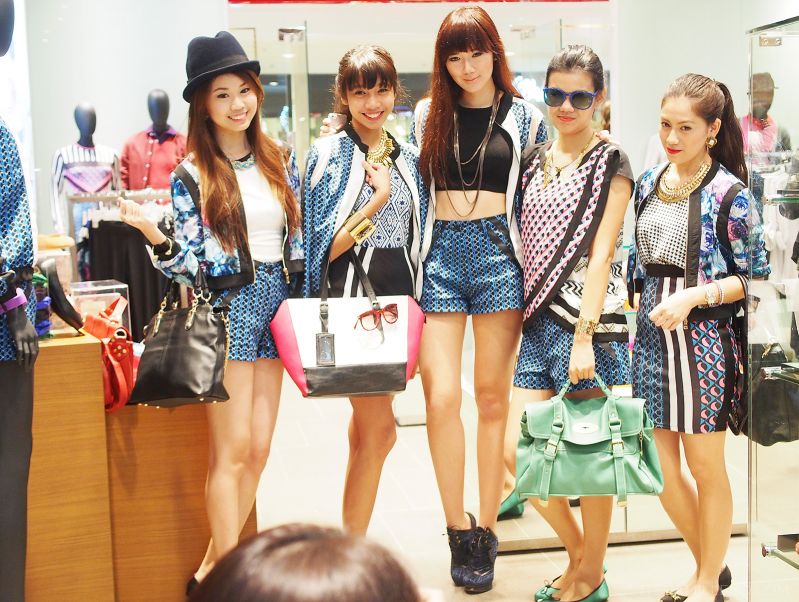 And here are the results! My four contestants Vina, Madel, Steph and Lia (I hope I spelled your names correctly) in their style challenge outfits. Don't they look awesome?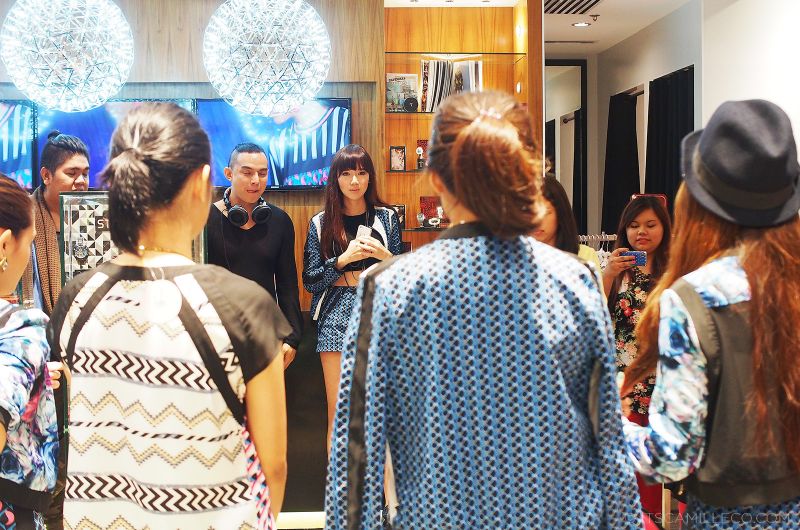 You can see my confusion clearly here. I had such a hard time picking the winner!!!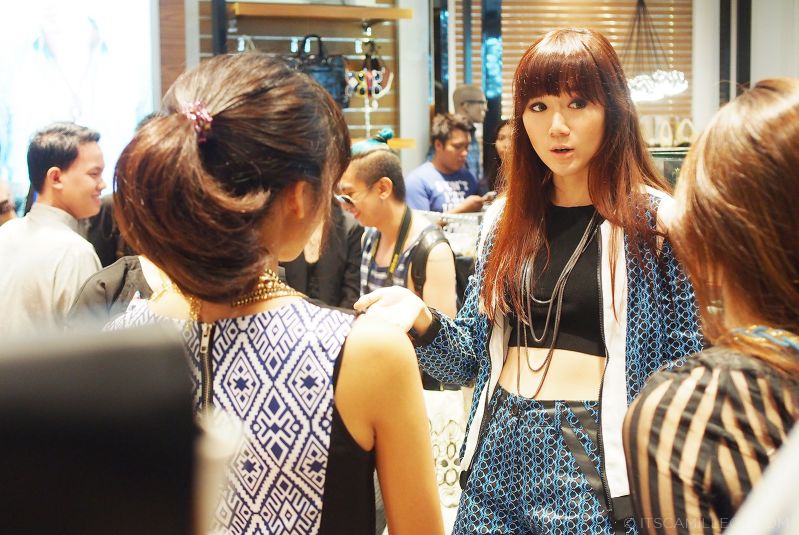 After choosing the winner/s, I got to bond with them a bit as well and talked about a few styling tips.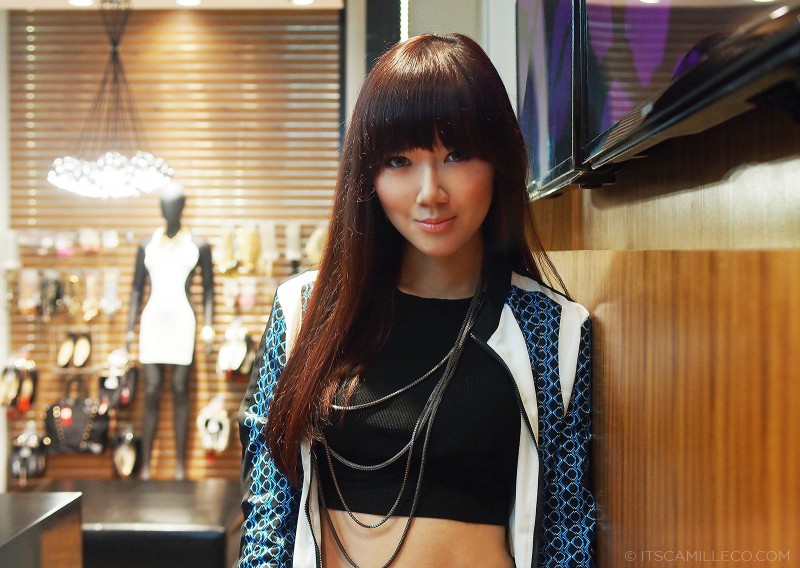 Whew! After hours of mingling and styling with you guys, my makeup by Collection cosmetics is still looking fresh!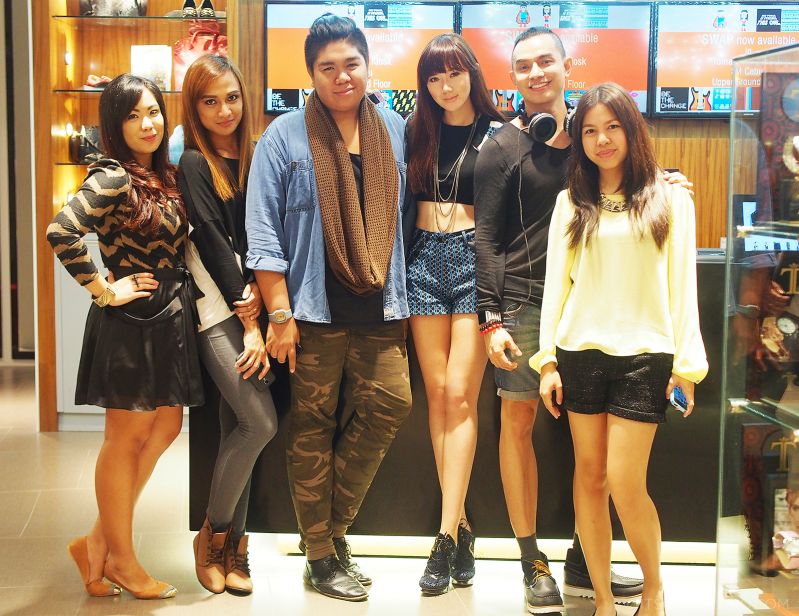 Thank you to all my readers who came. You made my day! And to the hardworking Tomato crew in the photo above, thank you as well! You guys rock!
If you're sad you missed out on this super fun event, don't you worry! We're having one LAST meet & greet for my capsule collection this Saturday at Tomato's Trinoma branch! To everyone living up North, this is it!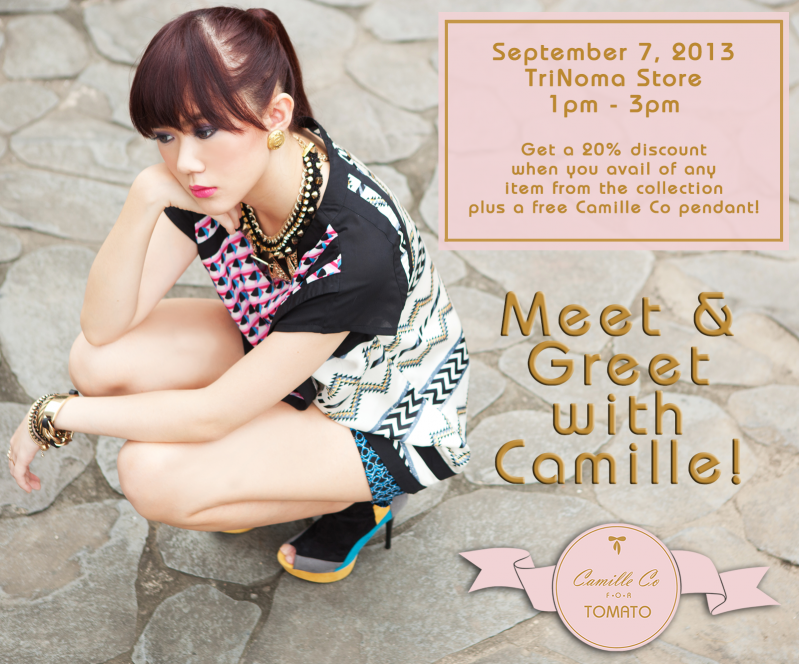 For one day only, my capsule collection will be on 20% off at the Trinoma branch. Everyone who purchases a Camille Co For Tomato item will also get a free limited edition Camille Co For Tomato pendant (which on normal days, you can only get if you purchase P1500 worth of Camille Co For Tomato items). We're having a styling challenge again too! Similar to the styling challenge we did before, just message your name, email address and contact number to Tomato though their Facebook fanpage on or before 8pm of September 5 to join. Lucky contestants will be chosen by Tomato on September 6, 1pm and these contestants will get the chance to be mentored by me plus win 1 outfit set of his/her choice from my collection during the meet and greet this Saturday. Exciting!!!! See you there!
P.S. We've added branches that carry my capsule collection! Aside from Tomato branches in Glorietta, Trinoma, Alabang Town Center, SM Megamall, SM Mall of Asia and SM San Lazaro, my collection is now available at SM North Edsa, SM Southmall, SM Fairview and Robinsons Ermita as well! If you still can't make it to these branches or live abroad, don't you worry! Just order online. Shipping is free for domestic orders. International orders are accepted.