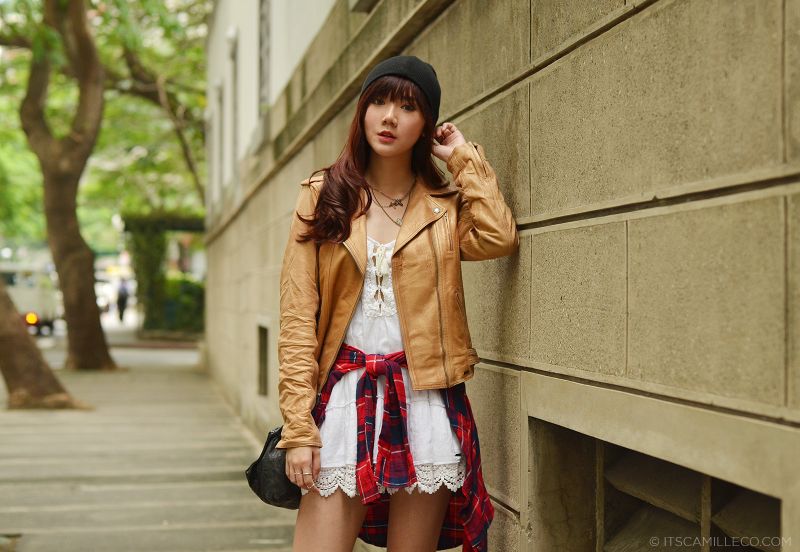 "New Kids On The block had a bunch of hits. Chinese food makes me sick. And I think it's fly when girls stop by for the summer, for the summer. I like girls that wear Abercrombie and Fitch. I'd take her if I had one wish. But she's been gone since that summer, since that summer."
Can you say THROWBACK?! So why on earth am I going old school on you with LFO's first hit song, "Summer Girls"? It's because whenever I see Abercrombie & Fitch, this song automatically plays in my head. Darn it , LFO! Abercrombie & Fitch brings out the 90s baby in me–not just in song, but in fashion as well. Known for its hip all-American casual wear, you can rely on A&F to bring on the comfiest and most luxurious flannel, denim and cotton. It's all about edgy and neo-preppy dressing for the youth. Case in point, see outfit shots below. Hard not to like A&F, right? Especially when it has this awesome slightly metallic leather jacket! Swoooooon. If you're an A&F fan, listen up! Enjoy Abercrombie & Fitch's Black Friday sale starting November 28, 8pm EST (NYC time) at A&F outlets in USA and online as well.
The good news doesn't just end there. You can get a chance to be flown into NYC to shop at Abercrombie & Fitch's flagship store along 5th Avenue too! Just vote for my A&F look on Fashion Indie to get a chance to shop at NYC with the influencer of your choice (*cough* me *cough*)! Please vote for my look here.  
Hype this look on Lookbook.nu here.
Abercrombie & Fitch Kaylin leather jacket, Shannon flannel shirt in red plaid and Elsie dress | Forever 21 hat | Olive + Piper necklace | Givenchy bag | Topshop shoes