Last month, Preview Magazine's Fashion Editor and the Philippines' most awesome blondie, Daryl Chang asked if I could make a maillot for their April issue editorial. Of course, who am I to say no? I gamely answered a big fat YES.
So here's the peg she sent me: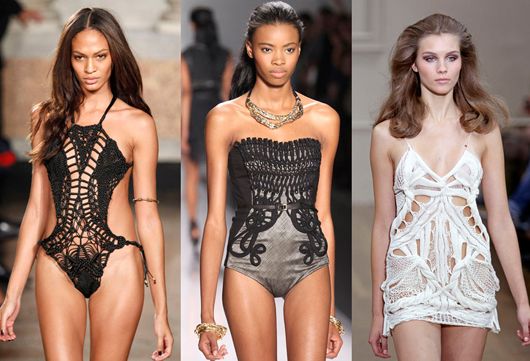 Her instructions were pretty simple. Basically, I needed to make an openwork maillot in black, preferably crocheted. If not, a faux openwork like the center photo would do, except in black over nude to give the same effect.
I was really excited to start designing this maillot as it's my first time ever to design swimwear. I already have crochet suppliers so I figured with about a week of lead time, a crocheted openwork maillot is doable. So I went about it the usual way: designed away during the night and gave the design to my suppliers within a few hours. Everyday I'd follow up on the swimsuit, asking my suppliers to deliver on this and that day so that I can check on their progress. I was repeatedly told not to worry. They can just give it to me on my stated deadline which was 3 days before my real deadline. But my instincts told me otherwise so I still kept following-up. The deadline I gave them finally arrived, they asked for an extension. The whole time they gave me the impression that it's almost done. Long story short, a bunch of calls here and there, meetings left and right, 1 day (read: O-N-E) before my real deadline, my suppliers finally told me THEY HAVEN'T DONE A THING. I will no longer elaborate as to why. The focus here is WHAT AM I TO DO NOW. OH NOES. :/
So after a few tears (actually a lot), I finally pulled myself together. THINK.THINK.THINK. I can not NOT pass anything. If there's one thing I hate the most, it's not coming through on a promise. I committed, I said yes, I have to deliver. So I went to the fabric store, got some trimmings here and there. Based on the materials I got, I drew up another design. I got my favorite sewer and worked with her overnight. I can not be more apologetic to her and to Daryl. At about 3am (13 hours of nonstop work), we finally finished. We had to deliver the maillot straight to the airport because they were already about to leave for the shoot which was to take place out of town.
Here's the final product: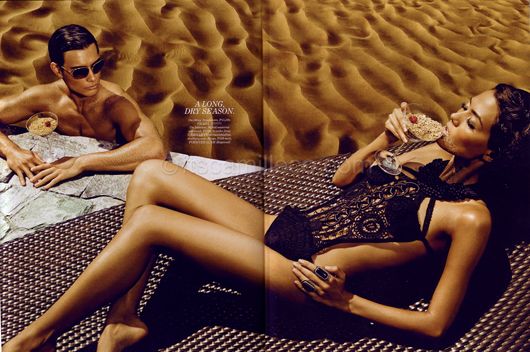 As seen on Preview Magazine's April 2011 issue
Yay! Congrats to Preview for yet another amazing editorial. I actually like this better than my original design. If you can't see the details clearly in this photo, the parts covering the private areas are actually linked braids (which lead to the accidental discovery of my hidden talent to braid in unbelievable speed, yay!). The neckpiece is made up of a bunch of black pearls individually covered in fine net. There's also a bunch of rings wrapped in black ribbon linked together to form the center line. Here's a close-up of the photo: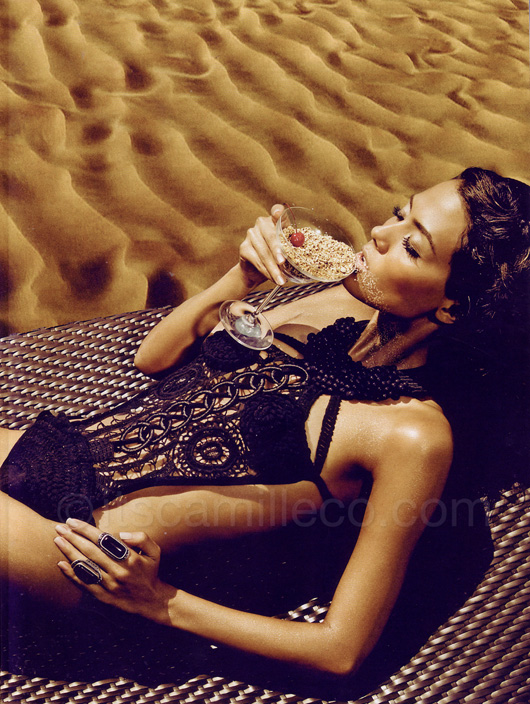 When I got the short but sweet text from Daryl the morning we delivered the maillot to her, it made all the tears, panic, stress and hardwork worth it. I hated not delivering the maillot on time but at least we were able to come through, without compromising the quality. :)
In my line of work, there will ALWAYS be instances like this. I never thought I'd actually quote Tim Gunn, but in obstacles like this, there's no other advice more fitting than his: "Make it work." :)