As requested by Alvin: (I'm so sorry it took me so long. I hope this still helps!)
Although most graduating students have already finished their graduation rites last March, I think there are still a few out there about to graduate sometime this April to June. If you're one of them, I hope you find this post useful.
Just a reminder though, I'm no expert so what I'm about to suggest are merely MY suggestions. They're what I think are graduation-appropriate, my personal choices. Not to say there aren't any other options you can explore. At the end of the day, go for what you feel best in. So here goes!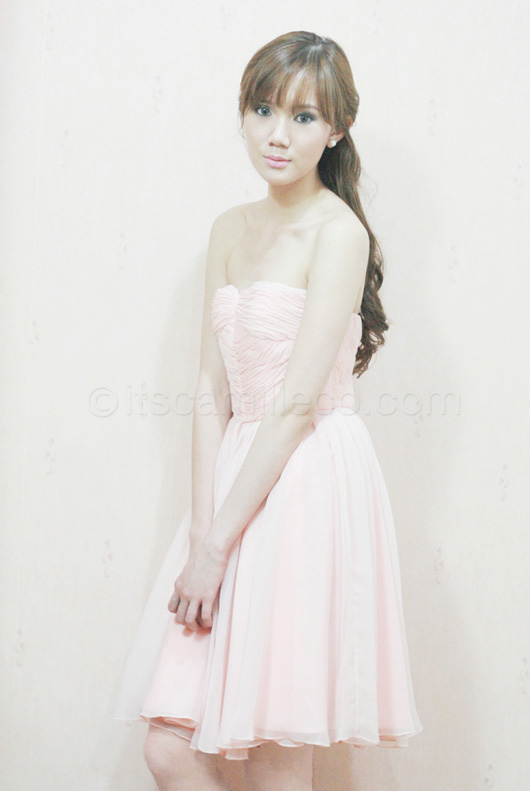 This is what I wore 2 years ago to my graduation. Surprisingly, it still fits me! (Note: I just came from a shoot, so please don't follow my make-up. I think it's too OA for graduation. Smokey kung smokey!)
Anyway, let me tell you about the things I considered first before picking out this dress and my final look:
1. Venue: We had ours at the Ateneo covered courts, which meant no airconditioning and poor ventilation. Because of this, I went for something strapless, to lessen any perspiration especially on my back. I hate the feeling of sweat on my clothing.
2. Duration: Graduation rites usually take 2 or more hours, which also entails countless times of standing then sitting then standing then sitting again and so on and so forth. This is the reason why I wanted something flowy, something I could move easily in without having to fix it every time I sit down. This is also the reason why I strongly suggest to stay away from mini dresses and bodycons. For one, you're going to graduate, not clubbing.
3. Stage: For people who are not that comfortable in heels, please consider the length you'll be walking especially when you go up the stage. You have to be comfortable enough in them because you don't want to take forever before you reach the dean now would you? Also, to avoid any Miriam Quiambao moments! We'e not all as graceful getting back up you know! But then again, it is preferable to wear heels. I think most schools require at least a few inches. Personally, I suggest going for pumps. Closed shoes are always better for formal events.
4. Toga: I don't know if all schools require graduating students to wear togas, but I'm pretty sure most do. This is just my personal pet peeve so it's not a rule or anything but I feel that one's dress must have a neckline lower than the toga. (BUT NOT TOO LOW of course! Decency is key!) I think it looks much nicer and cleaner, less clutter. Also, refrain from dresses that have puffy embellishments and ruffles on the sleeves and chest area because you don't want to look like you have a pillow stuck under your toga. Dresses with extremely wide balloon skirts are a no-no for me too. Your skirt must not be bigger than your toga's circumference, else, you might end up looking like you're wearing a bell underneath. Kidding :) Length of the toga should also be considered. I think it's best to keep your dress's hemline higher than that of your toga's, but again make sure it's not too short. 2-3 inches above the knee is good. Consider the color of your toga when picking out your dress and shoes too. It's always better to stick to neutral colors for your shoes (i.e. black, nude). From there, look for a dress that matches the color of your shoes.
5. Graduation Cap: For formal school events, it's always best to keep your hair in a ponytail. It makes one look cleaner and much more professional-looking. But this time, however, you have to consider that you'll pretty much have your cap on most of the time. It's really uncomfortable to be in a ponytail with your cap on. Lots of poking and hurting and the cap won't fit well too. If it does though, it makes this weird shape on your hair once you remove it. So I think it's best to keep your hair down, just make sure it looks neat and simple.
Here are a few dress suggestions, aside from what I wore: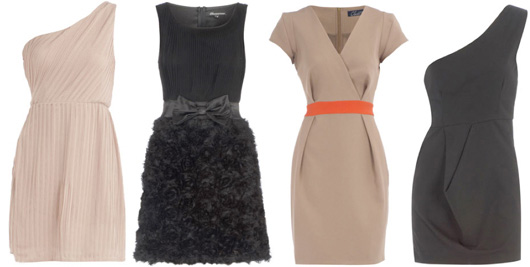 Photos from http://www.dorothyperkins.com

Again, these are only suggestions. You can always play around with color too.
Lastly, a few general guidelines to remember in picking out your dress, shoes and make-up:
1. Always remember that you're going to a graduation ceremony, not a party. Simplicity is key.
2. Be comfortable in whatever you're wearing.
3. Less is more. Avoid dangling earrings, bangles and flashy/chunky accessories. Stick to stud earrings, dainty pendant necklaces and thin strand bracelets.
That's it! I hope my blog entry helped. Congratulations graduates!