And I'm part of the list. Gah! HOW DID THAT HAPPEN???!!!
As seen on MEGA Magazine's April 2011 issue: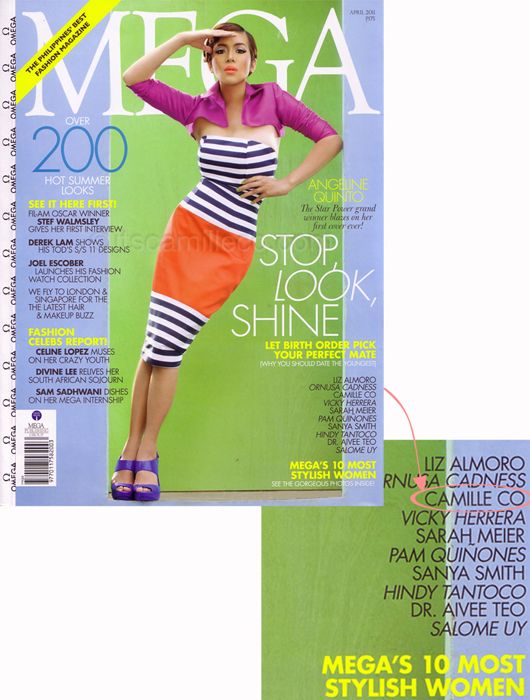 I got so kilig when I saw my name on the cover. I never thought I'd ever see my name on the cover of one of the Philippine's top fashion glossies, all the more alongside the names of such accomplished women. They're all so bigatin and then there's me. Never in my wildest dreams. N-E-V-E-R. Pa-frame na 'to! :)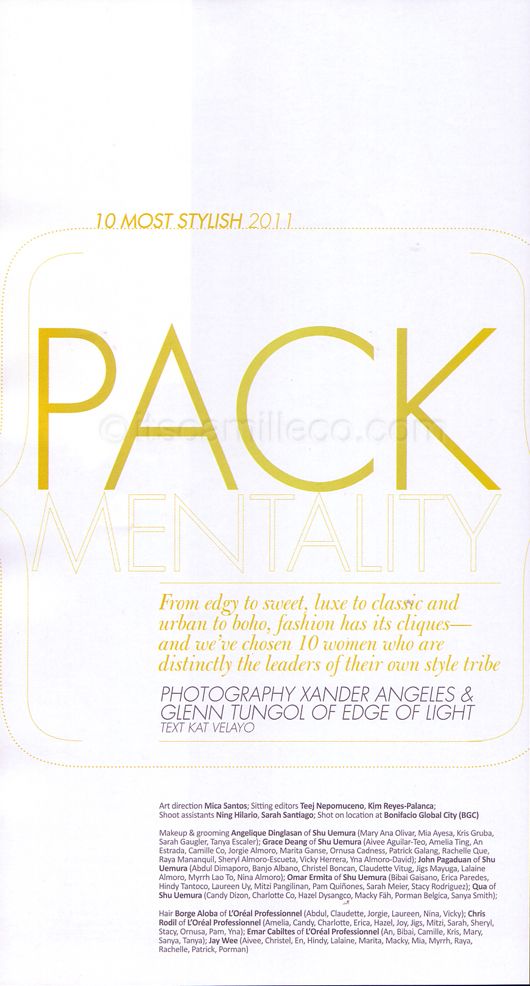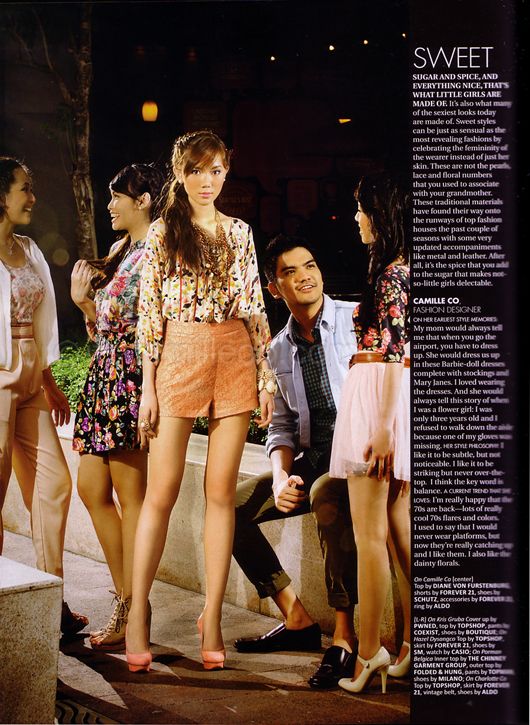 What I'm wearing: Diane Von Furstenberg top | Forever 21 shorts | Schutz shoes | Forever 21 necklaces | Forever 21 pearls+diamonds bracelet | H&M off-white elastic cuff | Aldo ring

They made a small mistake about my style philosophy though. Instead of my usual answer "subtle but NOTICEABLE", they wrote down "subtle but NOT noticeable". Oh well. No worries. I'm still too psyched out about being included in the list so I couldn't care less. :)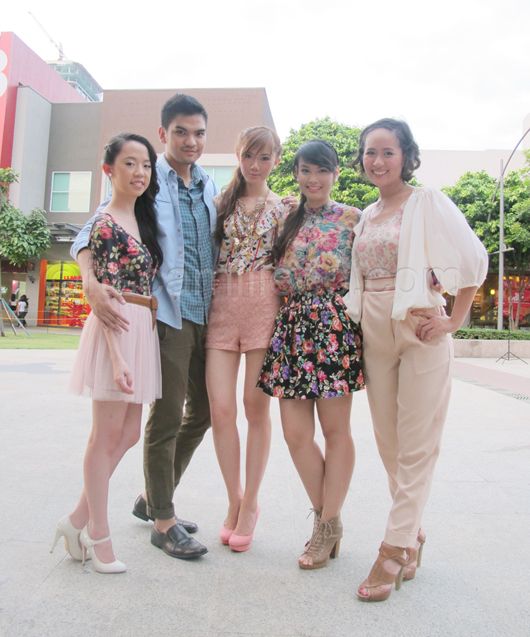 Behind-the-scenes photo of me and my style tribe; shot on location at Bonifacio High Street
Teej Nepomuceno, MEGA's fabulous fashion editor, was the one who informed me the good news. My tribe was assigned the "sweet" look and we were to style ourselves. Teej requested for my sister to be part of my tribe and the rest, I'm free to choose whoever among my friends. Yay!
So (drumroll please) meet my style tribe or otherwise known as one half of my everyday support group! From L-R: my older sister (yes older! She looks so much younger than me!) and the other half of Coexist, Charlotte (the hair stylist attached hair extensions. She looks so pretty!); my good guy friend from waaaaaaay back and my never-ending dance partner back in high school, Porman; my super charming friend, Haze; and my soon-to-be lawyer BFF, Kris.
Choosing my tribe didn't come easy though. A few days before the shoot, I had no idea how I was going to gather my tribe. I'm a low-key person and so are the friends I make. None of my friends are really THAT into fashion (except for Haze who just started her assistant styling job, hooray!). Plus, that week was hectic! I had no time to style them so I'm really happy and thankful these people were able to come through for me, even though they still had classes/work that day. I love you dear friends!!!
Thinking back, this shoot is probably one of the most fun shoots I've ever had. I never thought I'd ever get to have a shoot with my closest friends and here we are, so thank you MEGA for making this possible. :)
P.S. If you haven't grabbed yourself a copy of MEGA Magazine's April 2011 issue, please do!