Tomorrow marks my 1st monthsary as a legit blogger. I can't believe it's already been a month since I started this. The response has been overwhelming and I can not be more thankful.
Because of this, I've decided to hold my first-ever blog giveaway. The prize is a statement necklace from my RTW line Coexist. It's actually a personal favorite of mine. See photos below.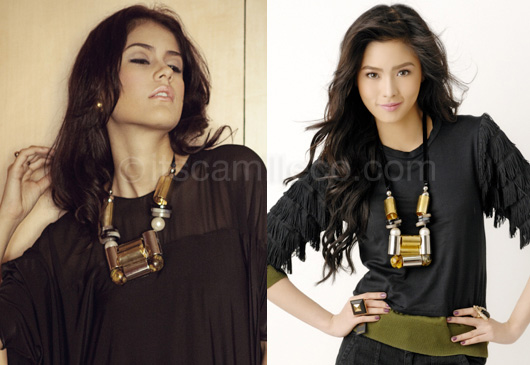 (Left: Photo from Coexist | Right: Photo of Kim Chiu from Happy Magazine November 2010)
To join, all you have to do is:
1. Follow me on TWITTER
2. Follow me via GFC – (It's now GOOGLE+)
3. Tweet me with your Google Friend Connect user name.
Remember, you have to be a follower of both my Twitter and Google Friend Connect accounts in order to qualify. The winner will be chosen randomly. I'll be announcing the lucky winner on May 6, Friday via my Twitter.
I hope you support my first ever blog giveaway. If everything goes well, I might turn this into a monthly thing. Yay! Good luck everyone!
***Note: This is open to Philippine residents only. If you live abroad and are interested to join, please know that you'll have to shoulder the shipping fee. :)