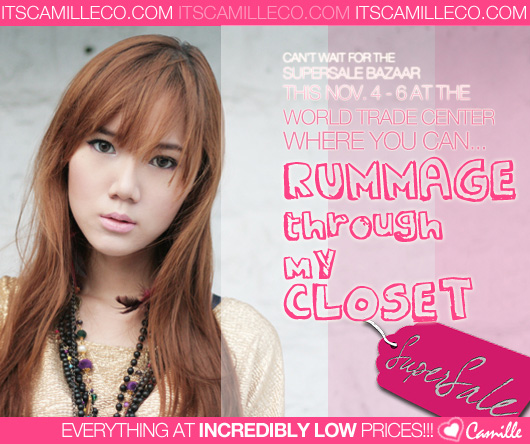 Hey guys! Don't forget to drop by my booth from today til Sunday at Supersale Bazaar happening at the World Trade Center. I'd love to take photos of the preloved items I'm selling but they're too many! (I brought my whole house again.)
As usual, I'm selling everything at crazy low prices. Just to give you an idea of just how LOW is low, a lot of my preloved items will be sold at 3 for P180, 3 for P350 and 3 for P550.
If that's not enough for you, there are also over 300 concessionaires participating at the bazaar so I'm sure you won't go home empty handed!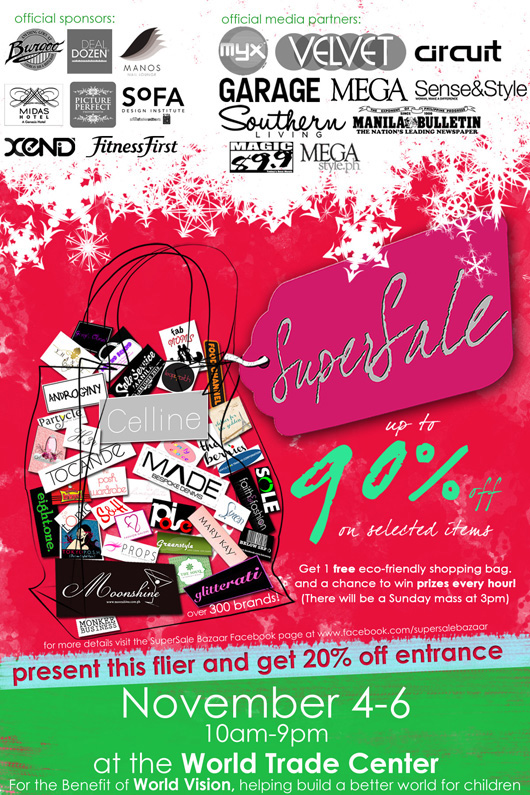 AND! Good news! You can actually get in for free by doing 1 of the following:
Present a XEND waybill of shipment made from October to November
Present your Fitness First membership card
Stay at Midas Hotel and present your key card
Log on to Deal Dozen and avail of free tickets
Or simply print out a copy of the 2nd flyer/poster I posted above to get 20% off the entrance fee.
See you there!
P.S. I don't know my booth number but this might help. Once you enter the venue, go to the 2nd aisle from the right. My booth has bright pink curtains all over so you can't miss it.