Add some sparkle in your life.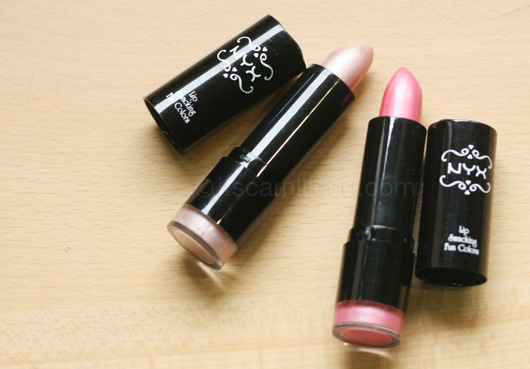 Five By Five NYX Round Lipstick in Mute and Jupiter
I rarely, if not never, wear satin-finish lipsticks. I stay away from the sheen and stick to the matte ones. But when I received these new NYX lippies from Five By Five a few weeks back, I decided to give them a try. To my surprise, I actually liked them! They make your look really sophisticated and glamorous without looking over the top. I can just imagine how the NYX Round Lipstick in Mute would go so well with dewy or neutral makeup. I used it over a matte nude lipstick (like MAC's MYTH) the other day and the result looked divine! As for the Jupiter, I'm still not brave enough to use it alone. I find it a little to dark pink for my taste so I mixed with Mute first. The result? Yummy baby pink with in metallic finish!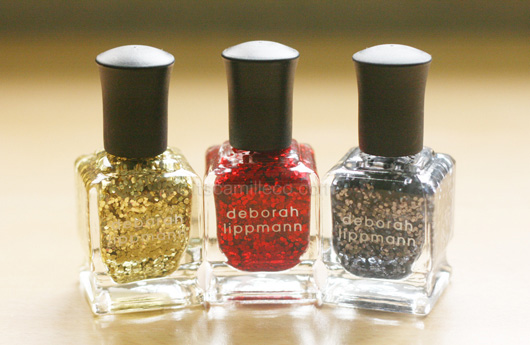 Deborah Lippmann nail polish in "Shake Your Groove Thing", "Do Ya Think I'm Sexy" and "I love The Nightlife"
Another thing I'm still getting used to, colored nail polish. I've always been the clean and clear type of girl when it comes to my nails. But then again, it's only a matter of time before my addiction with glitter and sequins would rule over all the other aspects of my life, my nails included. I found these unique colors in a store in Hong Kong. I'm not sure if Deborah Lippmann's line is available here in the Philippines. If it's not, that's too bad! I love that her products don't contain toluene, formaldehyde or DBP. They may be pricey but they're pricey for a reason. When it comes to your body and chemicals, quality should come first!
(If you're curious how these colors look like once applied, try googling "Deborah Lippmann" and you'll see a lot of photos that'll come up. The saleslady who assisted us gave us a great tip too! Before applying these colors, apply a darker shade underneath like black.)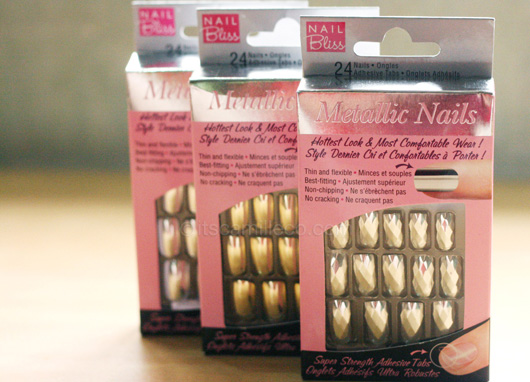 Nail Bliss Metallic Nails in Silver, Gold, and Silver Pattern
I'm so in love with the silver pattern nails. 3D! :)
Gryphon New York sequin shorts | H&M gold sequin skirt | Pull And Bear gunmetal sequin skirt
These are just some of the beaded/sequin/metallic numbers I bought from my recent trip. CAN'T.HELP.MYSELF.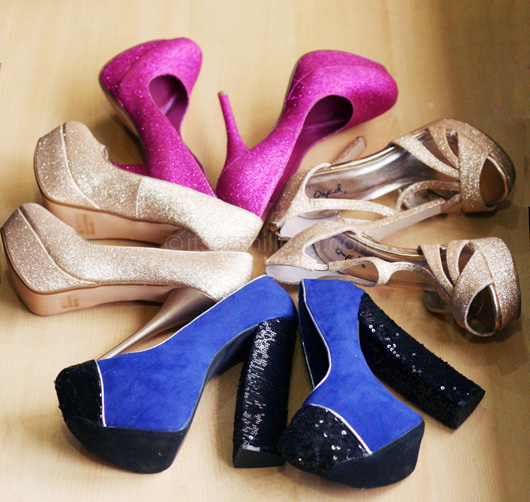 Feet For A Queen electric blue pumps | High Style Fancy gold pumps | Call It Spring pink pumps | Sassy Chic gold heels
And the killer heels are here! Care for some champagne? Champagne-colored heels that is. Spell sexy! Also, take a look at my electric blue pumps with sequin heels and front detail. They are the latest additions to my giant heels collection. They are incredibly high but really stable. When I first saw this pair, I didn't really find it all that nice. I only wanted them because I was looking for electric blue pumps. But trust me, once worn, you can see how the sequin details take this pair to a whole new level.
So that's it for my shining shimmering splendid special. :)