Time to talk about all things girly again! Here are my latest finds for all you beauty junkies out there!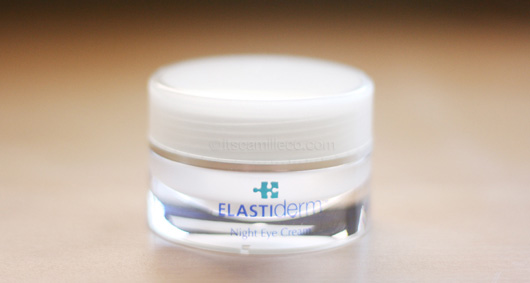 Obagi Elastiderm Night Eye Cream. I've read somewhere that it's best to start applying eye creams once you turn 20. I know that for us girls in our 20s, Obagi, isn't exactly our first choice for beauty products. I mean I, for one, used to think only women in their 40s use this brand. But after trying this product out, there's a reason why so many of our aunts and moms love this brand. It really works! The skin under my eyes brightened up and felt really soft and smooth. Obagi is available at your local dermatologist and at House of Obagi branches.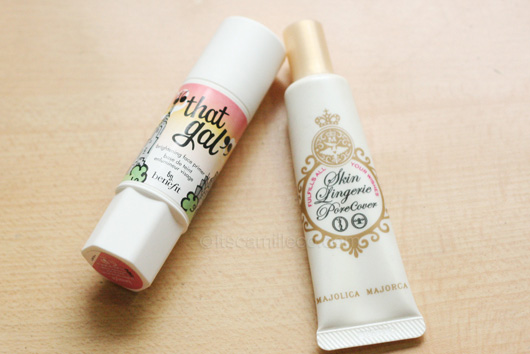 Benefit That Gal Brightening Face Primer and Majolica Majorca Skin Lingerie Pore Cover. I don't know if you've heard but American brand, Benefit just hit our shores! Its first branch in Greenbelt 5 just opened this month! One of its many bestsellers is the "That Gal" primer. What I love about it is, unlike other primers, it's very light and not at all sticky. It smells really good too! You may also want to give Majolica Majorca's make-up base a try! Like many of Majolica Majorca's products, the Skin Lingerie Pore Cover feels really smooth once applied. It's a great way to achieve that silky glow.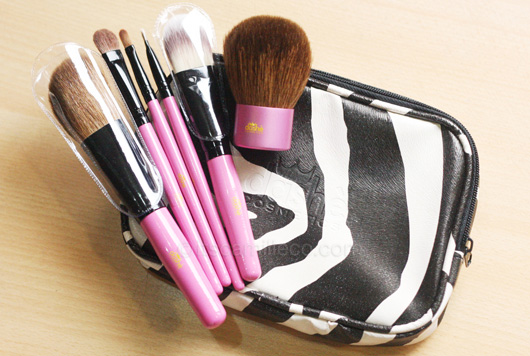 Dashe travel-size brush set. I've been traveling a lot lately so it was a godsend when I received this set from Dashe! Animal print? Check! Pink? Check! Light? Check! Affordable? Check! I also visited their Facebook page recently and found out that they have a retractable kabuki brush too. For people like me who are OC about their brushes, I really recommend giving that a try. It's so hard to find kabuki brushes with caps/covers! And to think it's the brush we use to apply make-up on our entire face.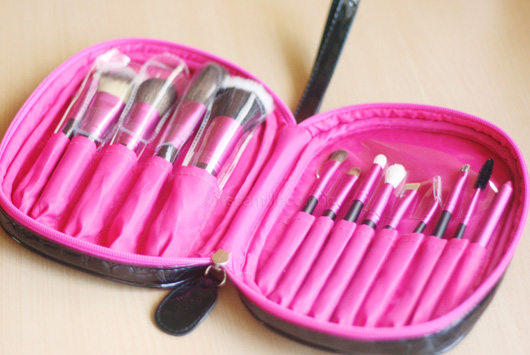 Charm Travel-Pro 14-piece Makeup Brush Set. I've used Charm brushes before and have always loved how soft and compact their brushes feel. This is their answer to all you jet setters out there. It has all the essentials you need! And when I say all, I mean ALL! Plus points too because the case is not only chic but functional too!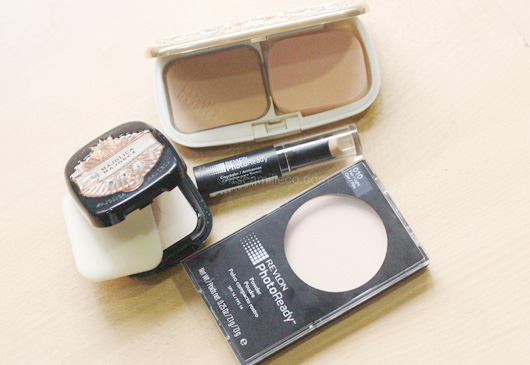 (L-R, clockwise) Majolica Majorca Pressed Pore Cover, Majolica Majorca Skin Remaker Pore Cover Foundation, Revlon Photoready Powder and Revlon Photoready Concealer. As I've said before, I don't really use foundations that often but these powders are great products for midday touch-ups even if you just use BB creams like me. Majolica Majorca's Pressed Pore Cover (the smaller one) is a lightweight and colorless powder that removes excess oil. Revlon's Photoready powder is also a great product for removing shine. It's not colorless though so it's great for evening out skin tones. Both products are already in my kikay kit!
For those looking for coverage, try Majolica's foundation (white/gold case). Again, expect it to be really creamy/silky and smooth. For concealers, give Revlon's Photoready concealer a try. Revlon's Photoready line is really famous for achieving that flawless look.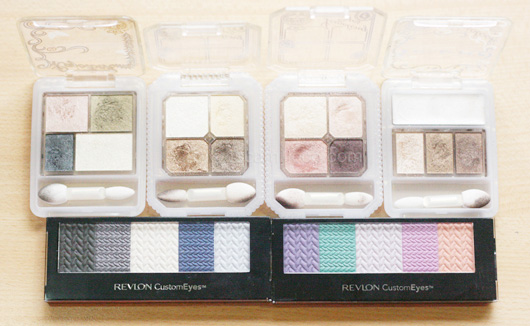 (Top row, L-R) Majolica Majorca Majolook (Trick On) in GR750, Jeweling Eyes in BR792 and RD784, and Majolook (Illuminator) in BR788. (Bottom row, L-R) Revlon CustomEyes in Smokey Sexy and Party Pops. I love eyeshadow palettes!!! They make life so much easier, especially because I'm not really that good with makeup. They're sooooooo easy to use! Just follow the step-by-step instructions that come with the palette and you're good to go. My ultimate favorites are Majolica's GR750 (sexy look for night outs) and RD784.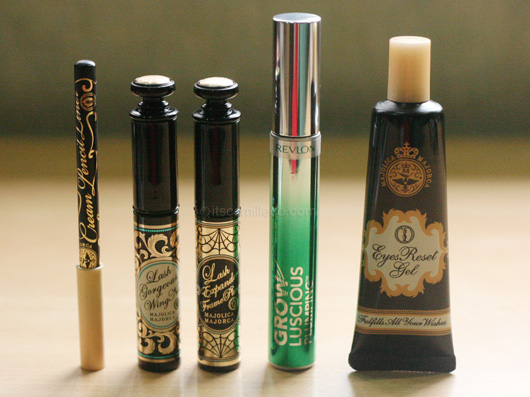 (L-R) Majolica Majorca Cream Pencil Liner in BK999, Lash Gorgeous Wing Neo in BK999 and Lash Expander Frame Plus in BK999, Revlon Grow Luscious Plumping Mascara and Majolica Majorca Eye Reset Gel. Majolica's pencil liner really is creamy. It glides on so well and lasts for a really long time! Their mascaras are great too! If you're like me whose lashline is balding, mascara is your friend. What I do is, I combine the lengthening power of Majolica's Lash Gorgeous Wing Neo and the volumizing effect of the Lash Expander Frame Plus. Revlon's Grow Luscious Plumping Mascara is a great volumizer too! It might actually be the best I've ever tried.
Of course at the end of the day, you have to remove these waterproof liners and mascaras right? This is what the Eye Reset Gel is for. It effectively removes makeup in a jiffy!
3S Pre-glued Lashes. If you're too lazy to put on mascara, go for falsies! I have to say I haven't tried these out yet. I mean pre-glued falsies? That's definitely intriguing! I'm so excited to give this product a try though, especially because I suck at applying falsies. Glue all over and I eventually mess-up my eye makeup! It takes me forever to apply falsies. (Kryz and Laureen can attest to how much of a failure I am when it comes to falsies. Kryz always has to apply my falsies for me. Laureen once asked me to apply her falsies for her. How did that go? Let's just say she won't ask me to do it again. Haha!)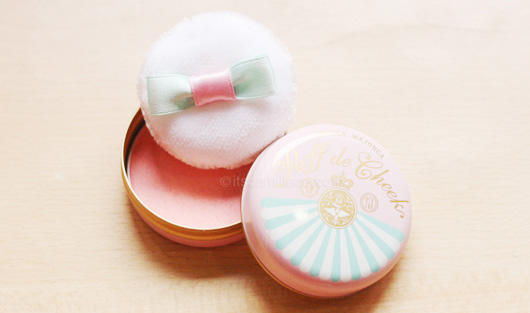 Majolica Majorca Puff De Cheek in PK301. I LOVE THIS BLUSH! The color is so pretty. It can make any look sweet! I HIGHLY RECOMMEND IT expecially if you're fair-skinned. Word of advice, better to apply it using a brush.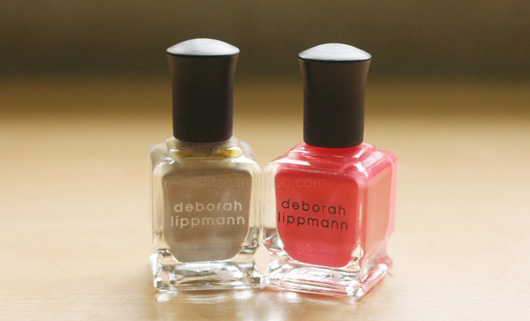 Deborah Lippman in Waking Up In Vegas and Daytripper. More Deborah Lippman nail polish! If you've seen Lady Gaga's Vanity Fair cover, the nail polish she had on there was Waking Up in Vegas. I really love how classy this color looks. If you want a younger color, try Daytripper. It's really unique! It's not your usual girly color.
Whew! Such a long beauty post! I hope you enjoyed our little break from all the fashion posts. :)