Announcement 1:
I just received the go signal from Mango! It's time to select the deserving charity for which the $10,000 donation I won as part of my prize as the new Mango It Girl will go. Needless to say, this amount of money will surely make a HUGE difference for whichever charity it will go to. Because of this, I am asking for your help. If it weren't for you, all this would not be possible in the first place.
Help me make a difference in someone's life. Help me change lives for the better. I can only know so much organizations and foundations. I'm sure there are plenty other great causes that don't get as much exposure and publicity but are equally deserving. So please, sound off in the comments section below! Please include in your comment the name of the organization/foundation, contact details/person, 1-2 sentences about their cause and if possible, link to their website or an article about them so that I can learn more about their cause. If it helps, I'm really passionate about charities for kids and differently-abled kids. But of course, you can suggest other causes!
Thank you so much for all the help guys! I really want to be able to relay my chosen charity to Mango before the holidays are over. I hope you realize how big of a deal this is. We're changing lives!
Announcement 2: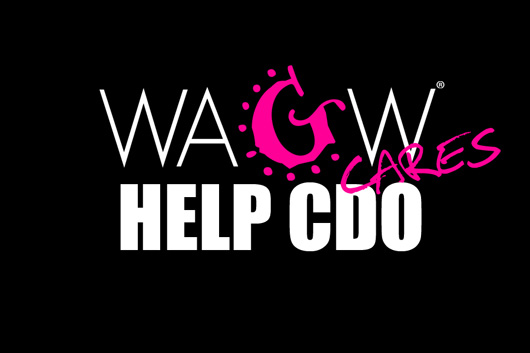 You might've heard about what happened to Cagayan De Oro City (CDO) this past weekend. CDO is now under a state of calamity after Tropical Storm Sendong hit the city causing at least 957 dead, 1582 injured and 49 still missing. Actually, the WAGW meet & greet scheduled for this Thursday, was originally scheduled to happen on that weekend too. If it weren't because I had to attend the Nuffnang Asia-Pacific Blog Awards in Malaysia, Kryz and I would've been there, at CDO. I'm thankful God spared us but a lot of our fellow Filipinos weren't as lucky. So many people lost their homes, their livelihoods, and most importantly, their loved ones. If you want to help, visit this link to learn how.
In line with this, the WAGW meet & greet at Limketkai Mall this Thursday will no longer push through. I know that some of you (including Kryz and I) were looking forward to this but please understand why we had to cancel it. Instead, Kryz and I will be going to Xavier University to deliver goods and lend a helping hand. If you're from CDO, you're welcome to do the same. I'm sure they need all the help they can get.