For the longest time, I tried to stay away from designing for brides. I was always just really scared to finally get into it. It's a lucrative business I know, but so many things are at stake. And I'm still pretty new at this so you can just imagine why I hesitated.
Before 2011 ended, I finally got my first bride. Introducing, Mrs. Veejay Pilapil-Chavez.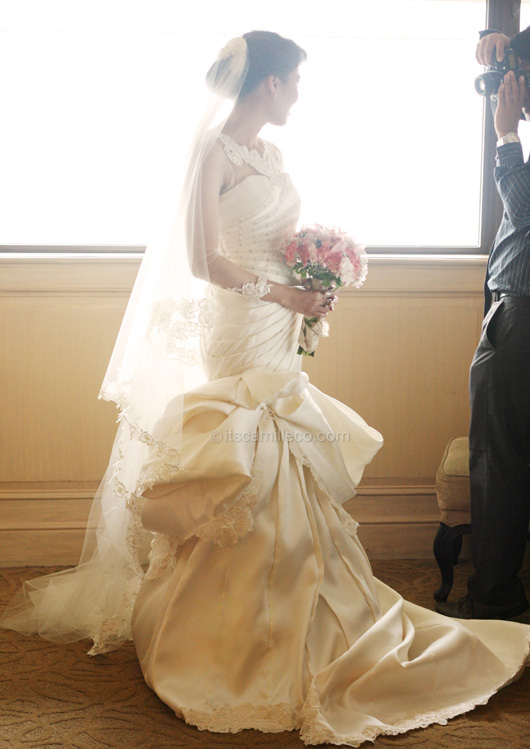 Veejay wanted lace and drapes–something really feminine and conservative. If you can see the gown in person, the color is actually more of a lighter ivory. I'm really not a fan of intensely white bridal gowns, but Veejay's family is a little traditional so we did our best to find a color that is still close to white but not so much that it looks kinda Tide-commercial-white (or Surf or Ariel or Mr. Clean–whatever floats your boat!)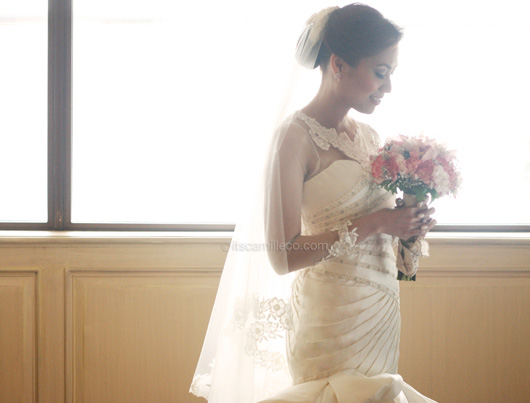 As usual, I played around with a lot of lace cut-outs. Inserted a few more here and there along the drapes and pleats.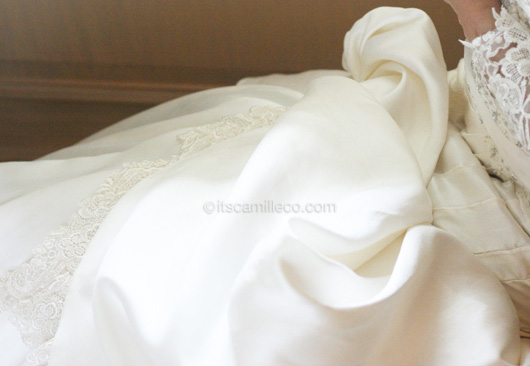 The drapes on her skirt was the most crucial element. It's the main attraction! I really wanted to add volume in this area to offset the upper part of her dress and to add a little drama.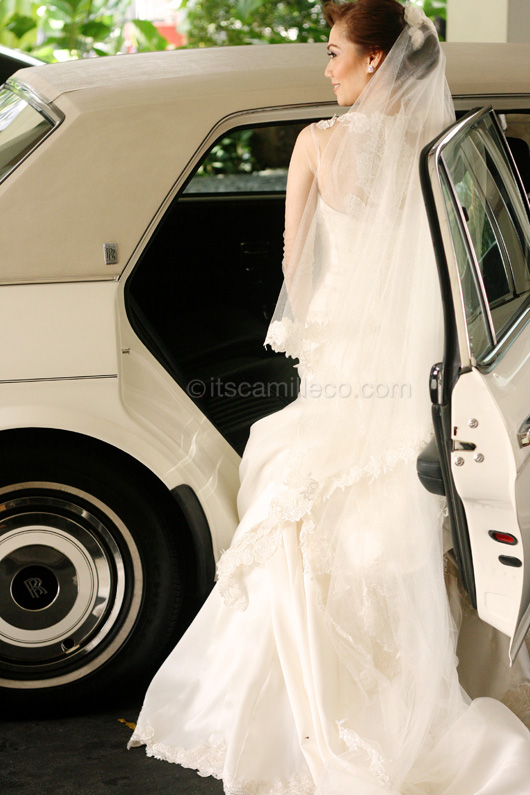 There you go! My first bride ready to get whisked away by the love of her life. (Insert sigh of relief here). Here's a link to her wedding video where you can see the gown in action, as well as the dresses I made for her entourage. I got a little teary-eyed watching this. Thank you Veejay and Tyke for giving me this opportunity! I wish you both all the best!
I learned so much from this experience. I was both excited and terrified at the same time. I couldn't relax until she walked down the aisle! Fast forward to now, I'm happy I finally tested the waters. I'm still adjusting a lot, committing mistakes every now and then and learning from them as I go on, but I'm hopeful I'll keep improving. I definitely still have a long way to go.