One of the highlights of every girl's high school life is definitely prom. You get to wear a pretty dress and get all dolled up like a little princess. I've been receiving emails left and right asking for prom suggestions. Frankly speaking, there are just too many choices! And I really am not the best person to ask for this. Choosing what to wear for prom should ultimately depend upon you. It is important that you like what you wear and your personality still shines through in whatever you decide to wear.
Here's a perfect example. Meet my prom client, Deanna. Deanna came to me prepared. No really, she was beyond prepared. She emailed Coexist and inquired about rates many many many months before her prom. When we finally met a few weeks ago, she showed me pegs of the type of dresses she wanted. She was very specific–sheer lace sleeves, tulle, A-line skirt. Although I love clients who give me freehand over everything, clients like these are also very much welcome. Coming to a designer prepared and knowing what you want actually makes my job easier. Aside from Deanna's requests, I also had to take note of her school's strict requirements–nothing revealing; length must not be shorter than knee-length nor longer than ankle-length; with sleeves; and so on and so forth. They had tons of rules!
Here's the final product: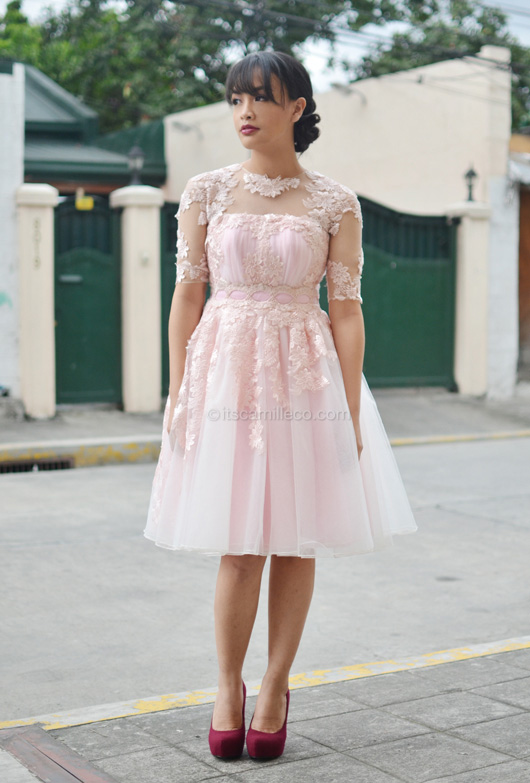 Deanna wanted a pale pink dress. To achieve this, I used a darker shade of pink underneath and went lighter with the layers of tulle. She wanted lace all over her dress too so in order to prevent looking overly decorated, I chose a lace fabric that is similar to her dress' color. This way the lace kind of blends in.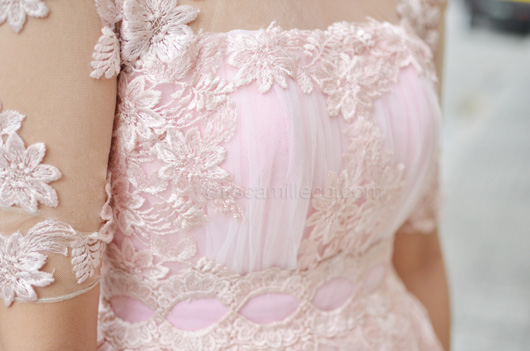 I cut the lace out piece by piece and positioned them on Deanna's tulle dress. I really love working with lace.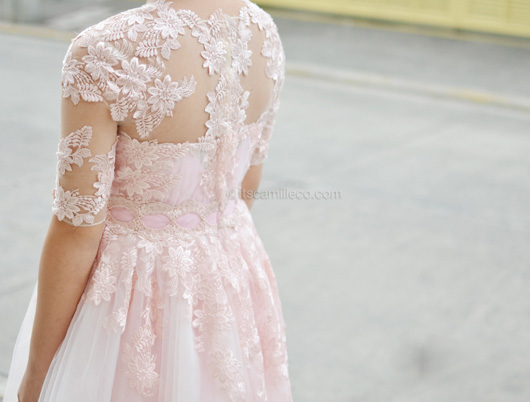 And there you have it!
And since a lot of you have been requesting for this, here are my tips for those of you who are just about to go to prom:
ALWAYS abide by your school's requirements. Don't just wish on your lucky stars that the teacher won't notice you. You don't want to risk getting kicked out of prom now, would you? All that time and effort put into preparing for prom would be wasted just like that! Work with your designer and ask for inputs as to how you can work around the school's rules.
Consider the venue. From what I heard, some schools have gone back or are still throwing proms at school grounds. More often than not, this means it's going to be HOT! Consider your environment as well. If your school is say, throwing a garden-themed wedding, try to stay away from green. You don't want to blend in with the scenery!
Bring pegs. Not just for your dress but for hair and make-up as well. It's nice to come prepared! You don't want your night to be ruined just because you and your make-up artist got lost in translation.
Ask for your designer's opinion. If you went to a designer for a dress, ask their opinion on what accessories, hair and make-up look best with your dress.
Wear comfortable shoes. You want to dance the night away with your friends, right? This won't happen with shoes you're not comfortable in. Look for shoes that look fab but are manageable for you.
Stay away from long trains. Save that for when you're getting married! There are tons of ways to achieve drama and glam without a super long train. At the end of the day, you want to enjoy your prom. You won't be enjoying it when your train gets stepped on or stuck under a chair every 5 minutes!
Retouch! Make sure you have tissue, oil film, loose powder and lipstick with you. You need to be ready for pictures all night long!
ENJOY! This is not a best-in-gown competition! Prom is for building great memories with your friends. So whatever you decide to wear, make sure you'll enjoy and feel great in it. Your dress is not the most important thing here, it's the memories you'll create. Think hassle-free and fun!