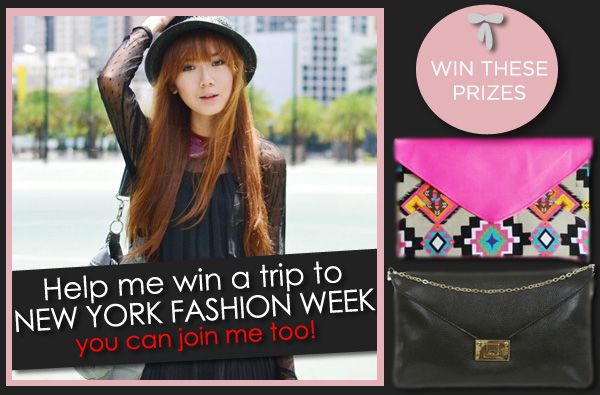 This is it! This is my chance to finally attend New York Fashion Week for the first and probably only time ever in my life! Fashiolista.com chose 50 of their favorite bloggers from all over the blogosphere. Whoever gets the most votes gets to attend New York Fashion Week! Not only that, one of my lucky voters will get to come with me too! YES! YOU ALSO HAVE THE CHANCE TO GO ALL THE WAY TO NEW YORK and experience NYFW with me! Would you please be kind enough to help me win? Let's help each other, shall we? :) Help me help you LOL! All you have to do is LOVE my photo and follow the simple steps here. If I win, I swear I'll be the happiest girl ever! I mean it's NYFW!!! As a designer, I can only imagine how this experience will inspire me even more!
[button link="http://www.fashiolista.com/item/7683031/" size="small" bg_color="#e5b3b9″ window="yes"]VOTE FOR ME HERE[/button]
Although I know I can always count on you  to vote for me out of sheer love as you've proven before (naks!) and out of your desire to go to NYFW, I still prepared a little something to thank you in advance, win or lose. (Puro na lang kayo give, kailangan may take din haha!) I'm giving 2 lucky voters either the Miss Selfridge envelope clutch in the photo above or the neon pink aztec print envelope clutch, also seen in the photo above. Again, I'm giving these away even if I don't win the trip to NYFW. Ready for the mechanics?
Follow me on Twitter.
Join Fashiolista and follow me here.
LOVE my photo here by clicking on the red heart.
Tweet this: "I want to go to New York Fashion Week w/ Camille Co! LOVE her photo here & get the chance to win the trip with her too! http://bit.ly/OjzM5u "
And tweet this too: "I want to win that Miss Selfridge clutch and aztec bag from https://itscamilleco.com #ItsCamilleCoGiveaways"
Leave a comment below with your twitter name. No multiple entries please.
This contest is open to international readers as well. Voting for the Fashiolista/NYFW contest ends on August 29, 2012, 12 noon. This is also the deadline for entries for this giveaway. I will be choosing the winners for this giveaway via Random.org and announcing them via my Twitter. Just to clarify, if I do win the trip to NYFW, the voter who gets to go with me will be chosen by Fashiolista.com and not me.
Good luck to all of us! Fingers crossed! :)