For those of you who visited my blog last week, some of you may have experienced a few glitches with my layout. I apologize for that. The reason for the wonky layout is because I was trying to enlarge my photos as requested by a lot of you. ( If you're still seeing some overlapping, try to clear your cache and refresh.) The result? GIGANTIC PHOTOS that are so in your face even I get a little scared! LOL! I mean, you can practically see all my pores and blemishes! #girlproblems
Nevertheless, I'm happy with the change. I hope you are as well.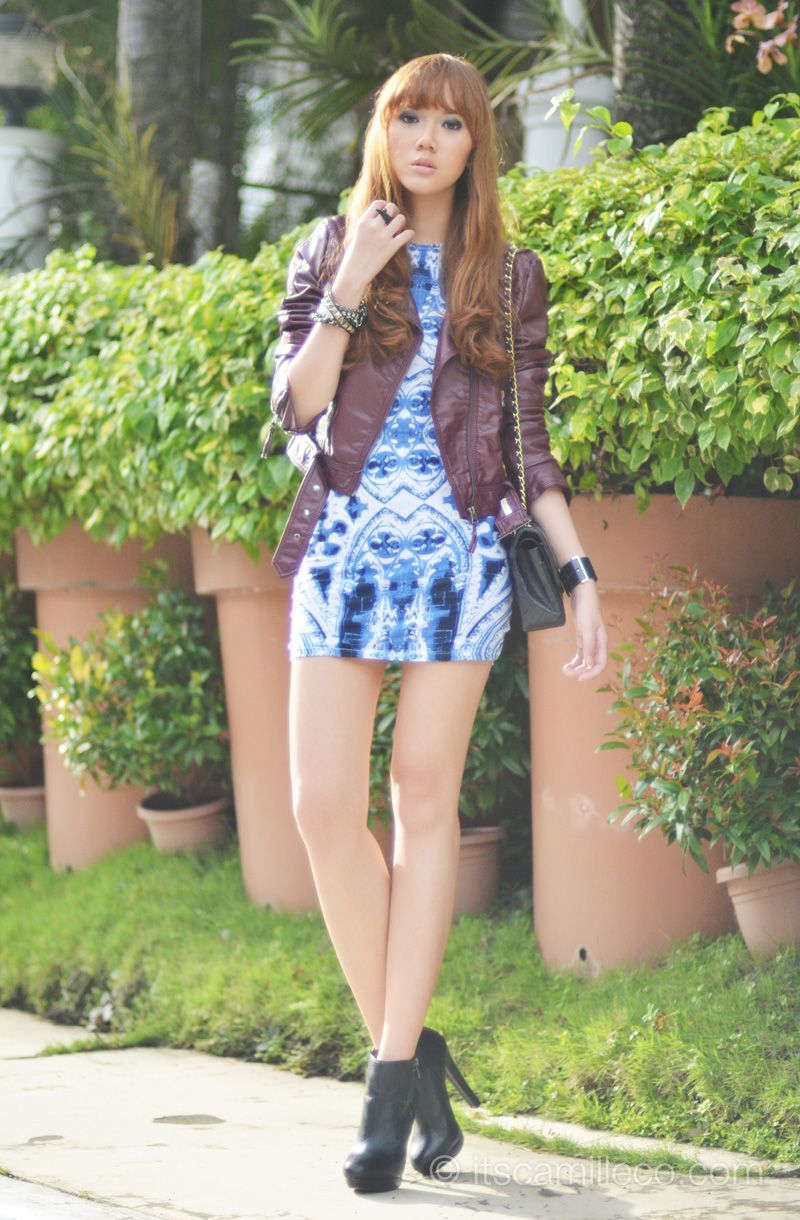 I know how observant a lot of you are so you've probably already spotted the humungous pots behind me in these photos. Don't they look familiar? If you frequent Tricia's blog, you may have already seen these on her blog posts. She graciously took my photos again (this time using my camera) outside her home after our shoot for Apartment 8.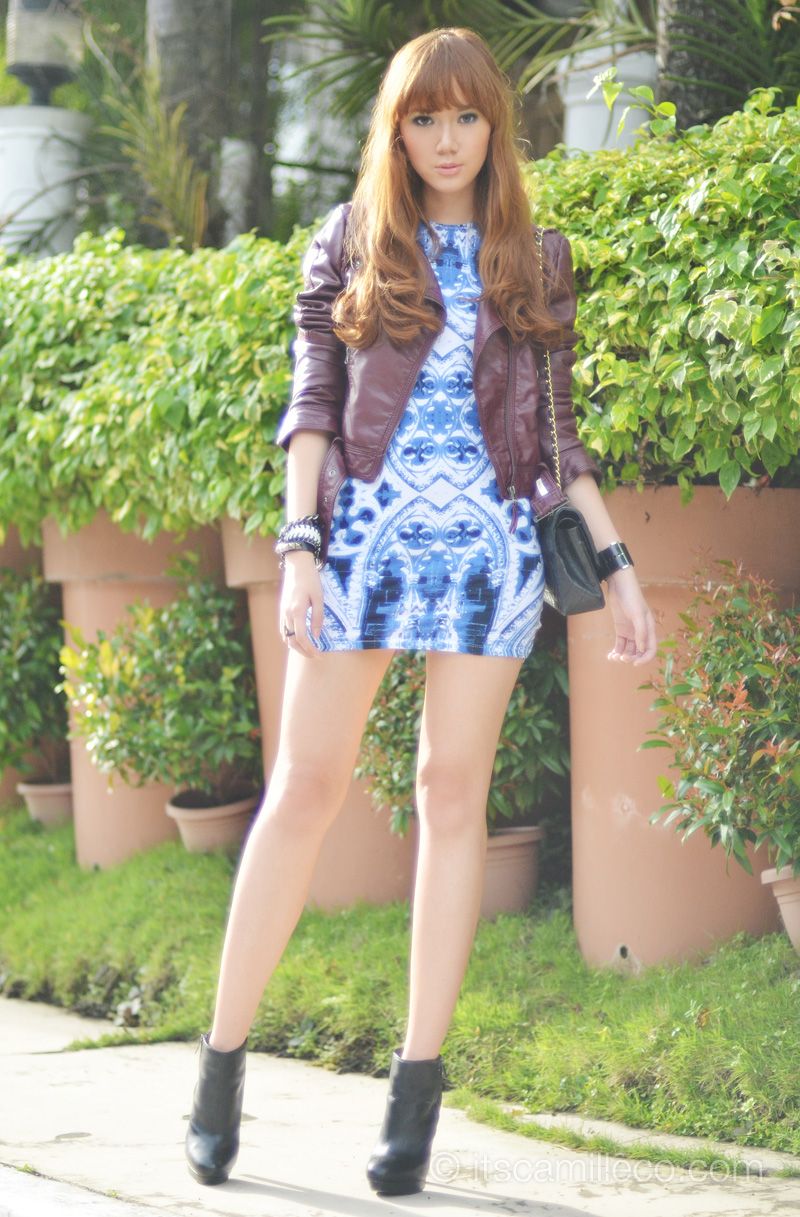 Notice anything else different in these photos? I cut my hair! No more layers. My hairstylist suggested keeping my hair in one length to complement my full bangs. I know, I know, it's nothing drastic. I wish I were more adventurous but all my friends reacted violently when I suggested cutting my hair shorter than the usual. Pfft. Although the change is miniscule, I now see what my hairstylist was going for. I love the change, especially when I curl my hair like this. My hair stylist told me that from now on, I should curl my hair all the way from the roots and not just on the ends. The outcome is super cute! I think it makes me look younger. (If you don't think so, don't burst my bubble pretty please?)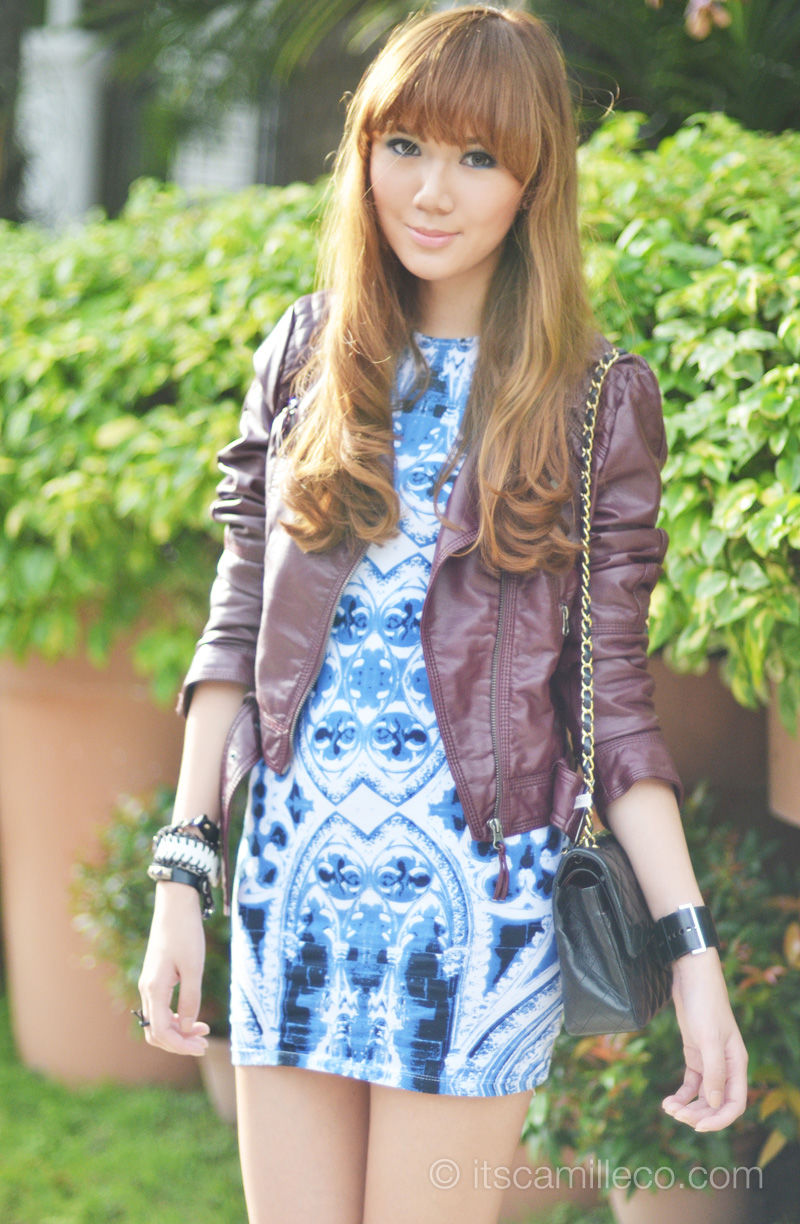 I actually thought I'd always have layered hairstyle. My hair is really fine and thin so I thought I'd never go back to a one-length style like this. It's only lately that I found out how shampoo can actually help remedy that problem. Using the wrong shampoo leaves residues that weigh your hair down. It can make your already thin hair even duller and limp. But when I started using Pantene Nature Care, I began to see my hair come to life. A lot of you even think I have thick hair! Ha! Fooled you! Having long hair is really hard to maintain so once you find hair products that fulfill your needs, hold on to them for dear life. In my case, my new weapons are Pantene Nature Care's Smoothness and Life variant and Fullness and Life variant. I use them alternately, depending on the hairstyle I want to go for that day.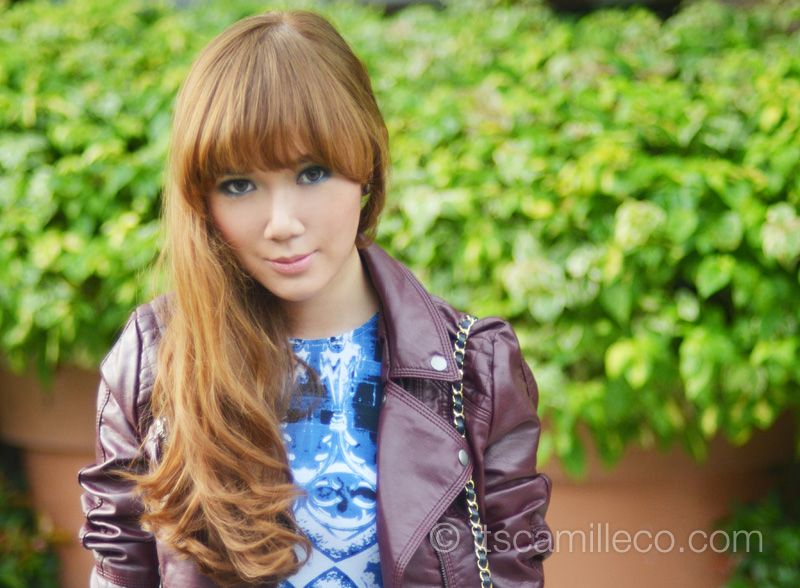 Guess which one I used this day? Fullness and Life of course! My curly hairstyle needed that extra bounce! I could've gone for that sleek straight hairstyle but I felt that curls matched my outfit more. It gave a more youthful and fun vibe that goes really well with my leather jacket and bodycon dress combo.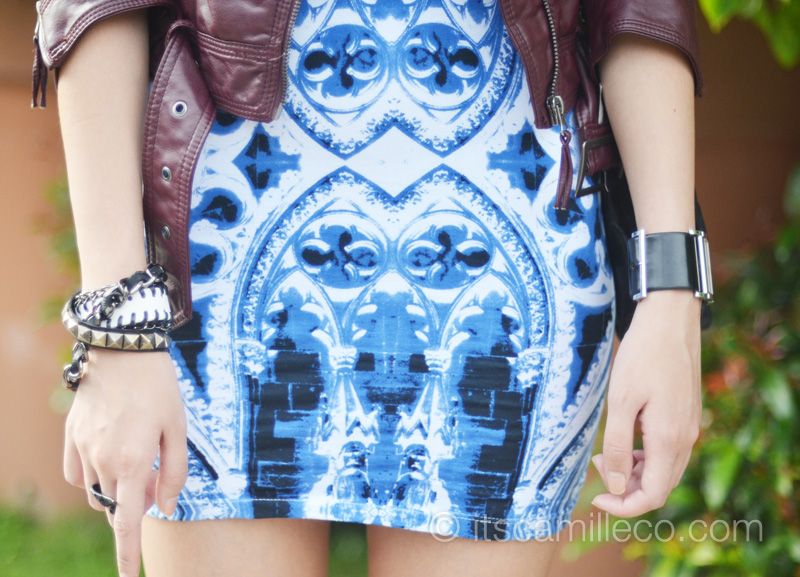 This bodycon dress' print is actually considered gothic according to Motel Rocks. I can see why but for some reason, it also reminds me of chinaware. It's probably because of the colors. Either way, may it be chinaware or gothic,  I still love it! The print is so eye-catching! The blue color goes really well with my leather jacket too.
A tip for people like me who aren't blessed with the most flattering shoulders in the world, jackets are your friends!

Calvin Klein watch | Extreme Finds white cuff | Gothic Princess (Singapore) ring and leather chain cuff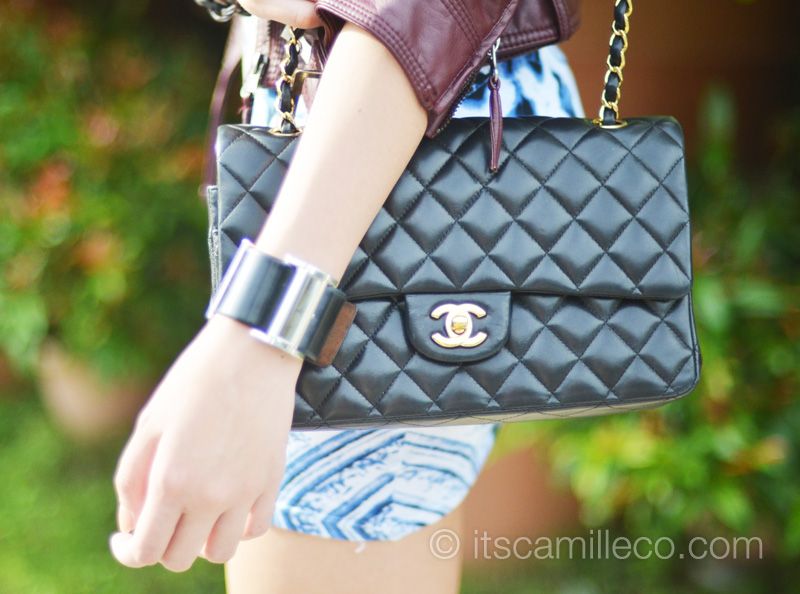 Chanel bag | H&M jacket | Motel Rocks dress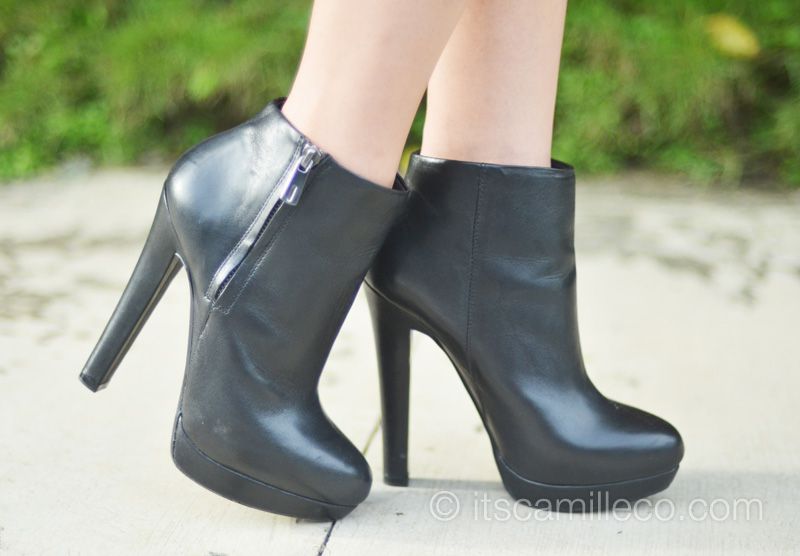 Zara shoes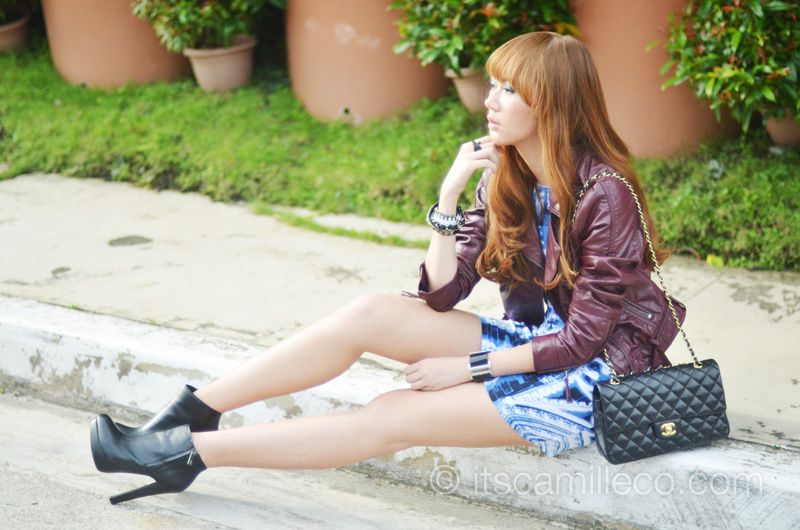 Don't I look so rebellious in this photo? Like I'm some tough little kid? Say yes OR ELSE!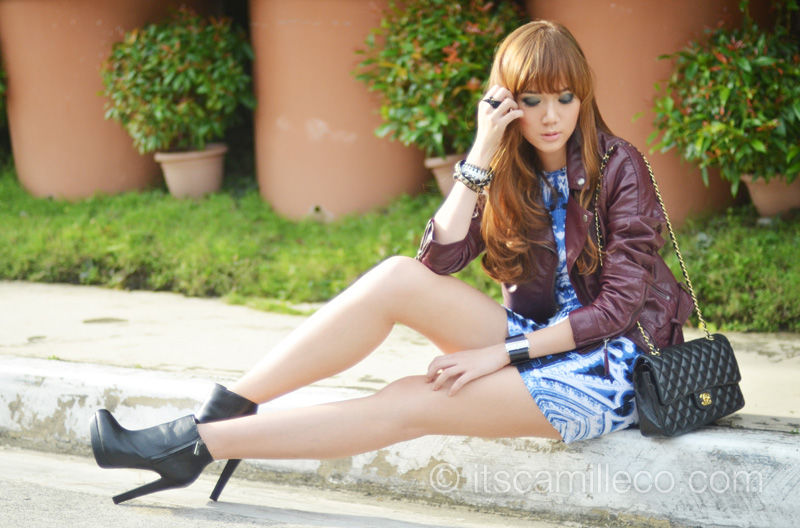 [button link="http://lookbook.nu/look/4108290″ size="small" bg_color="#e5b3b9″ window="yes"]Hype this look at Lookbook.nu here[/button]
P.S. Since I've already started talking about Pantene's Nature Care line, know more about how it fits perfectly into my life this Thursday on Kris TV. YES! You guessed correctly! The TV guesting I talked about in my previous posts (here and here) was actually for Kris TV. It's finally airing this Thursday morning at ABS-CBN, Catch me and fellow blogger Patricia with the queen of talk herself. I'm actually quite nervous about how it turned out. I tend to talk too fast and I probably look weird and bloated because of all the things I did the night before but you'll still accept me for who I am right? :)