Touchdown, Cebu! Last week my friends and I made a short trip to Cebu for Sinulog. It was a first for me so I really didn't know what to expect. It's actually not only my first Sinulog experience but also, my first ever FIESTA in the country. I know, I know. Shame! Almost 25 years in the Philippines and only now did I get to experience a fiesta. Don't worry, my friend Kryz, who lives in Cebu, made sure to let me know what I was missing. She has been raving about Sinulog nonstop! And finally, 2 weekends ago, I got to experience it for myself!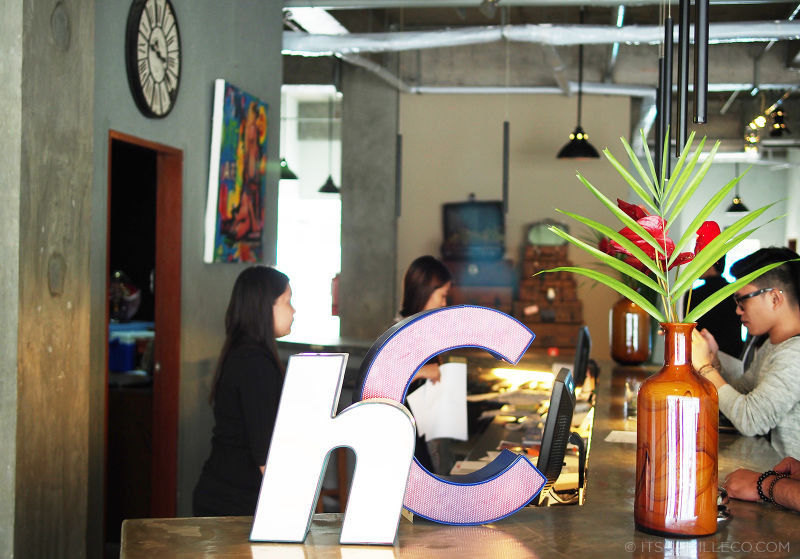 We arrived in Cebu last January 19, Saturday. From the airport, we headed straight to our hotel, The Henry, formerly known as The House Of Cebu. It's a pretty new design hotel conveniently located near the Business and IT Park of Cebu City. It used to be owned by a German couple but is now being run by Hospitality, Inc., the same group behind The Picasso in Makati.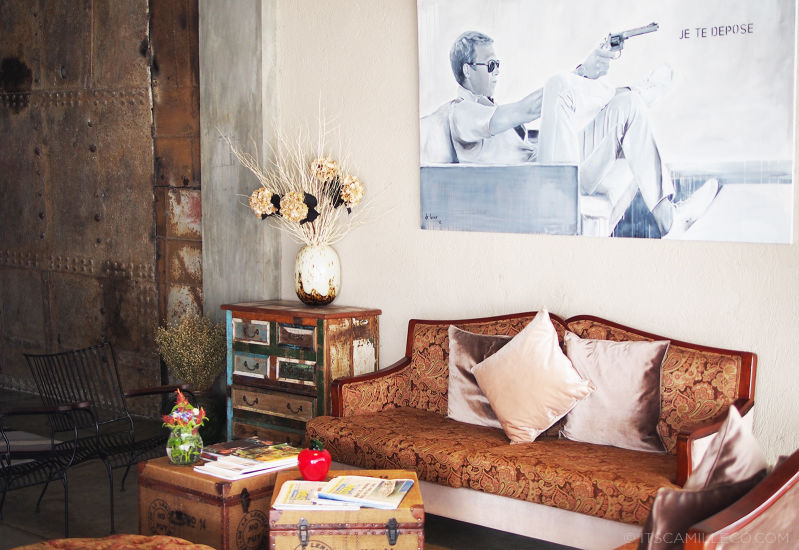 Upon entering the hotel, this is what greets you–a chic hotel lobby that's full of character! My friends and I immediately fell in love with the place, and this is just the lobby!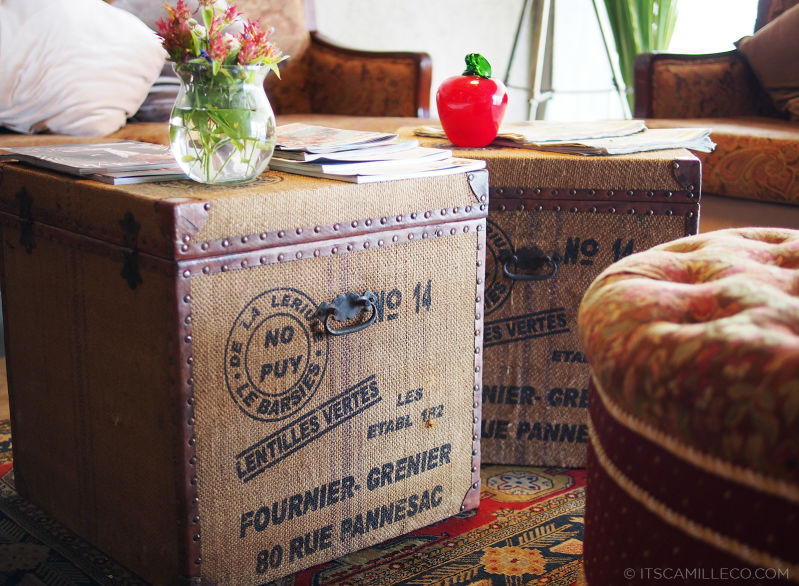 Every little corner has something interesting these little trunks used as coffee tables. If this is any indication at all, it's clear how hip The Henry is.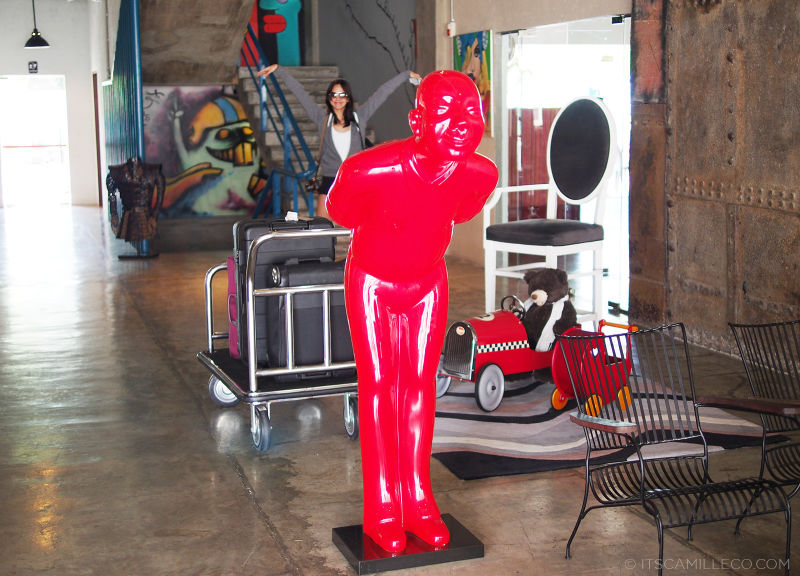 Hello Patricia, photobombing behind the cute red man that's facing the main door of the hotel.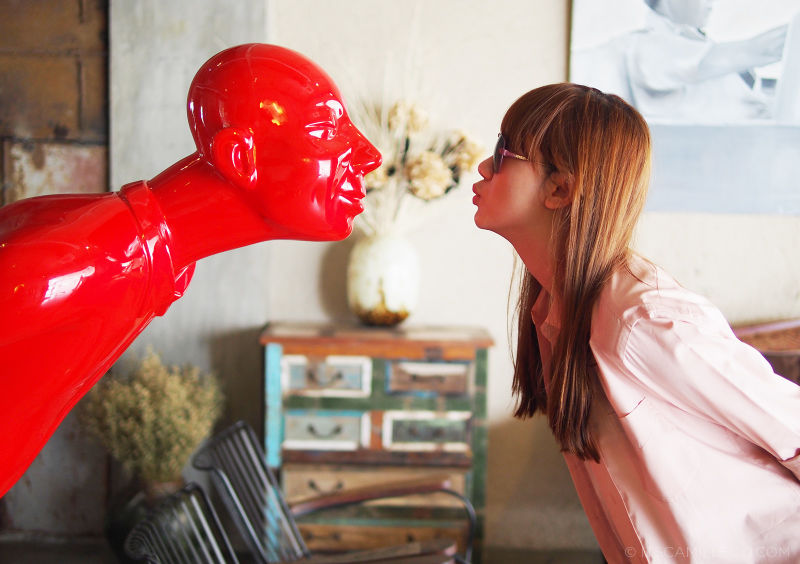 The cute red man is also my dear boyfriend. See, this is what you call love at first sight. I'm sorry for the PDA. I couldn't help it. LOL.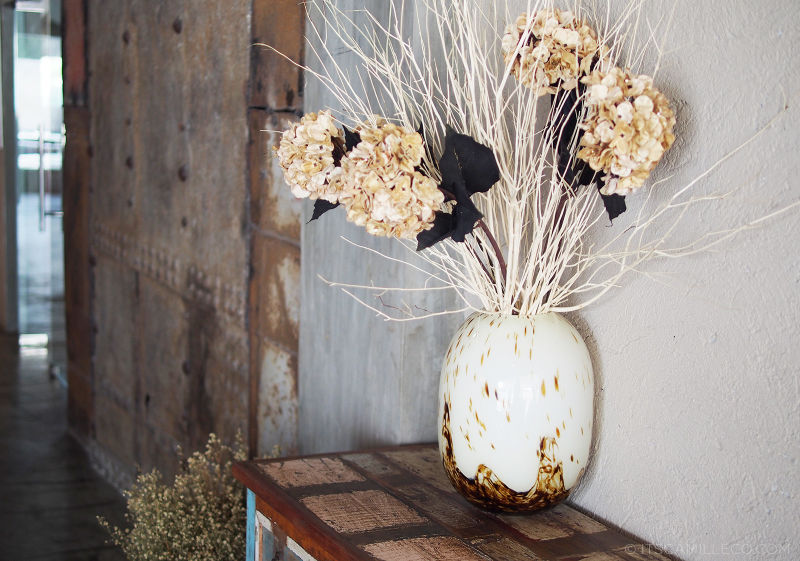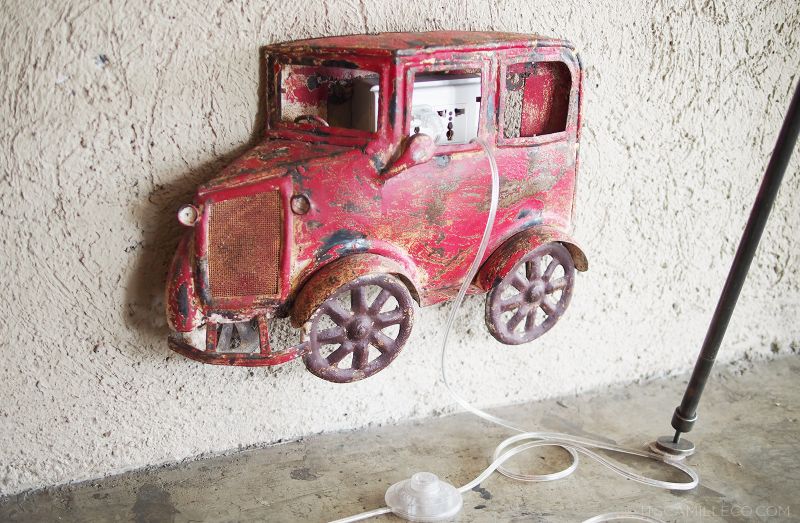 Even the outlet is creative!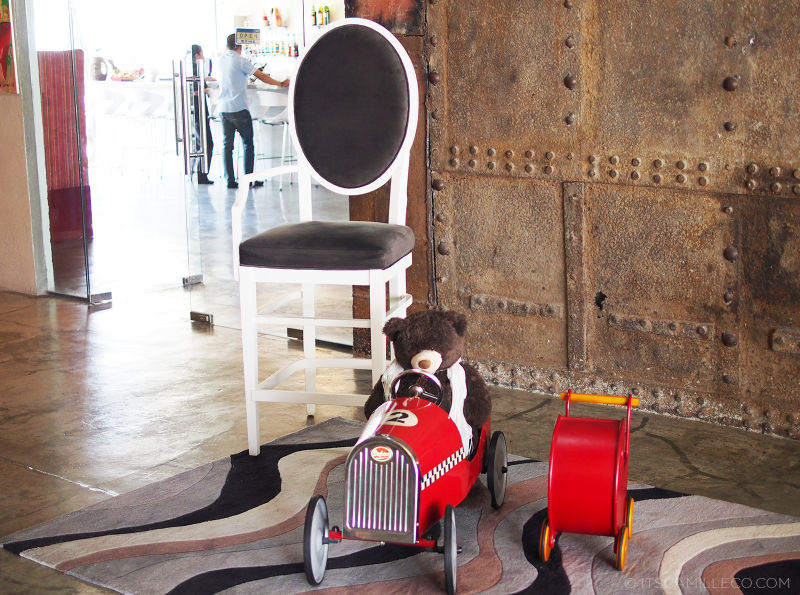 I wish hotels here in Manila are as nice as The Henry. They really paid attention to all the little details.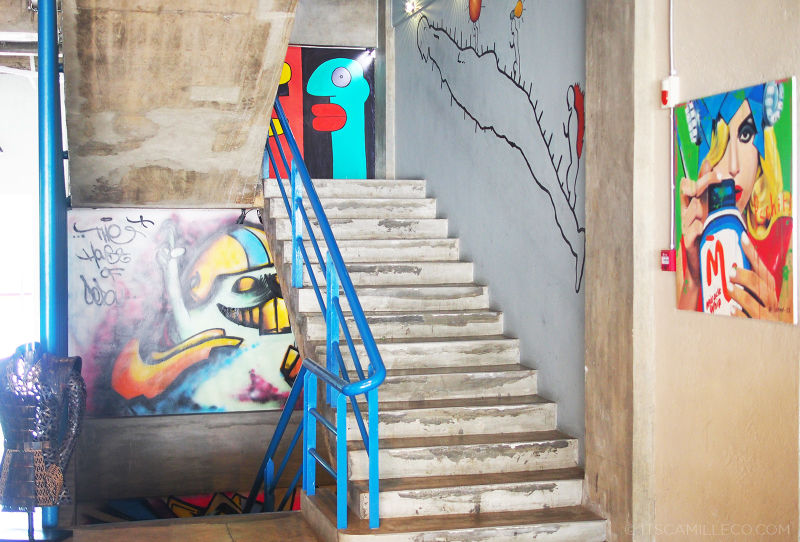 Most of the walls in the hotel are adorned by these artwork by Delphine De Lorme, a French Pop Art artist. They're actually for sale as well.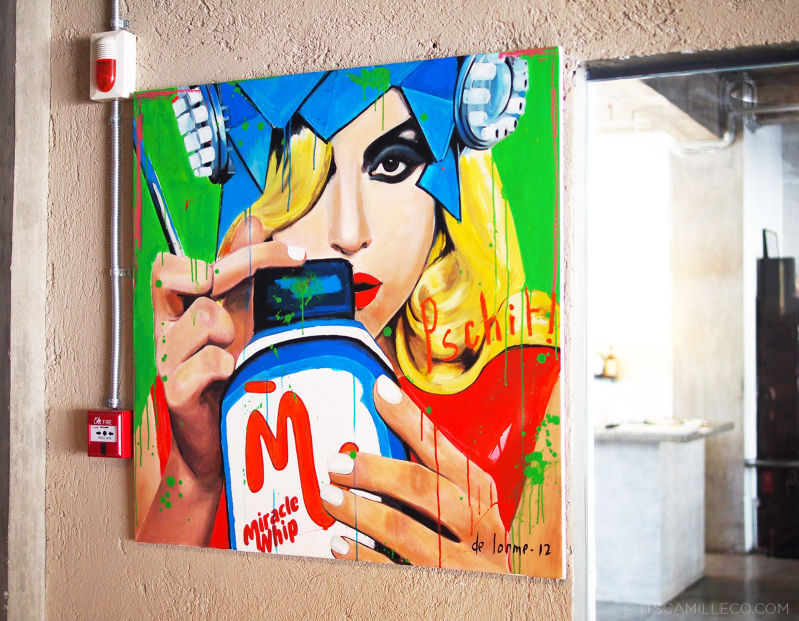 Hello, Lady GaGa!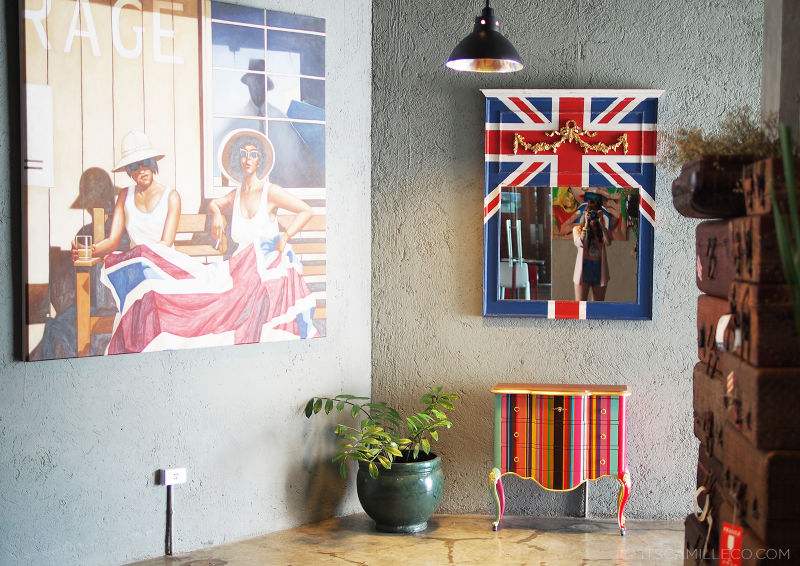 These pieces of furniture are also for sale. Seriously, if only I could bring the entire hotel to Manila, I would!!! Everything is so darn charming!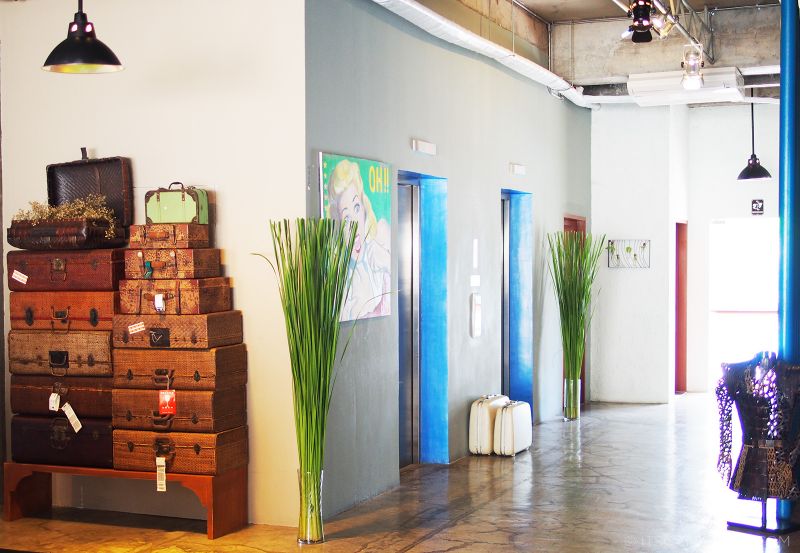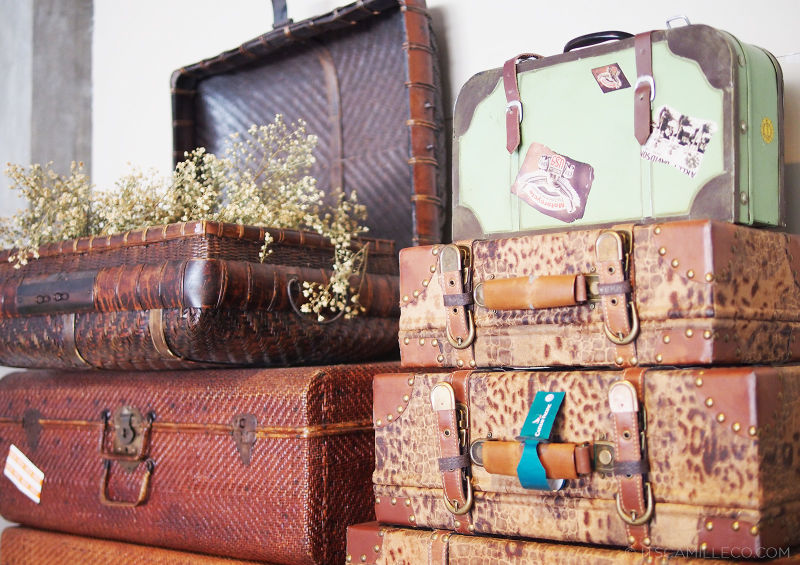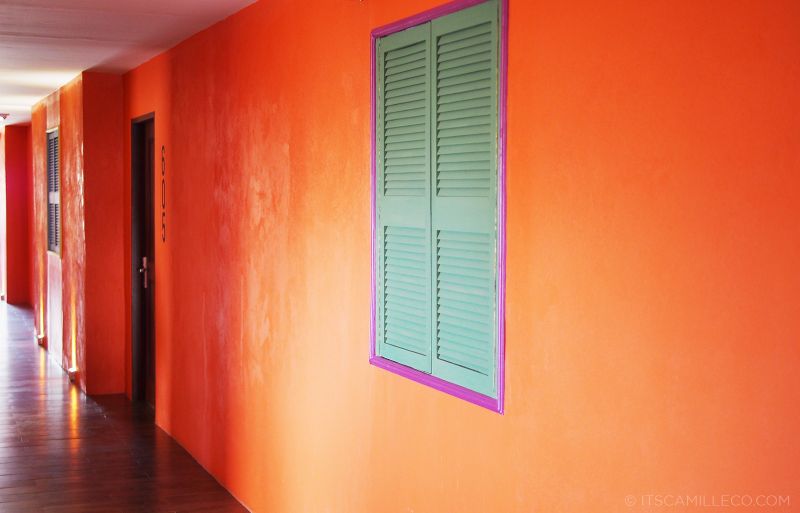 We were given the XXL room, which is the biggest suite of The Henry. This is one of the 2 bedrooms inside the suite.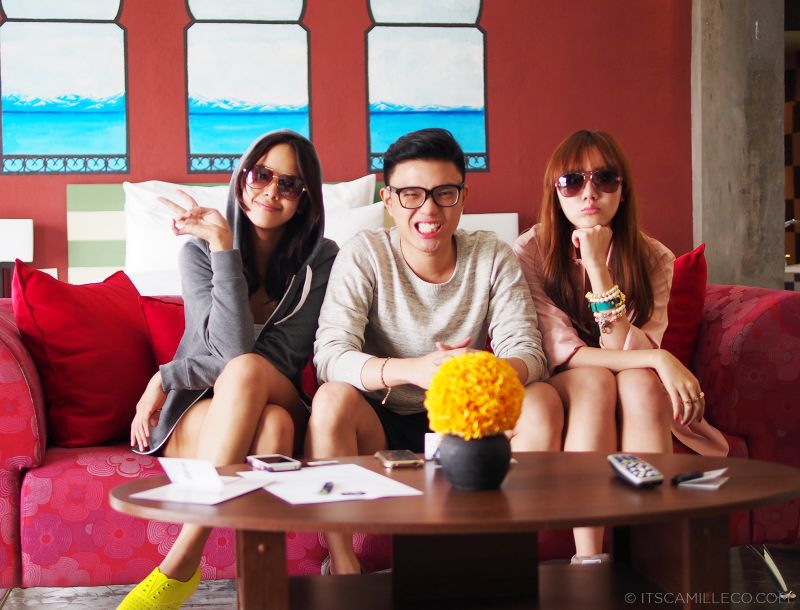 After ooh-ing and ahh-ing over the room, we settled down and decided to camwhore. LOL! What better way to appreciate the room's beauty, right? Haha!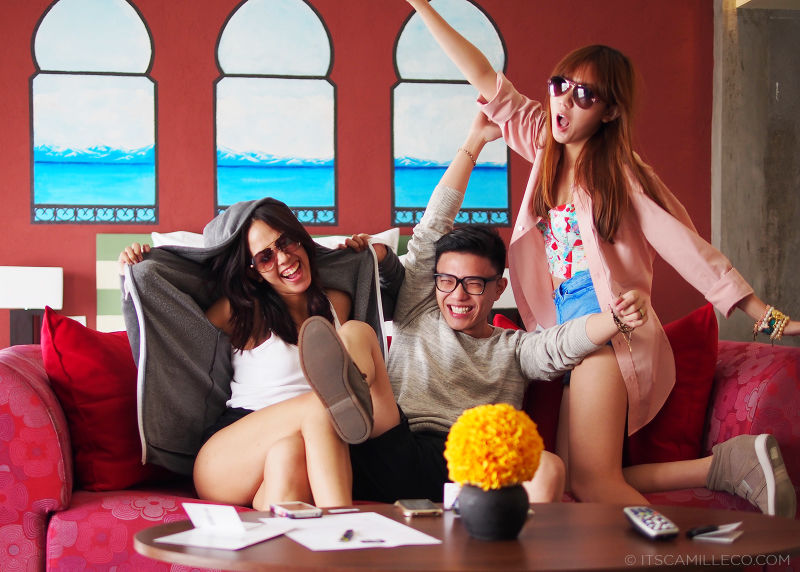 This is what happens when you catch a 6:55am flight and you lack sleep.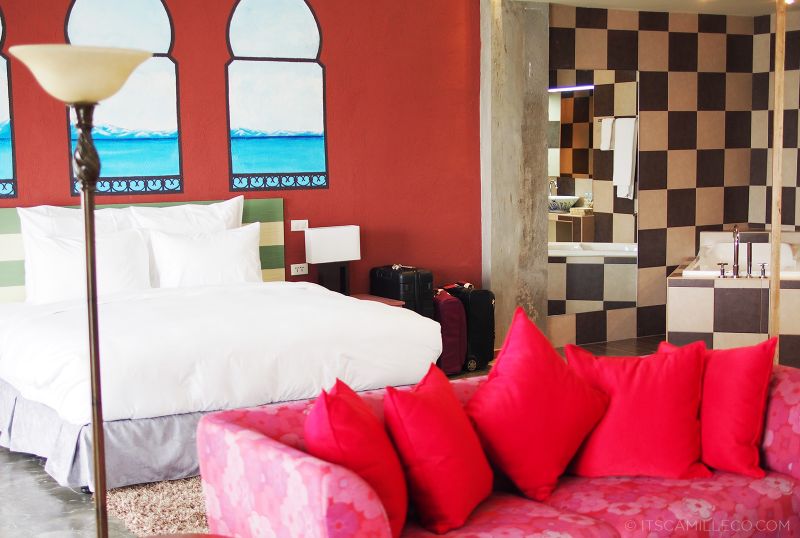 Okay, so now that we got that out of the way, back to the room! Obviously, we loved our room, if it still isn't obvious from our endless Instagram updates that day. There's just one teeny tiny problem–the bathroom of bedroom number 1 is honeymoon-friendly!!!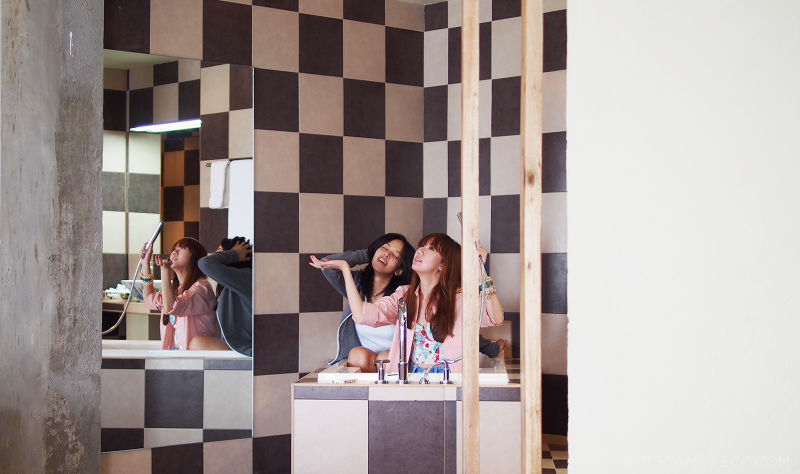 Using the bath tub would mean revealing your body to the woooooorld. There's a shower inside too but the mirror is conveniently located across it. Haha!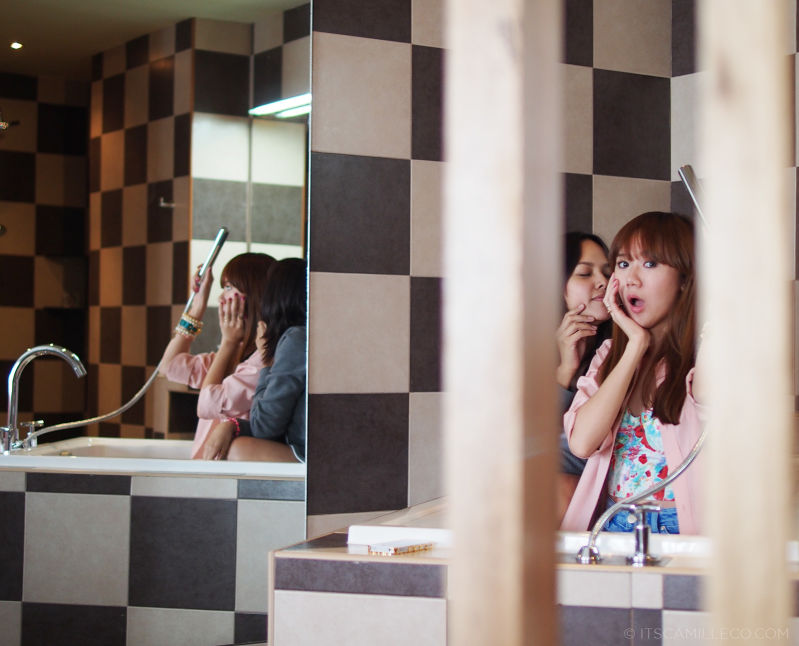 Now, I can see how couples may like this. But Kryz, Patrish and I, who stayed in bedroom one, are no loverssssss. Yes, we're all close, but we're not THAT close! LOL. Good thing we found a tiny blind spot in the shower. Problem solved!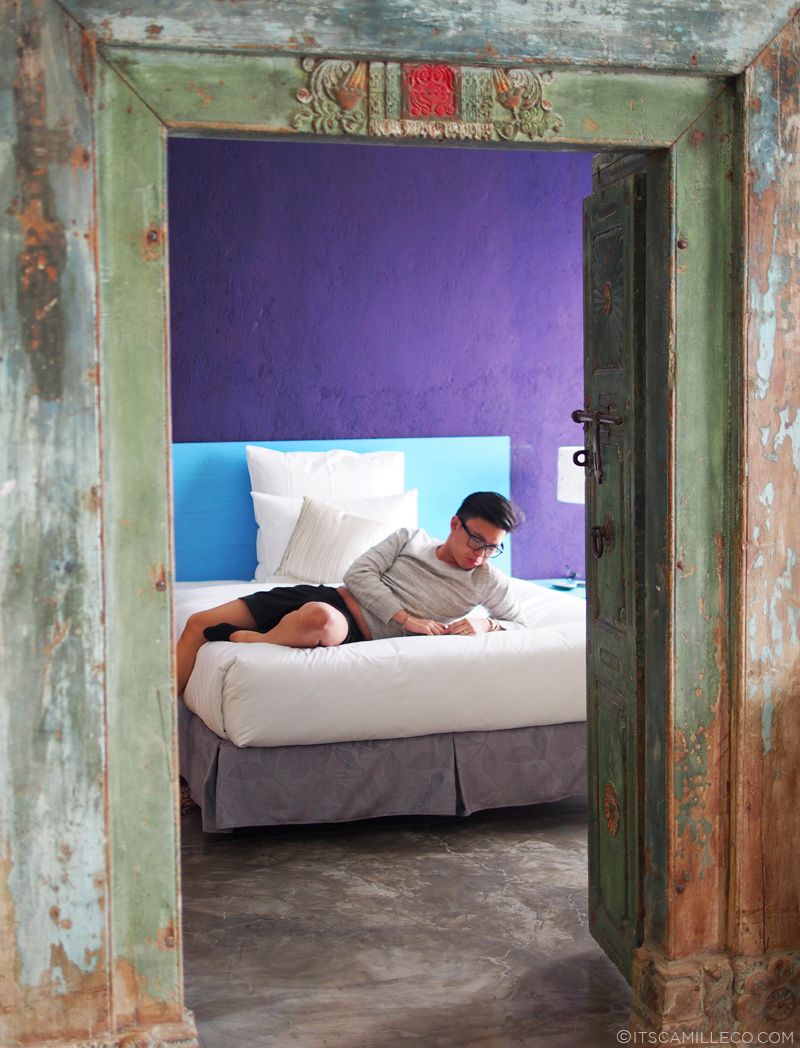 This is bedroom number 2 and our friend Sean. Aren't these doors so charmingly vintage?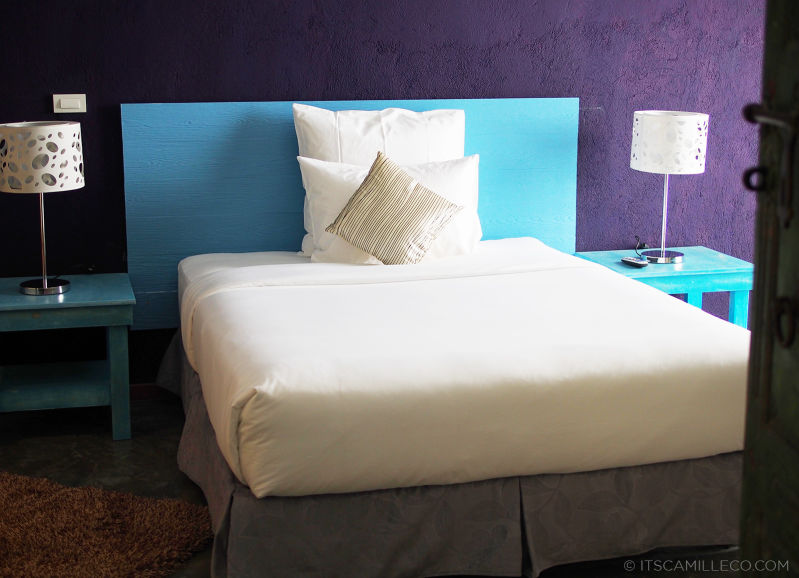 Bedroom number 2 has it's own (not honeymoon-friendly) bathroom and study table as well.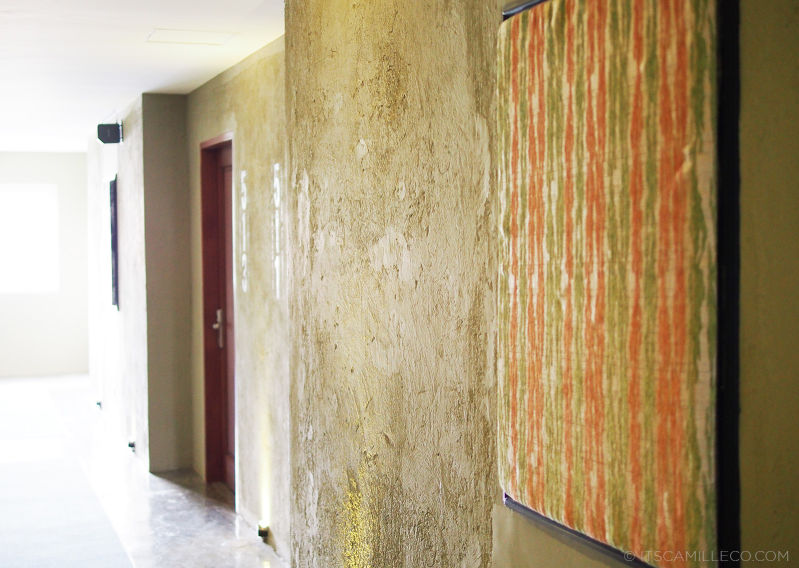 After settling in our room, we were given a short tour of the hotel so that we can see how the other rooms look like. As I've mentioned, different floors have different hallways.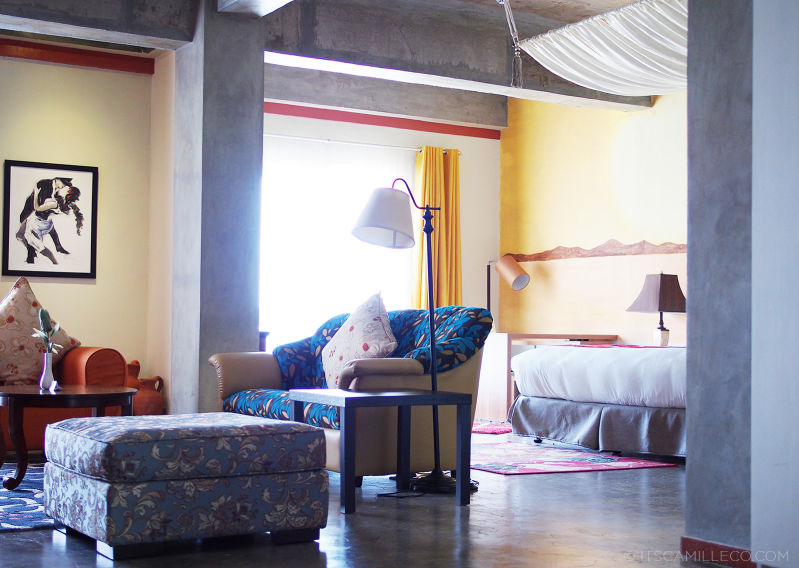 This is the XL room. Don't you just love how the sun hits the room?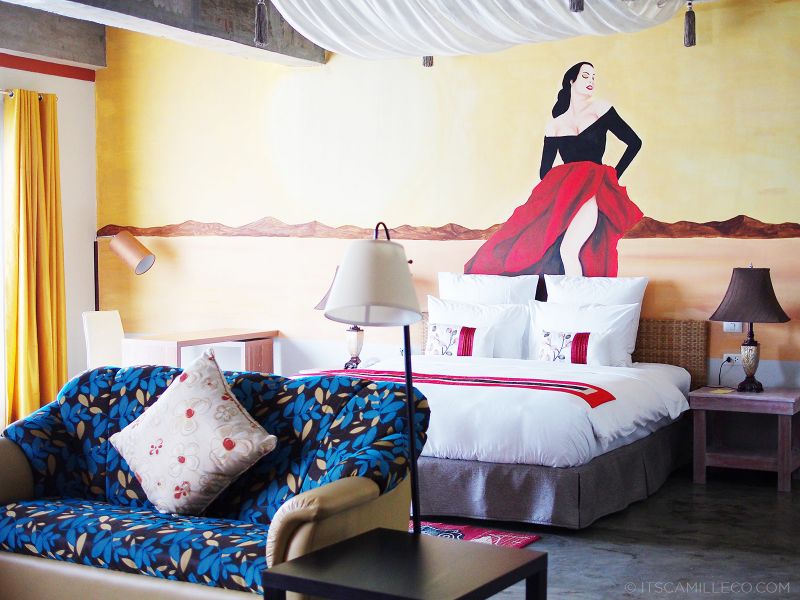 It's beautifully decorated as well.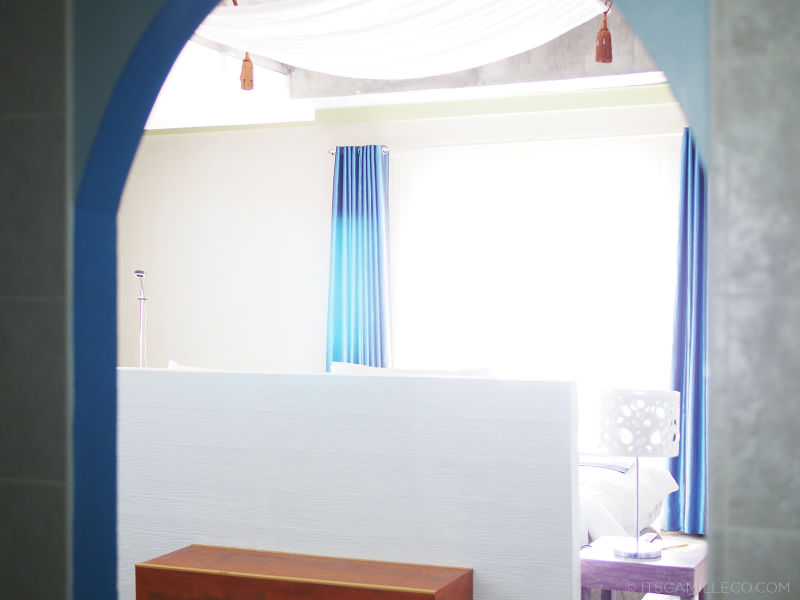 If the XL room is still too big, you can opt for the Large room.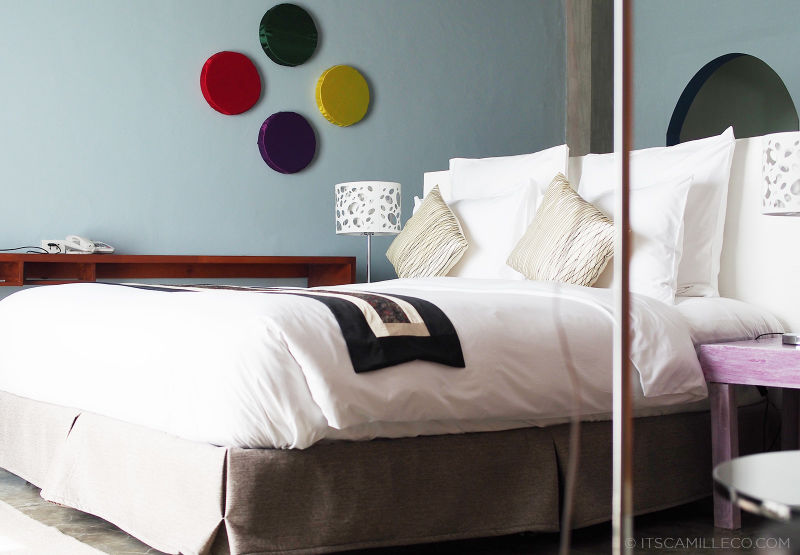 The Large room is best for 2 people.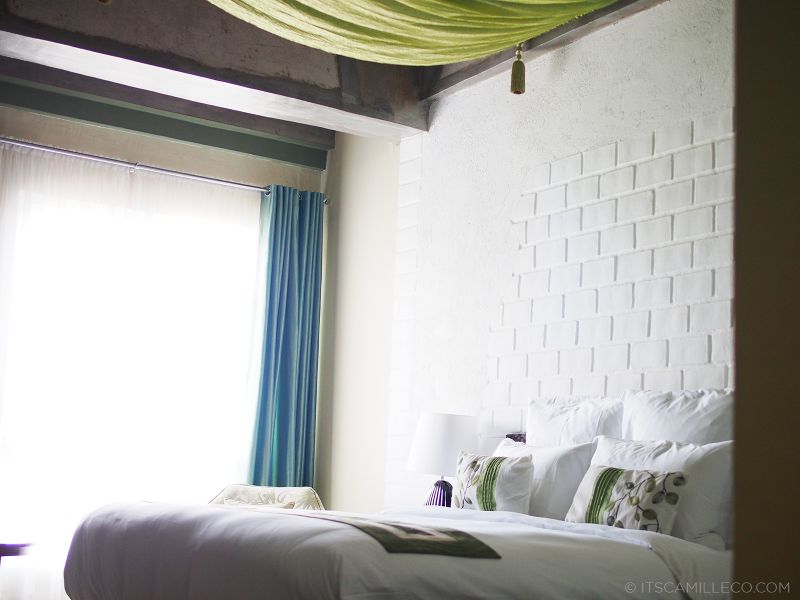 The smallest room in the hotel is this. It's called the Big room. It's actually my favorite out of all the rooms because of the color combination and little decors.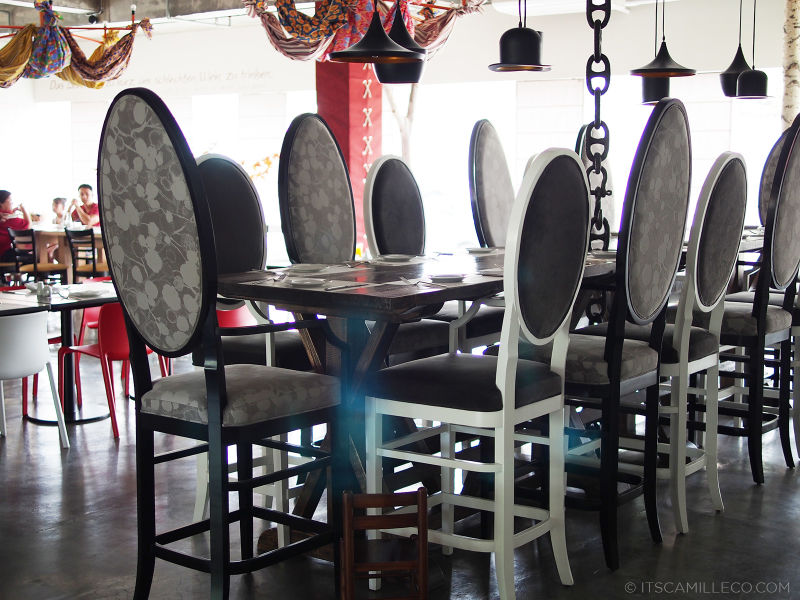 As for the hotel's amenities, let's start with the restaurants. The Henry has Rica's which is located right beside it's lobby. It's where breakfast is served every morning. The food here is sooooo good! Given a choice, we'd like to sit on this giant boss table every time we have our meals here. LOL! There's even a cute stepper for our petite friends who need a little help reaching the chairs.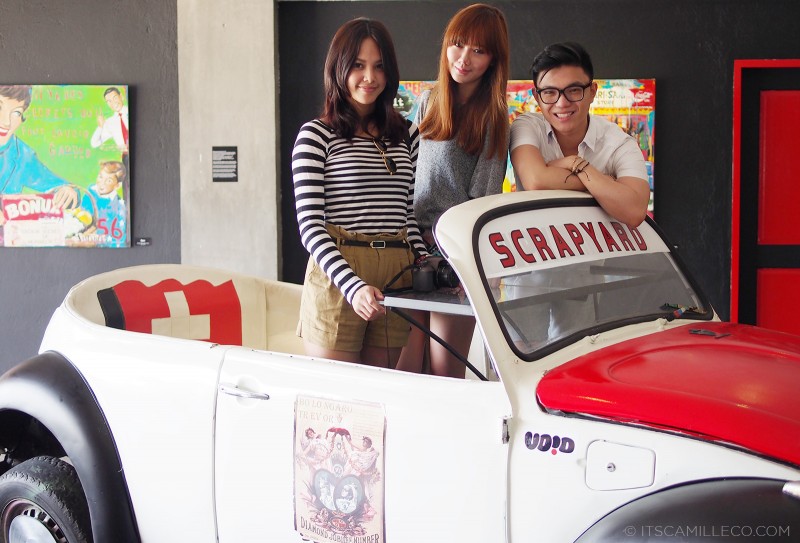 What hip hotel can go without a bar? The Henry has it's very own Scrapyard, a resto-bar located on its second floor. If you're worried that it might get too noisy or rowdy at night, from my experience, I didn't hear a thing from our room. It's a shame I didn't get to see the inside of Scrapyard though. This is just what you'll see before you enter the establishment.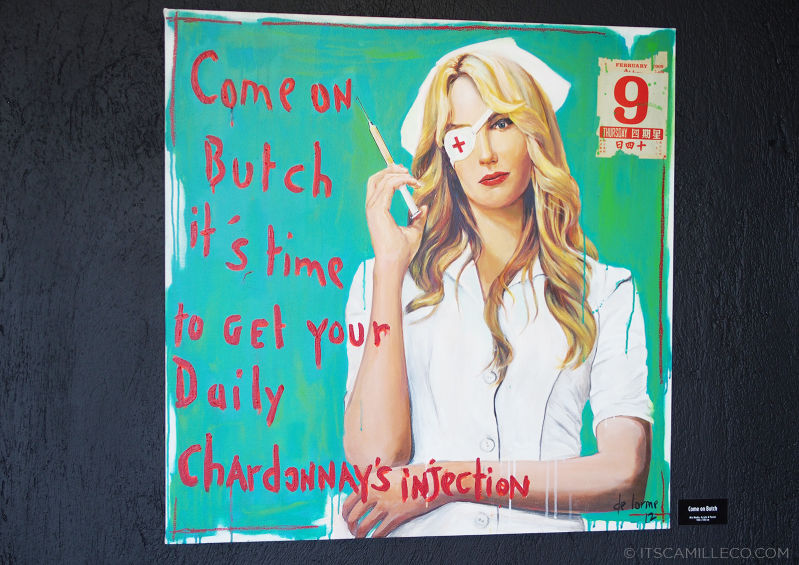 It's a little bit like Delphine De Lorme's studio exhibit as well. A lot of her paintings are here. I think this painting fits Scrapyard the best. Chardonnay, anyone?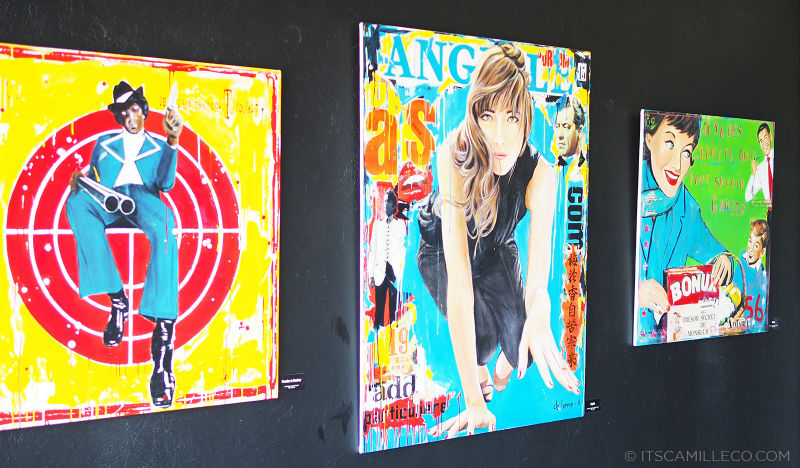 For people who want some peace and quiet, The Henry also has a reading room where you can jus relax and read your favorite book.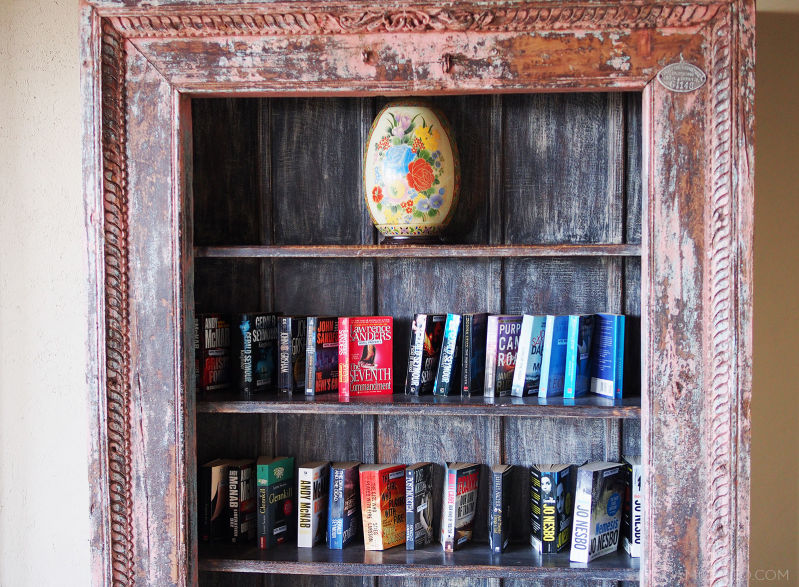 They've got a small selection of books to choose from as well.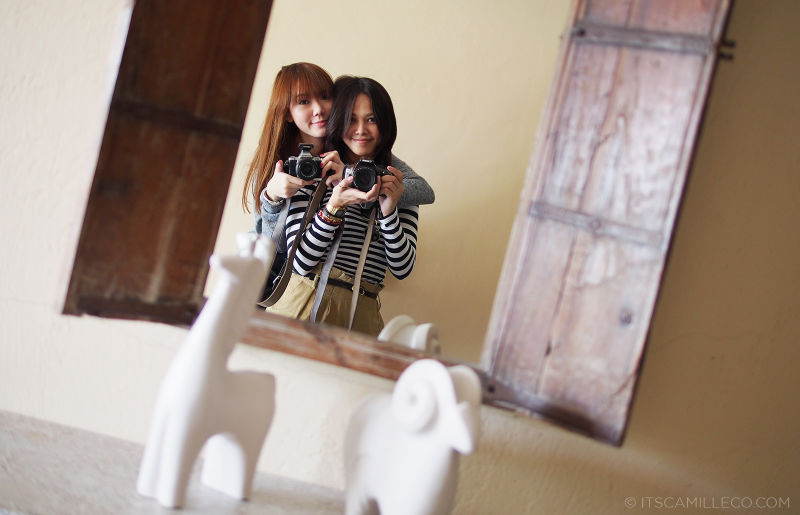 Needless to say, we enjoyed our stay at The Henry. The spa and other restaurants located right beside it are an added plus to the already awesome hotel that it is. Thank you The Henry! This definitely isn't my last stay here! There's Sinulog every year, right? See you next year, or hopefully, sooner!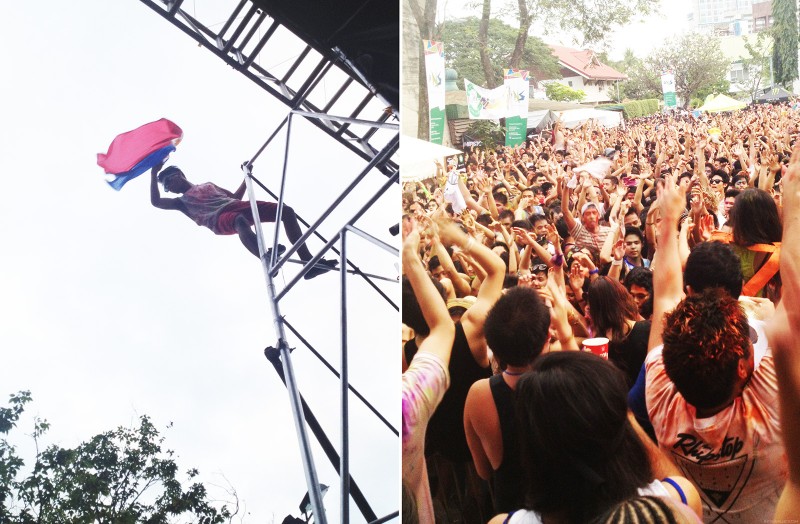 Oh before I forget, for those who have yet to experience Sinulog, let me leave you with a few photos of the festivities. Sadly, I wasn't able to see the parades, processions and other activities. I was only able to join the street party at Baseline. (Next year, I'm definitely watching the parade!)
For those who are unfamiliar, Sinulog is a fiesta that celebrates the Sto. Niño or Child Jesus. There are dance parades and processions around the streets of Cebu on the third Sunday of January and the festivities usually culminate with parties and such. Apparently, Baseline is the rowdiest and wildest of them all. When Kryz told me to prepare for one of the most intense street parties ever, I didn't expect it to be like this!!!
Just imagine, this is how we looked like pre-party. Kryz told us to wear shirts and shorts that we're ready to get paint and alcohol on. Like a true warrior, I got my Islands Souvenirs Sinulog shirt, WAGW denim shorts (which actually already look like they have paint on) and Native shoes. I'm so happy I listened to Kryz because…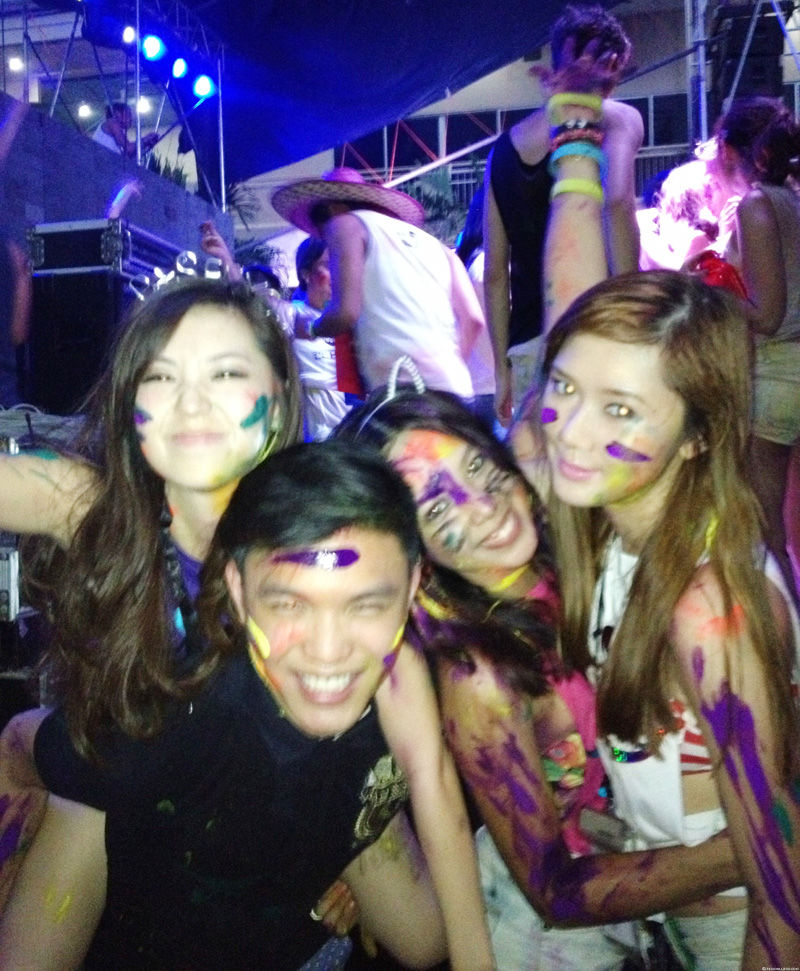 …people wipe paint all over your face and hair and throw booze at you like there's no tomorrow! Look at how dirty we all look! LOL! The only sad part is someone got the Anagon silver wire cat ears I was wearing in one of the photos above.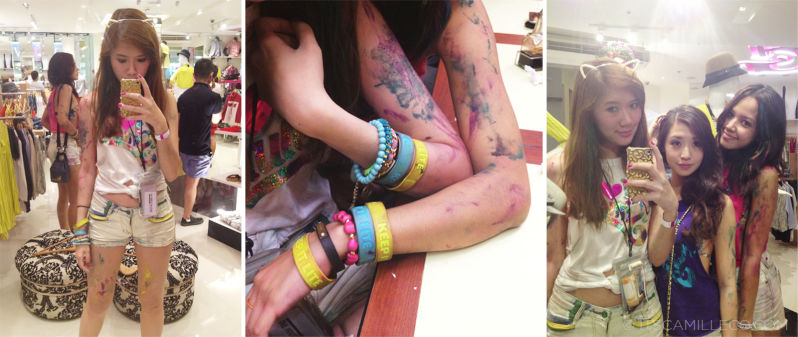 The pearl cat ears survived, however. And my Native shoes and baller bands did as well. If you ever need shoes for sports or any activity, Native is the brand for you! It was so easy to wash off all the paint and dirt from my shoes. Not to mention, they're super comfy as well. It's definitely coming with me to my next Sinulog experience.
Oh Sinulog, you're like no other. I'm proud to say, I, along with my clothes, shoes and phone, survived. Next year, I'm coming for you again!