Finally, here they are! After months and months of waiting, my first ever swimwear collaboration is out! And I'm happy to announce that it's with Soak Swimwear! I've known Angela and KD of Soak Swimwear for a number of years already. We've done bazaars together during my brand Coexist' early days and even did a private sale together. So when Angela and KD came to me last year to explore the possibility of designing a few pieces for Soak Swimwear, I didn't hesitate saying yes. I've been a Soak Swimwear girl for so long already. I have so many of their bikinis, I'm practically a Soak Swimwear groupie! LOL! Needless to say, the collaboration made sense. I'm at home with this brand and it's a brand that I've tried and tested countless times. The fabric, the workmanship, the service–all topnotch!
Having said that, when it came to designing for Soak Swimwear, the challenge was to come up with something they haven't before. They've released so many beautiful designs already, I was afraid I had nothing new to contribute. But then again, I can actually work this to my advantage. Since they've already got all the basics covered, I can play around with my designs a bit more–which then led me to design these.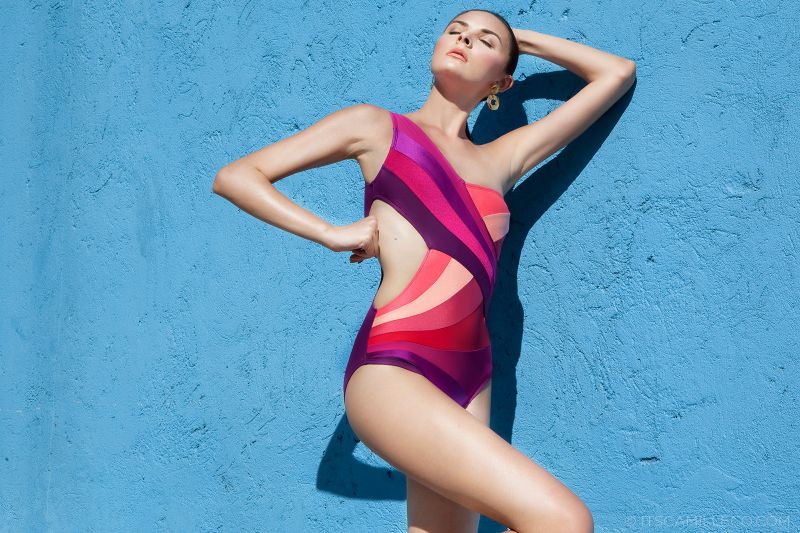 This first design is an asymmetrical maillot. I personally like maillots because I can use them even when i'm not on the beach. I can wear them with skirts and other bottoms and people won't even notice I'm wearing a swimsuit instead of a top. Plus, I really wanted to design a one-piece suit for those of you who aren't comfortable wearing bikinis and other 2-piece suits. Don't you just hate not being able to find one-piece swimsuits in designs that won't make you look like you're part of the Olympic swim team? Maillots don't have to be boring but they don't have to be overly complicated with never-ending crisscrosses and strings either. To give my maillot some flair, I just played around with colors and lines. They create an illusion of a smaller waist too. This maillot comes in other colors such as charcoal to olive gradient and emerald green to teal gradient. Too bad they're still currently in production, so you won't be able to see them until after Soak Swimwear's Private Selling Event which is happening this Saturday.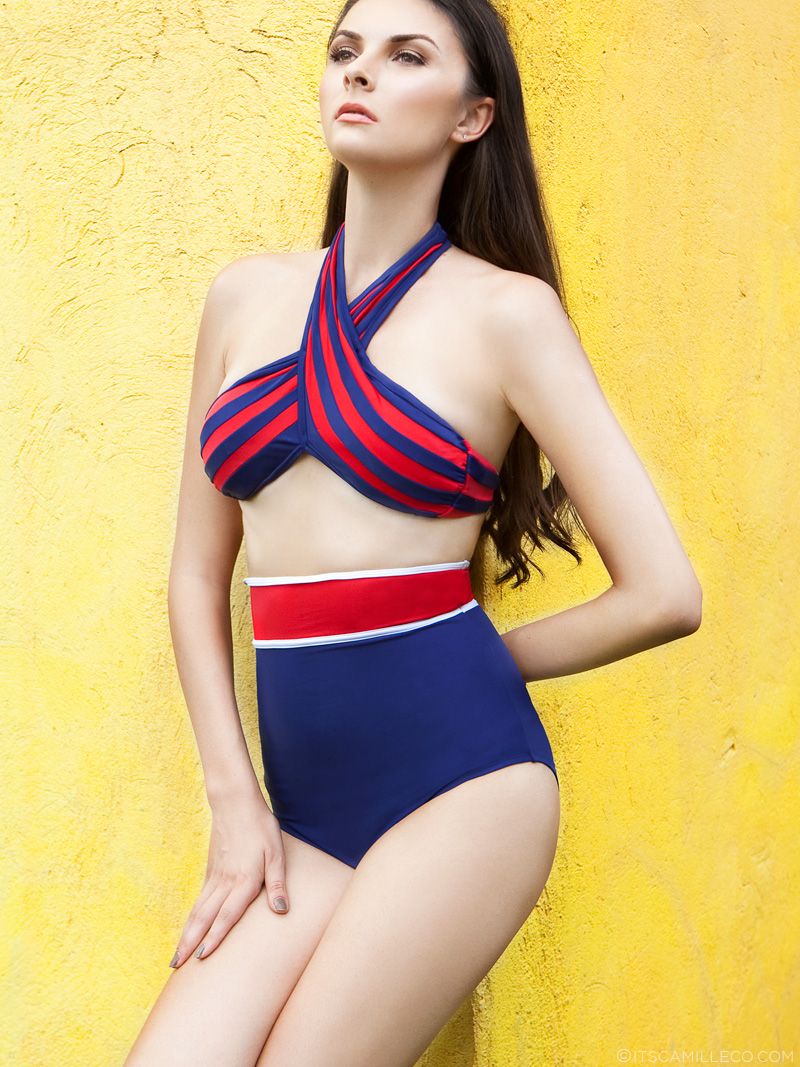 This, however, you'll get to see at Soak Swimwear's Private Selling Event. I present to you my 2nd design for Soak Swimwear.
I asked Angela and KD what most of their customers are requesting and they told me Soak girls love their high-waist bottoms. Okay then, high-waist bottoms it is! They're really good at hiding tummies so I can see why girls love them. For my design, I made sure my high-waist bottoms are in bold and dark colors so as not to make girls' hips look wide. Whenever I design dresses, I like putting belts to accentuate the waist and make it look smaller so I added that illusion to these bottoms as well. For the top, I opted for a halter cut instead of the usual. This way, if you wear my design, you get to stand out from the sea of string-bikini-and-bandeau-wearing women.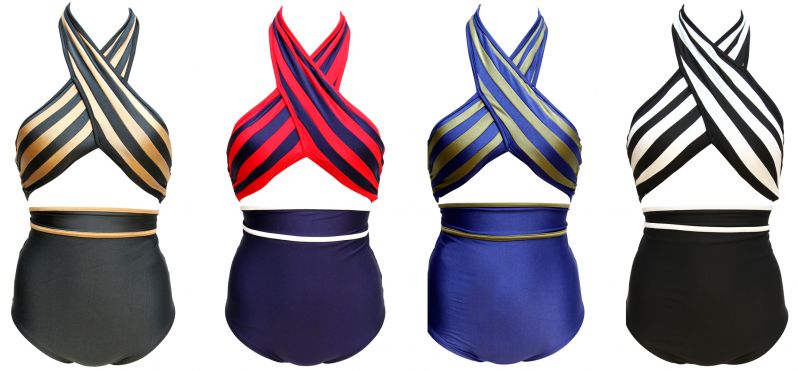 This design is available in 4 colors. Take your pick!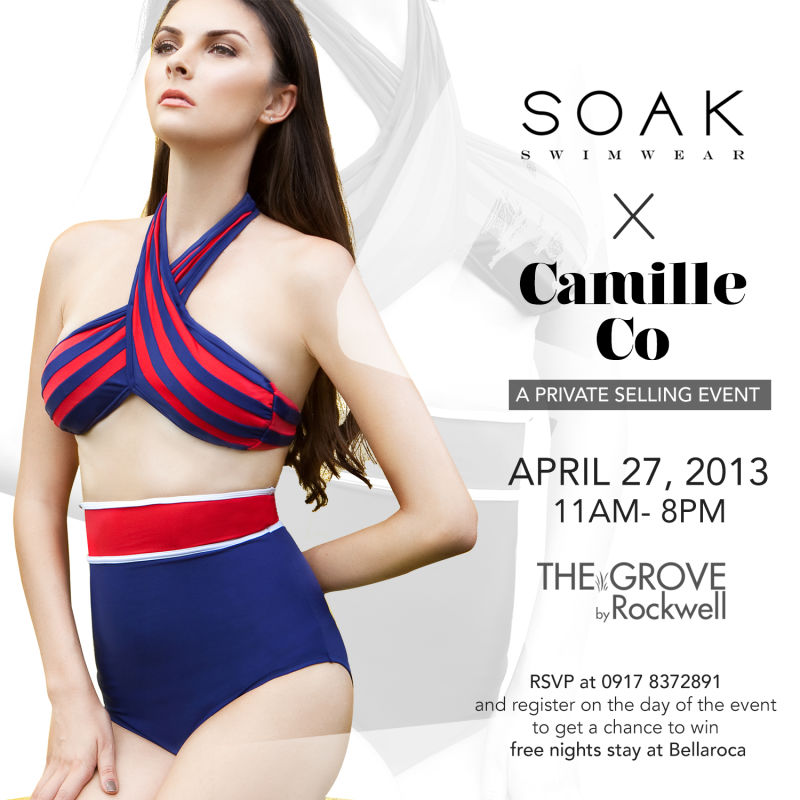 If you want to get your hands on this 2-piece bikini, drop by Soak Swimwear's Private Selling Event at The Grove, Rockwell this Saturday from 11am until 8pm. Soak Swimwear will be launching this design there! They'll only start selling this online AFTER the event so if it gets sold out at the event, you won't be able to purchase this online. But if this does reach Soak Swimwear's website, then please do order away! Soak Swimwear ships internationally so to my foreign readers, visit Soak Swimwear's website to order. LIKE Soak Swimwear on Facebook too for updates and promos.