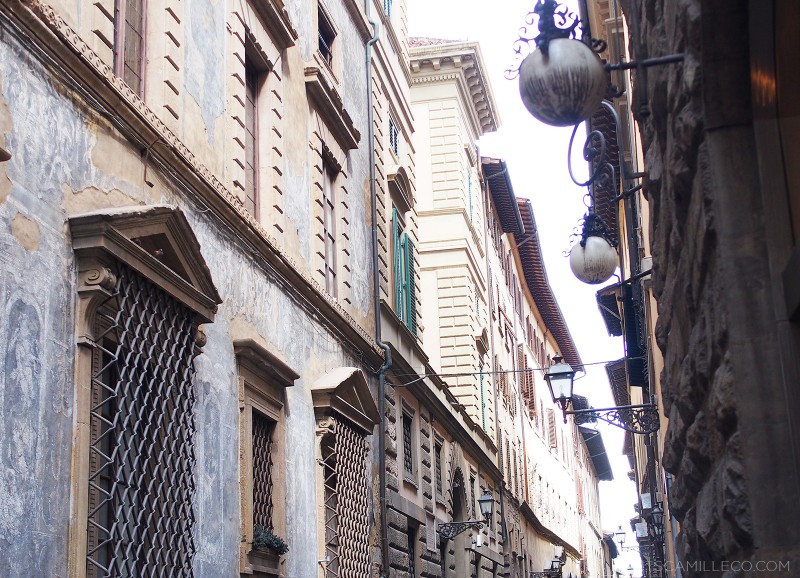 Whenever I travel, I try my best to squeeze in a food trip around the city. It's one of the things I look forward to the most (aside from shopping of course). I'm a true foodie at heart so I always research about the best markets, restaurants and food tours to try. I know what you're thinking. "Here we go again, Camille's going to make me hungry!" Har har. I like ruining people's diets. So if you're trying to stay in one, I suggest you stop reading this blog post now. But then again, you'll be missing out on quite a lot.
Just saying.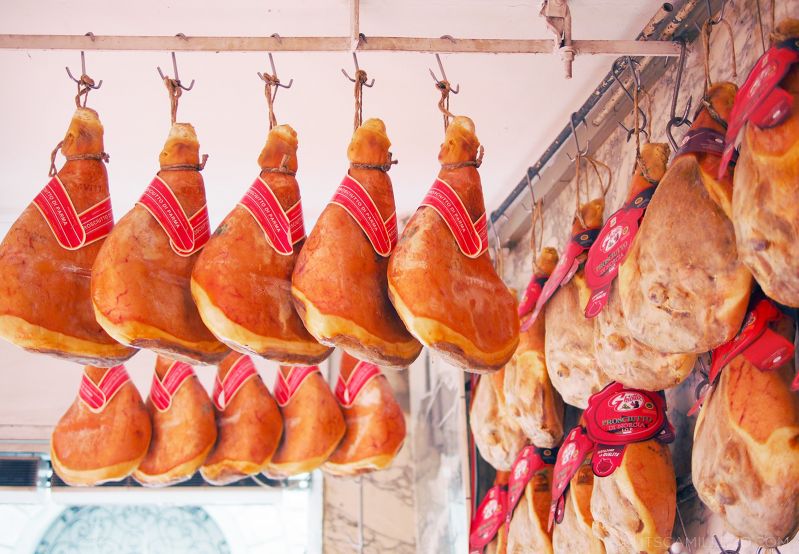 On our last day in Florence before our flight back to Barcelona, I booked a walking food tour for my mom and I with Taste Florence. It was my little gift to her for coming along with me to Europe (and for trying her best to take my outfit photos despite her struggles with my Olympus camera. She claims she can only handle dSLRs cause she's clazzzzz like that.) So our food tour started at this quaint little store just a few blocks away from our hotel. It was filled with prosciuttos, salamis and all sorts of ham.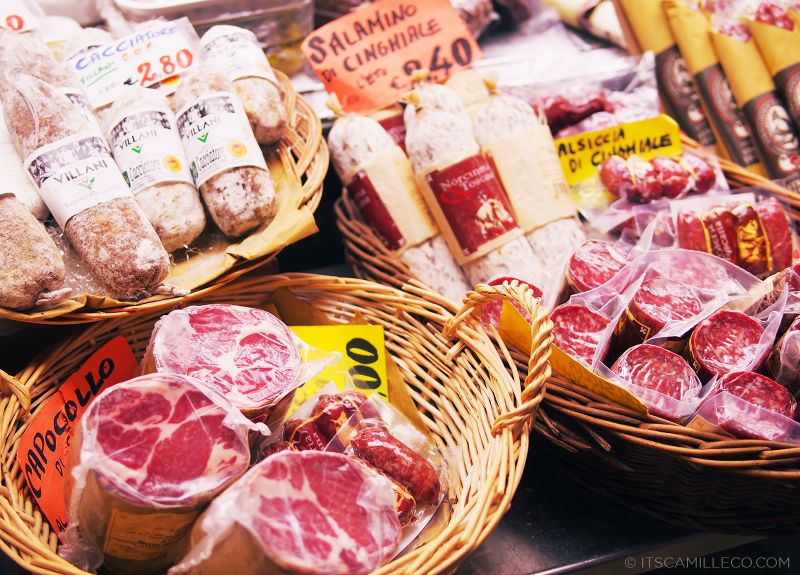 Our tour guide explained each and every one of these–how they're all cured and processed differently. I thought they were all the same but apparently, they're not. Of course, I can't quite remember all of them. All I can remember is how awesome the prosciuttos we tasted were.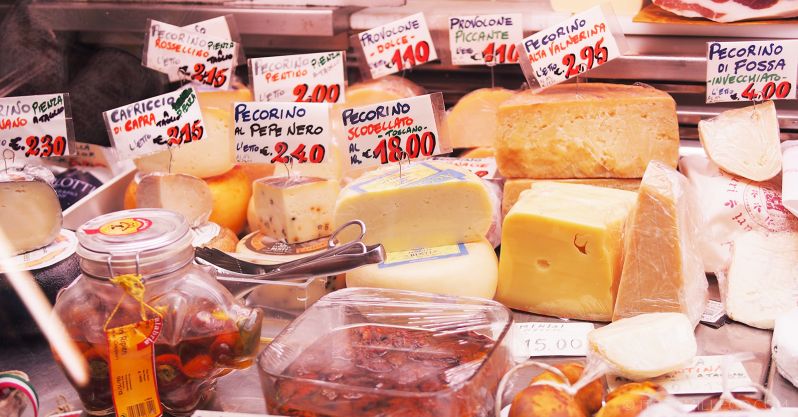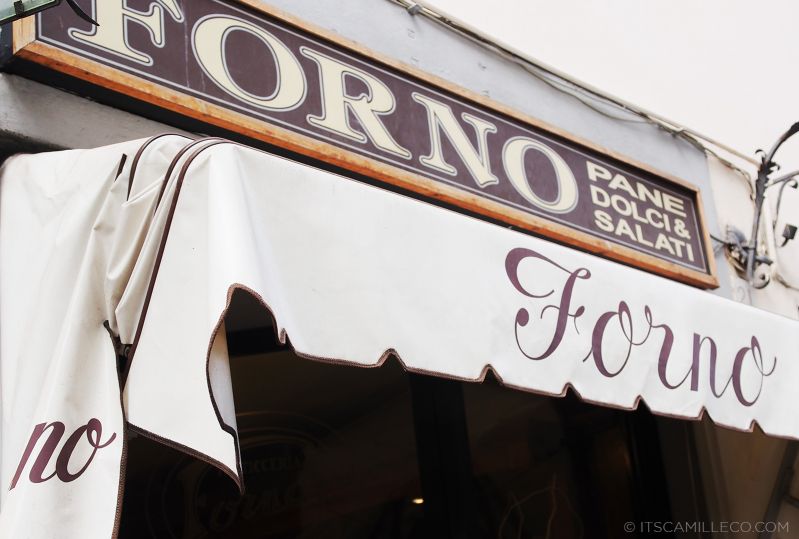 Our next stop was this bakery named Forno. I've never tasted better bread in my entire life! No wonder this place has been around for years. And when I say years, I mean YEARSSSSS. It's practically an institution!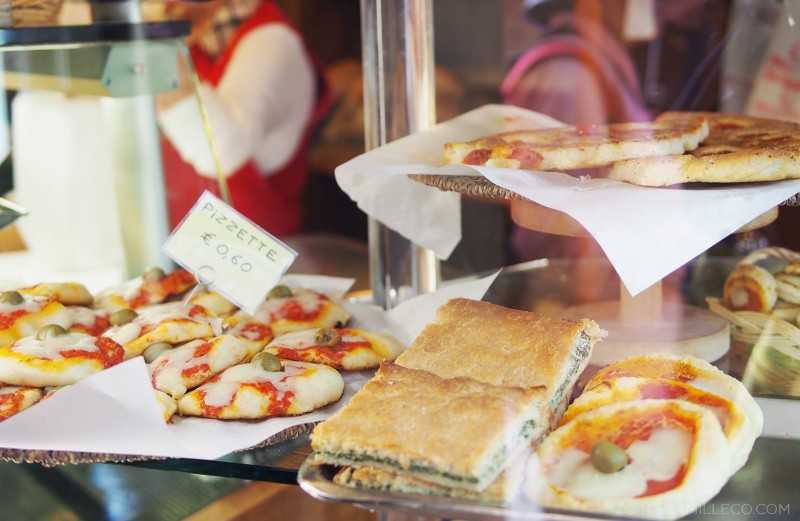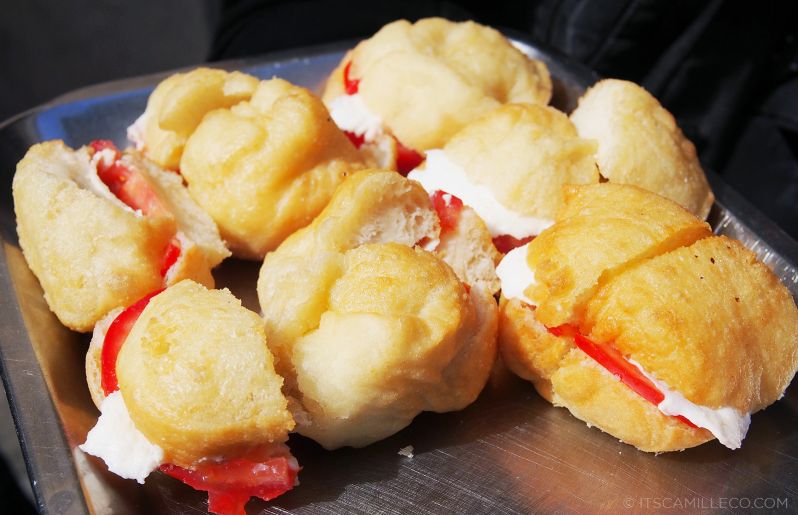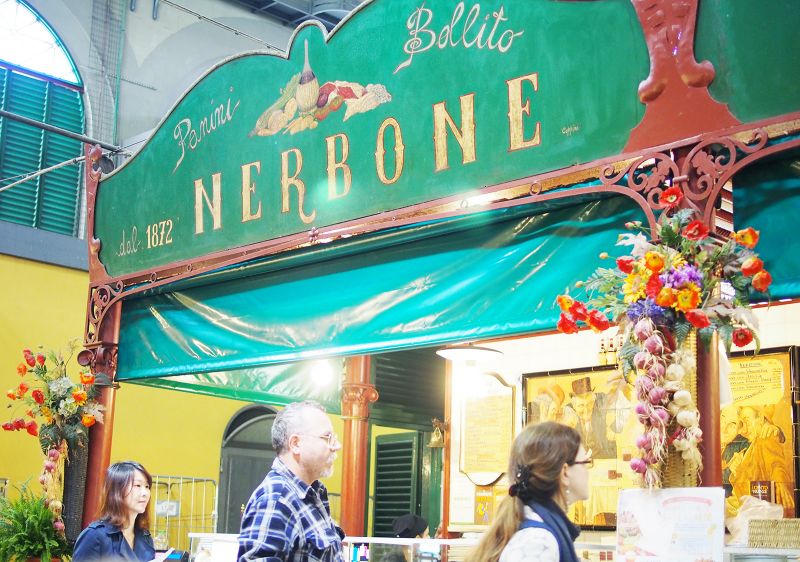 If you think you've had the best panini of your life, then you probably haven't been to Nerbone located at the Mercato Centrale.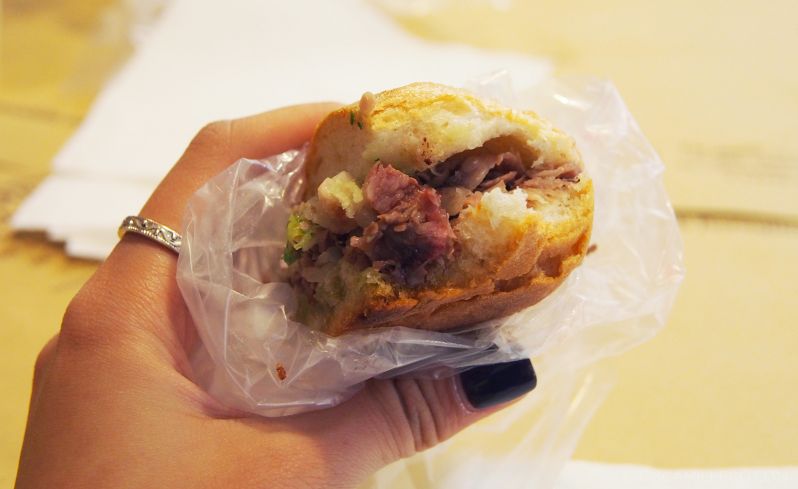 I'm not exaggerating. This is really the best panini I've ever tried. It's so moist and juicy and full of flavor. I can go on and on about this. I wish we had time for seconds, thirds and more! One panini wasn't enough. Seriously. It's just too good.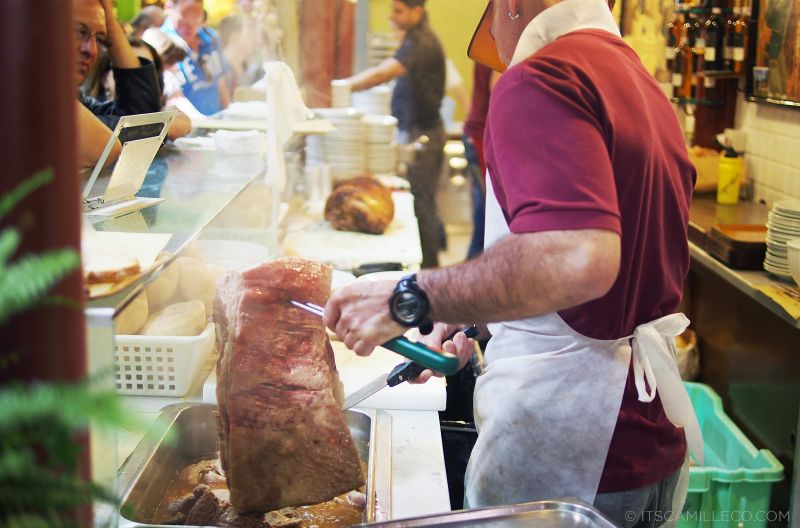 Look at that meat!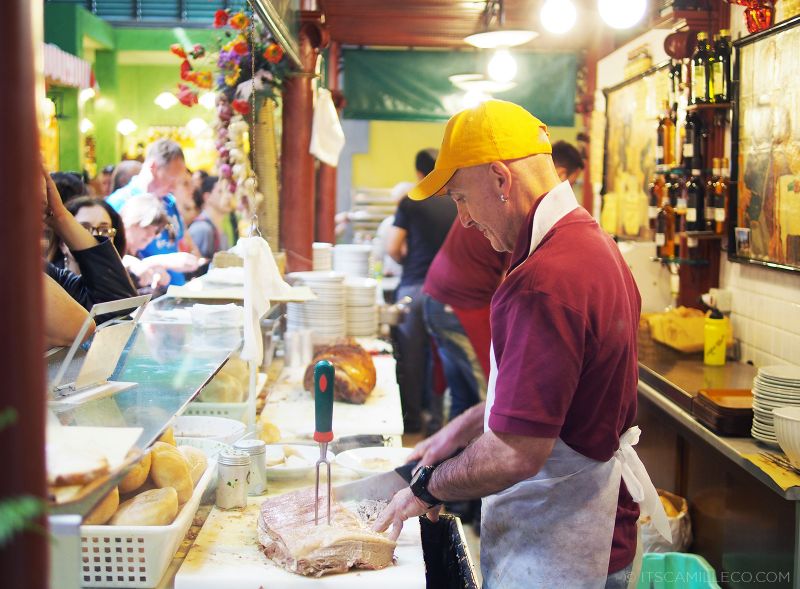 Our tour guide told us to take a photo of this guy because he is the MASTER of paninis. Remember this face when you go to Florence. He's worth the hype!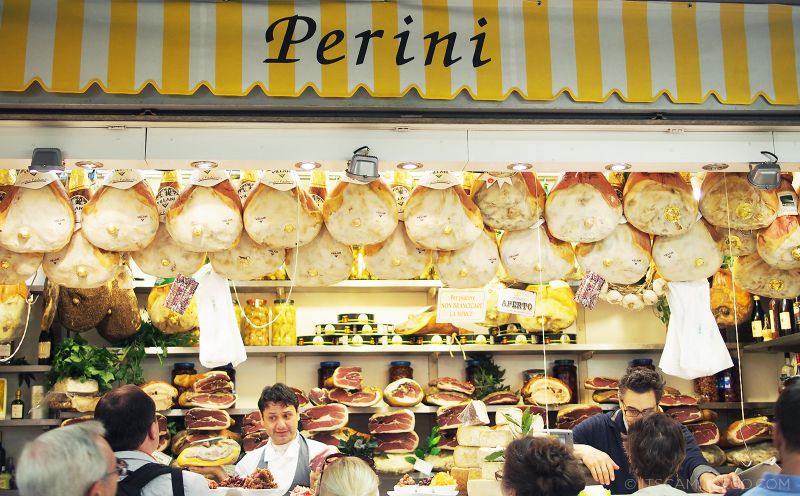 You'll see a lot of shops like this around Mercato Centrale. They have so many prosciuttos, salamis, cheese, oil, vinegars, wines and mushrooms around the place.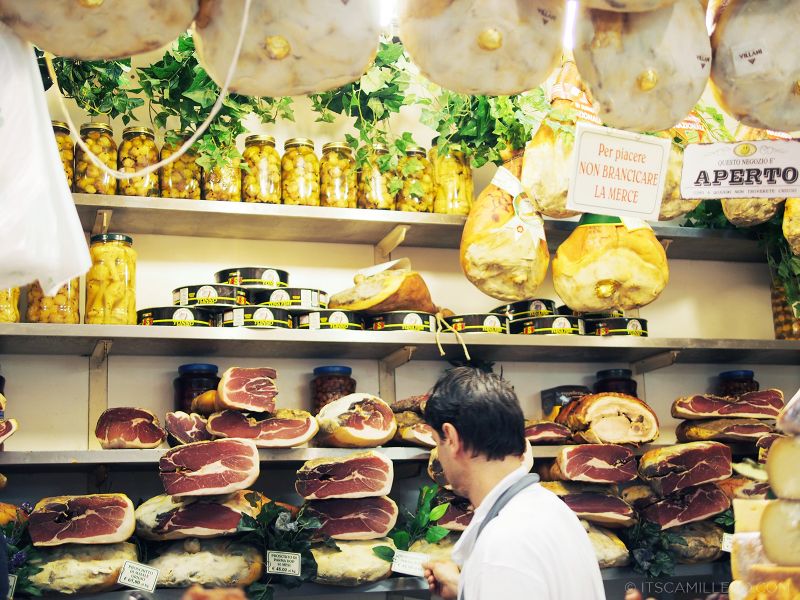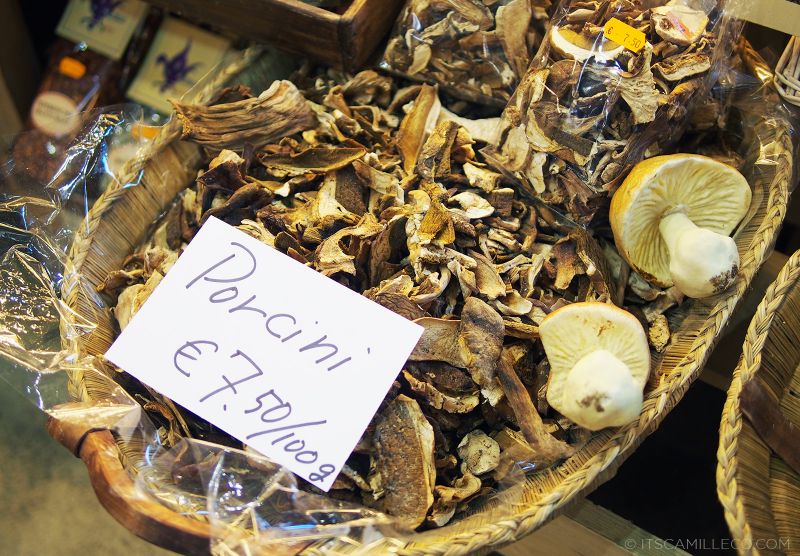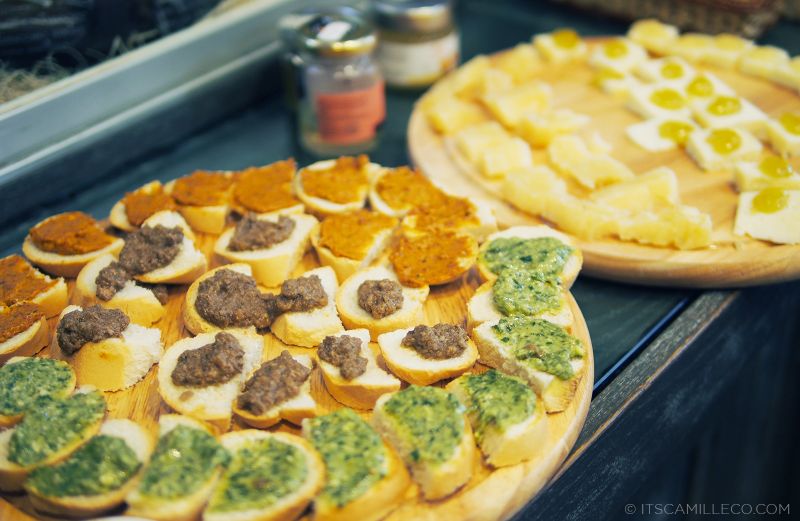 Time to eat some more!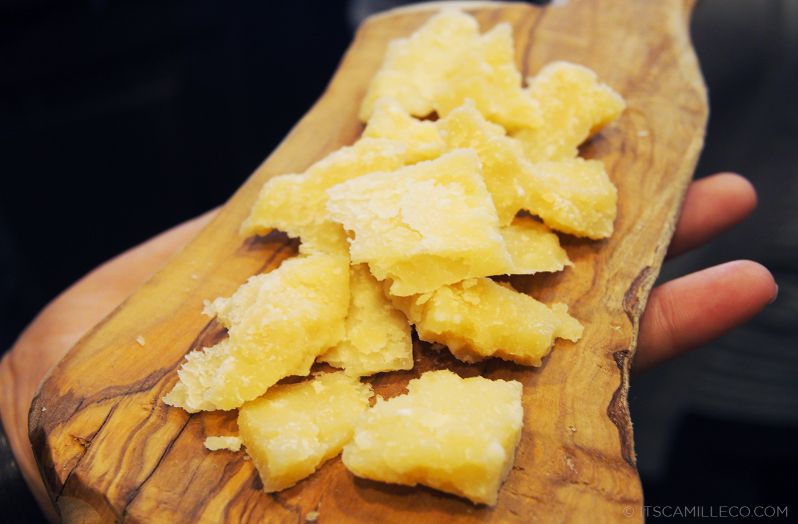 My favorite part of the tour–CHEESE! We got to try all sorts of cheese with different flavors of honey too.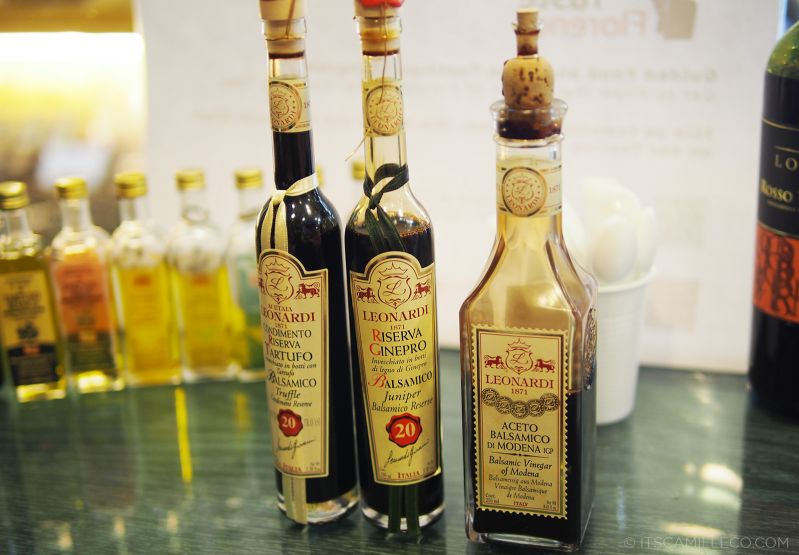 For those who love balsamic vinegars like me, you'll love these! The first one is with truffles; second one is with gin; and the third is your ordinary balsamic vingar. All of these are pretty old already and aged in several barrels so they taste really good. I couldn't resist and bought my sister the one with truffles and the other with gin (so that she can cook more yummy food for me. LOL!). I used to think balsamic vinegars are only for salads but apparently they're really good with scrambled eggs and ice cream too!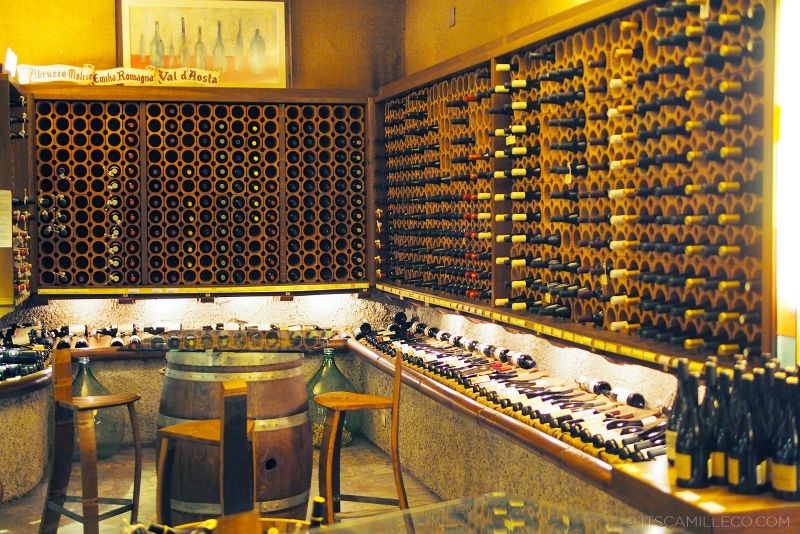 Florence is part of Tuscany so that means they've got pretty good wine as well. We got to try quite a lot of Tuscan wines like Chianti and the like.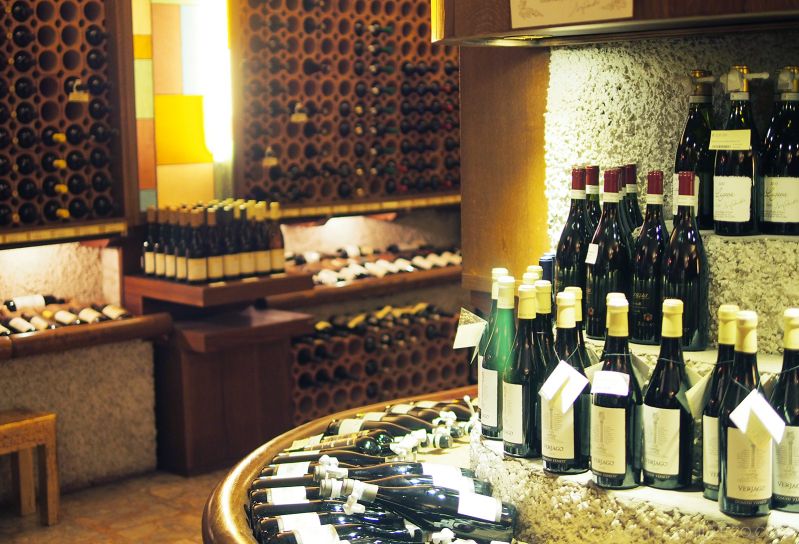 One thing I noticed about Italy is that it's hard to find wine from other regions when you're in a certain city. They like to drink their own wines. I'm not complaining though. Tuscan wines are pretty sweet so I like them.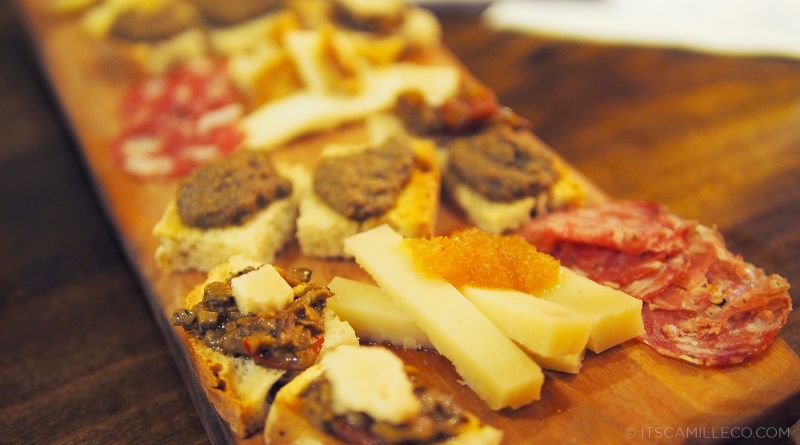 More bread, pâté, cheese, honey and salami to go with our wine and vinegar tasting. YUM!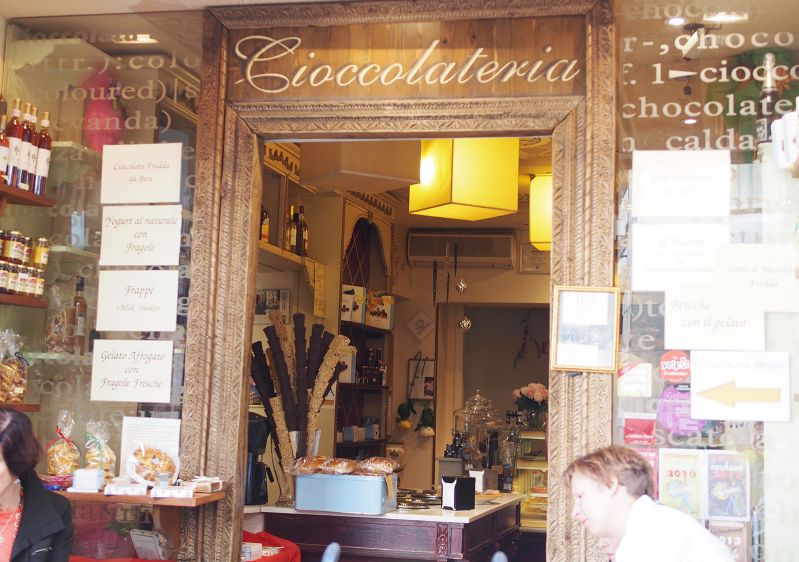 Our food tour's last stop–Cioccolateria!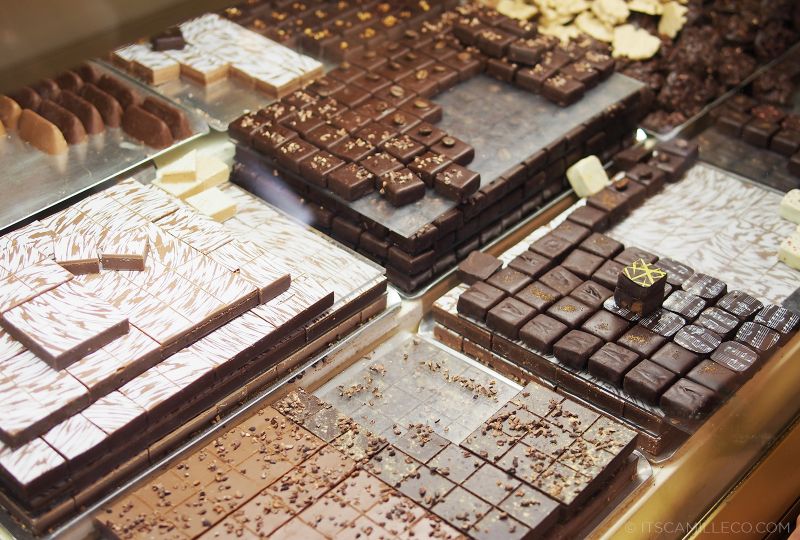 Chocolate heaven!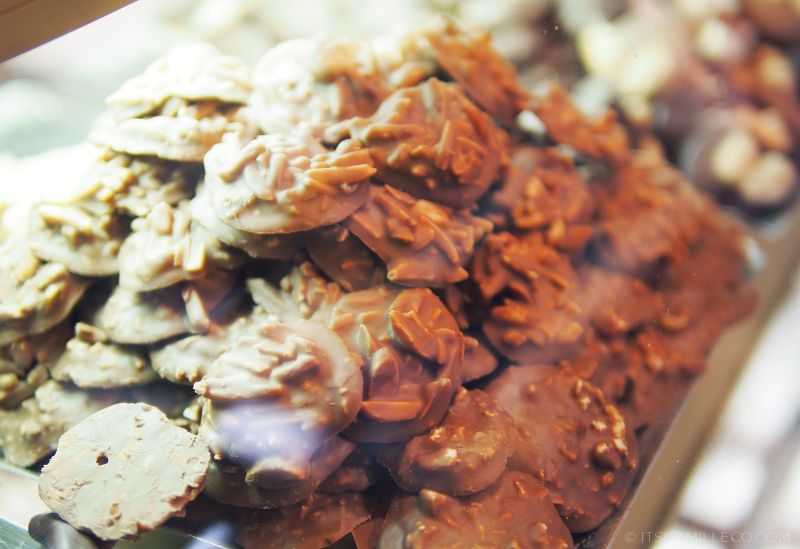 Aside from chocolates, we got to try their gelatos too. I was so full by the end of the tour!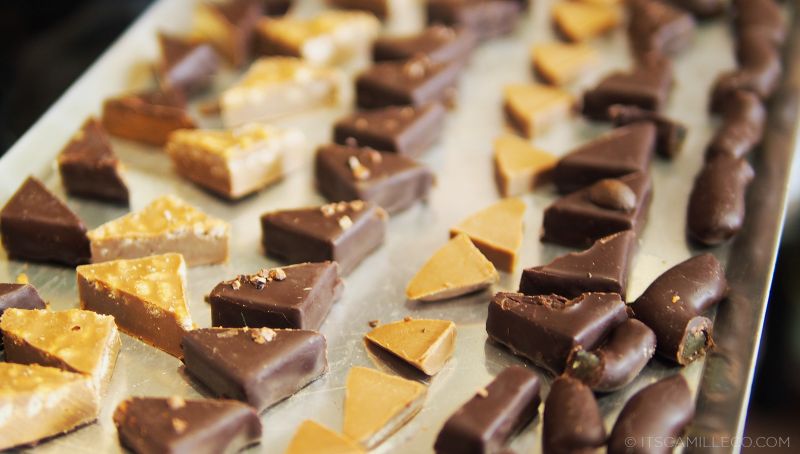 So have I made you green with envy yet? Look at these chocolates!!!! YUM YUM YUM! (I'm so mean. Har har!)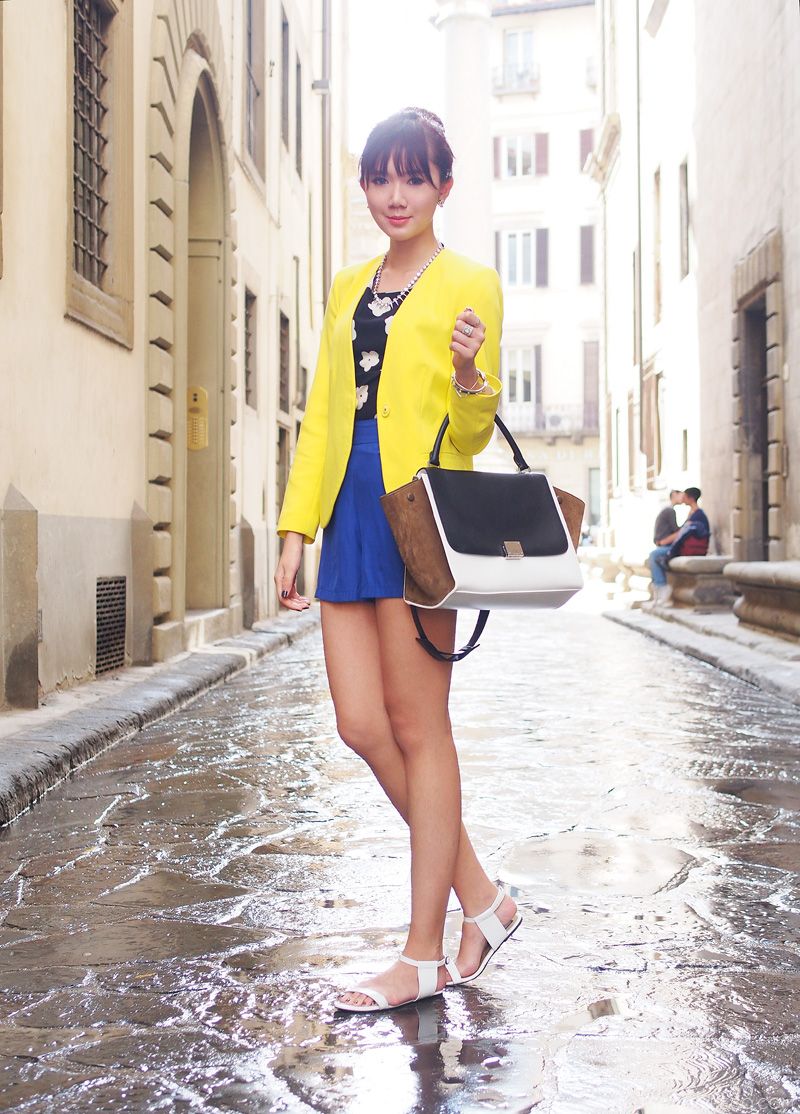 Okay, before you stone me to death for ruining your diets or forget that this is a fashion blog and not a food blog, let me squeeze this in before I end my post. Here's what I wore to our food tour. Clever me decided to skip Accuweather's advice and dressed all summery despite the rainy weather forecast. Darn it.
(Spot the young couple making out behind me. The heat is on! ON, I TELL YOU!)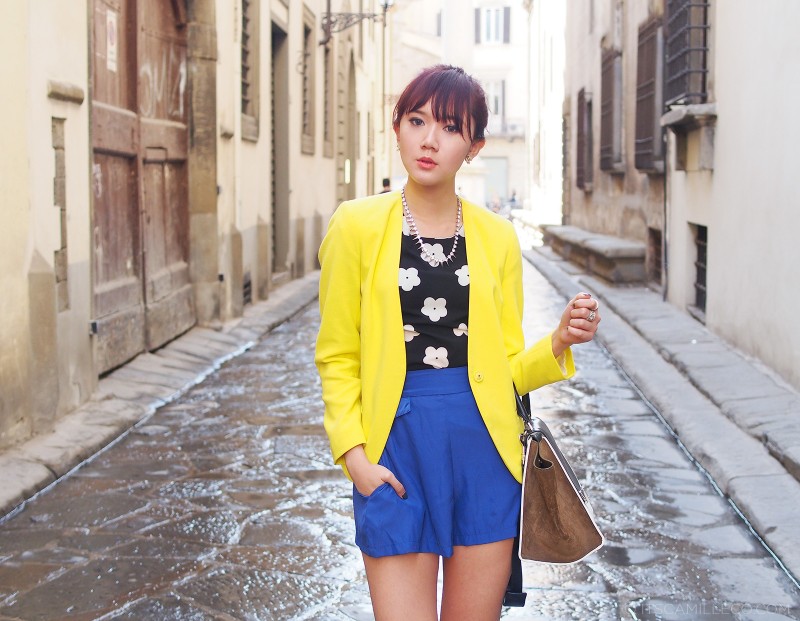 [button link="http://lookbook.nu/look/5022504-Lily-Jean-Shorts-Taste-Of-Florence" size="small" bg_color="#e5b3b9″ window="yes"]Hype this look at Lookbook.nu here[/button]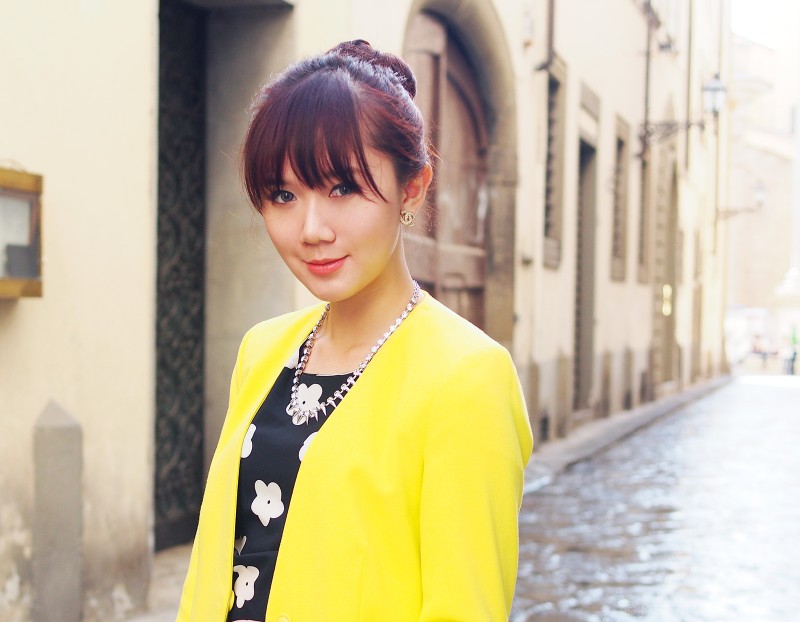 Zara blazer | Crayon (Haji Lane, Singapore) top | Lily Jean shorts | Cornwall Street necklace | Chanel earrings | The Ramp sandals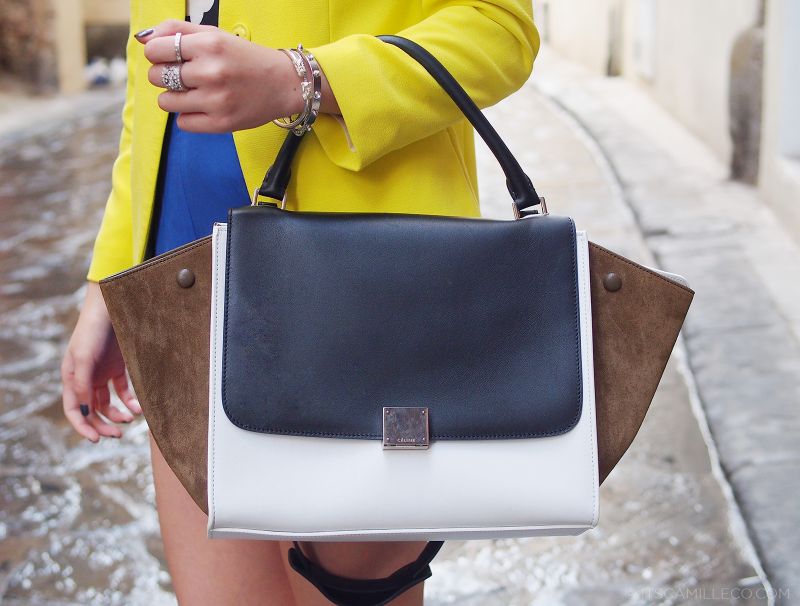 Celine bag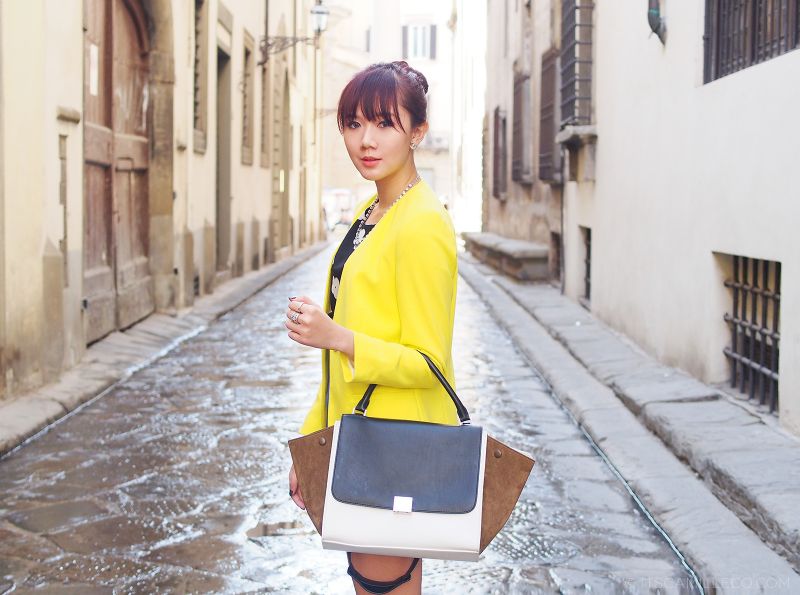 So that's it! This is the last of my blog posts about my trip to Barcelona and Florence. I hope you enjoyed my mini travel blog! Japan series, next!