We're more than halfway through 2013. How time flies! Before you know it, the -ber months are here. To help you with this transition, Tim Yap and I collaborated to bring you the trends you should know this Holiday 2013 according to P&G Beauty experts. This is my last project as a P&G Beauty Ambassador so I hope you like it! (Cue goodbye song)
If you have a copy of today's Philippine Star, you might've already read Tim's article about this project on Supreme. (If not, go get one!) Tim chose four personalities, including myself, who represent the four key trends we've prepared for you. I, on the other hand, took charge of our styling. Read on below to find out how to get each of the four Holiday 2013 looks–from prepping your skin and hair down to the clothes!
Holiday 2013 Trend #1: Riding School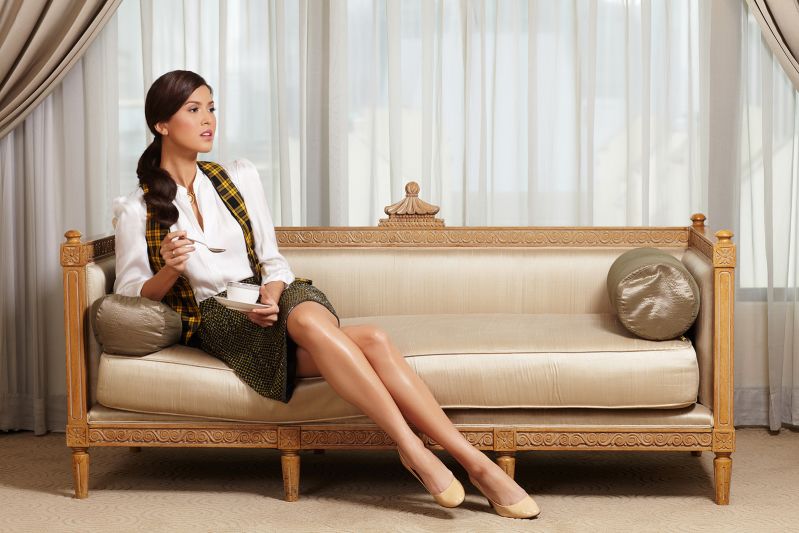 Mango top | Only vest | Gryphon New York embellished skirt | Shoes (model's own)

Meet Jessica Kienle, a lover of interior arts. She worked in Paris for three years for a foundation that was devoted to the arts, took a four-year program in interior architecture, then spent almost two years in New York to finish her studies before she moved to San Francisco to work with Dara Rosenfeld. Who better to represent the preppy Riding School trend than her? Riding School is an eclectic fashion theme best described by a '90s Brit Pop sound track mixed with traditional Scottish bagpipes. Think Gossip Girl with a little more attitude in plaid! The key piece here is plaid, but without any touches of grunge. It's all prim and proper here!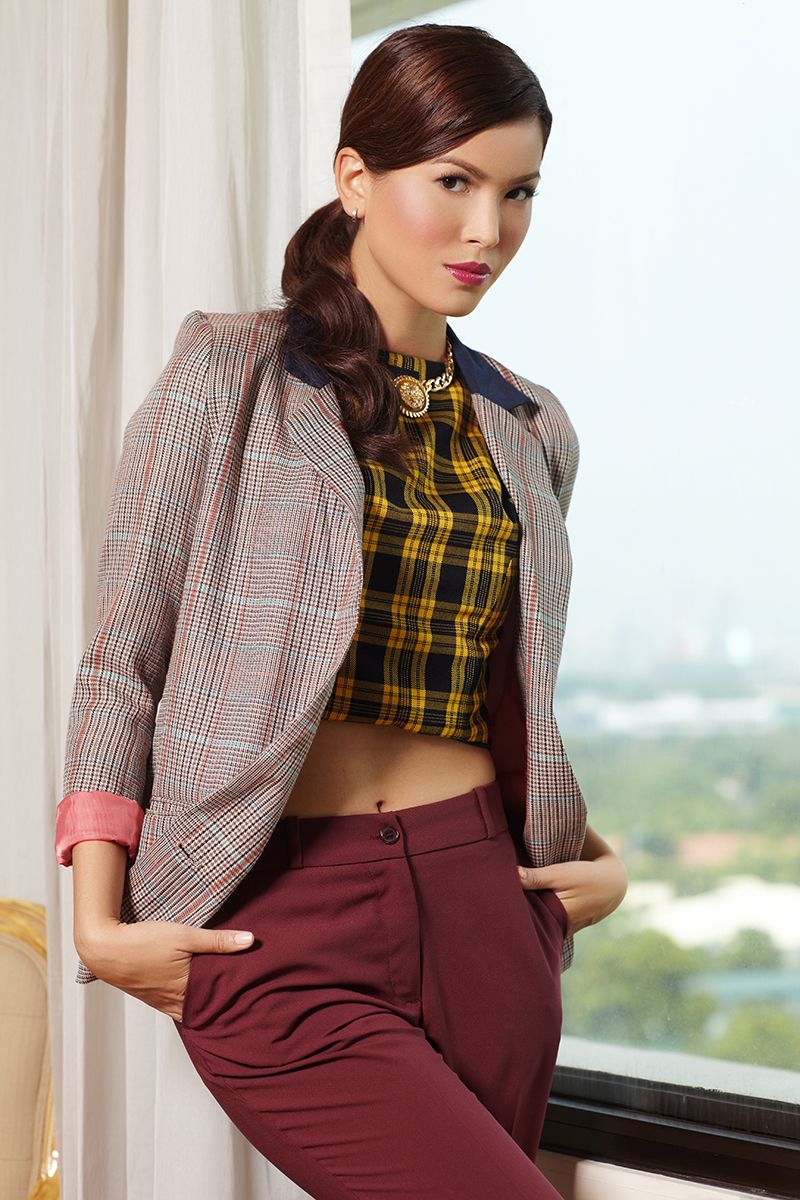 She Inside blazer | Only vest worn as top | H&M trousers | Extreme Finds necklace
Sam McKnight, Global Stylist Ambassador for Pantene, translated this look on the catwalks for Italian brand Moschino. He said, "I wanted to create a look that brought together the essential Italian identity of Moschino with the influence of iconic British style, so I took a classic ponytail and added volume for glamour and a low side parting for a little drama.  I think that there's definitely a hint of the '60s within this look yet at the same time it's clean, fresh and modern."
Here's how you can recreate this hair style just like how we did for the shoot:
3. Blow dry hair back off the face using a round brush to smooth the hair.
4. Side part the hair for the clean, classic look. Gather the hair back and tie with a hooked elastic.
5. Use a large pair of curling irons in random sections of the hair to create a soft bend in the ponytail.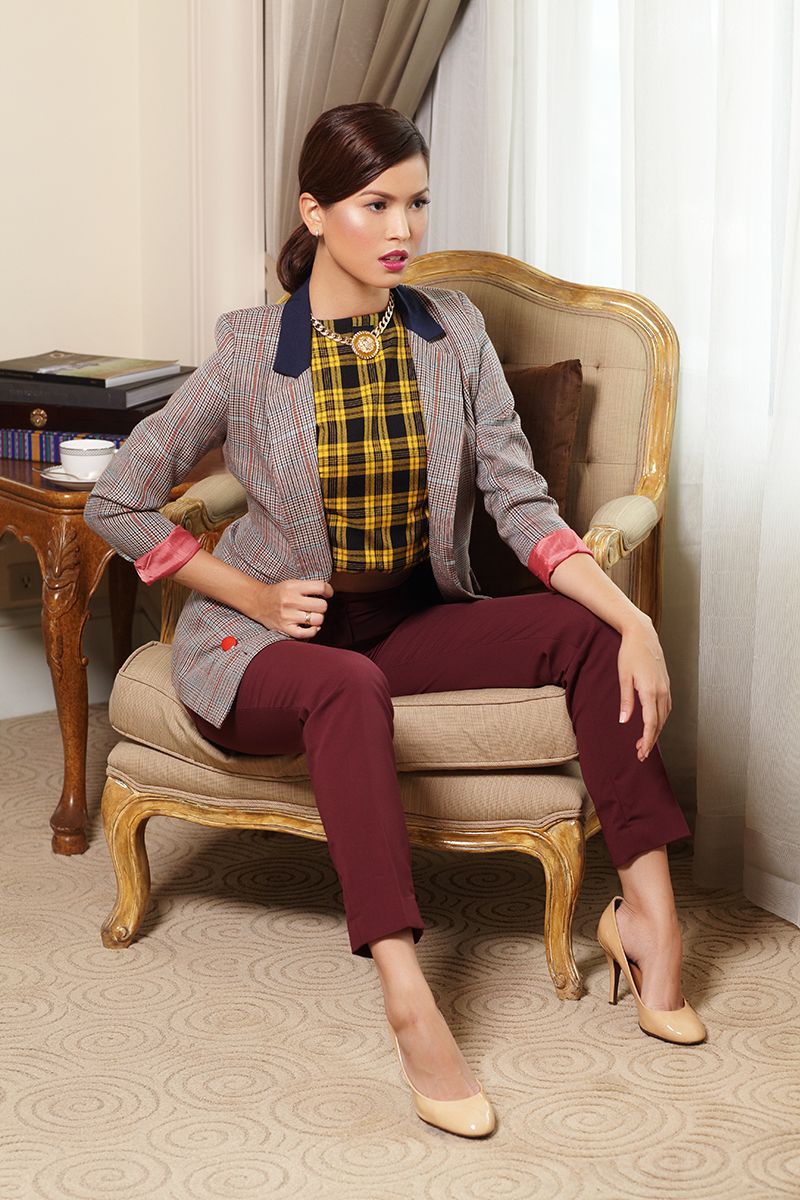 As for the face, use Olay Regenerist Microsculpting cream to prep it. It's able to make your skin appear flawless to achieve this super clean and classic look. The results are almost instantaneous! In just 10 minutes, ageing concerns like eye lines, brightness and boosting hydration will all have noticeable improvements.
For the body, this subtle and posh look is paired perfectly with Camay's Romantique Rose Shower Gel. Just like the girl who embodies this trend, this goes with soft, scented skin smelling of French roses.
Holiday 2013 Trend #2: Masculine x Feminine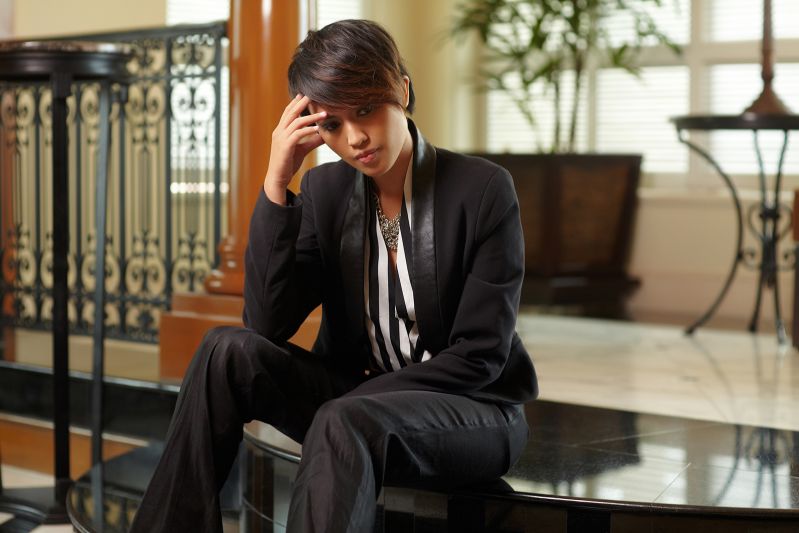 H&M necklace | She Inside striped blouse | Theory pants | Blazer (model's own)
Meet Romina Nañagas, PR girl extraordinaire! Whenever I see this girl, she's always in something that's both masculine and feminine. She fits the androgynous style so well! As the name suggests, the masculine x feminine trend is all about taking on women's fashion as inspired by our male counterparts. Think wide leg pants, structured pieces, tailored blazers and so on and so forth! Everything is clean and sleek.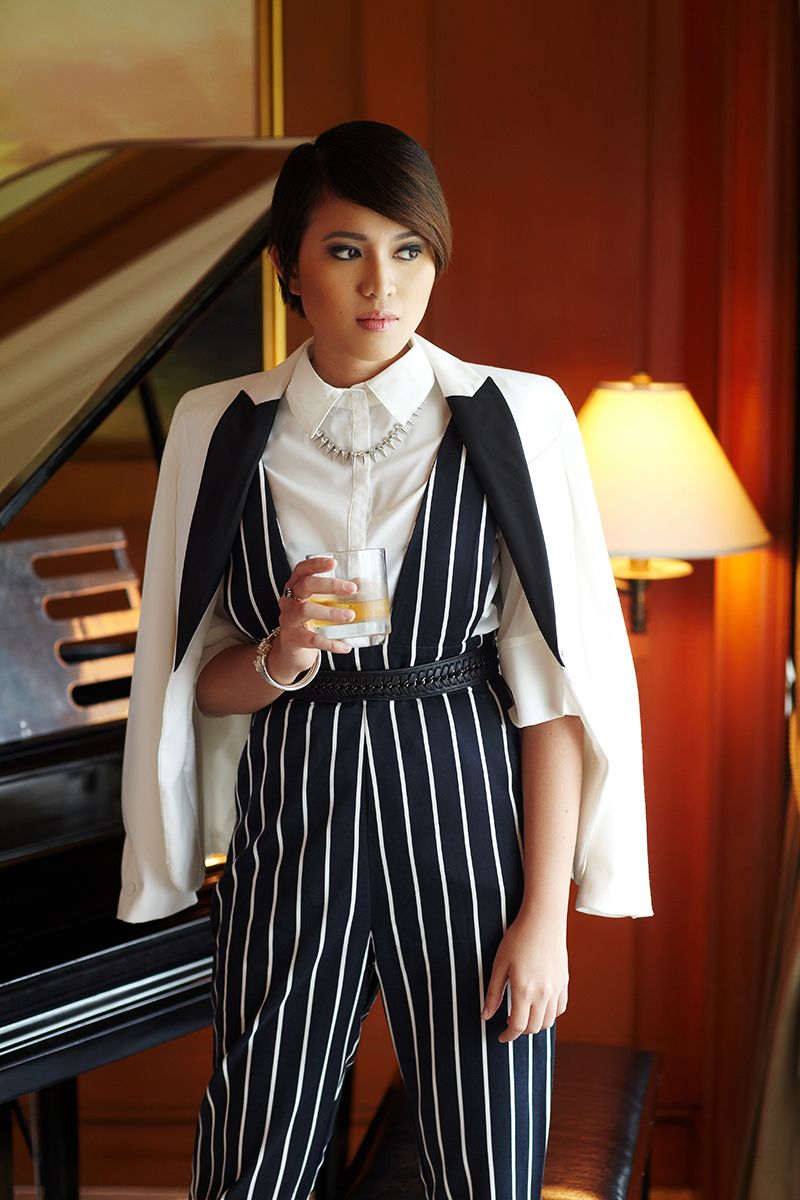 Cotton On blazer | Romwe cropped top | Emoda jumper | Cornwall Street necklace | From Laos bracelets
I had a little fun with this look. If you've been reading my blog for quite some time now, you'd know that I'm a fan of this trend. The trousers-polo-blazer combo has always been done so I figured, I want to try something else. How about a jumper instead? To my eyes, it looks a little bit inspired by a man's vest and slacks. Dandy!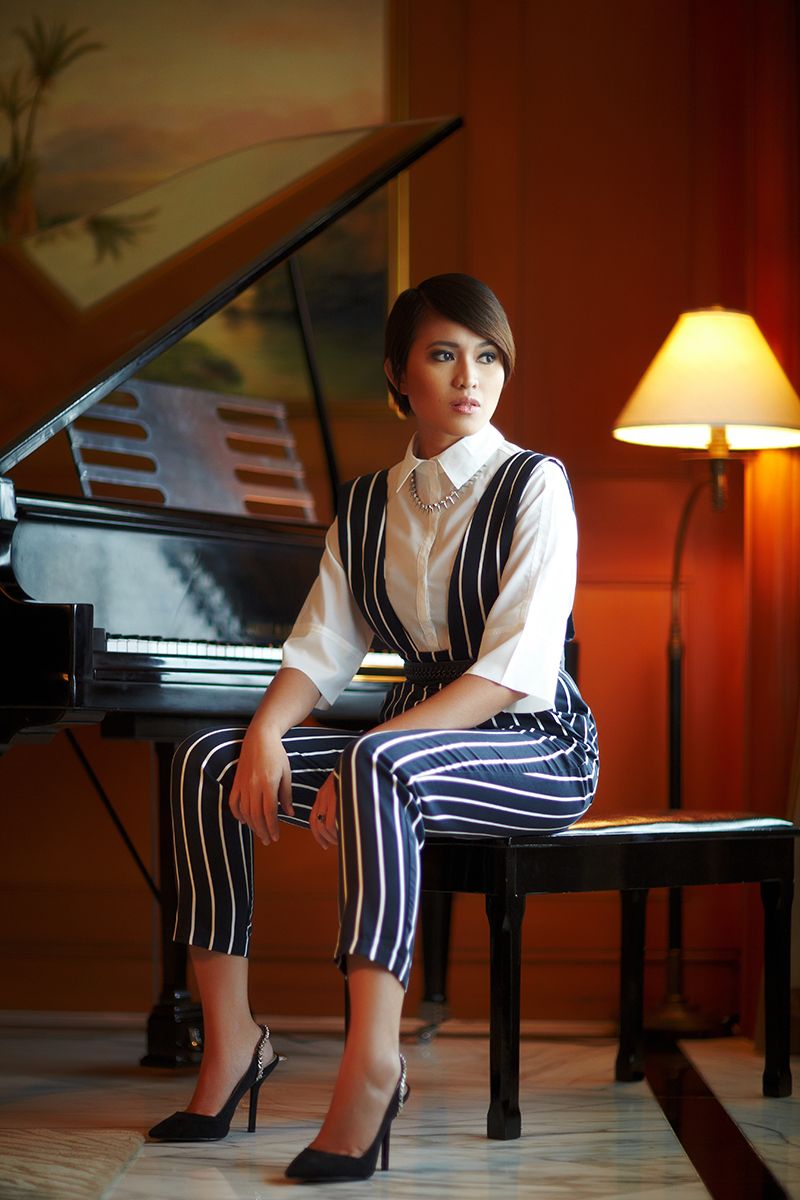 For girls who have short hair, here's how you can achieve this hair style:
2. Side part for a more masculine finish.
4. A quick blow dry and you're good to go.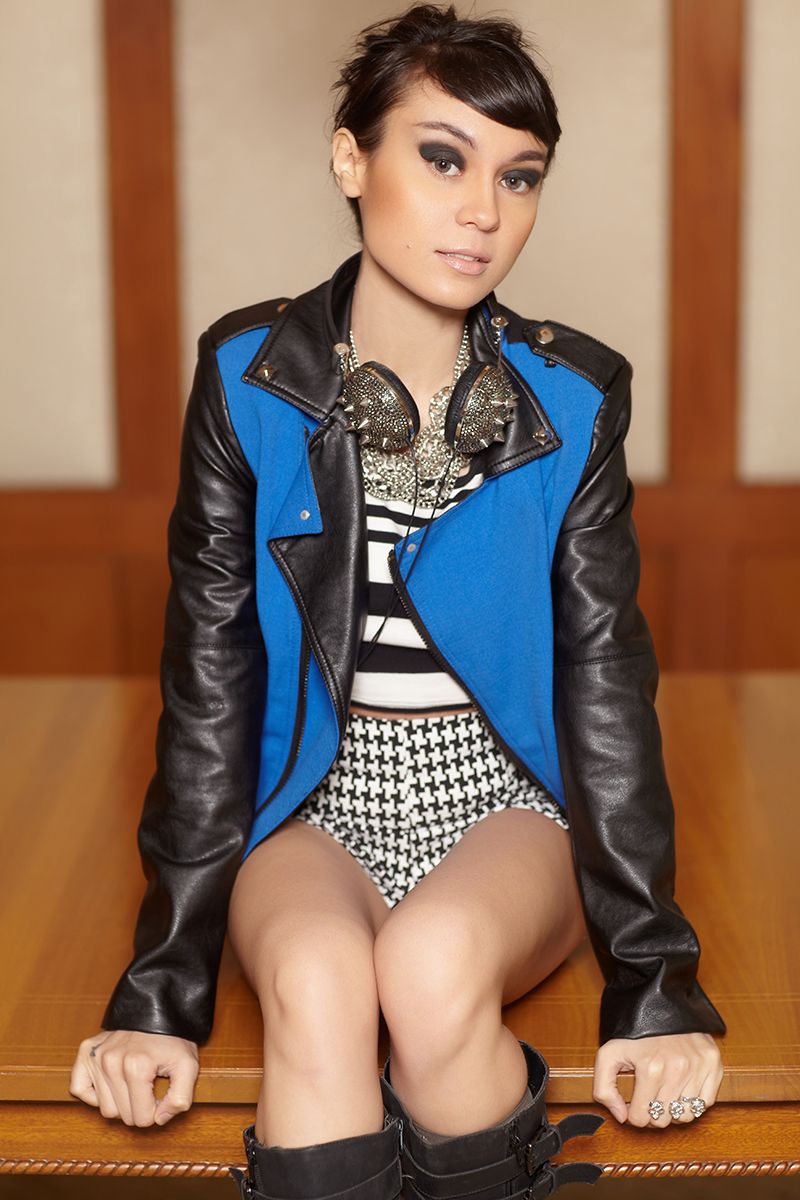 No one can get more punk rock than Sarah Gaugler–illustrator, graphic designer, tattoo artists and vocalist of the band, Turbo Goth. It was so easy styling this girl! The interpretation of punk-couture is a version of punk meets rock and roll, with a youthful feel to it. The undoubtedly charming, soft version of punk is possibly the most wearable version of this trend and is bound to be a popular look as it is also relatively easy to achieve. I don't think you need me to explain this style any further. Leather, high-contrast combinations, typography, hardware, leopard prints…the list goes on!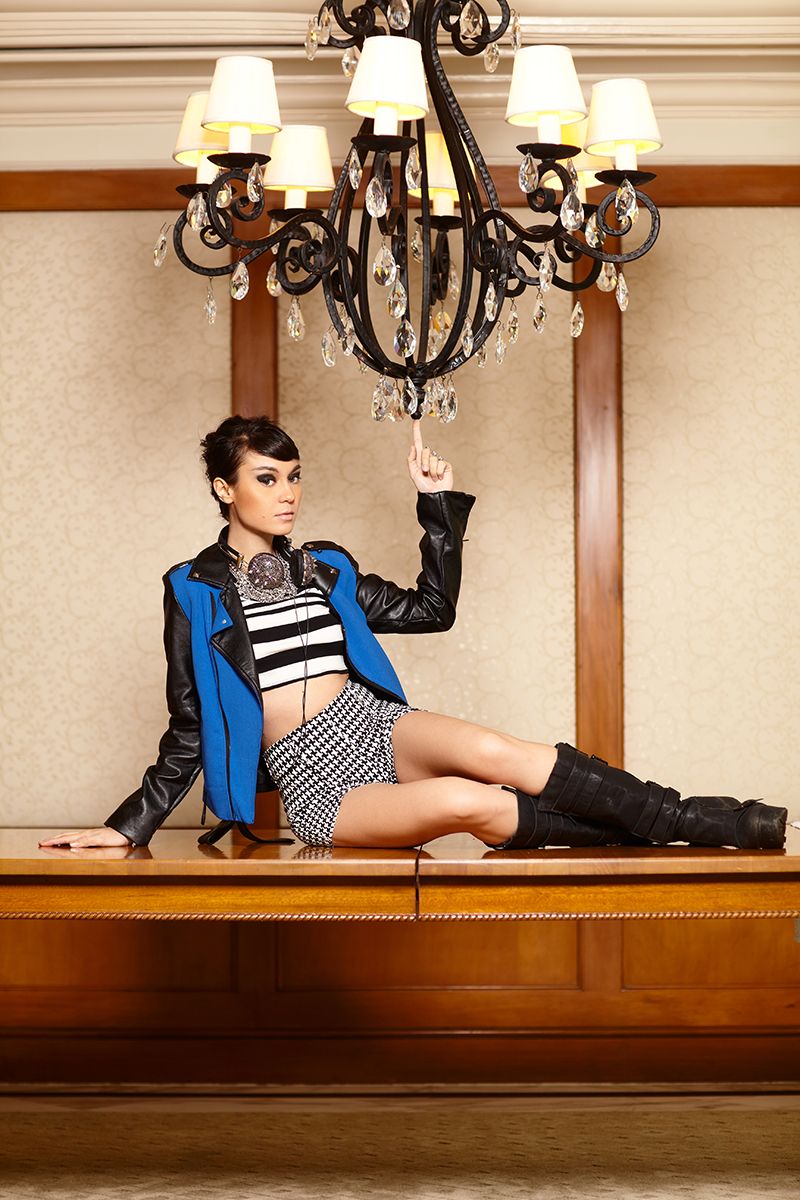 Romwe jacket | Topshop cropped shirt | Femmex shorts | H&M necklace | Boots and headphones (model's own) 
The hairstyle for this look is one that's made to look lived in. To achieve it:
3. Tousle and ruffle the hair with your fingers as you blow dry.
4. Roughly pull the hair back, away from the face and gather into a ponytail, tying with a black elastic.
5. Twist the ponytail into a rough bun shape and secure with pins.
6. Tease the hair at the top and sides of the head to create a furrowed, un-done texture.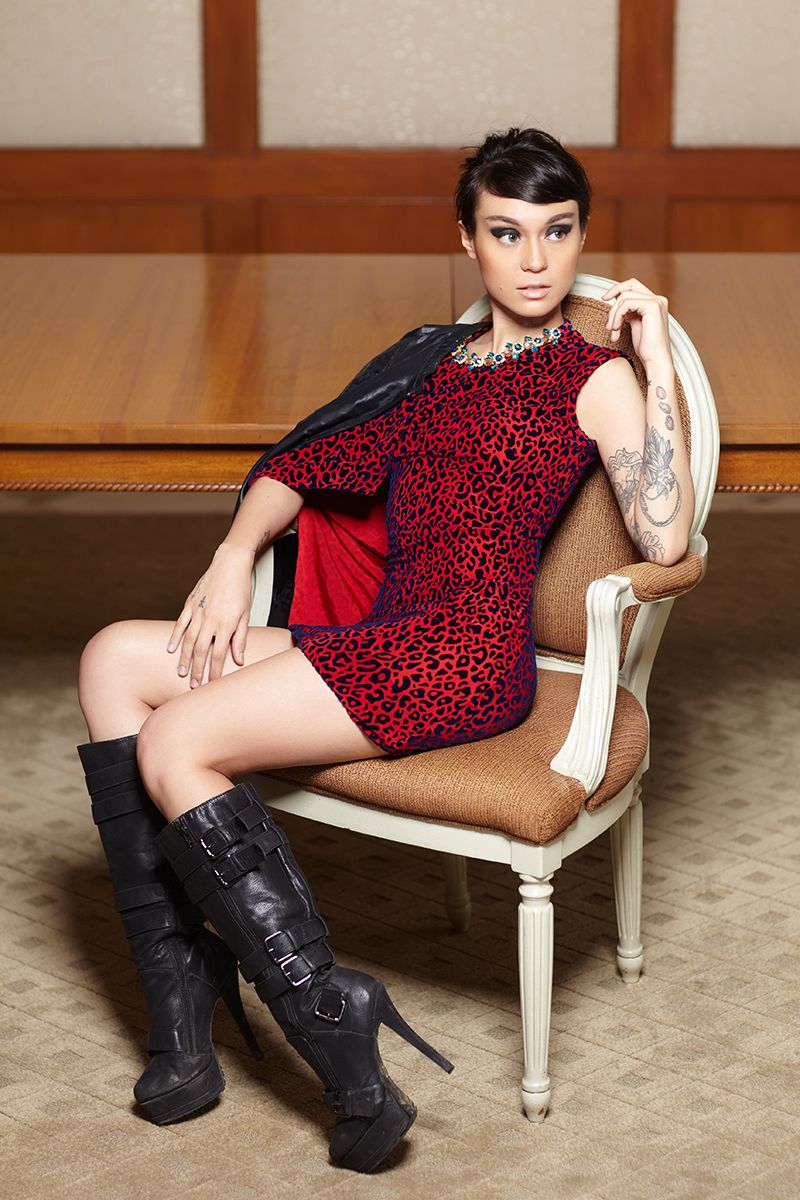 Jerome Salaya Ang dress (available at MYTH, Greenbelt 5) | Leather jacket (model's own)
This look goes so well with fair skin because of the edgy makeup. So for the face, use Olay Natural White for moisturized skin that has its natural fairness and glow.
As for the body, just like its quirky sister in the Masculine x Feminine trend, the Punk'd girl would love the Dynamique Grapefruit of Camay's Shower Gels. It has an energizing scent–just like the Punk'd girl!
Holiday 2013 Trend #4: Contemporary Crusader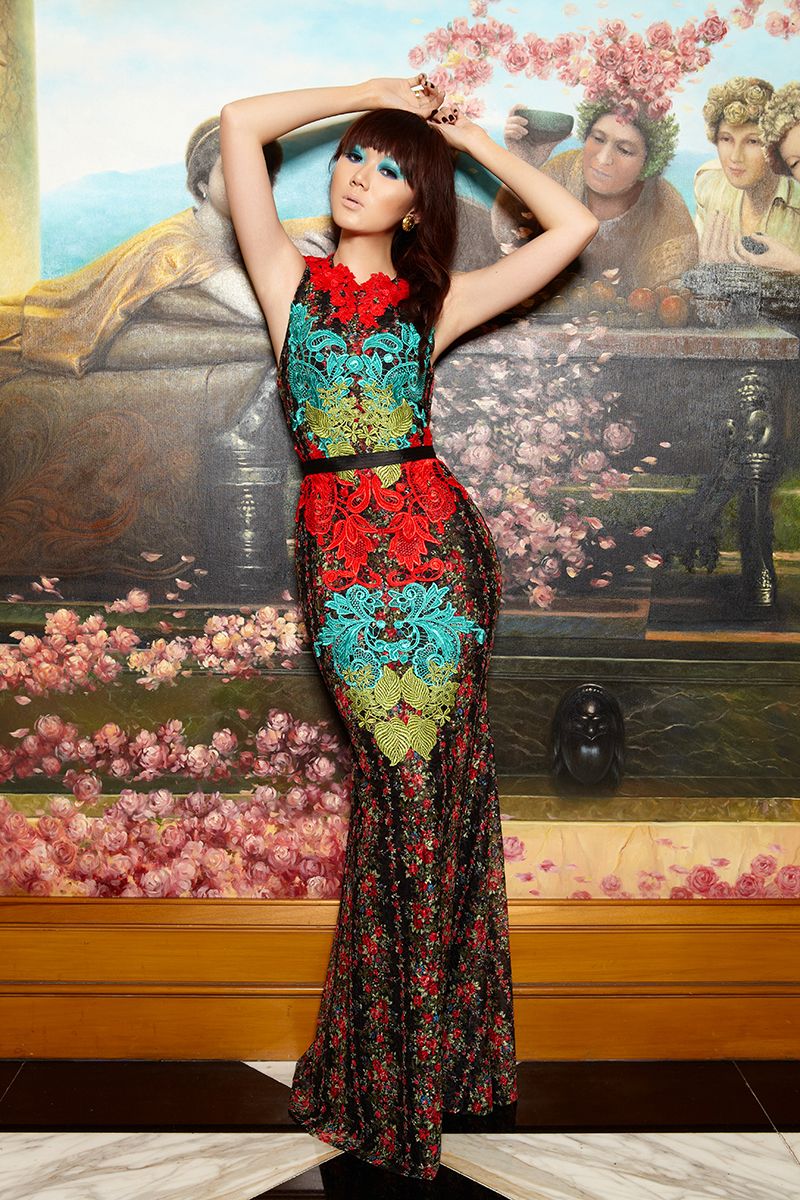 Joel Escober gown (available at MYTH, Greenbelt 5) | Chanel vintage earrings | SM Accessories rings
Why hello there, it's me! I am your contemporary crusader! I was quite surprised myself to be included in this project but here I am. LOL! The contemporary crusader trend is a lively reinvented opulence of imperial folklore, re-interpreted with an expressive and precious aesthetic. It's a story within a story and is as folkloric as a Russian matryoshka doll, with layers of hidden meanings gradually revealed, one after the other. Feminine and opulent, this is a refined display of taste and style; intricate and intelligent rather than being about showy excess. If you've already read Tim's article on Supreme, I mentioned why I think this trend works for me. Contemporary crusader is all about finding the right balance between old and new–taking traditional and imperial folklore elements and reinterpreting them in a modern way. This is definitely something I enjoy doing. I like mixing and matching different styles because I hate getting boxed in and stuck in a rut, but at the same time, I make sure whatever look I come up with is striking, put-together and sophisticated.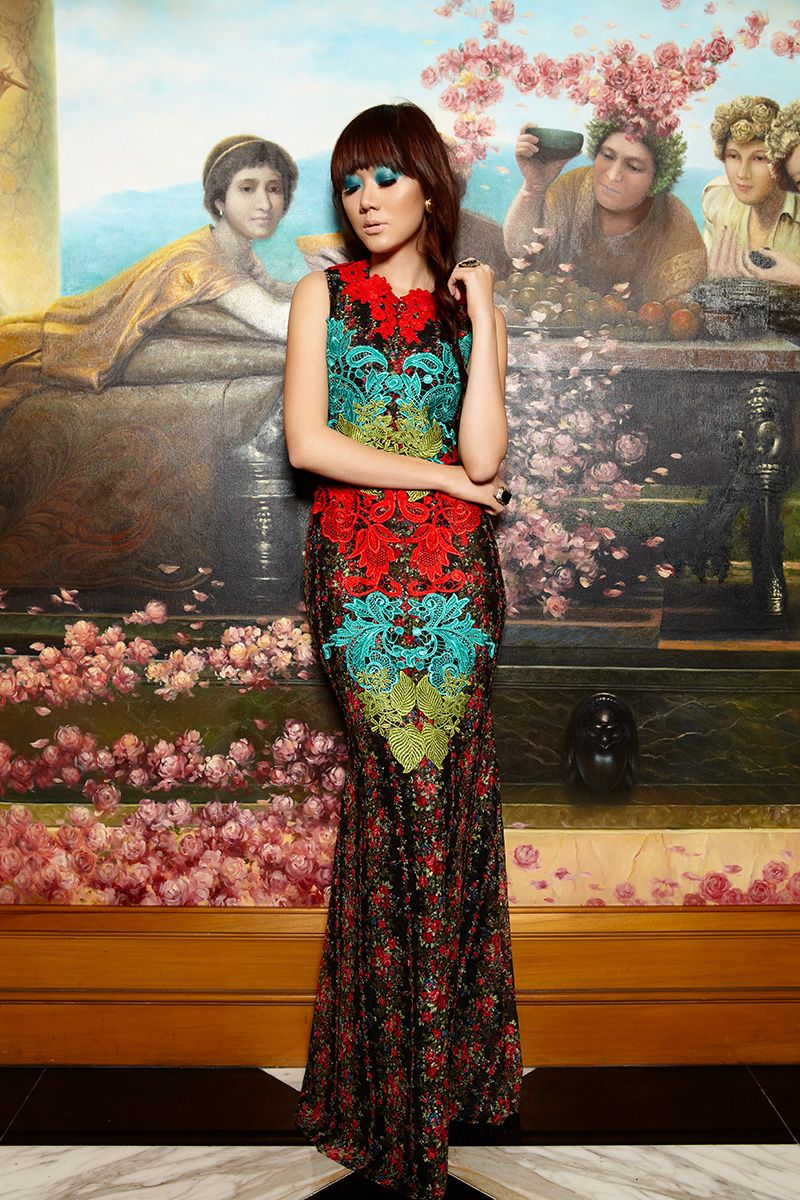 To match this style, hair is crafted using traditional techniques updated with state of the art products. Pretty, romantic, and self-assured. It's all about craftwork. Global Stylist Ambassador for Pantene Sam McKnight translated this hairstyle on to the runway of Vivienne Westwood. To achieve an everyday version of this, here's my hair how-to:
3. If you're creative, weave in a piece of fabric with your braid!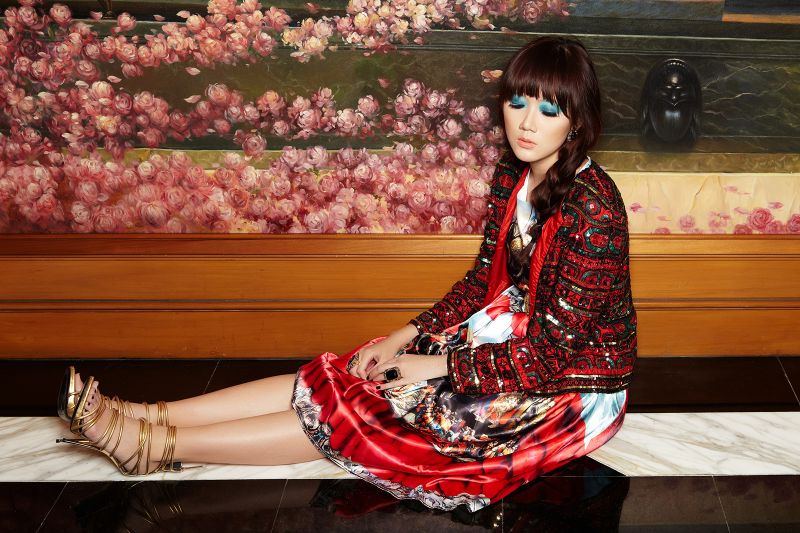 Adrianna Papell embellished jacket | She Inside dress | Giuseppe Zanotti heels | SM Accessories rings and earrings
For the face, since the makeup for this look is quite avant-garde, your skin needs to be prepped! Use Olay Total Effects Anti-Ageing + Fairness Cream for skin that's fresh, youthful and with even skin tone.
For the body, Camay Shower Gel in French Vanilla goes with the worldly sophistication of this look.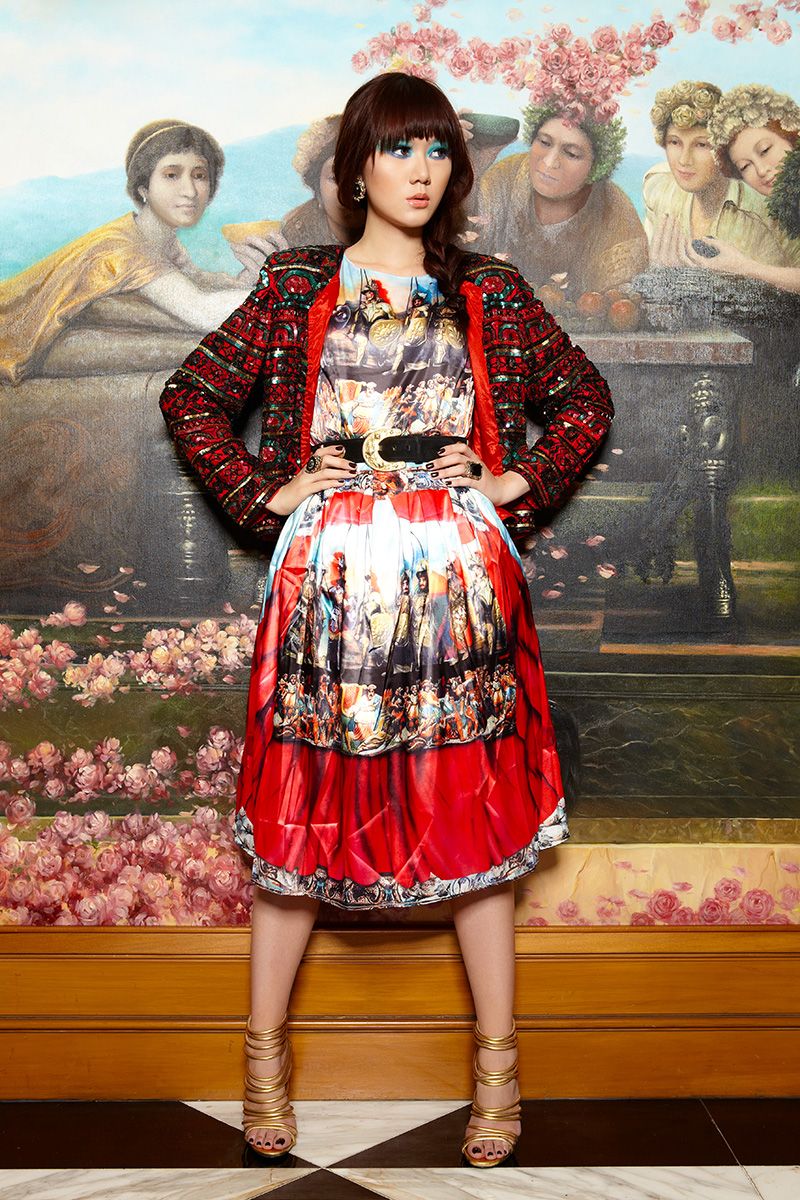 [button link="http://lookbook.nu/look/5129116-She-Inside-Dress-Contemporary-Crusader" size="small" bg_color="#e5b3b9″ window="yes"]Hype this look at Lookbook.nu here[/button]
So there you have it! Four key trends for Holiday 2013. Play around with them as much as you want. You've got plenty of time to master these trends–Riding School and Masculine x Feminine for the more conservative girls while we have Contemporary Crusader and Punk'd for the more outgoing girls. We've given you the tools, now it's your turn to interpret these trends to the best of your ability!
To know more about the girls we featured, don't forget to grab a copy of today's Philippine Star and read what Tim has to say about them or should I say, us.
Photos by: Sean Armenta | Makeup by: John Pagaduan (for Romina and Sarah) and Cats Del Rosario (for Jessica and I) | Hair by: Mark Baquiran