As you all know, my capsule collection for Tomato was supposed to be released at selected Tomato branches last August 21. But due to the recent calamity, it was impossible to push through with this schedule. I'm sure you all understand the need for this delay. Safety must come first! On the brighter side, I've gotten word that my capsule collection is finally going to be available this Saturday, August 24 at Tomato branches in Glorietta, Trinoma, SM MOA, SM Megamall, SM San Lazaro and Alabang Town Center! Woot! To celebrate this, I'm having a meet and greet this Saturday at Tomato's flagship store located at the second floor of the new Glorietta 2!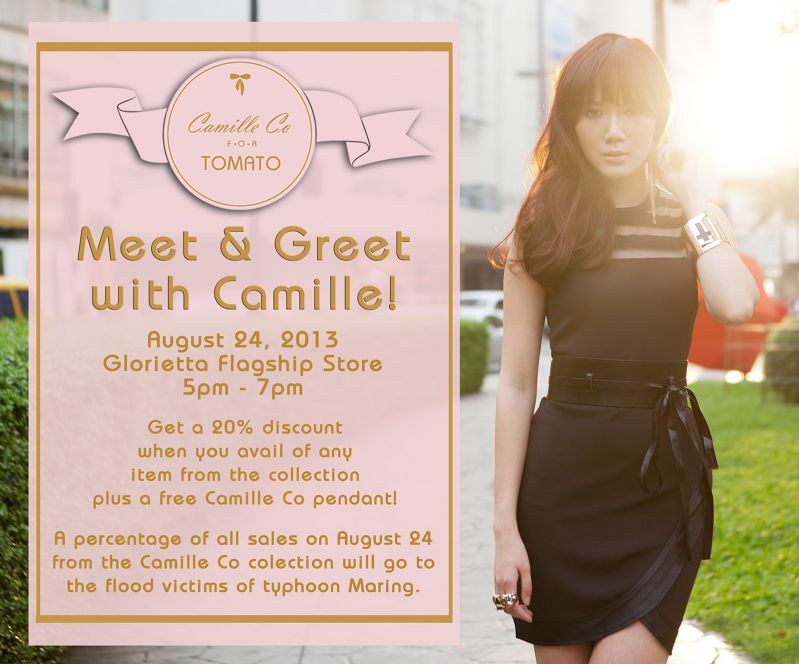 I can already see it! This is going to be one super fun bonding session! Expect nonstop chikahan, shopping and styling with me from 5-7pm! Exciting, right? As a bonus, Tomato is also giving you 20% off and a free Camille Co pendant when you purchase any item from my collection during the meet & greet! ALL THIS FOR ONE DAY ONLY AT TOMATO'S GLORIETTA BRANCH! Now don't be mistaken, the Camille Co pendant isn't my name or my face. LOL! It's actually a super cute ribbon pendant made especially for my collection and it's not for sale. You'll love it! You'll also be glad to know that a percentage of all sales we make during the meet & greet will be donated to the flood victims of Typhoon Maring, so I really hope a lot of you will drop by and support! It will mean the world to me. I'm a little nervous actually because if I'm not mistaken, this will be my first official solo meet & greet. Please please please come and make my day!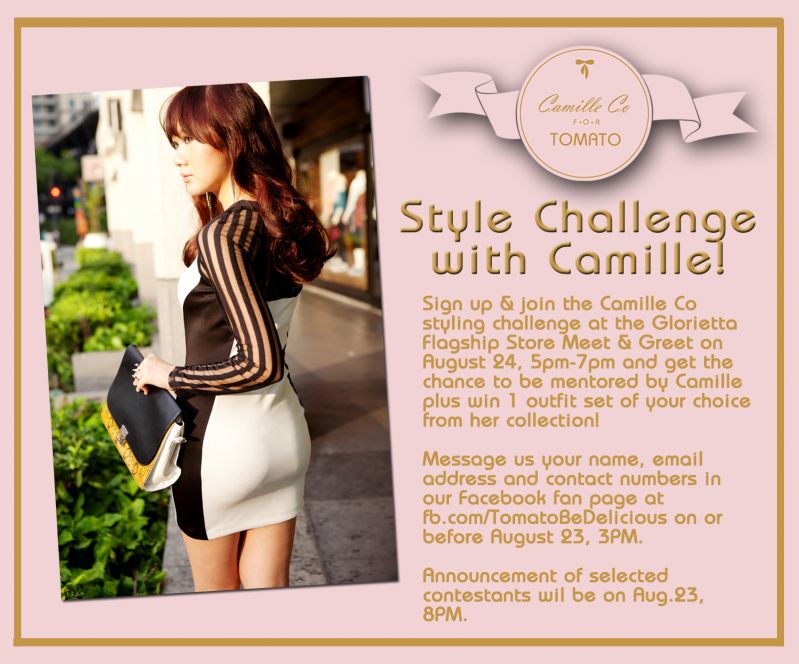 Oh and before I forget, in line with my meet & greet, Tomato is also hosting a styling challenge for you fashionistas! Lucky contestants will be chosen by Tomato to join me on a styling challenge this Saturday. The winner of this styling challenge will get the chance to be mentored by me plus win 1 outfit set of his/her choice from my collection. Want to be a contestant? You can sign up by messaging your name, email address and contact number to Tomato though their Facebook fanpage on or before August 23. The selected contestants will be announced on August 23, 8PM.
See you this Saturday!
P.S. To those of you inquiring about my capsule collection's sold out designs on Tomato's online store, don't fret! I have been informed that these items are getting restocked every now and then so keep checking www.tomato.ph/camille-c to see if your favorite design is back! Once again, I'd like to reiterate that Tomato ships both locally and abroad. Local shipping is free!