At a recent shoot for Candy Magazine, I was asked to complete this sentence: I'm a Candy girl because ____________. Here's my answer: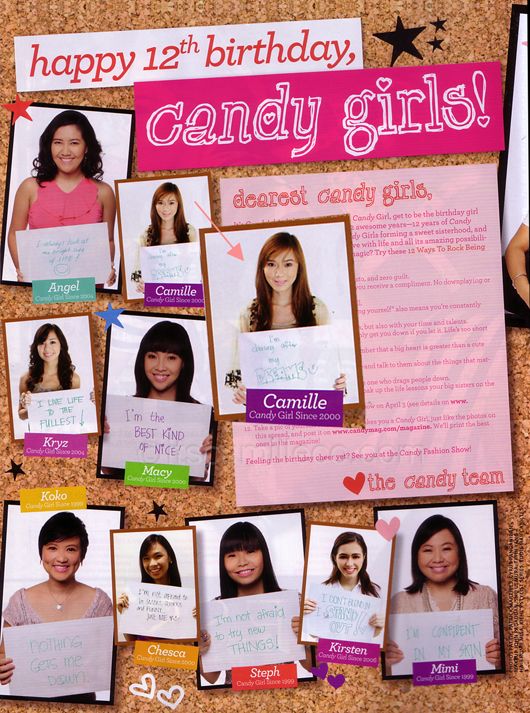 As seen on Candy Magazine's March 2011 issue
If you can't see it clearly, my answer was "I'm a Candy girl because I'm chasing after my dreams." Cliche as it may sound, I really think that's what being a Candy girl is all about. Candy magazine has always been there to empower teens to believe in themselves and aim high. It's all about building self-esteem and honing the right attitude among teenage girls, a cause I truly believe in and support strongly, which is why I can never say no to Candy Magazine. I've been lucky enough to grace their pages quite a number of times and it's always been fun. It's always a breeze to work with the Candy girls. I've never once seen them not smiling. Seriously. They're like on happy pills everyday, and the Candy fashion show last April 3 was no different.
Together with other fashionalities (Rosanna, Lexi, Lissa, Tricia and Laureen) featured in Candy's December 2011 "Cold Weather Manila" editorial, I was asked to style and model at Candy's first ever fashion show. As expected, it was a blast!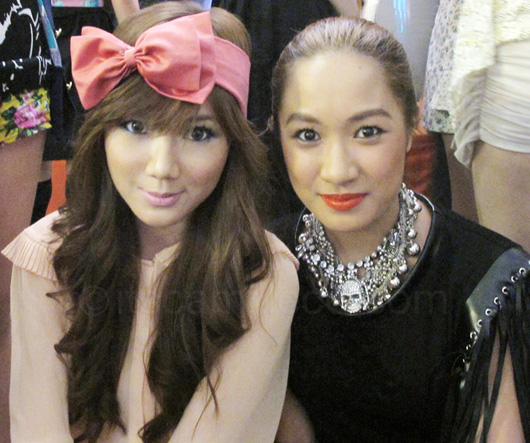 Before the show: With Laureen, the soon-to be-artista (woot woot!). I received a call from her early that day. I was still asleep when she called but what she told me definitely woke me up! She got left behind by her plane back to Manila. Goodness gracious. I panicked along with her the whole time but good thing she arrived in time for the show.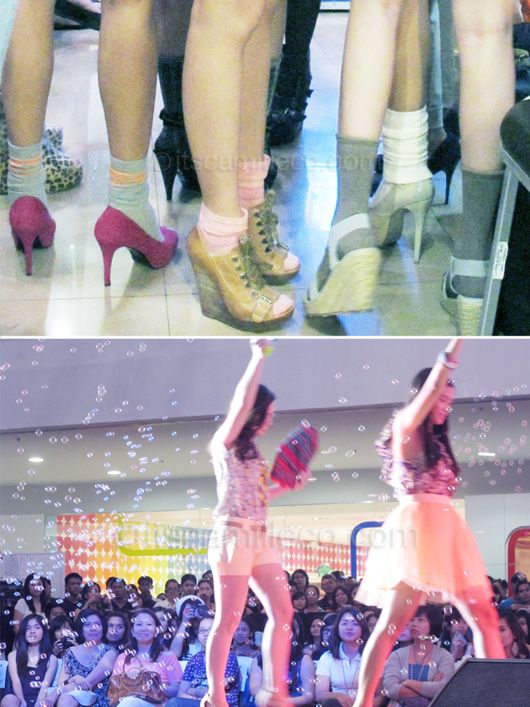 Top photo: Hello socks and shoes! Spot mine. | Bottom photo: The Candy girls walking down the runway with bubble guns in hand. Jealous. I WANT BUBBLE GUNS TOO! Anyway, I'm in awe as to how confident and in their element these girls are at their age. They were extra cute and bubbly, blowing kisses and winks at one another, dancing to the music and just plain having fun. You girls are so admirable! I wish I was half as confident as you are when I was your age. Amazing.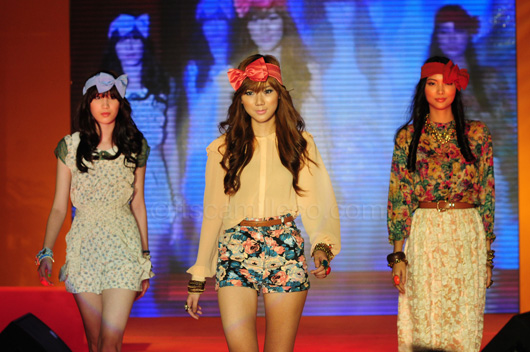 My turn on the runway. Photo by Magic Liwanag.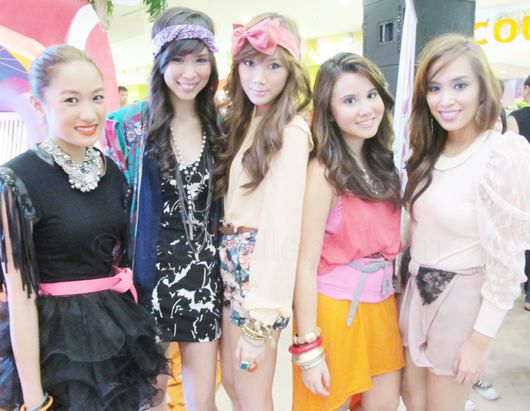 After the show: Laureen in rocker chic | Lexi giving her own spin on the print on print trend | Me in fifties vintage | Rosanna doing the color-blocking trend | Lissa going for the sweet and romantic look (Tricia's missing!)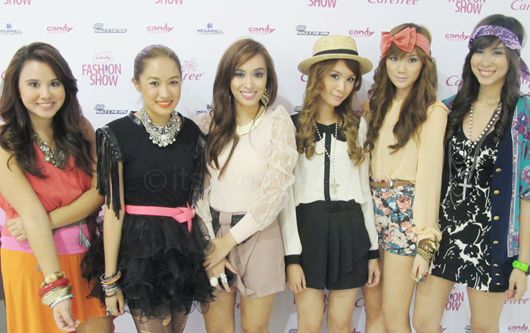 Photo wall: All six of us. Yay! <3 It was so much fun spending time with these girls.
To everyone who came to the fashion show, thank you for showing us so much love. Candy readers are always the sweetest. I hope you know that your support is much appreciated. I wasn't expecting that kind of response at all. The experience was so heartwarming.
Thank you.
P.S. A few days after the show, this was sent to my house. I'm guessing it's because of the Candy fashion show. I don't know how I became a "Wow Poise Scene Stealer" given that I almost slipped while walking down the runway (which I responded to with a quick belat after). I blame the bubbles. But thank you Carefree! I'm keeping the box too! :)