Woohooooo! It's finally out! My shoot for Mango as their new It blogger was finally launched on their website today! If you go to Mango's homepage, you'll even see my face on the same page as Kate Moss'. I don't need to breathe the same air as Kate's (yes, first name basis yo!), my face just beneath hers on the world wide web is enough to make me all giggly inside. It means I'm this close to her haha! Hey! A girl can dream right?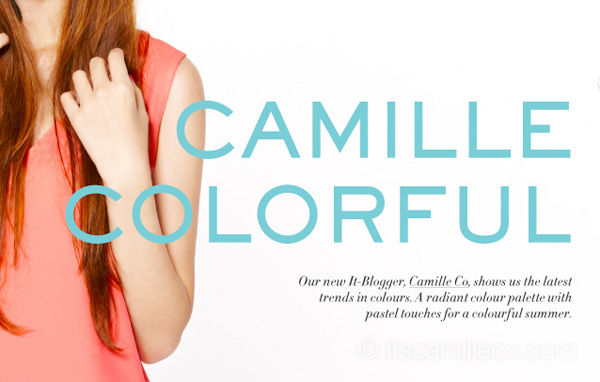 Anyway, the theme for the shoot was color blocking hence the title "Camille Colorful". For those wondering if I styled myself, no I didn't. Mango took care of all of that which I'm so thankful for. (Cristina, if you're reading this, awesome job! Thank you!) It's so refreshing for me to go into a shoot with no worries and just go back to being the model for a change.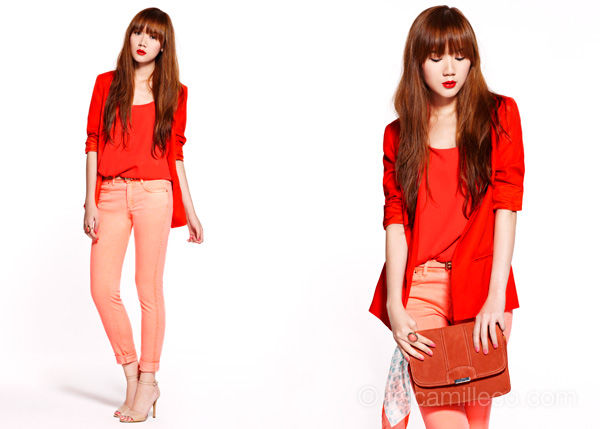 [button link="http://lookbook.nu/look/3391453″ size="small" bg_color="#e5b3b9″ window="yes"]Hype this look on Lookbook.nu here[/button]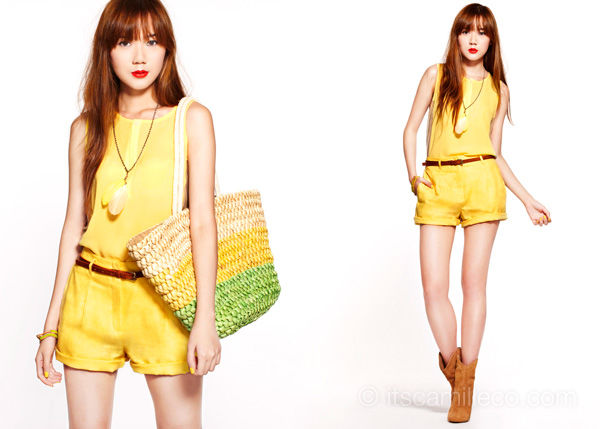 I'm posting just 2 of the official photos so that I can lure you into visiting Mango's website. Har har! Mango made a special URL for me so simply go to www.mango.com/camille to see all my photos. Class!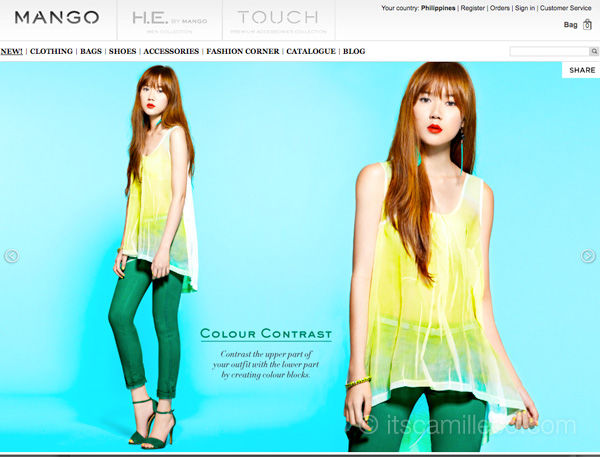 Once you click on my section, you'll be able to browse through all my slides like this one. I know, I know, I'm such a huge dork! I took a screencap of one of my layouts just so I can show this as proof to my future kids. Haha! How awesome is this?! My own section on the website of an international brand as big as Mango! Woot! Papaframe ko na guys, wait lang. BRB.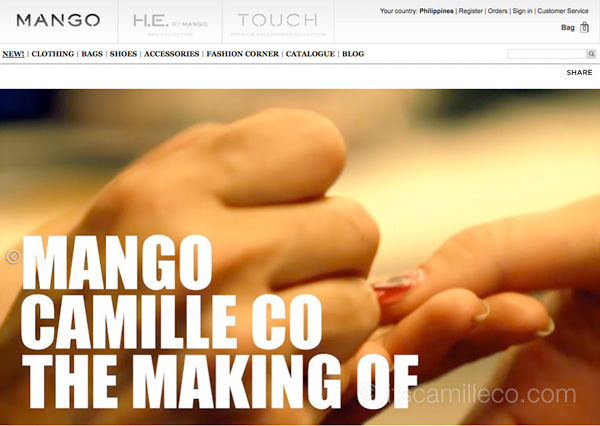 There's even a behind-the-scenes video at the end of the slides. You can also watch it on Youtube here. Watch me make a complete fool out of myself! :/
I actually have a bunch of behind-the-scenes photos as well. My mom snapped so much so I've decided to share a few of them with you below.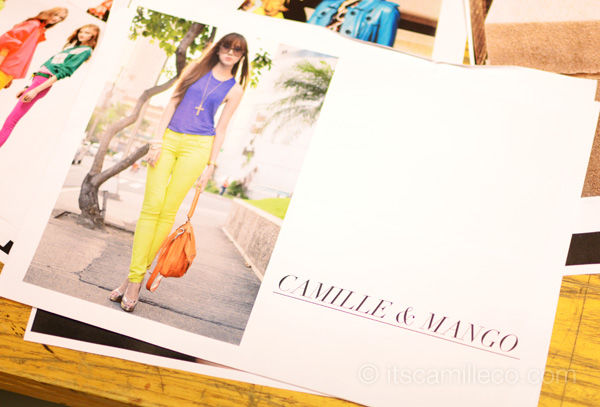 These are the pegs Mango showed me for the shoot. That's me!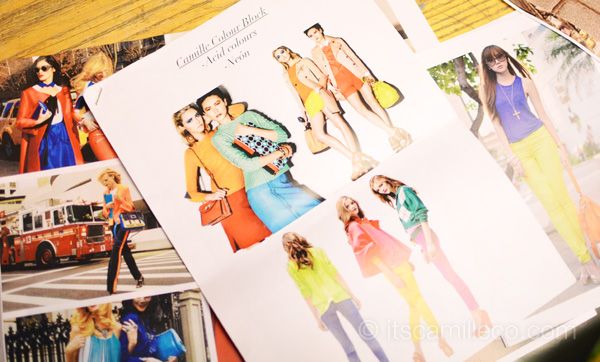 For my makeup, they wanted a really fresh look–light makeup on the eyes matched with bright, bold lips to go with the cloths' colorful theme. I'm still getting used to this look but it's a refreshing change, yeah? Minimal eyeliner for once! My makeup was so light it literally took the makeup artist minutes to finish! She was lightning fast! :)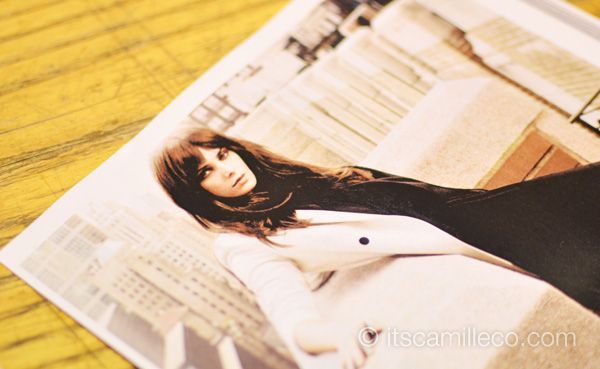 It took her even fewer minutes to finish my hair! This is the peg for my hair. Since my hair is always messy anyways, she just used a little hairspray and voila! Done!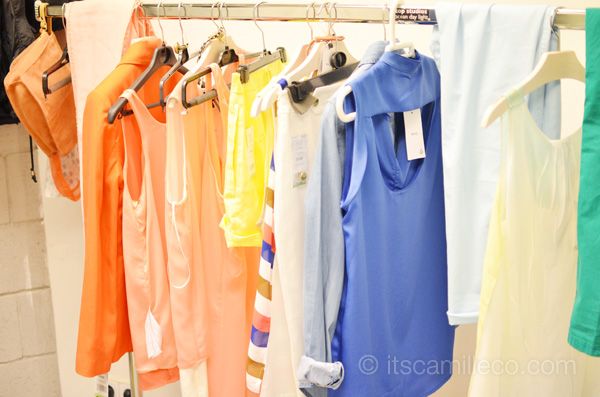 The clothes for the shoot. We were actually supposed to shoot half of these in the studio and the remaining half outdoors but it was raining that day so we ended up shooting everything indoors. It would've been awesome to shoot in the streets of Barcelona. The sun can do wonders! But oh well, the photos turned out great anyway!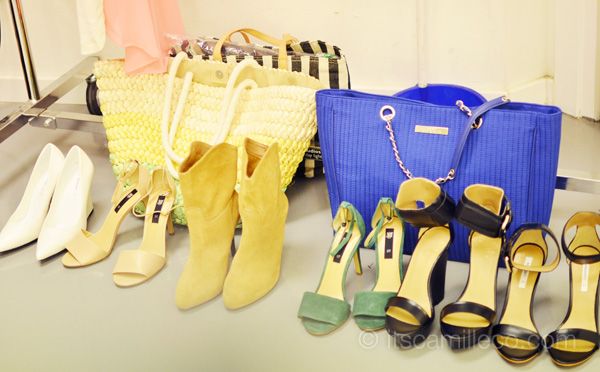 Shoes, shoes, shoes! I actually got to bring home all of these (plus another pair from the Werelse x Mango Touch collection). Mango's Cristina even told me I can take home everything if I wanted to–the clothes, the bags, the accessories, but I got really shy. Thank you for all the gifts, Mango! :) I felt like I won a game show!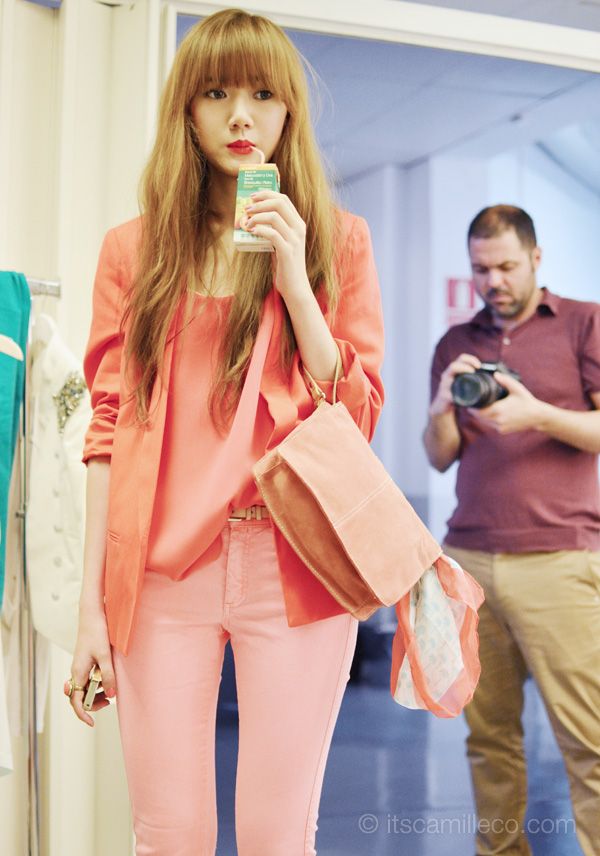 Meet the guy responsible for my Mango video. He was also the one who shot my video back in November with the rest of the Mango It Girl finalists. Here he is busy documenting my every move. And by every move, I mean EVERY move. You can easily photoshop a thought bubble in this photo, "am I being followed????"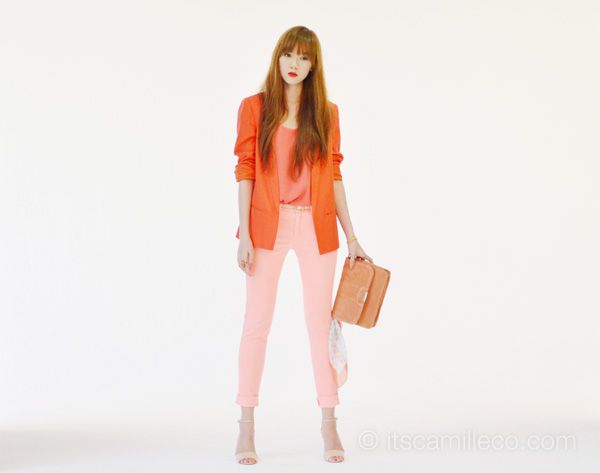 Let's get the ball rolling! Time to shoot!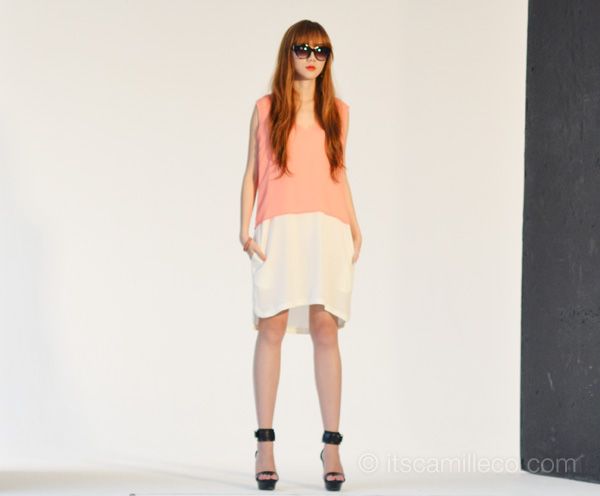 My favorite dress!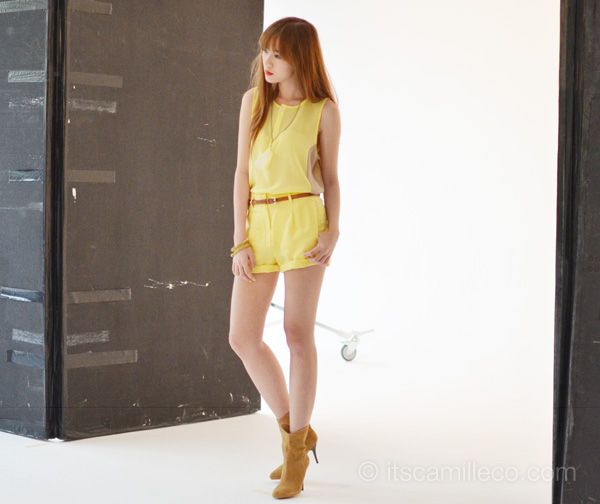 If you've noticed, they changed my nail polish quite a lot too. First, it was coral, then yellow and finally, blue!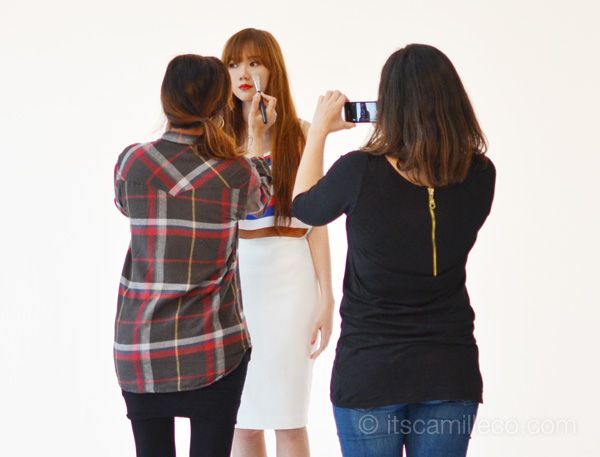 That's Cristina taking my photo. She was sending them to Mango's Maria and Victoria, both of whom I've met during the final round last November. Too bad they couldn't go to the shoot because they had to stay at the Mango headquarters that day. They just kept asking for updates from Cristina. So sweet of them! It would've been awesome if I they were at the shoot too!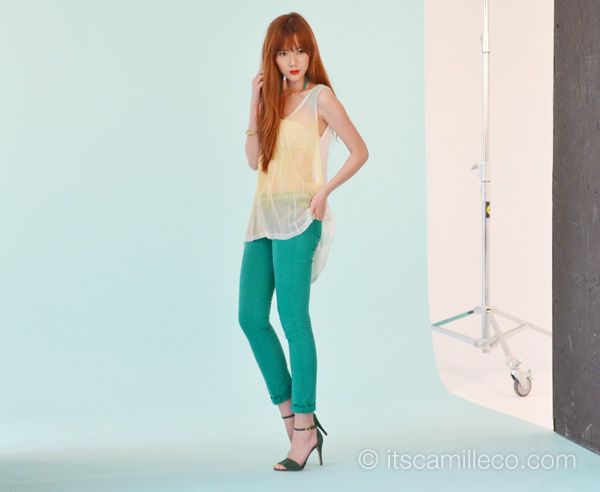 Hello sheer!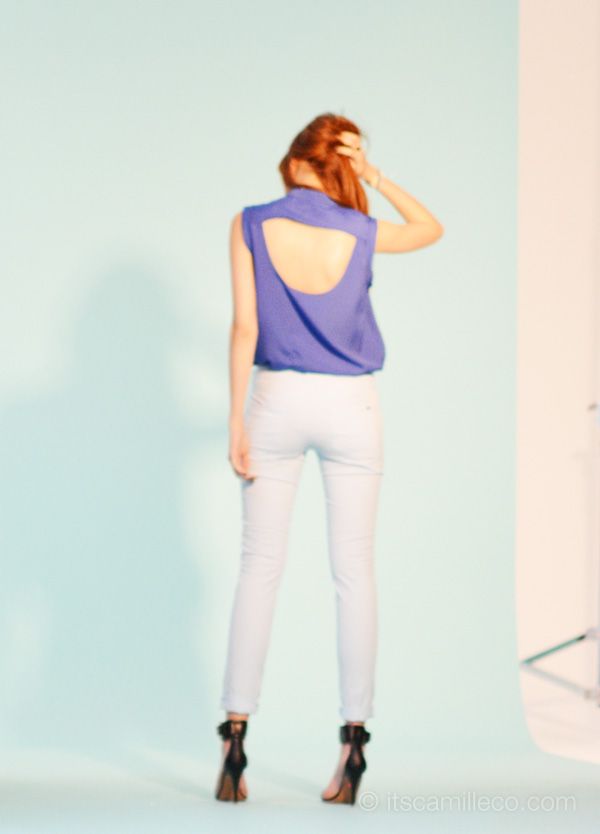 Love this cutout!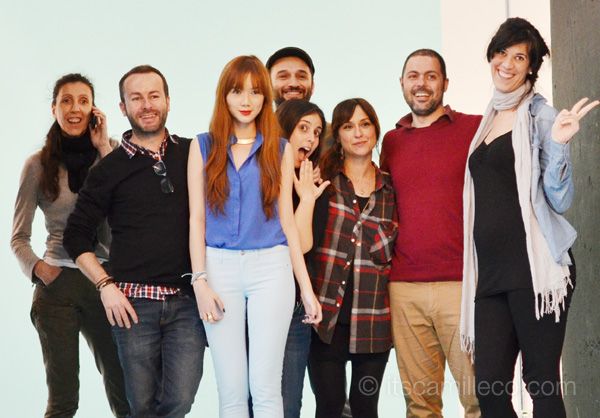 Meet the team. Special shout out to Carolina (she's the girl on the far right of the photo). Thank you for always going out of your way to make sure everything is alright! Everyone is just so kind and sweet! I hope this won't be the last time I see all of you! Thank you for the wonderful experience! It's surely one for the books!
Let's go Mango!