What's a girl to do when she's given a pair of shorts that can pass off as knickers?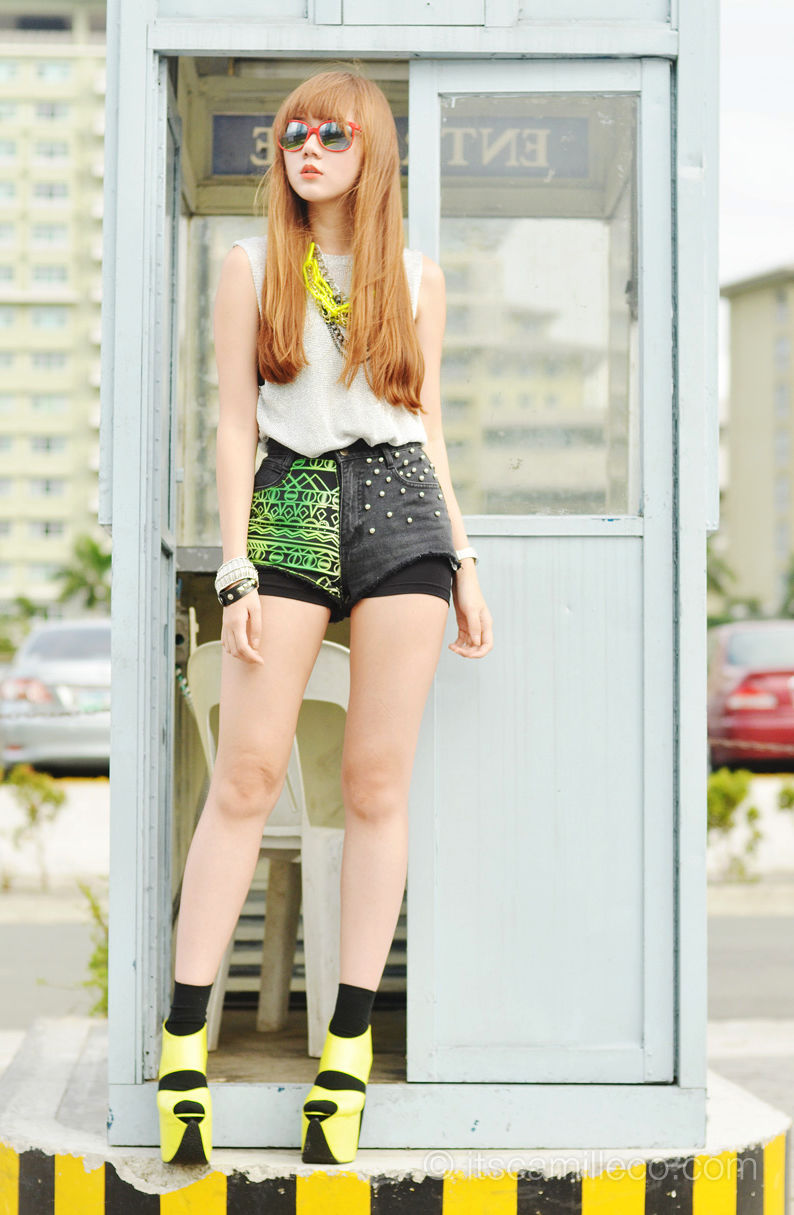 Usually, I steer clear of shorts like these (the ones that are cut higher on the sides) because I don't want the whole world to see my behind. But when I received these from an online store, I didn't have the heart to throw them away. The print and studs are just too awesome, I had to do something about my little dilemma!  The solution? A good old pair of cycling shorts. To make them seem like they're part of my look, I injected black pieces here and there like my black bandeau, socks and accessories. Was I able to pull them off? I hope so!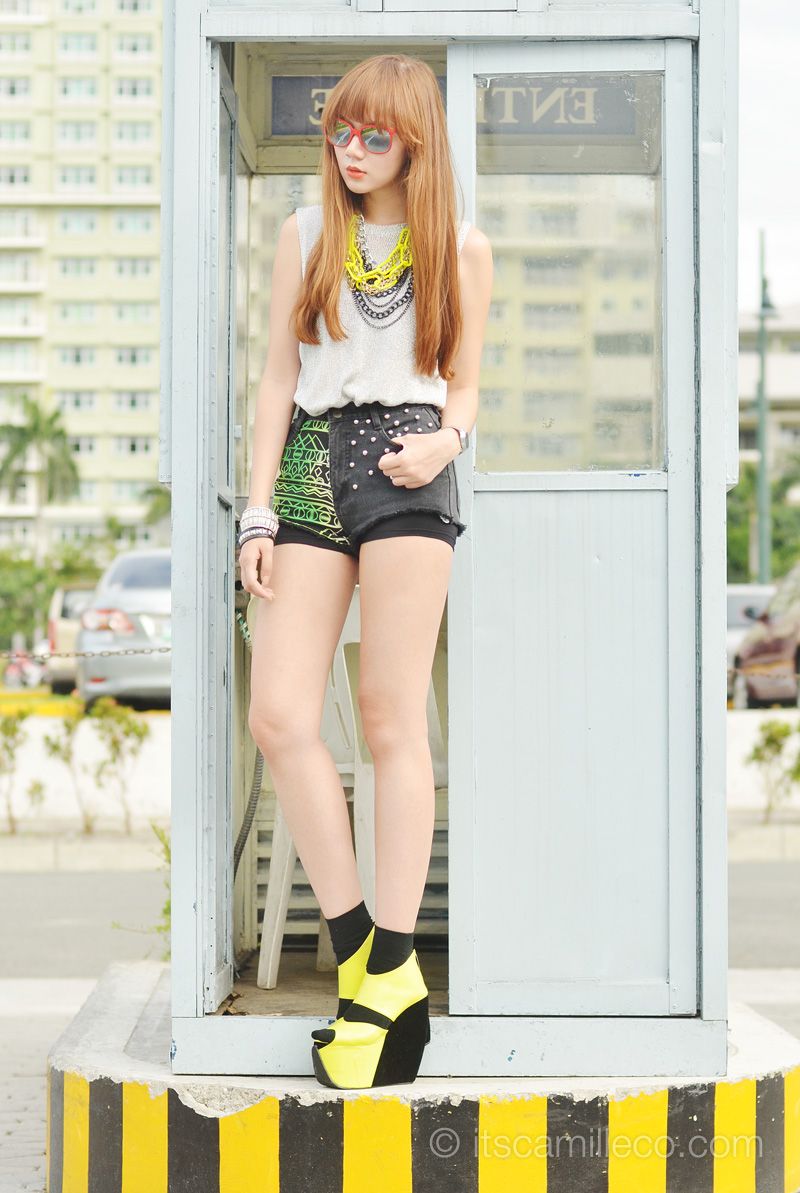 As if these studded shorts weren't edgy enough, I got my latest pair of cooler than cool sunnies from Sunpocket to toughen up my look a tiny bit more. There really is something about sunnies that can make anyone look cool in an instant. Don't I look so bad ass in these? I look so "cool" it took a lot of willpower for me to stop myself from forming the word "COOL" with my fingers. LOL! If I did that, there goes my cool image and I'm back to my dorky self once again.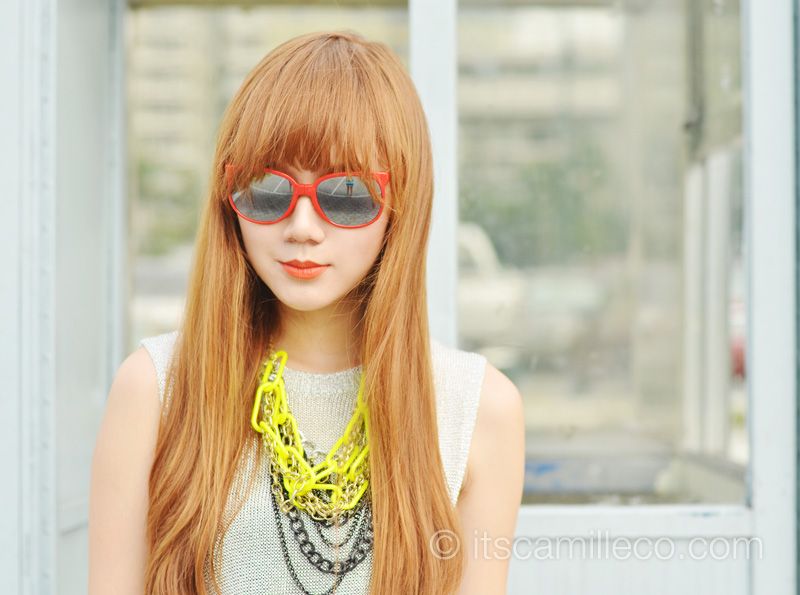 To tell you the truth, I actually never thought I'd own a pair of polarized sunnies. EVER. I used to hate them back in elementary and high school because a lot of the arrogant young boys loved wearing polarized Oakley shades. It was the in thing then. Stereotype, I know!! But when I saw how awesome Sunpocket's designs were, I just could not help myself. I HAD to try them on!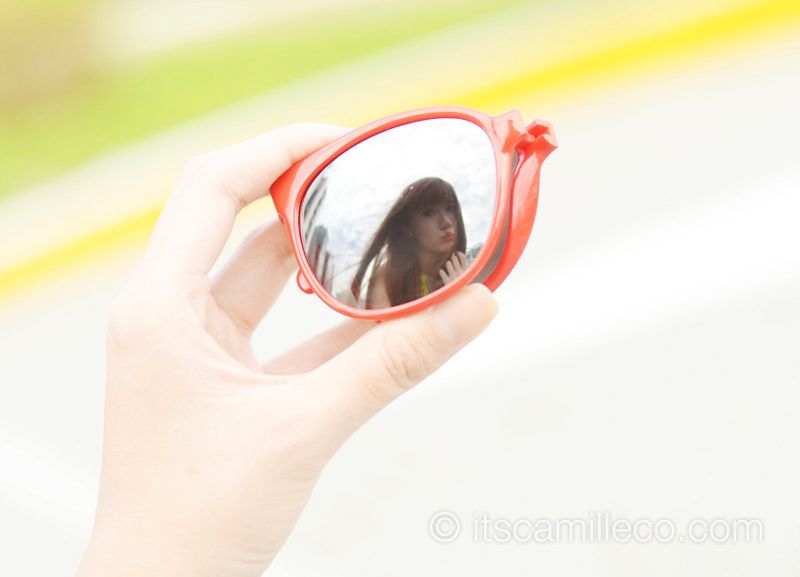 And you know what happened after that, right? I was sold!!! That stereotype in my head? It was gone, in a heartbeat! They really look so bad-ass and a little funky at the same time. Plus, they can double as a mirror too! LOL.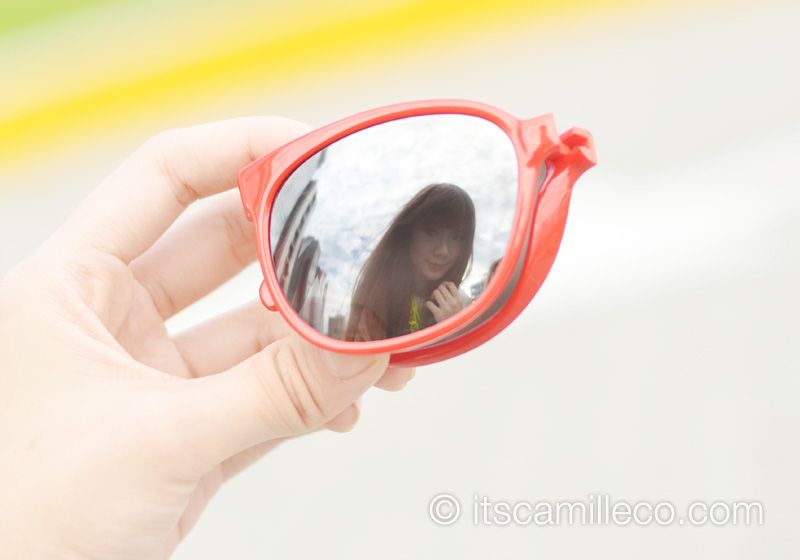 For those of you who are unfamiliar with the brand Sunpocket, it's a contemporary eyewear brand that hails all the way from France. It's roots can be traced from the ski and surf communities which is why it's immensely popular with sportsmen and yuppies. Fast forward to now, it's viewed as a great fashion accessory too, having just collaborated with Open Ceremony. What makes the Sunpocket eyewear special is their functionality. They're light, durable and most importantly, foldable too! With all these features, I'm sure you're expecting Sunpocket to be quite expensive. Actually, they're not! They're reasonably priced at around PhP 2000-3000. I'm actually eying another pair in white and blue. I'm telling you, Sunpocket has so many yummy colors! If you want to check them out, Sunpocket eyewear are exclusively available at Terminal Inc., located at Ronac Art Center.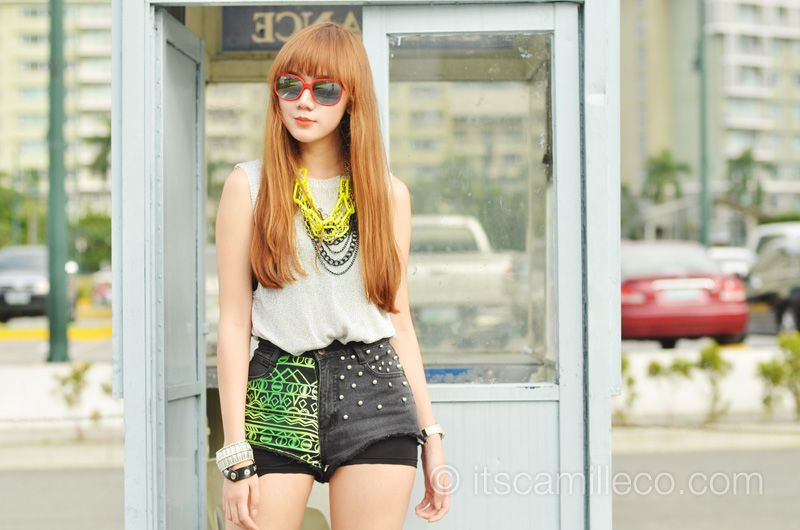 [button link="http://lookbook.nu/look/4278255-Polarized" size="small" bg_color="#e5b3b9″ window="yes"]Hype this look at Lookbook.nu here[/button]
Extreme Finds neon necklace | Online black chain necklace | Topshop silver knit top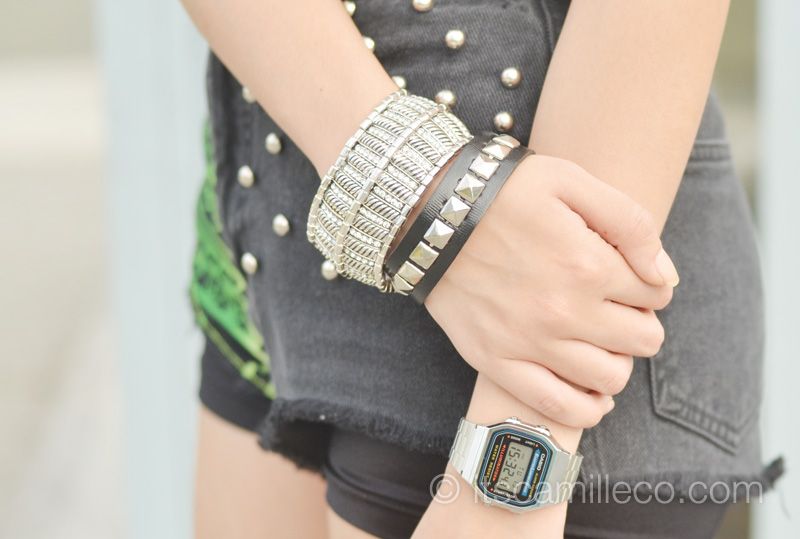 Watch Factory Casio watch | SM Accessories silver bangle | Peaches On Top leather cuff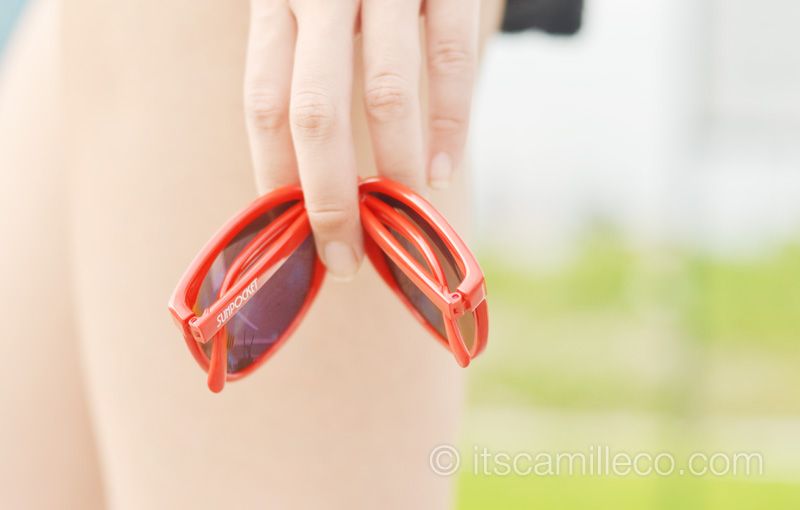 Sunpocket sunnies (available at Terminal, Inc.)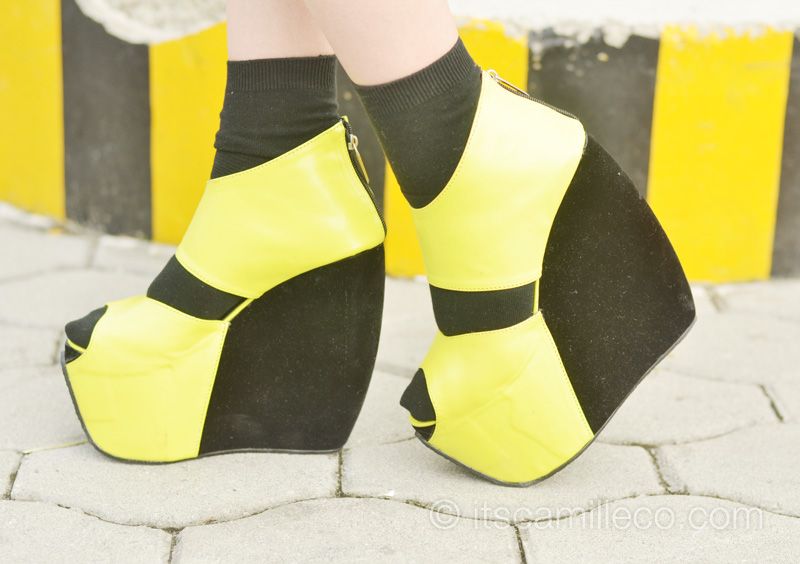 Vishoes wedges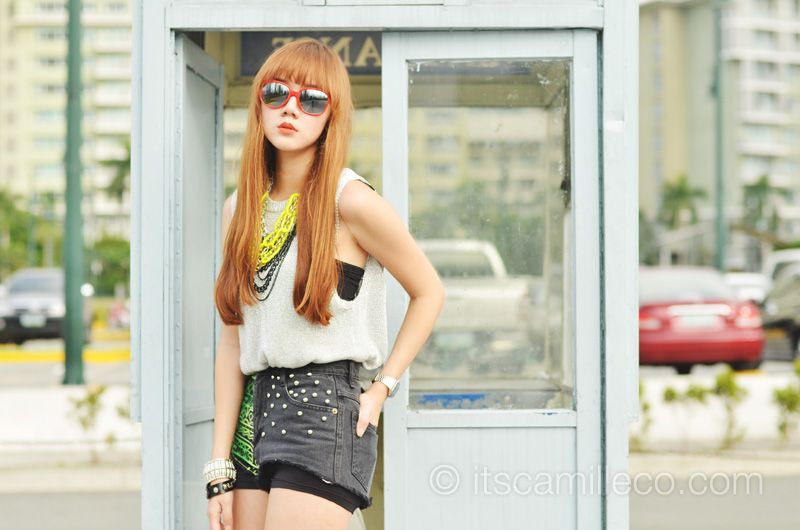 I'm sure you've all noticed by now how majority of my looks are taken at Bonifacio Global City (BGC). It's my favorite spot to take outfit shots in because you'll never run out of places to go (and things to do). I mean look at me, I'm posing in front of a parking lot's ticket booth here! Haha! BGC is probably one of the most well-developed areas here in the Metro. And since I'm practically here everyday, I thought of sharing with you this little event I heard about before I end this post.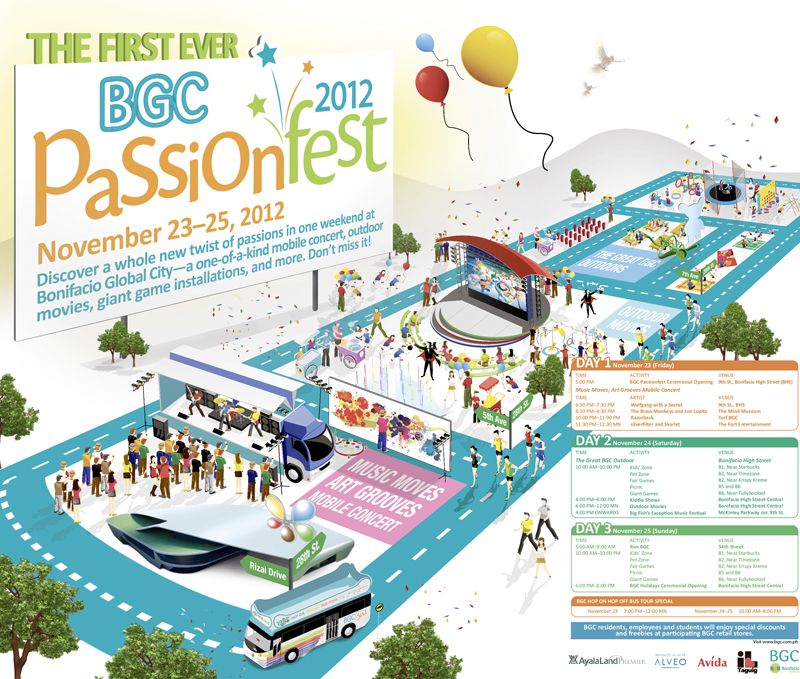 BGC is holding its first ever Passionfest this weekend! I'm really super excited about this because I've never attended anything like it. There are so many activities and events lined up for all ages! Like for example, today, there's a mobile concert entitled "Music Moves. Art Grooves" from 6:30 PM to 12 midnight featuring fused performances by Wolfgang and a sextet at 9th Street, the band The Brass Monkeys with graphic artist Jun Lupito at the Mind Museum, Razorback with a caricaturist visual artist at Turf, and club jazz band Silverfilter at The Fort Entertainment Center. Just imagine… all of them performing on an open-wing 12-wheeler truck!!! Isn't that something to look forward to?
It doesn't end there! Tomorrow, it's The Great BGC Outdoors at Bonifacio High Street (from Fully Booked to Jamba Juice/Village Tavern Area) from 10AM to 10PM. High Street will be transformed into a big fair ground with giant game installations, picnic areas, pet shows, fair games, inflatables for kids, magic shows, free cotton candy, popcorn and ice cream! WILD! There will be kiddie shows happening at the BHS Central Amphitheater from 4 to 6pm and an outdoor movie marathon from 6PM to 12MN featuring The Toy Story 3, Finding Nemo, and The Avengers. For the adults, there's also a music festival by Big Fish happening from 4pm onwards at 9th Street corner McKinley Parkway.
Then finally, on Sunday, it's the Run BGC Ready Set Explore at 5AM to 9AM where you can explore BGC's interactive parks, outdoor art, science museum, and retail playground in one exciting run (so that's basically all the spots I take outfit shots at. Haha). The Great BGC Outdoors follows after that from 10AM-10PM. All this culminates with BGC's holiday ceremonial opening at BHS Central at 6pm.
Sigh. With all these festivities, I can just imagine how BGC will look like this weekend! If you don't want to miss out, I suggest you drop by. There will be a special route for the BGC Hop-on Hop-off Bus Tour during this weekend so be guided accordingly. Those who live, work and study in BGC can get a discount in registration fees for Run BGC and special discounts and freebies from selected retail shops and restaurants.
See you there!!! :)