As promised, here's the main event of my Pronovias experience–the most romantic fashion show I've ever watched: Pronovias' 2014 collection entitled First Love. It took me 3 days to gather and edit these photos. This is the reason why I haven't blogged for a few days. I put so much work into this–all 121 photos, because the show was just too awesome. I wanted to share as much as I can with you and make you fall in love with Pronovias, just like I did. Here we go! Let the show begin!
The Oval Hall of Museu Nacional d'Art de Catalunya (MNAC) was filled with well-renowned faces from the worlds of film and fashion, the Spanish and international high society, the press and international buyers. All 1800 of them were dazzled by Pronovias with pieces from Collections 2014 Pronovias, Atelier Pronovias and Elie by Elie Saab.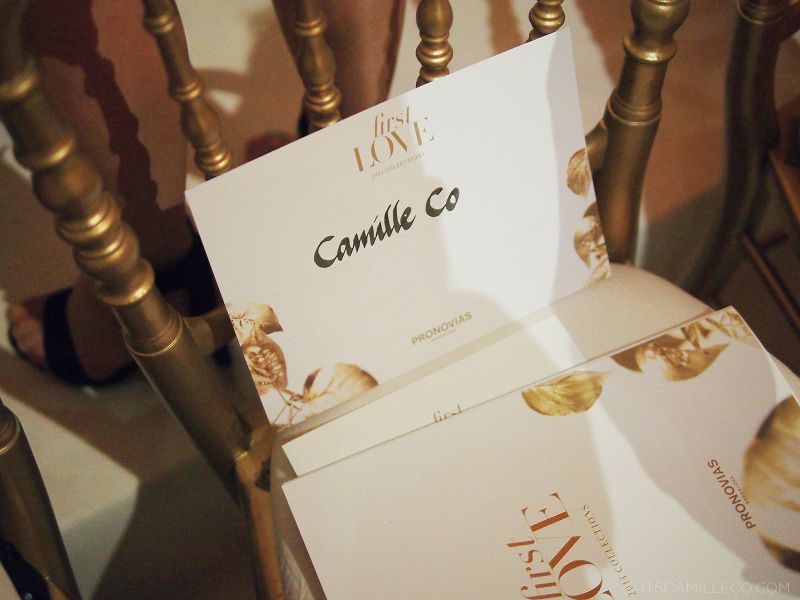 I can't believe I'm actually a guest in this show. Surreal to see my name on this seat! Kilig.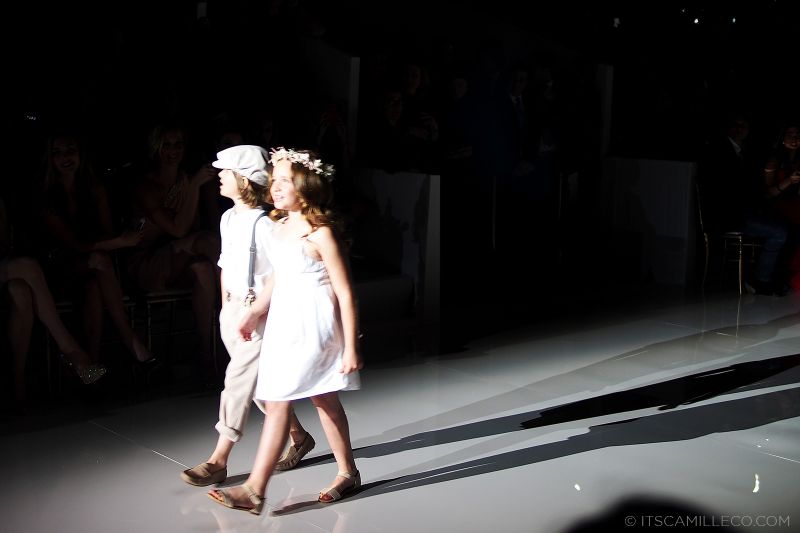 As I've said, the title of the show is "First Love" and the whole show revolved around this theme. The show opened with these two adorable little kids looking all starry-eyed. Oh, puppy love!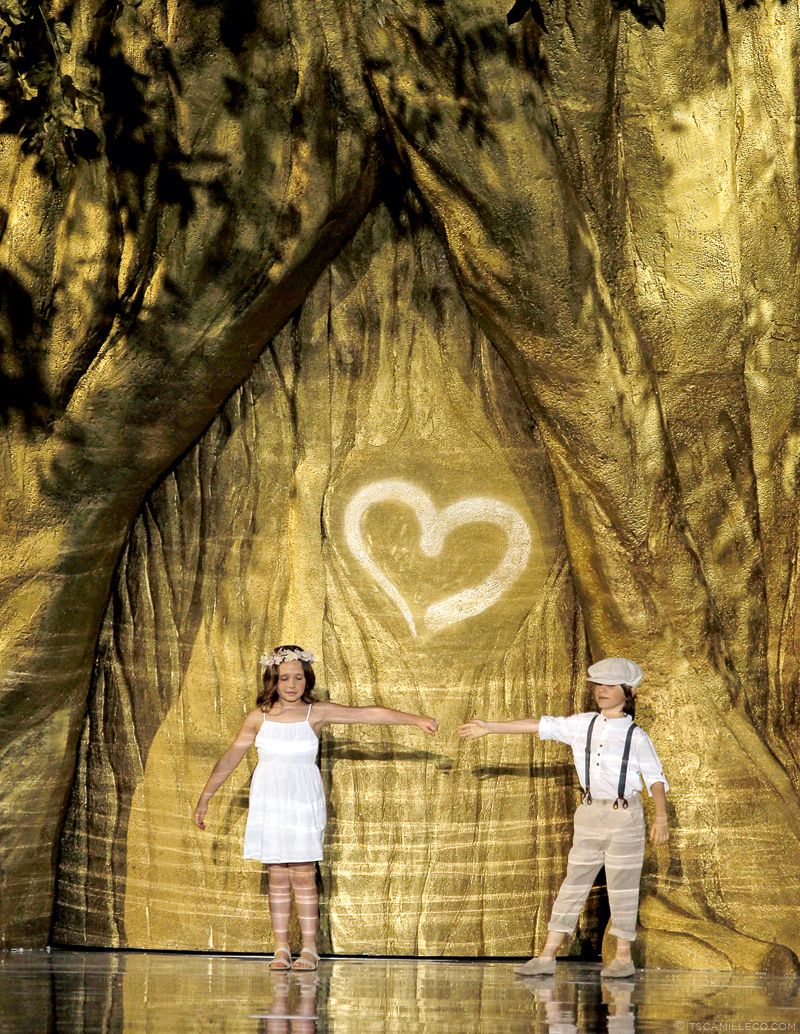 But like most puppy love lovers (is that what you call them?), they got separated.
Now, before you get your tissues out, let me tell you that this is a bridal show after all, so it'll have a happy ending. Don't you worry. (Don't you worry, child. Cue Swedish House Mafia!)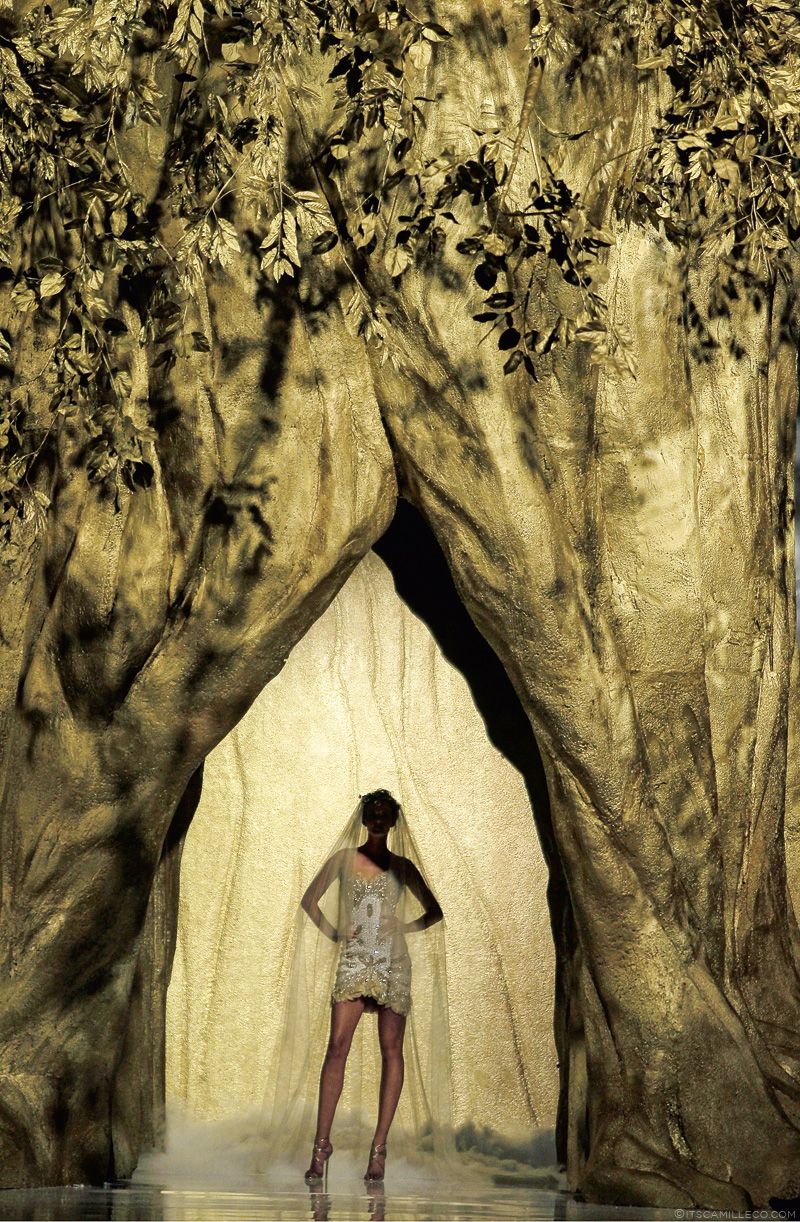 And the first bride is out!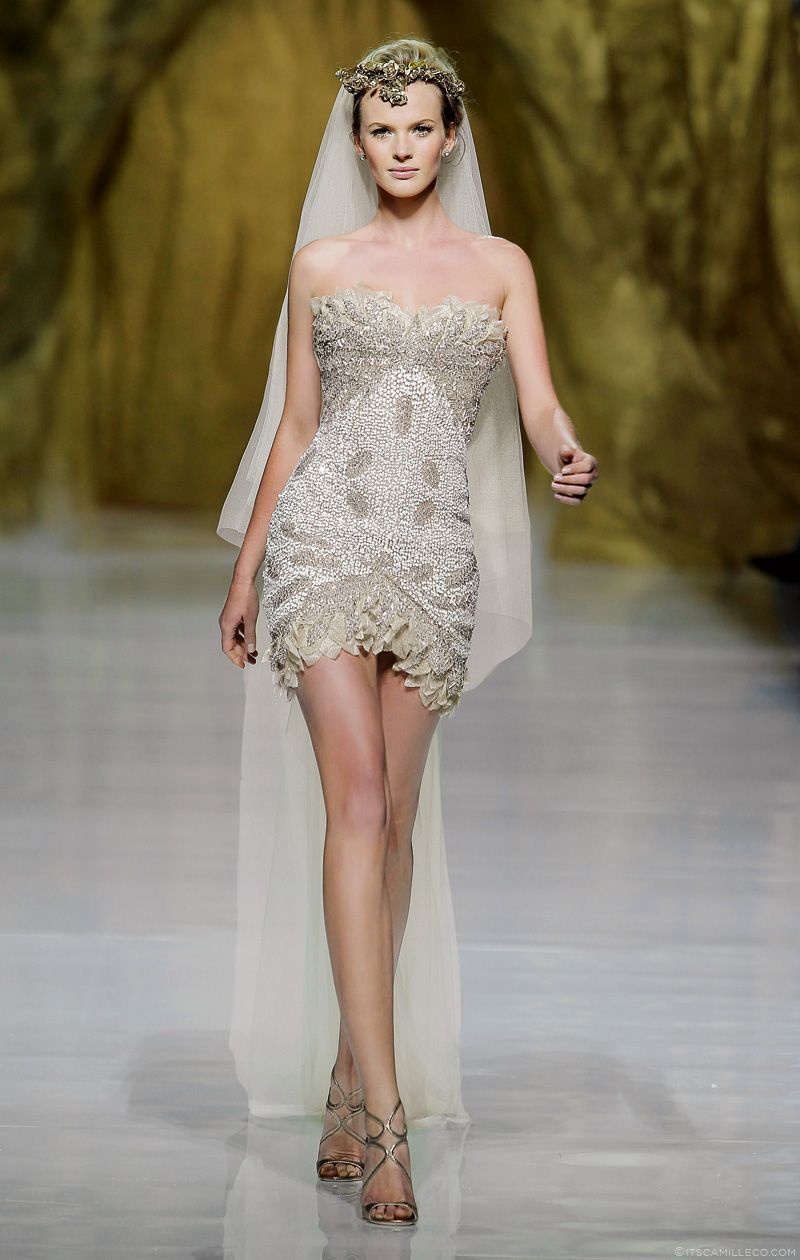 For the young brides who hate the fuss that comes with long gowns, why not don a short dress like this? Look at the beadwork!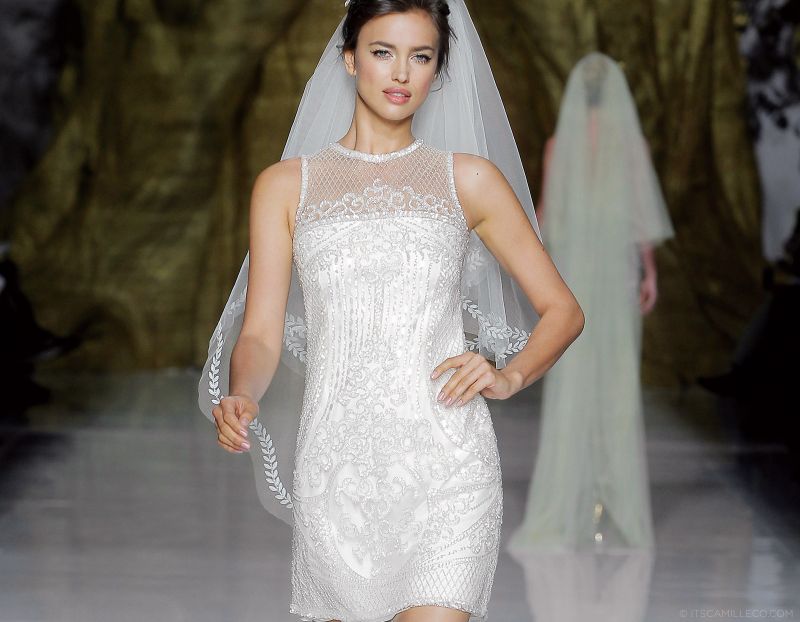 If you want something a little more classic, this little number is for you.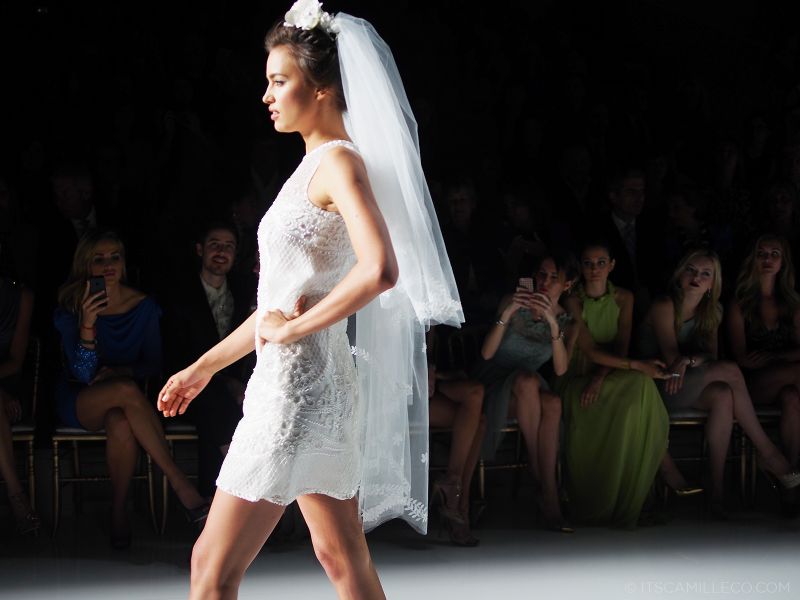 You'll still every bit of a blushing bride in this little white dress.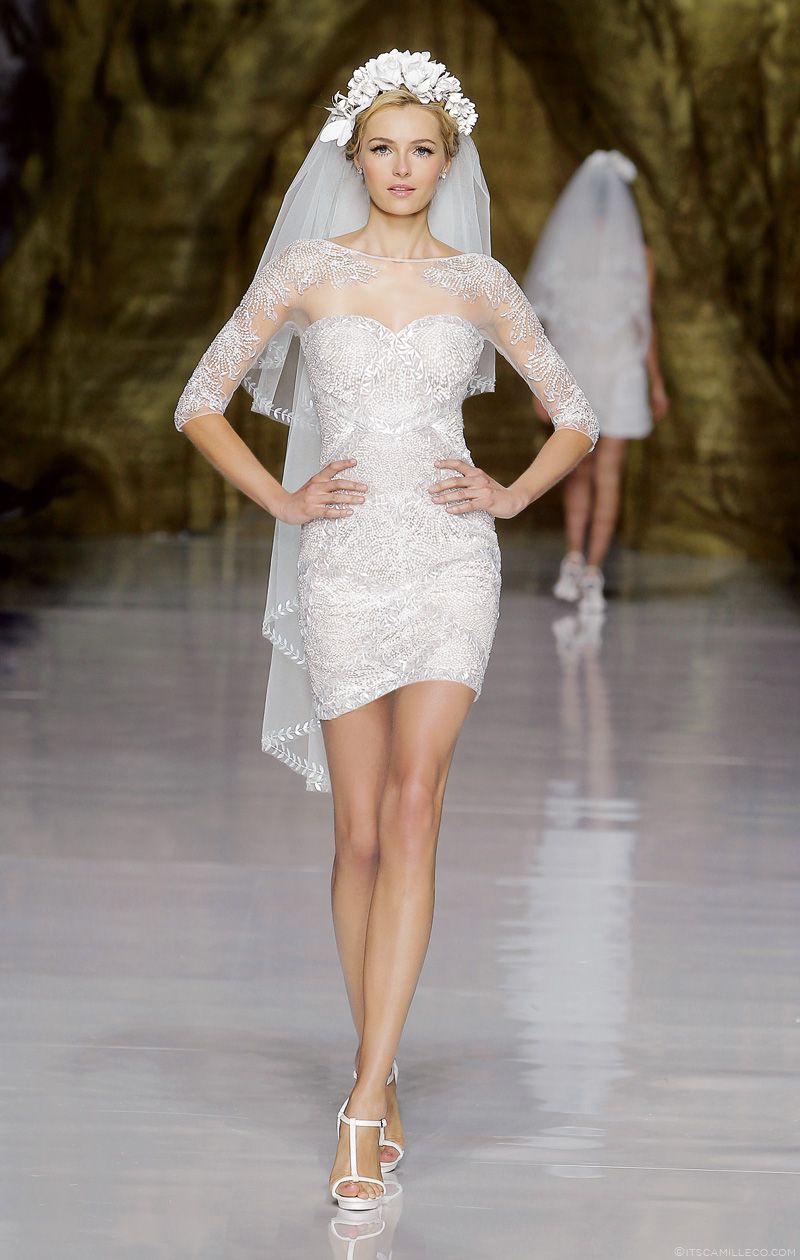 You've seen a special sneak peek of this already when I posted about my backstage experience the other day. Isn't it even more beautiful on the runway?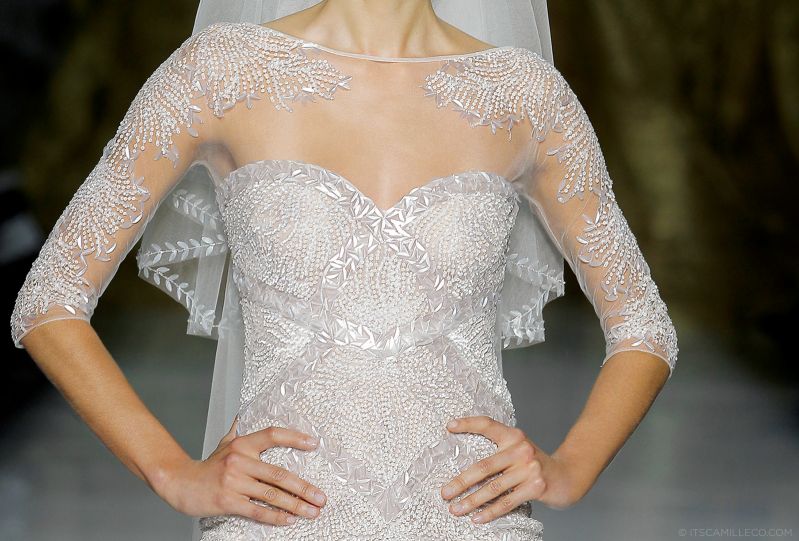 The gems on this dress are heavenly. They deserve a closeup!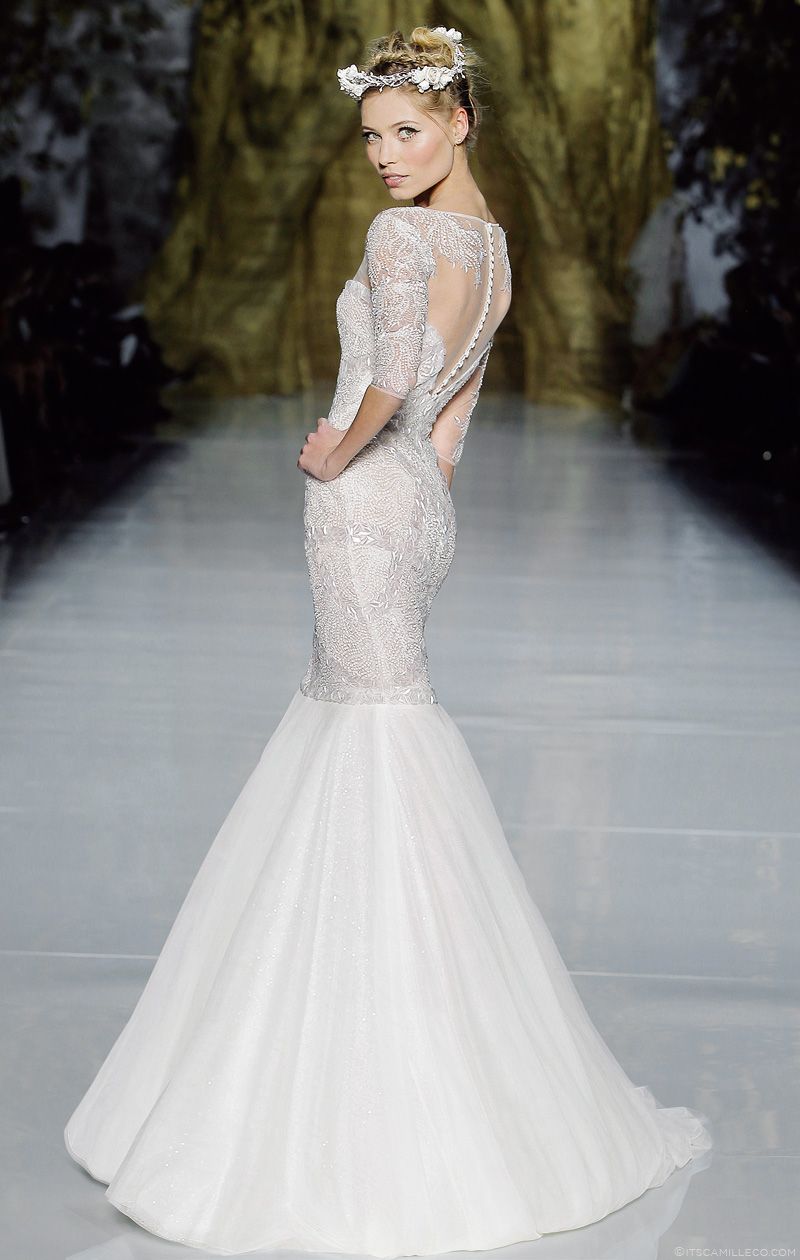 Not sold on a short wedding dress? Here's the long version of the previous dress. I wonder if it's detachable and turns into a short dress like the previous one. That would be so convenient at wedding receptions!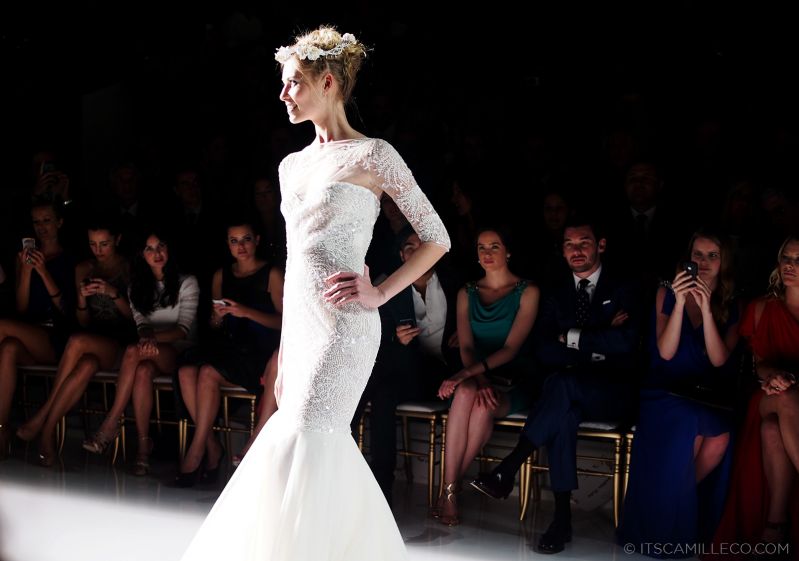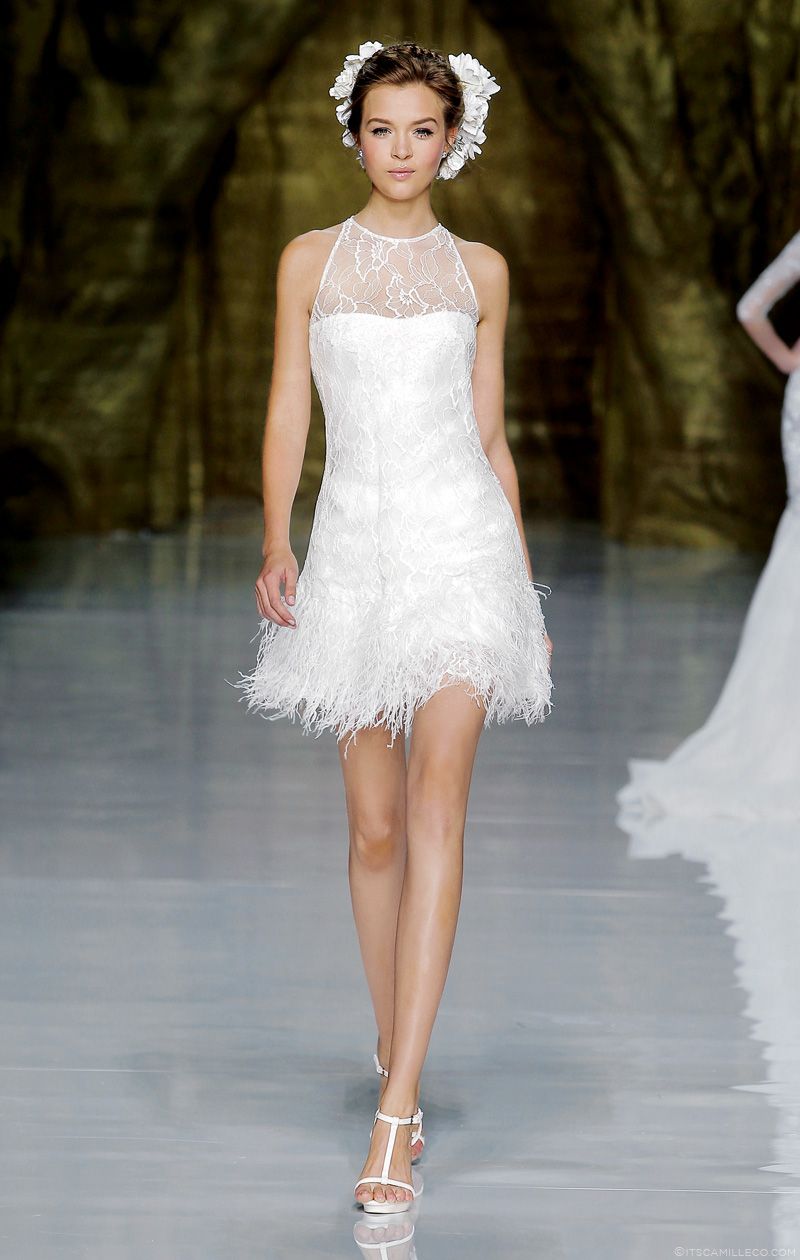 For young brides who want to look fresh and carefree. No fancy beadwork–just a simple dress adorned with feathers at its hem.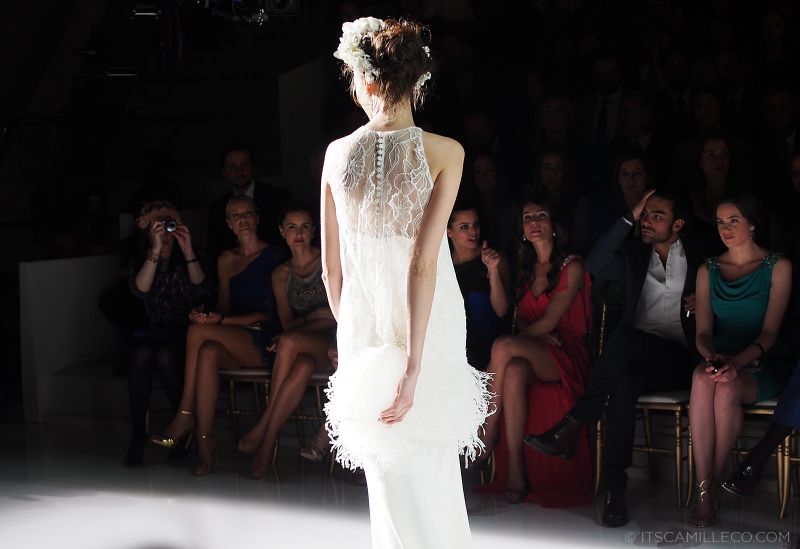 It has a long version as well.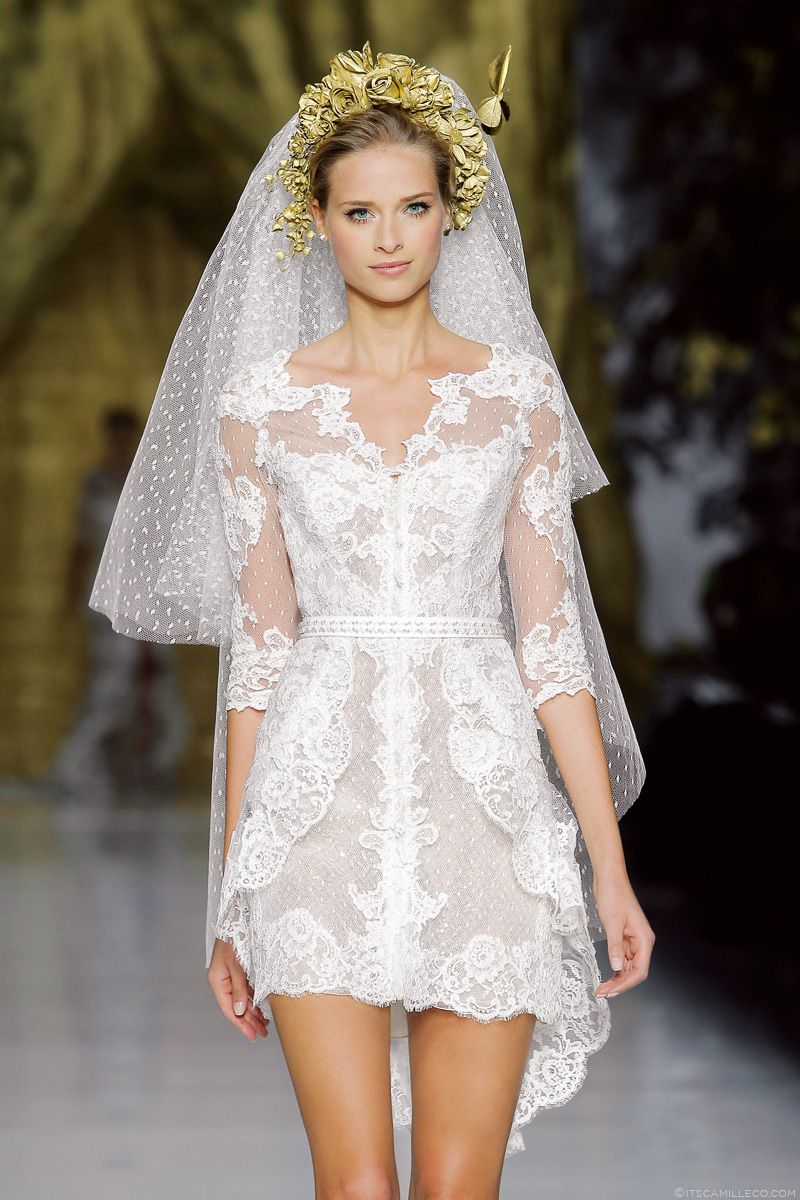 There's something so charming about this lace dress.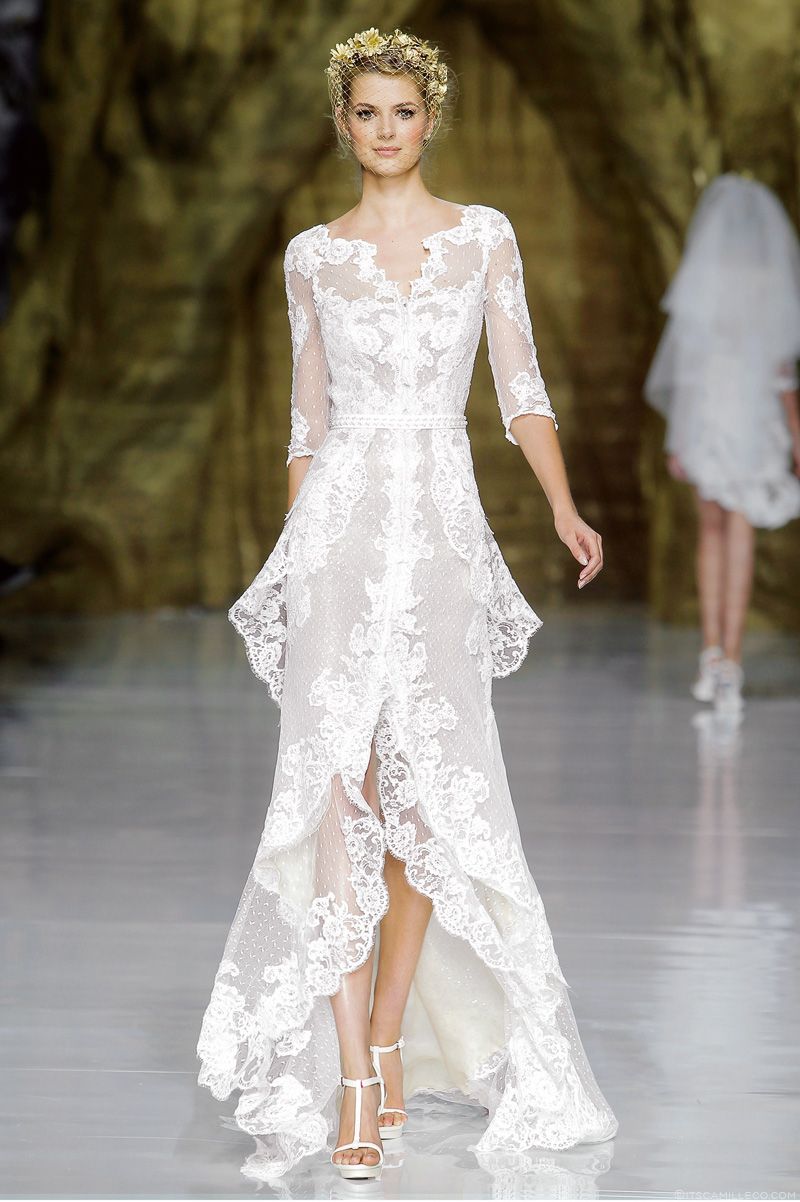 The long version is even better! I love the layers of this gown and how it opens up in the middle to show some leg.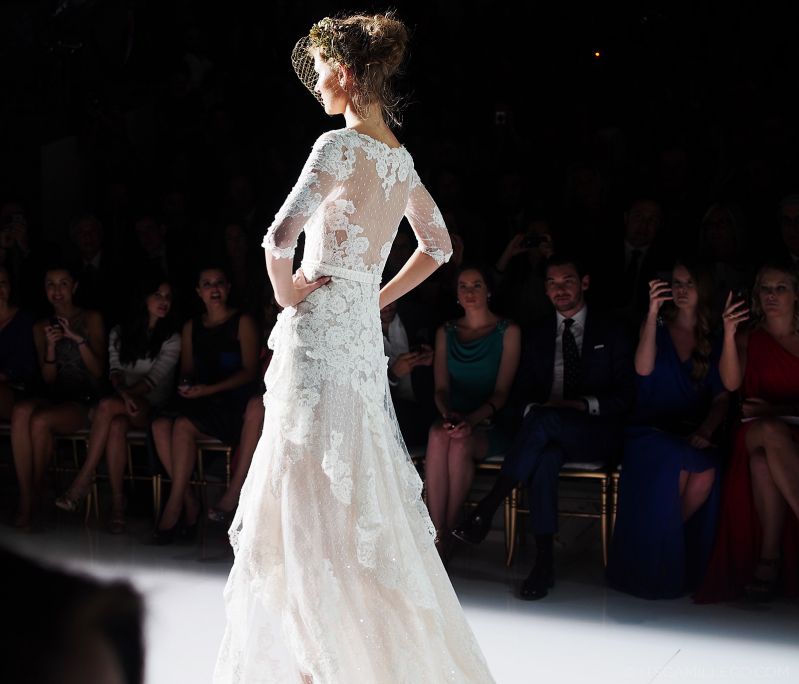 It's got a sexy but sophisticated back as well. Most of Pronovias' wedding gowns are like this, which is great because every bride needs that perfect walking-away-while-looking-back shot. Plus, brides have their backs to their guests during most of the church ceremony so you need a back that would wow.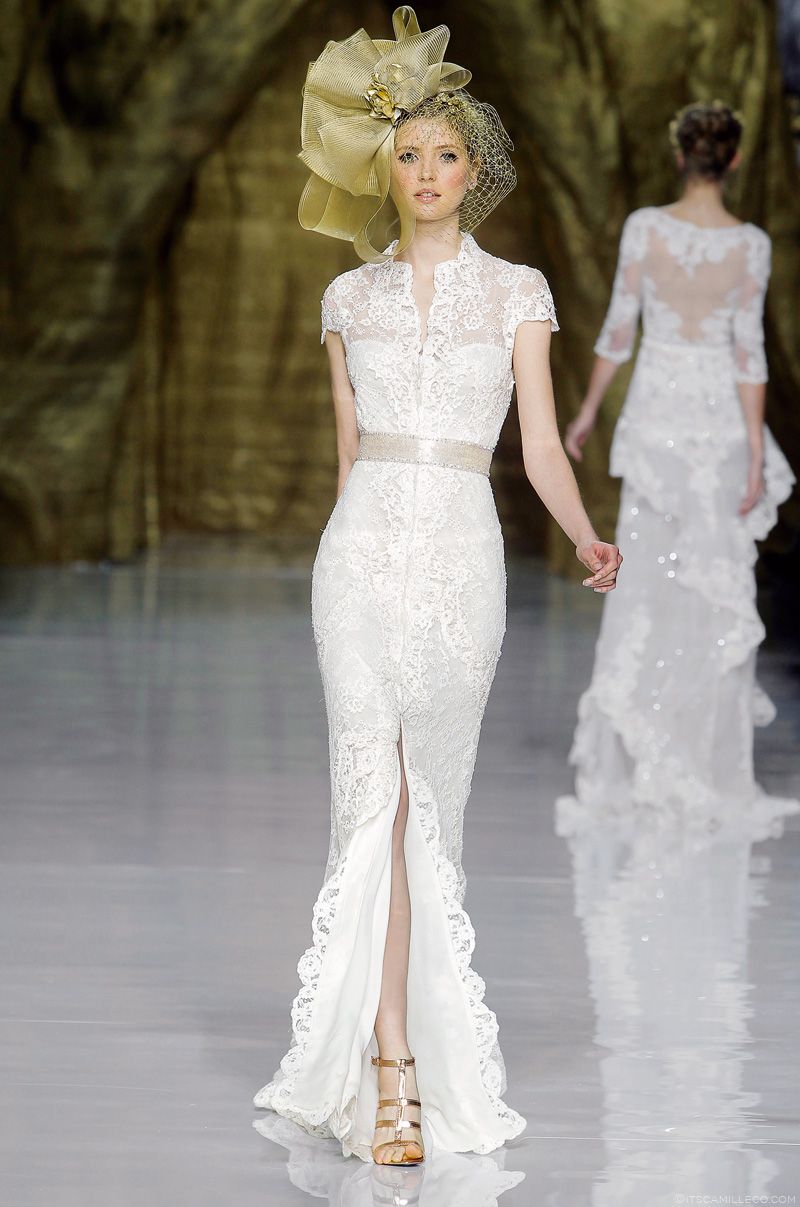 I'm really starting to love the center slit more and more.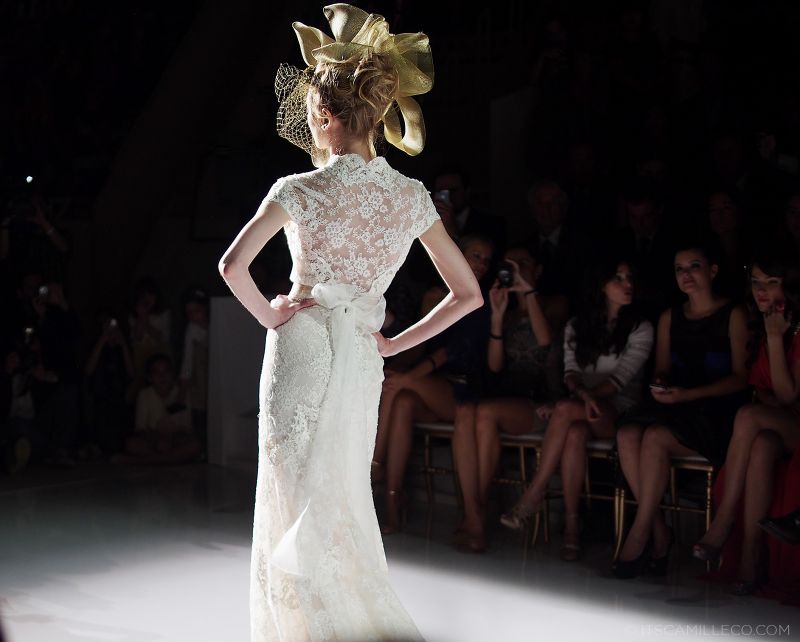 That cute little bow at the back–so me!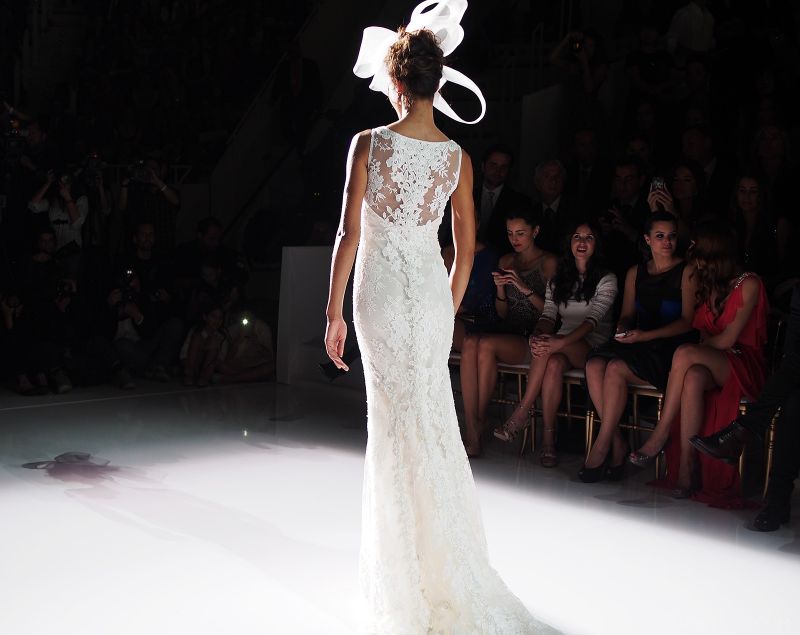 I just can't help but take photos of the back of these dresses. I can not emphasize enough how important this detail is!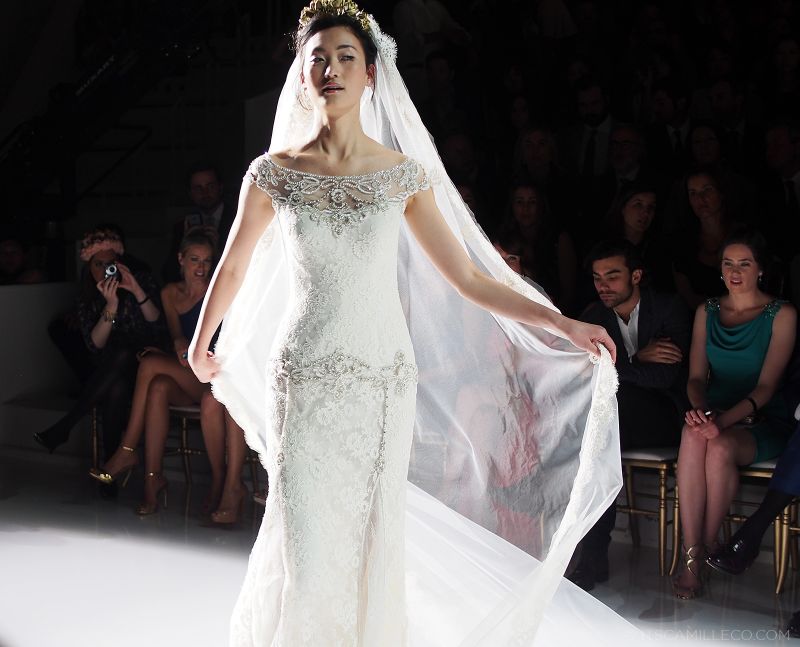 Got a long neck? Go for this neckline!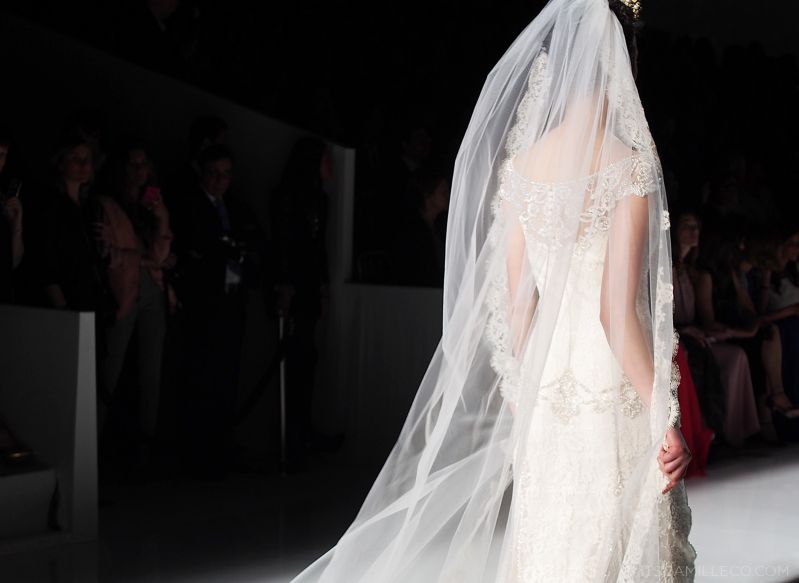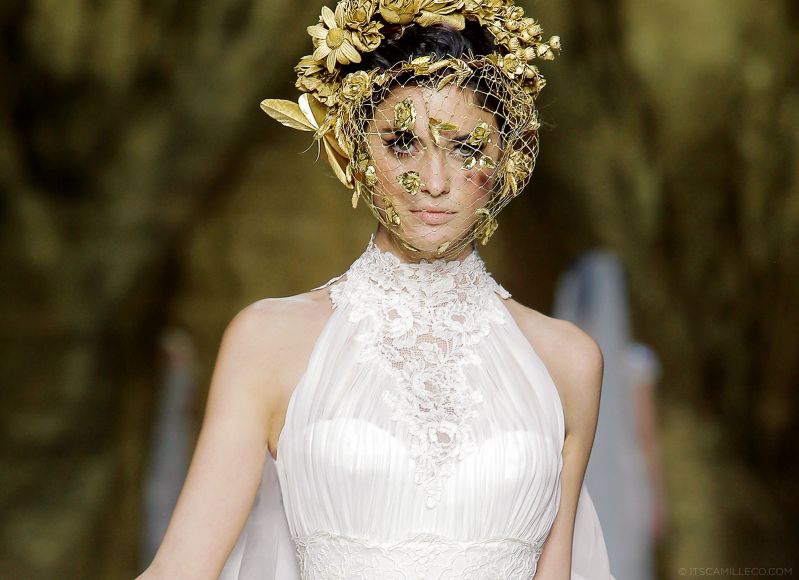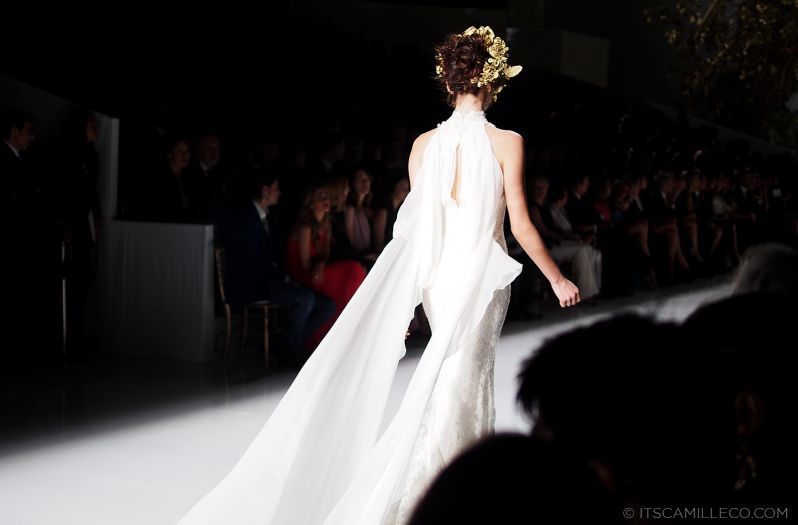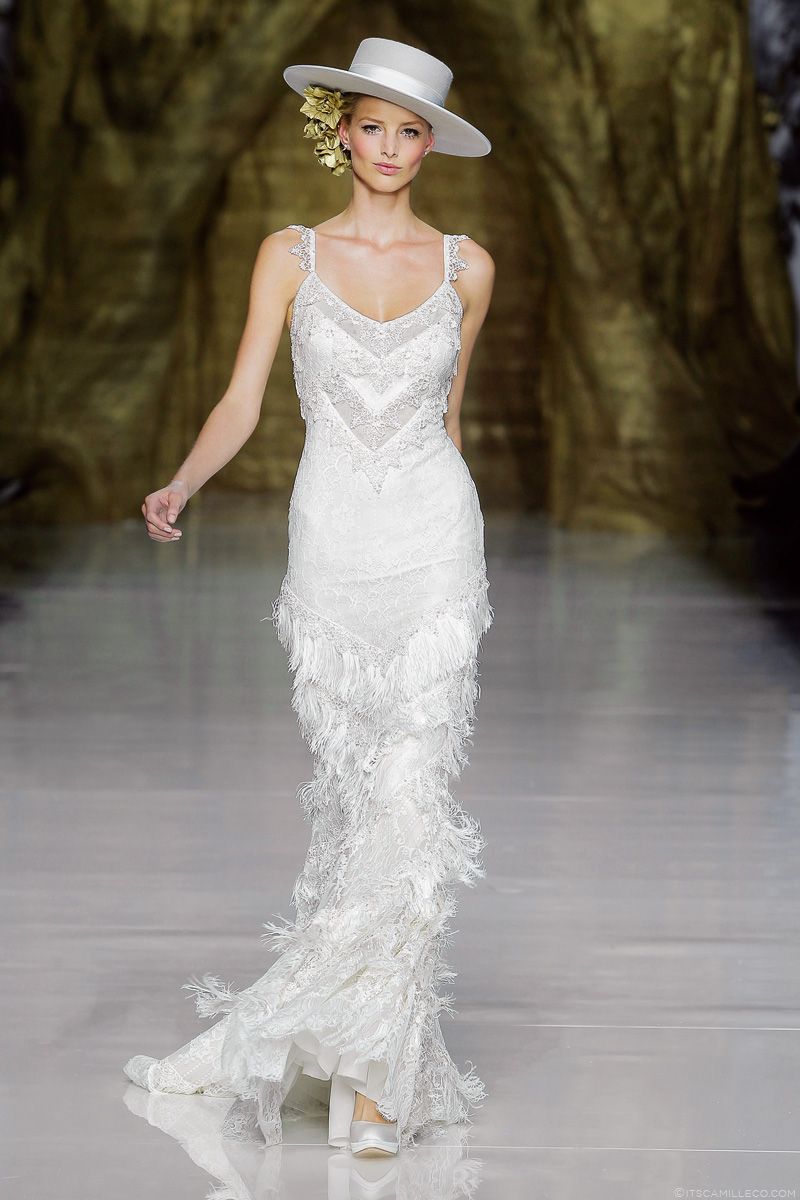 Love 20s flapper? Take a look at this fringe wedding gown. It's definitely different from the usual gowns that I've seen.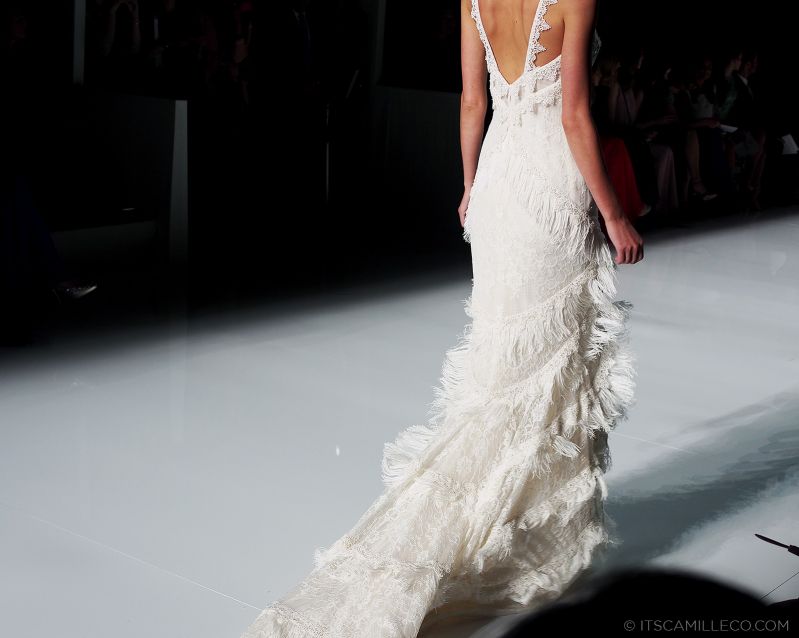 Fringe can easily look tacky and overdone. But this is all checks in my book!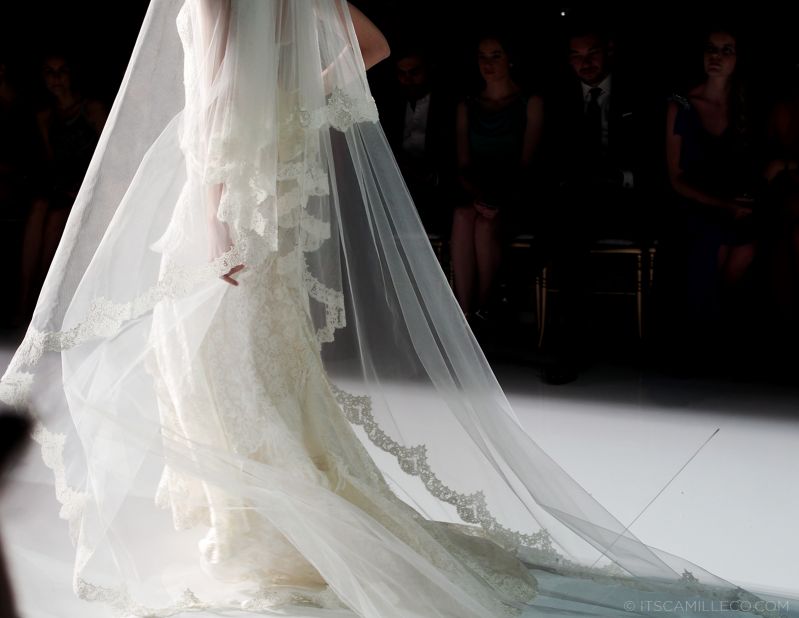 Lace-trimmed veil = LOVE!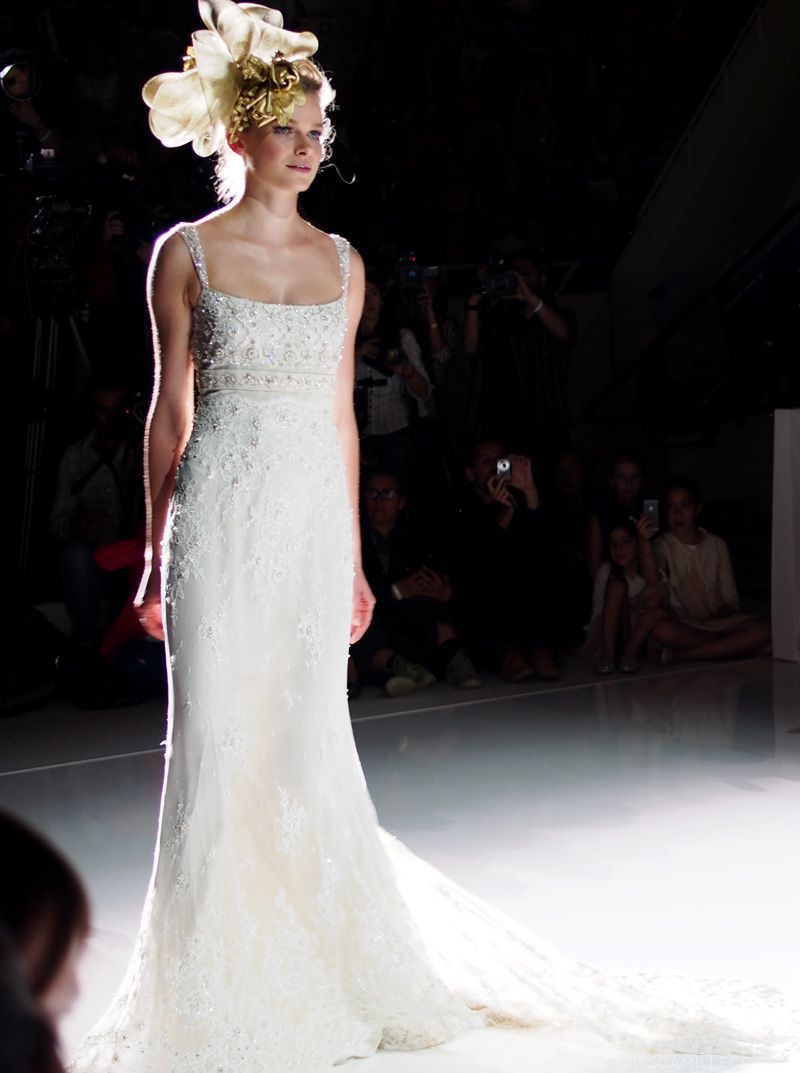 I hope you see the beauty in simple wedding gowns like this. Take a look at the photo of its back below too. You'll see its details more clearly.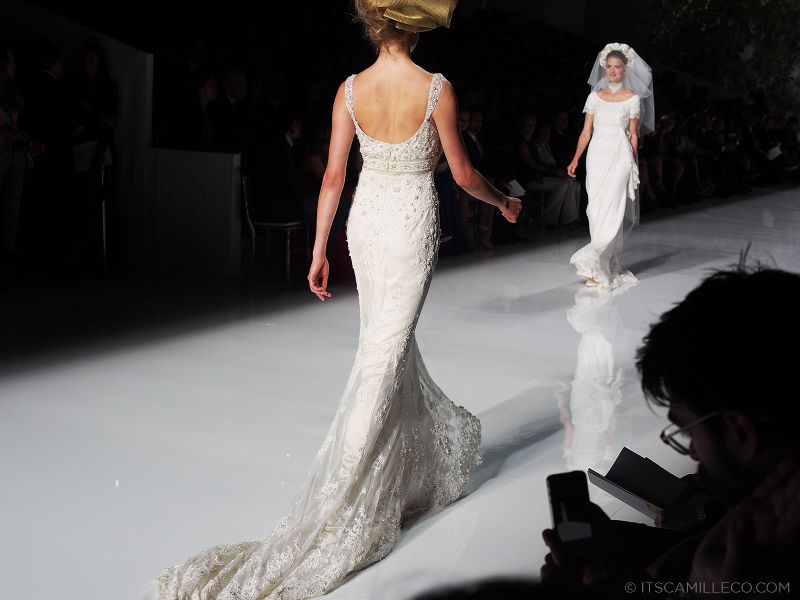 Isn't it lovely? It's the perfect gown for blushing brides. Unlike those big, poofy wedding gowns, this one won't over power the bride. It looks so natural–so effortlessly chic.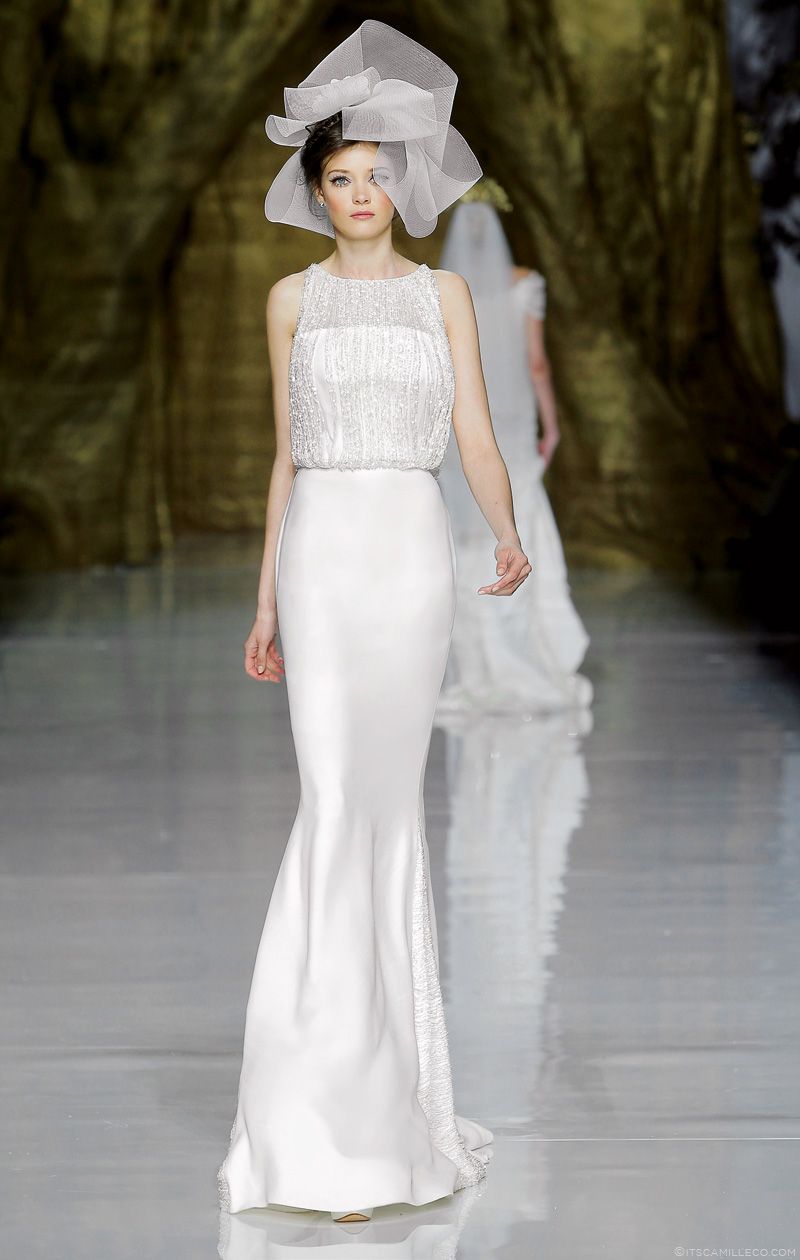 I've said this already in my previous post but I'll say it again–one of my ultimate favorites! Simple and classy. The strings of beads on the torso and skirt are so subtle but I just can't help but stare.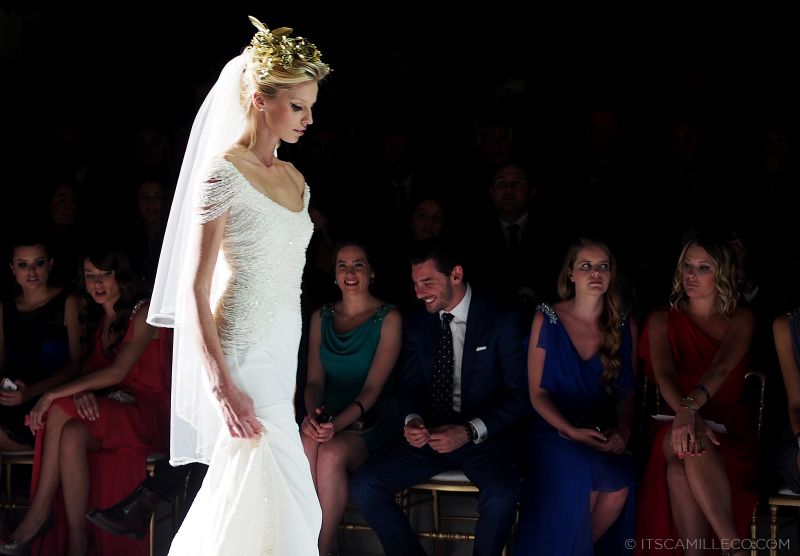 More strings of beads!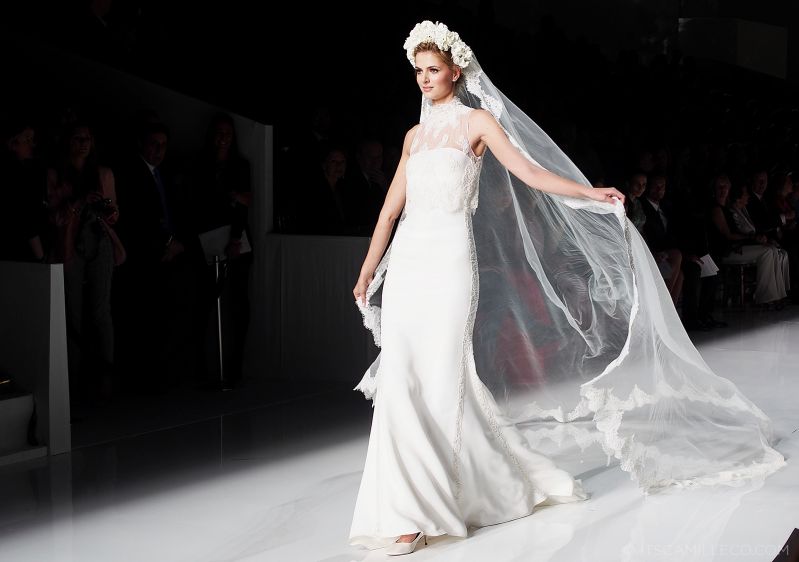 Some skin showing through the lace on the sides of the skirt–subtly sexy.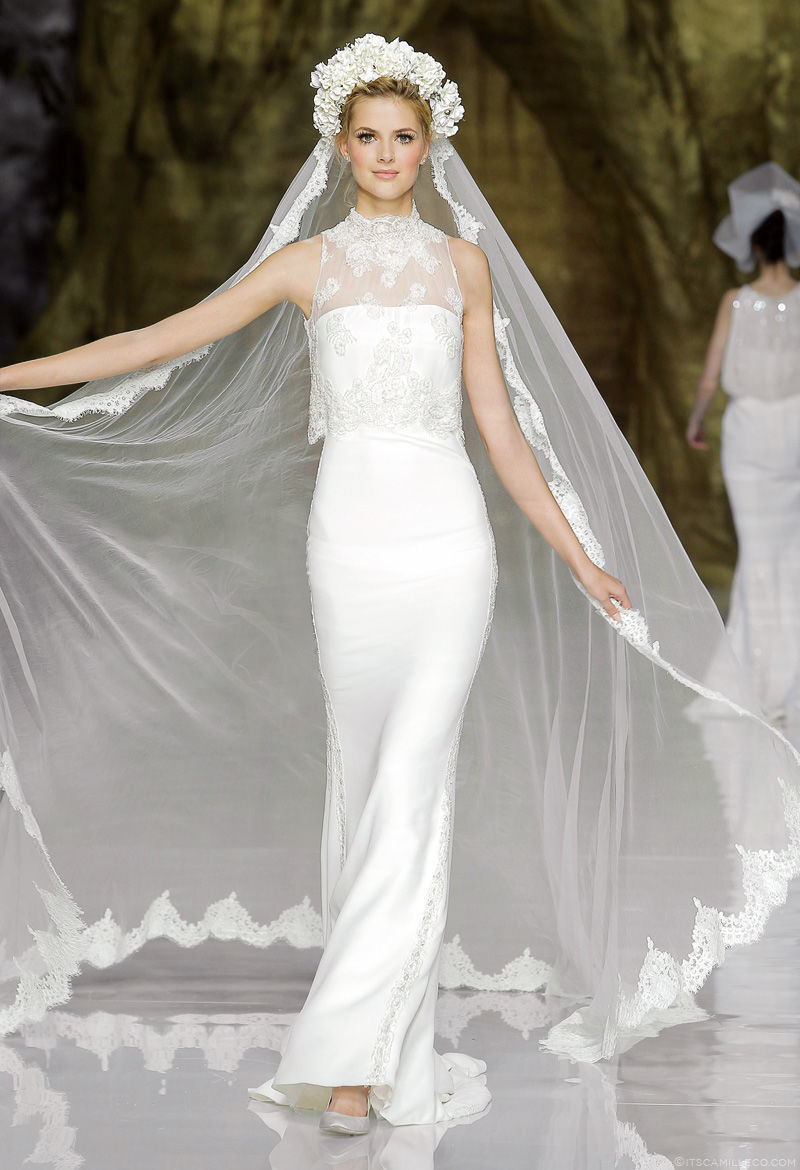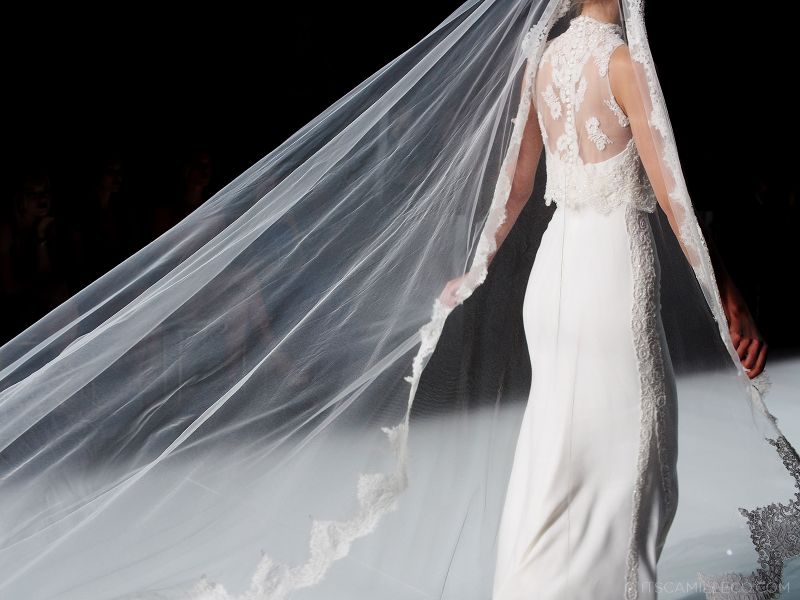 You thought it's just lace, right? Those little beads on top of the lace were placed strategically to highlight the beauty of it all.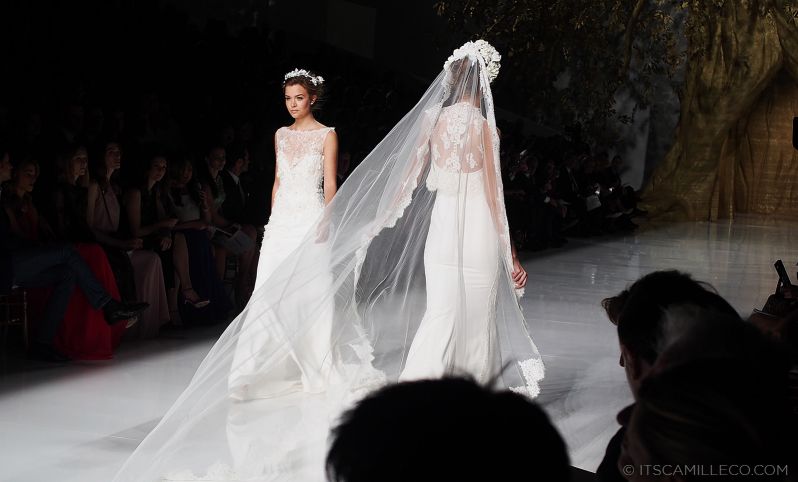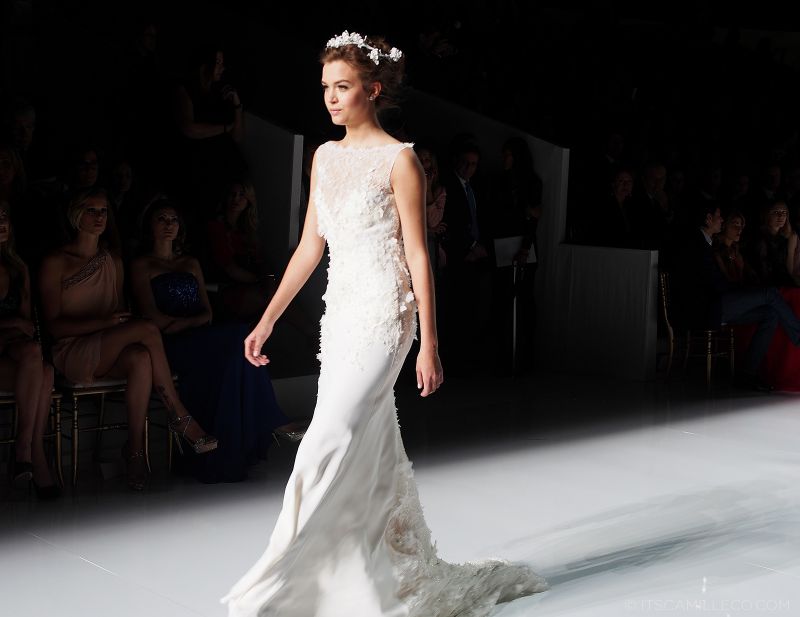 You can't deny that this is a true Elie Saab piece of art.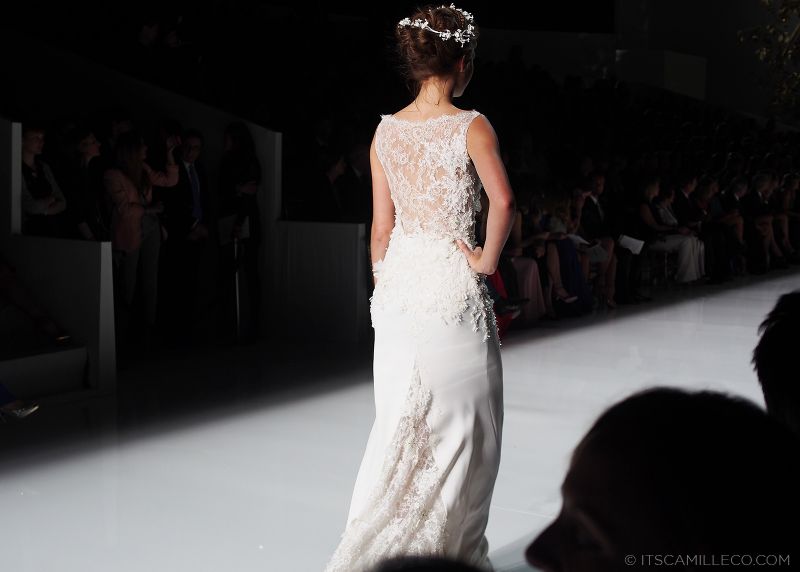 The textures and three-dimensional effect these petals give add so much to the gown's overall beauty.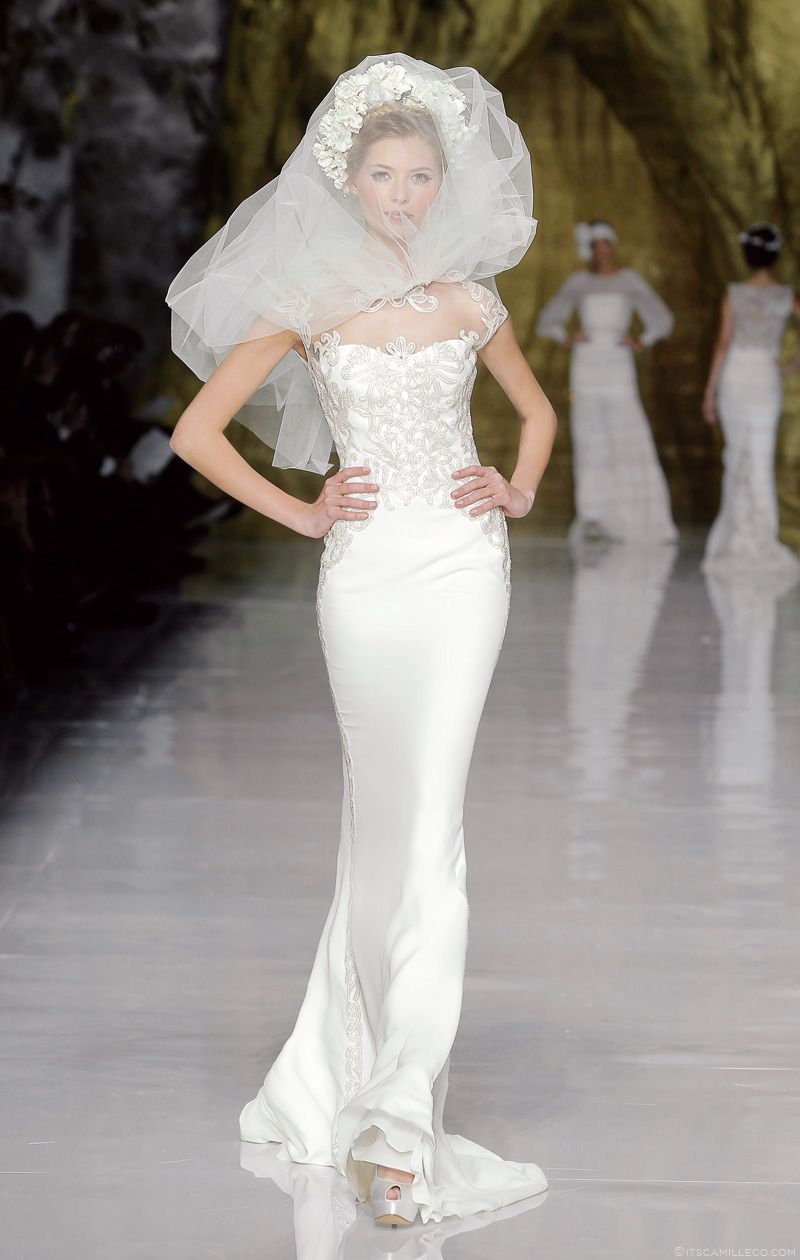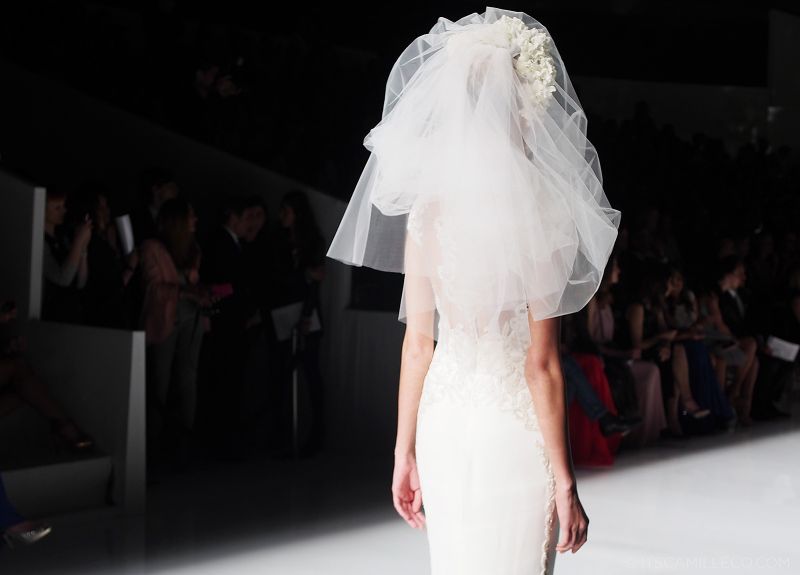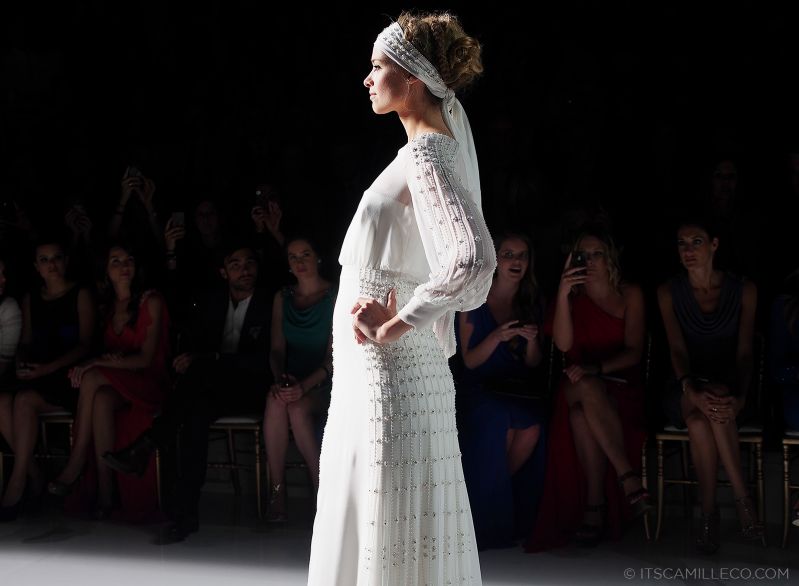 Not into showing too much skin? Perhaps you want something a little bit boho-inspired? Here's something for the free-spirited ladies.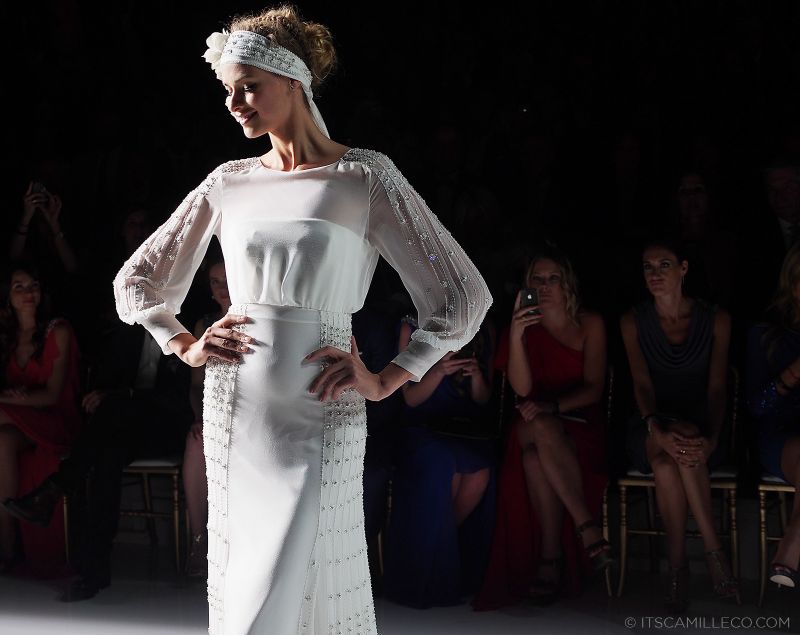 Love the matching headband too!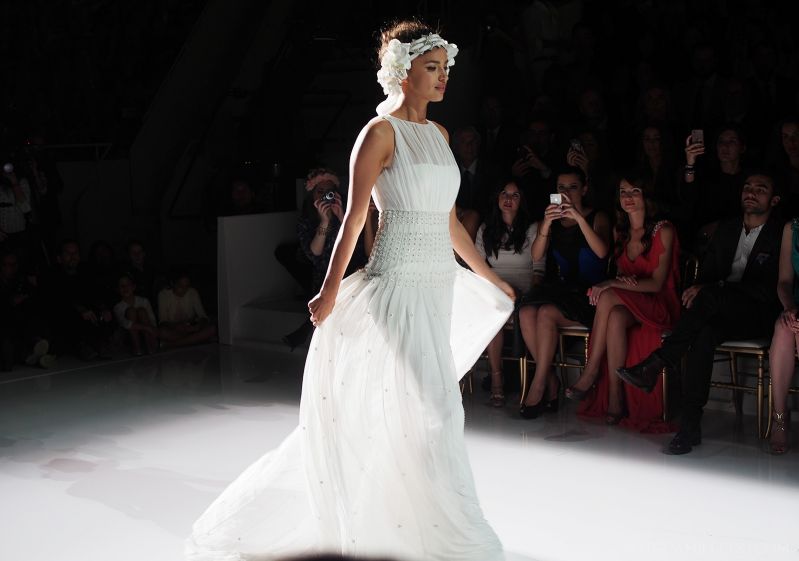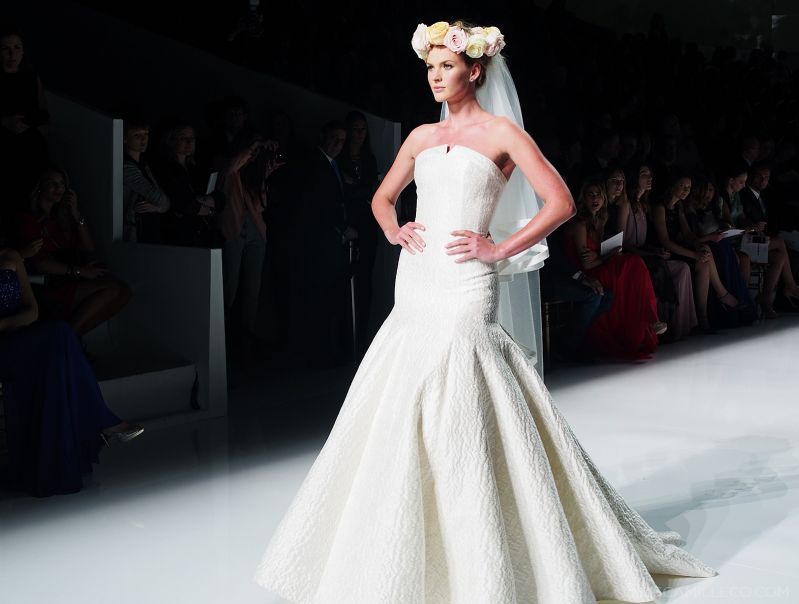 For some weird reason, this gown reminds me of a cake. LOL! Or maybe I'm just hungry.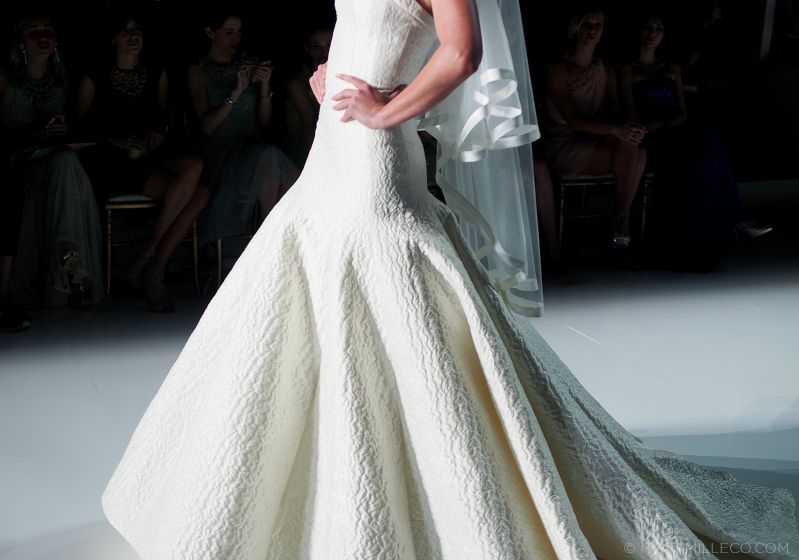 It's all about the fabric.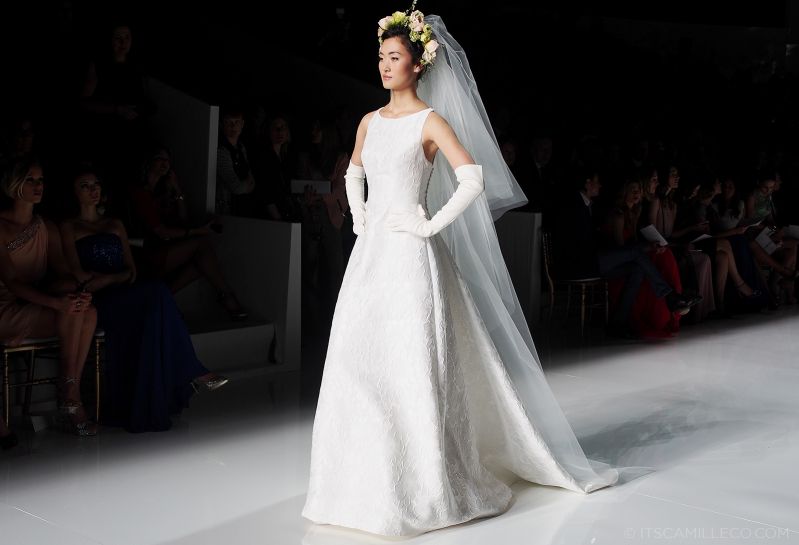 I can totally see Audrey Hepburn in this wedding gown. Elegant!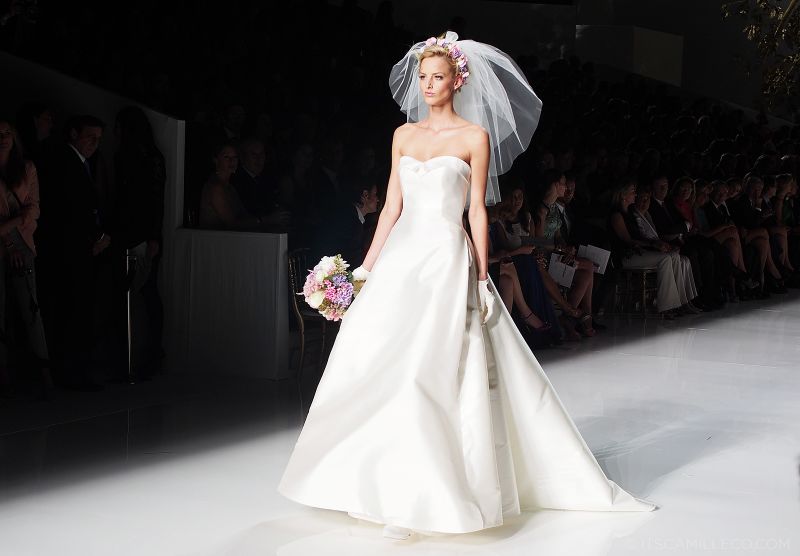 The classic wedding gown–clean and crisp.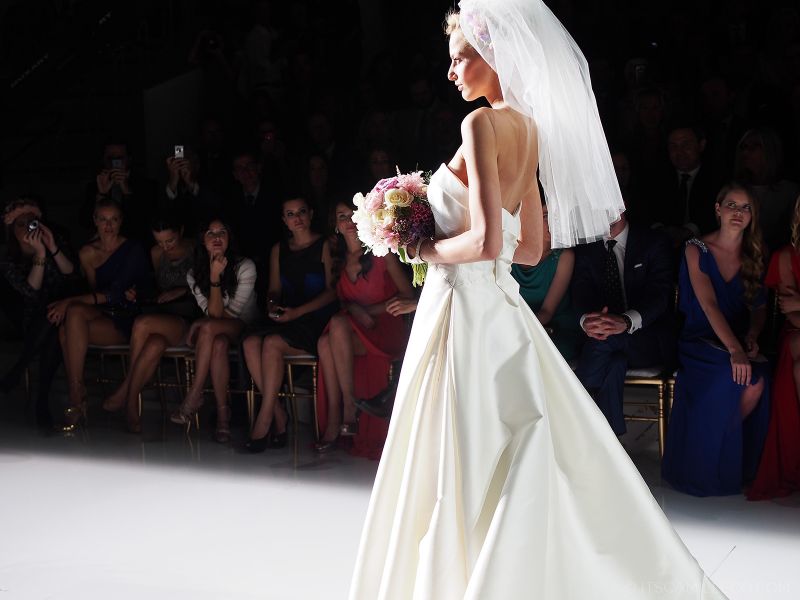 The little detail on the back caught my eye.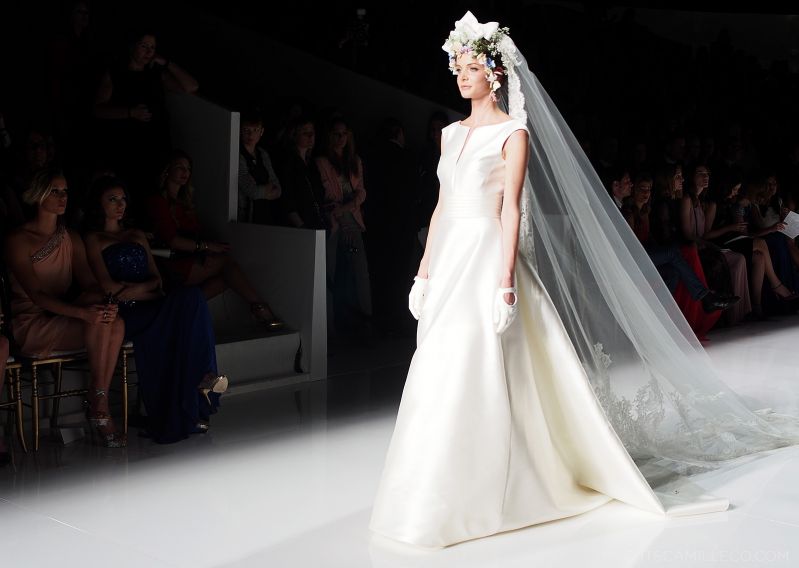 Something for the Jackie O's of the world.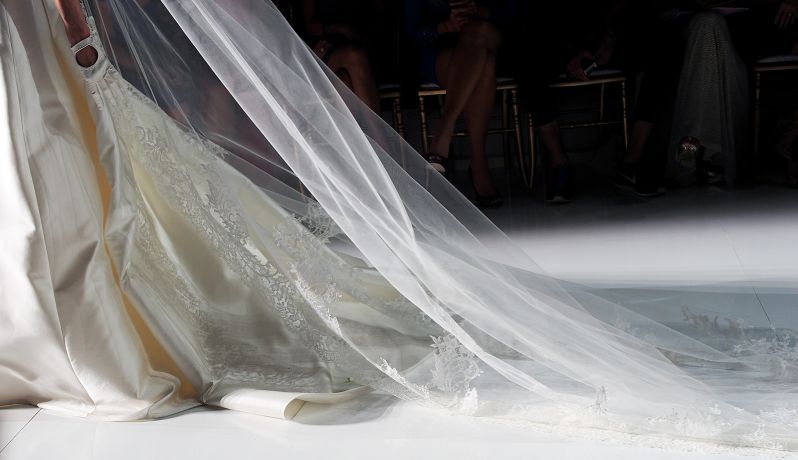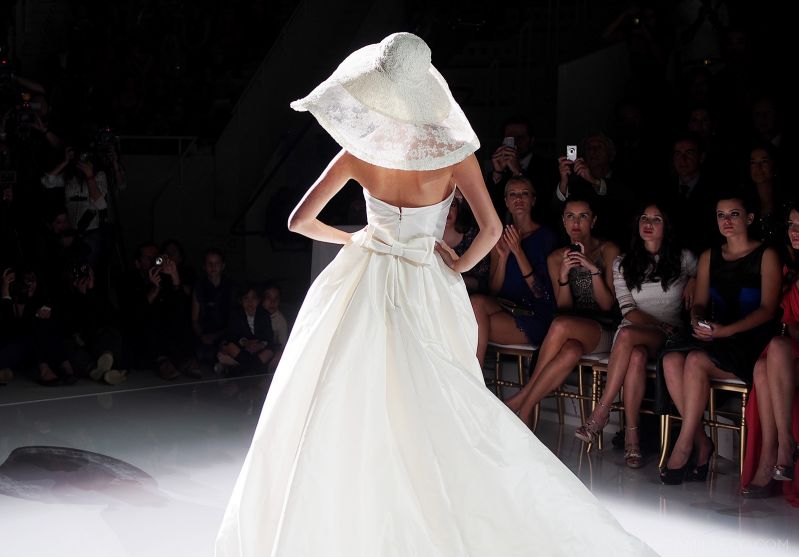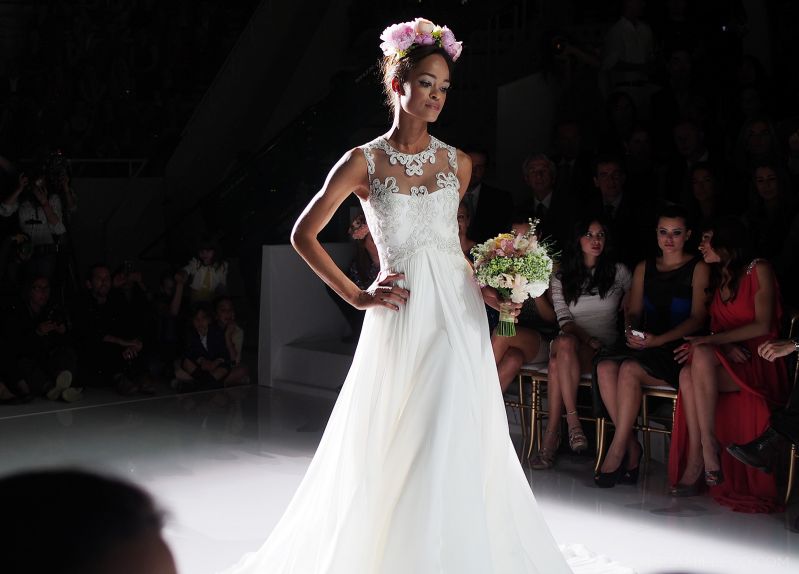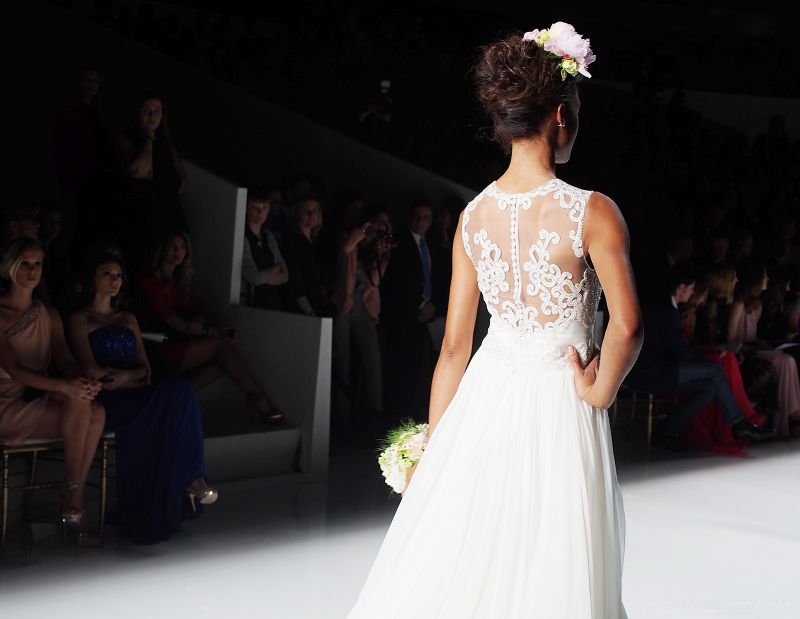 I love this dress as well. The sleeves won me over.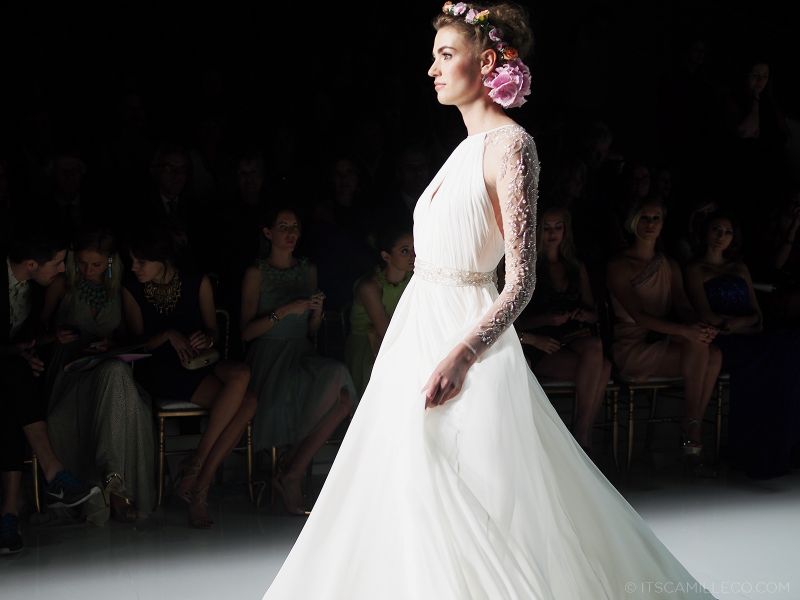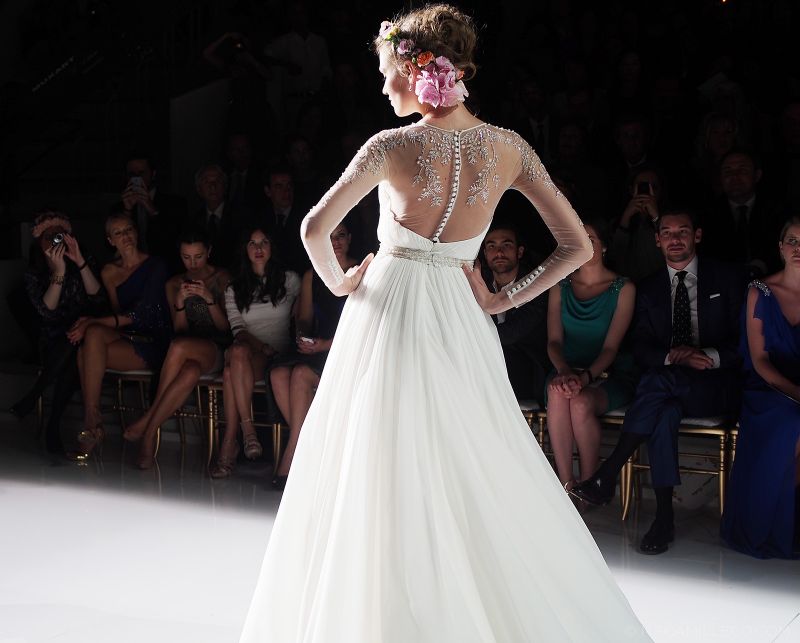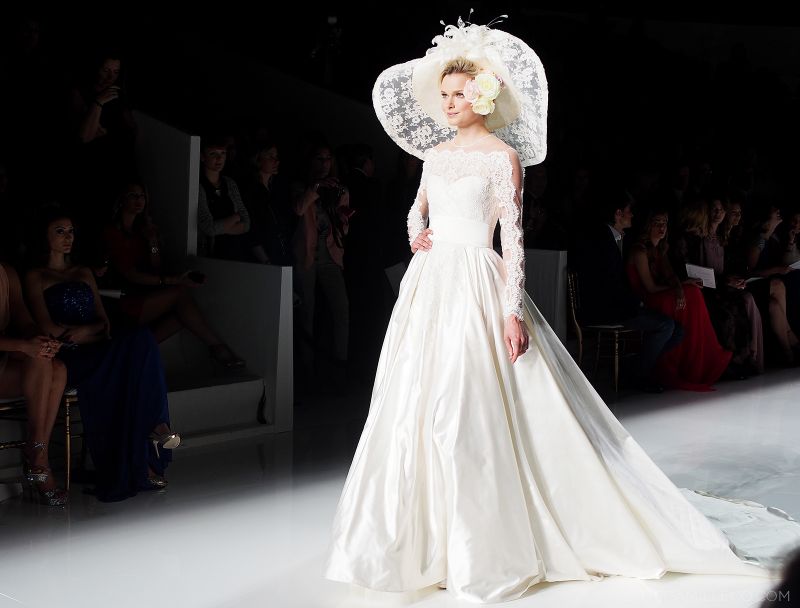 In love with vintage styles? Then I'm sure you'll love this!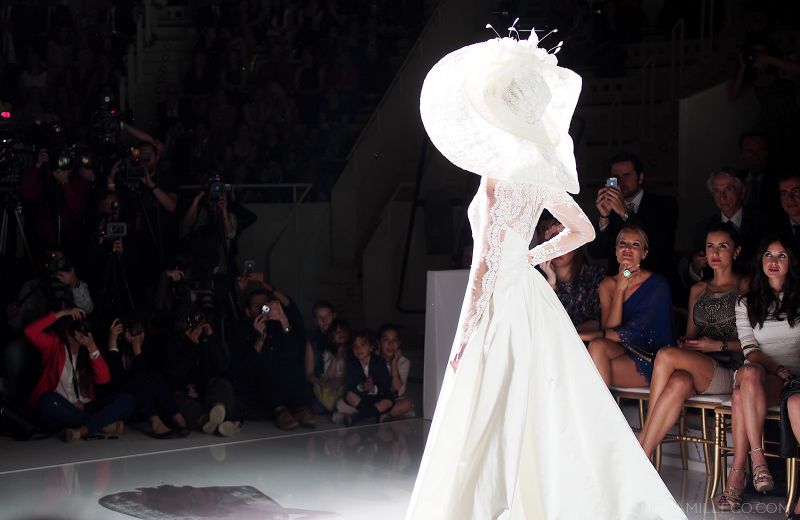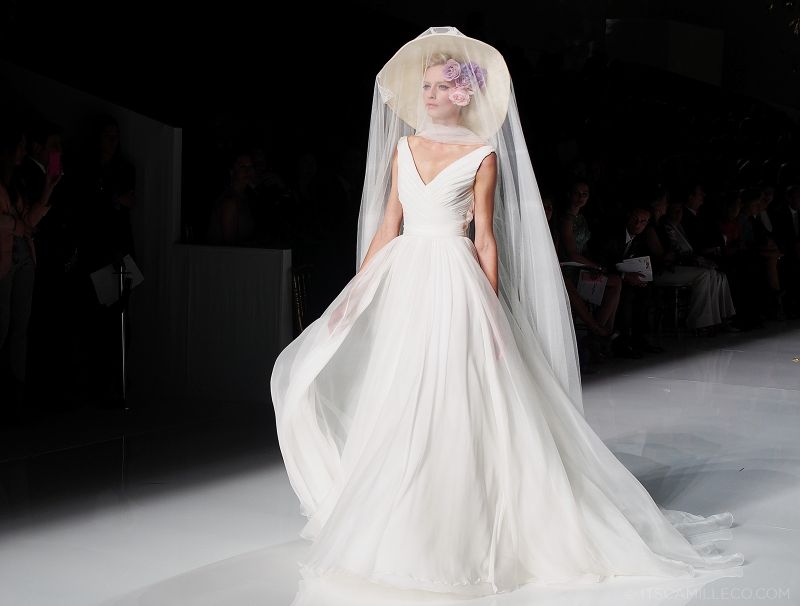 No beadwork nor lace but this gown is still able to take my breath away.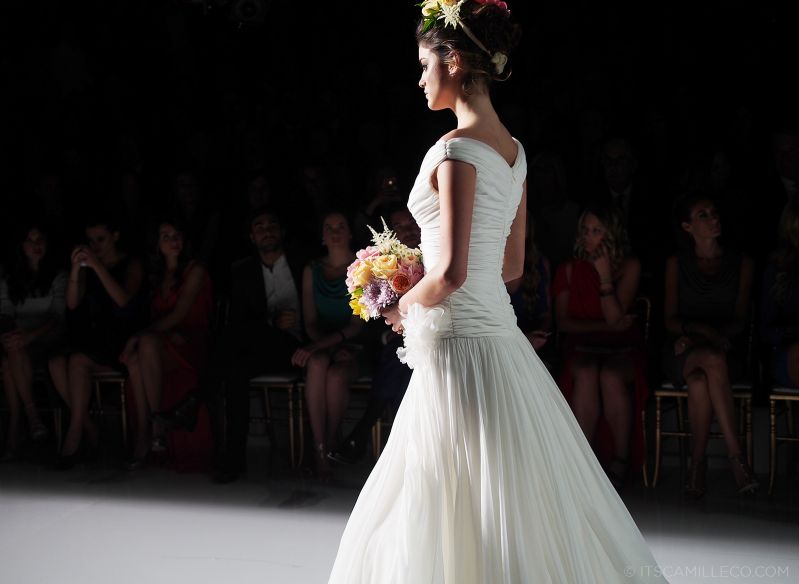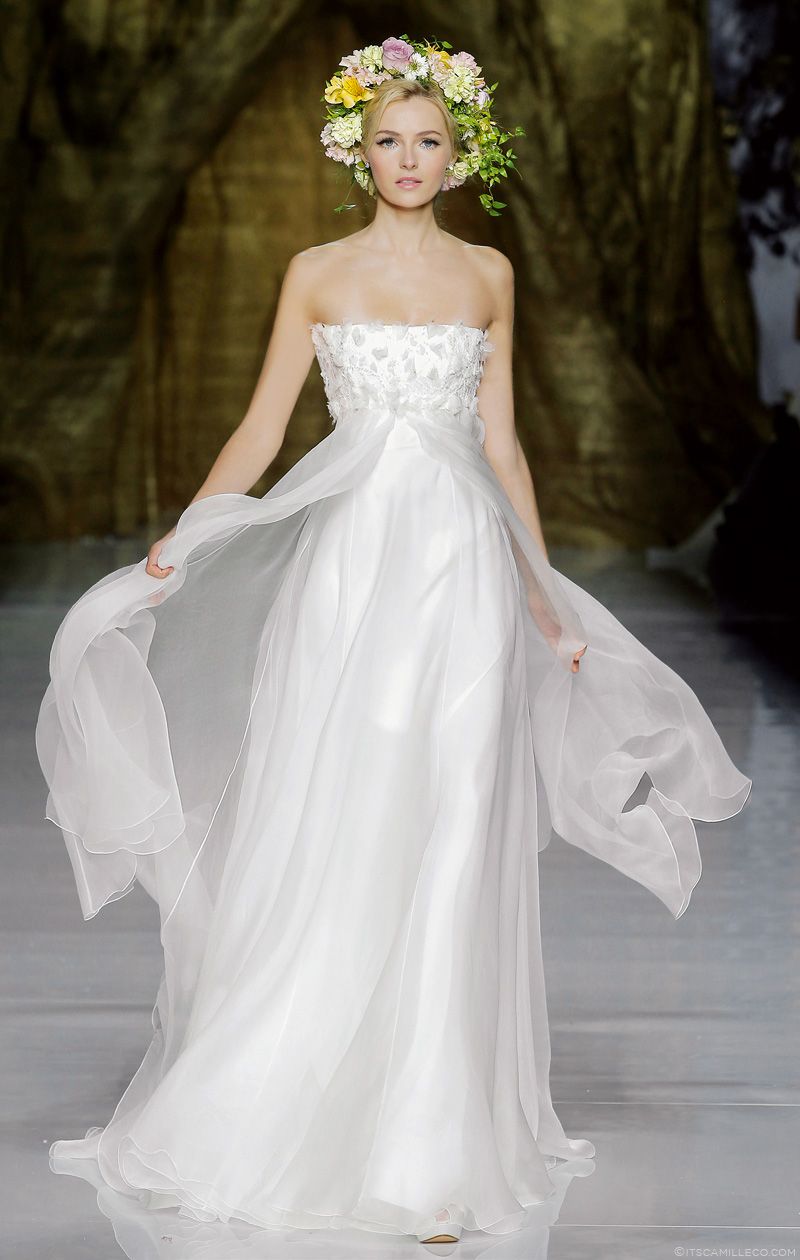 The garden wedding kind of bride.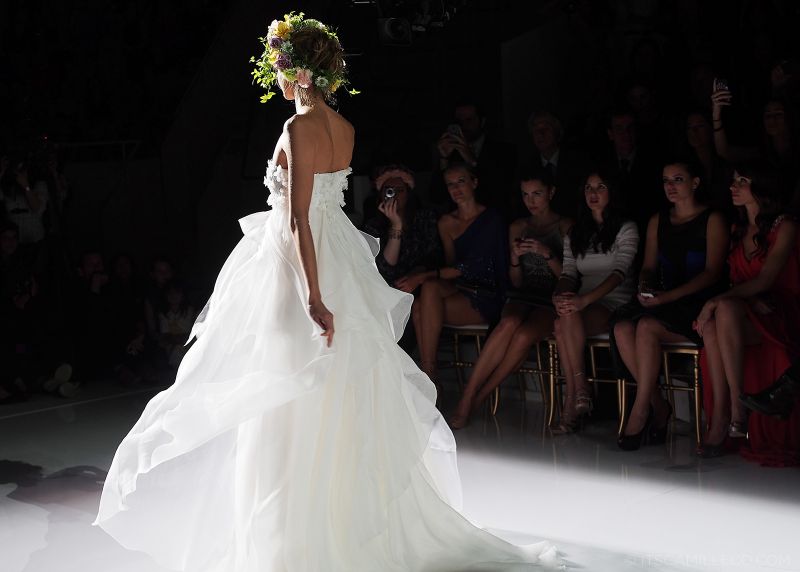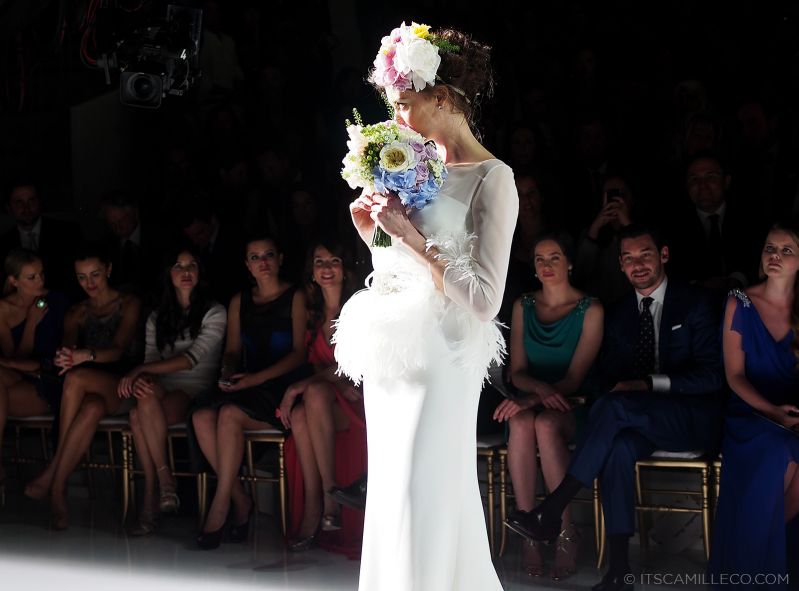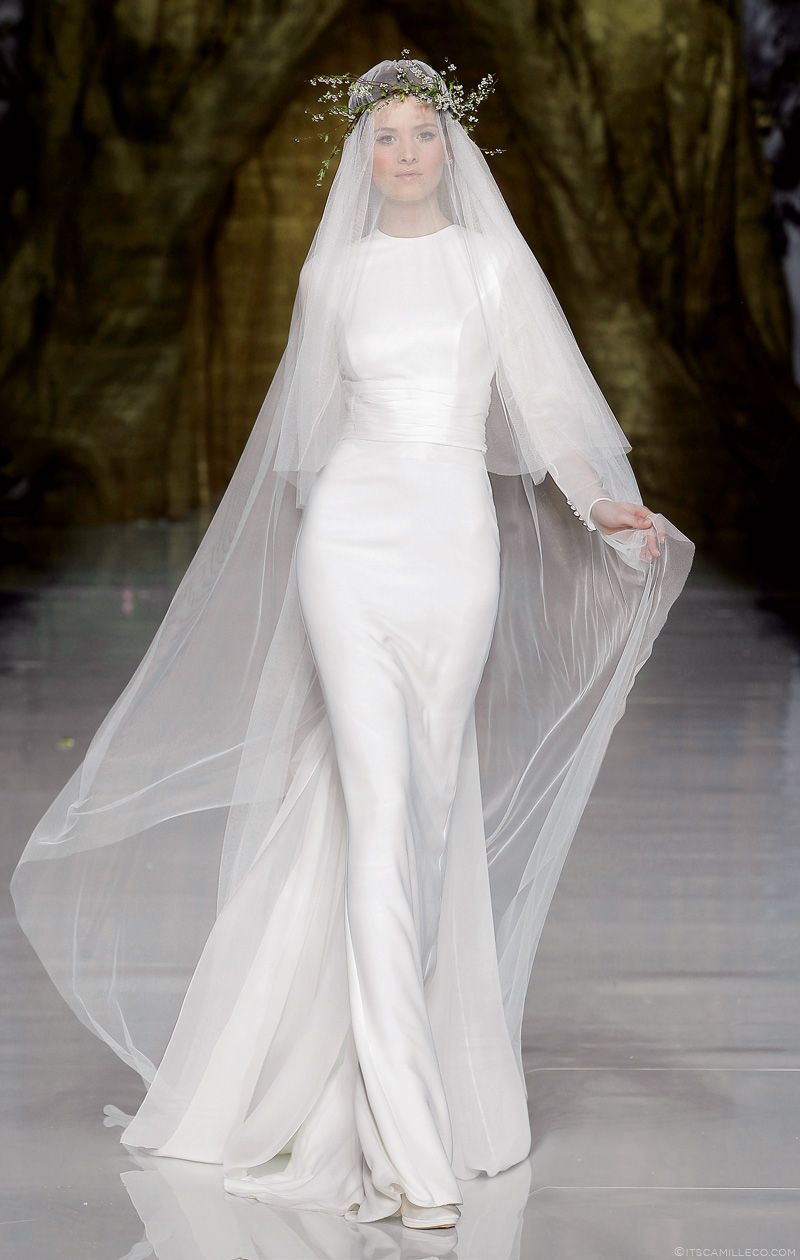 Sleek and minimalist.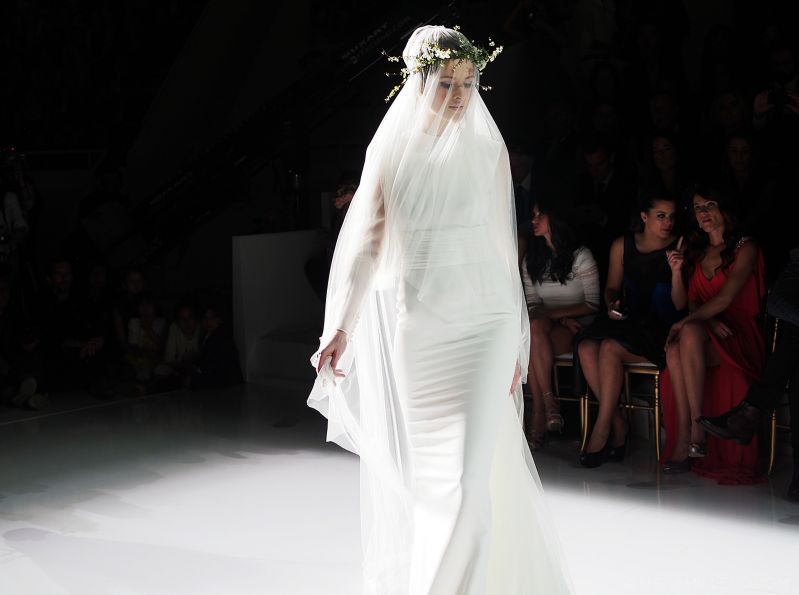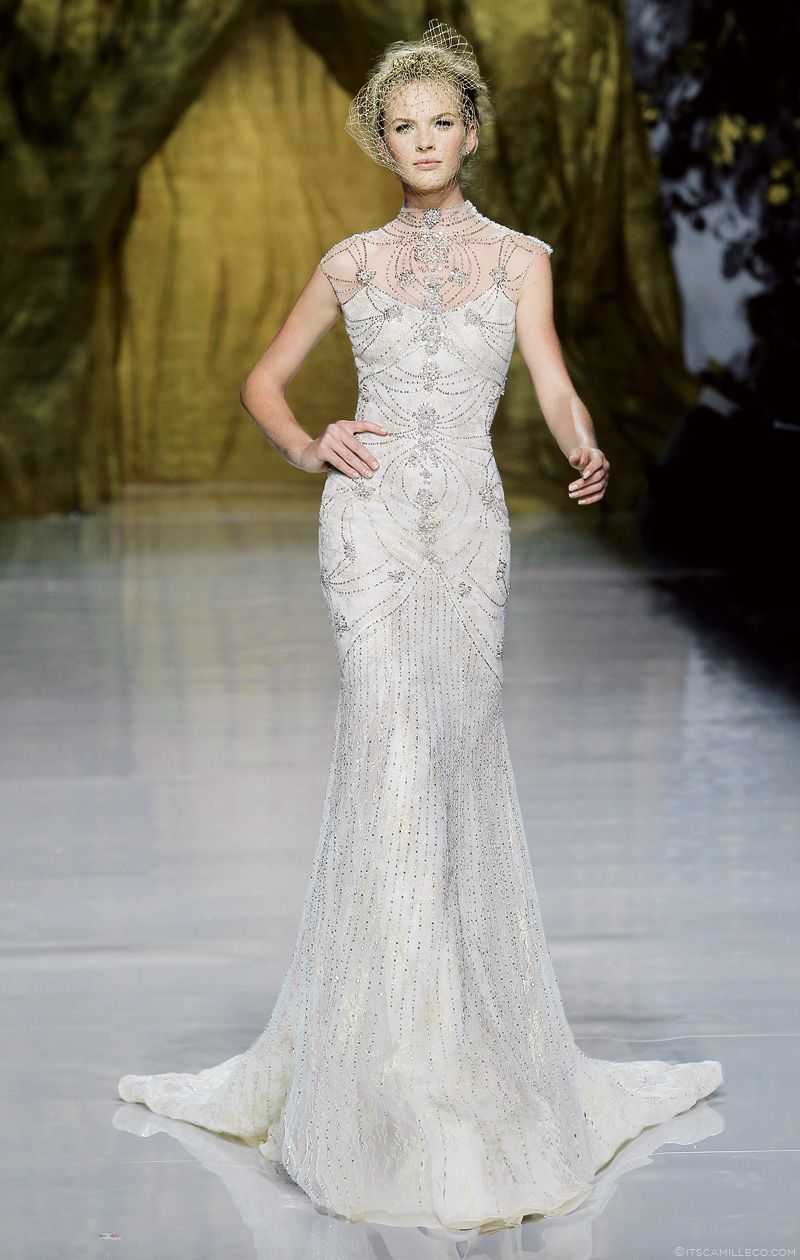 This one's a sure hit.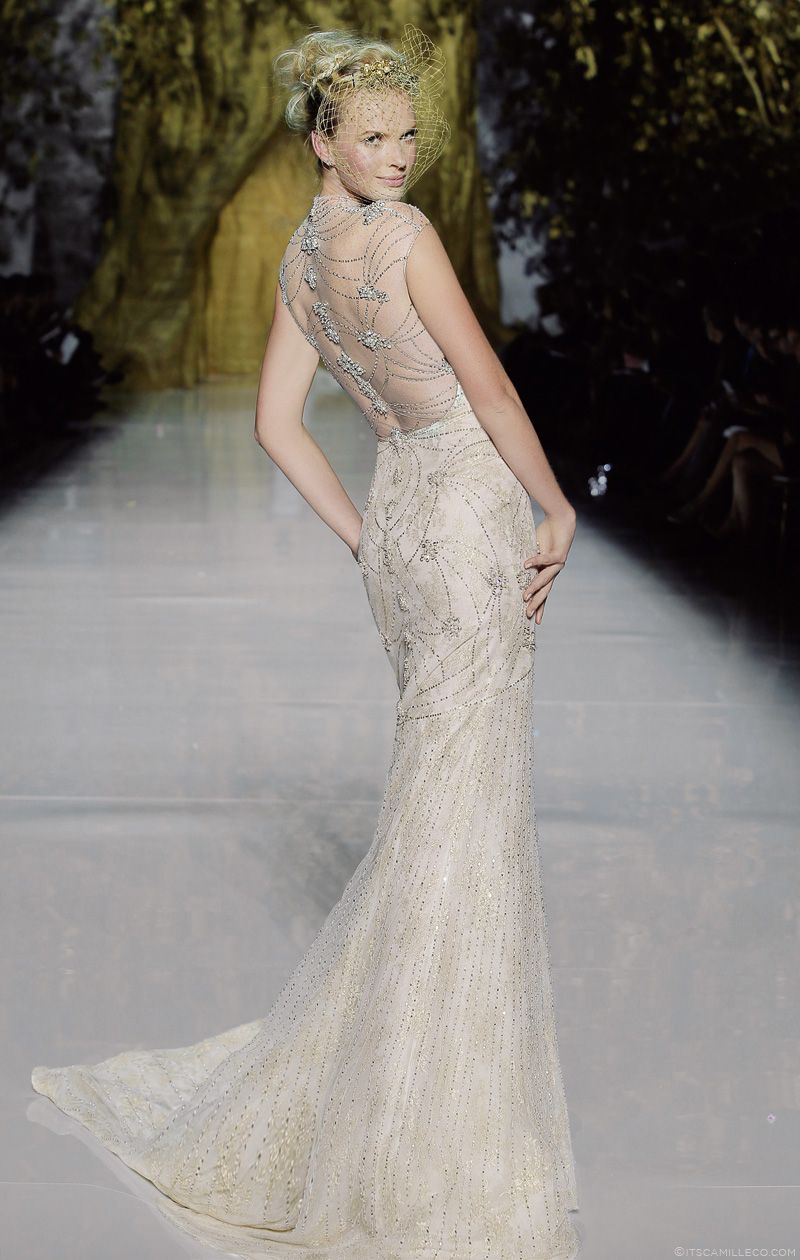 Even its back is gorgeous!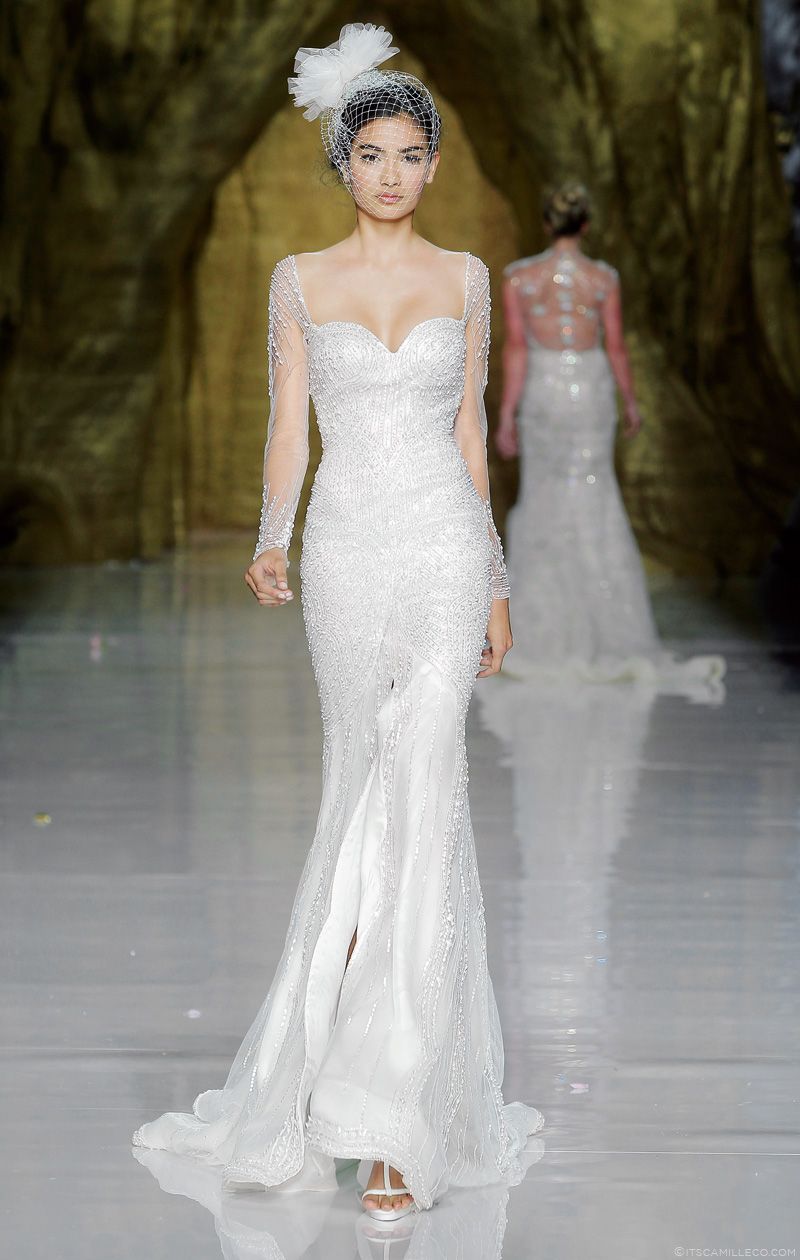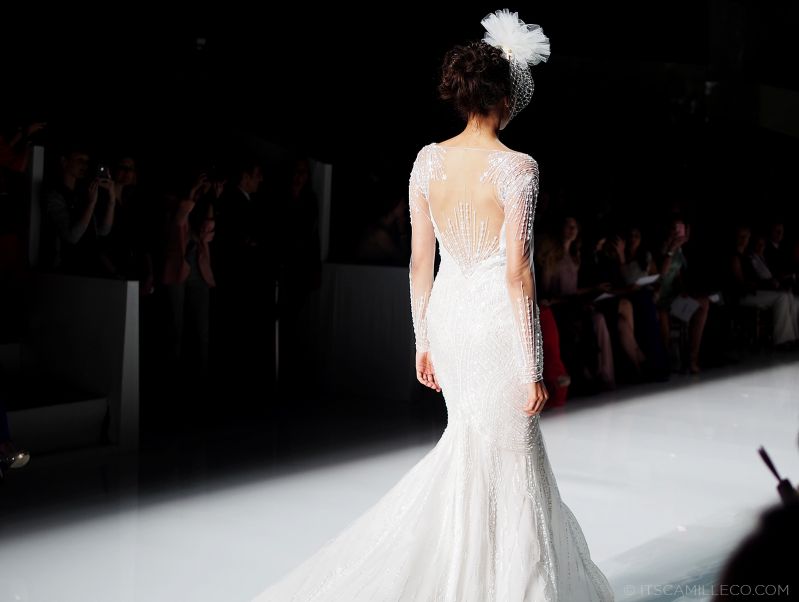 Prettiest back design goes to this wedding gown.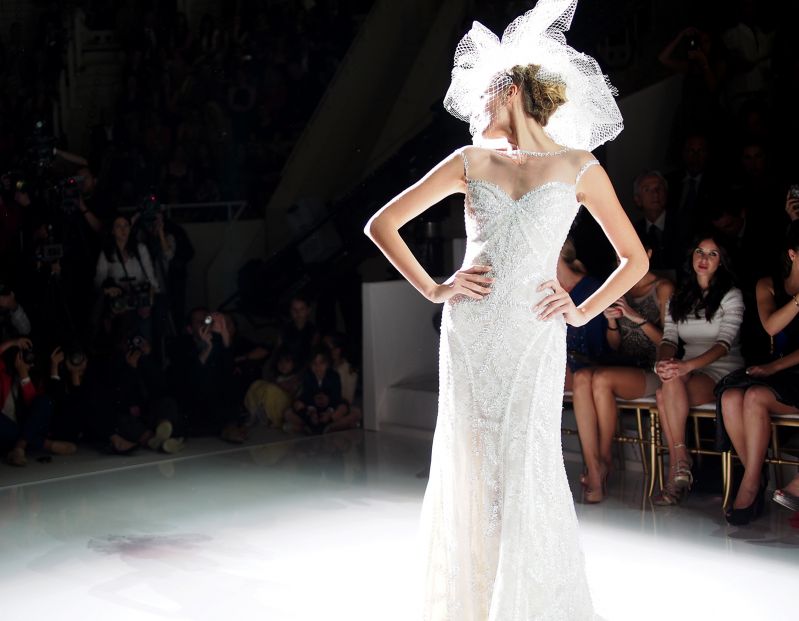 Another best-seller I'm sure!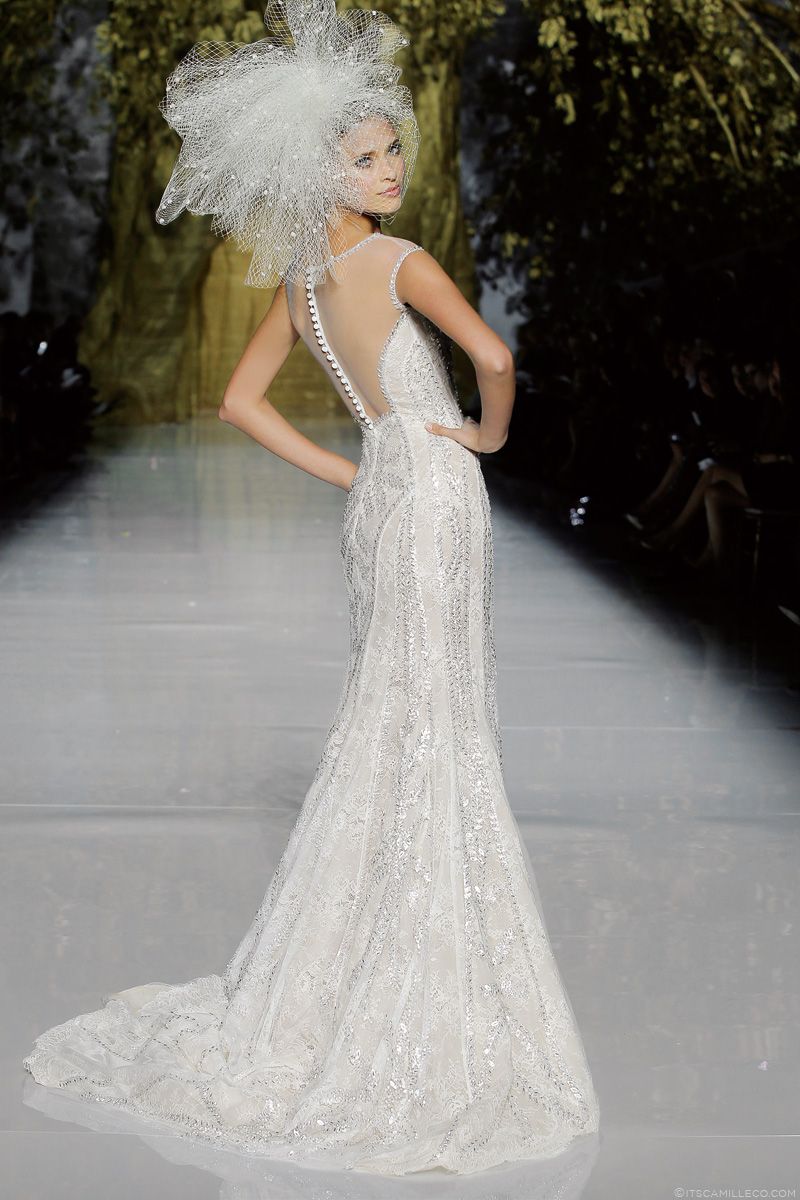 The gems on this dress are just… I'm seriously running out of adjectives. I just want to say "WOW" and "PERFECT" over and over again!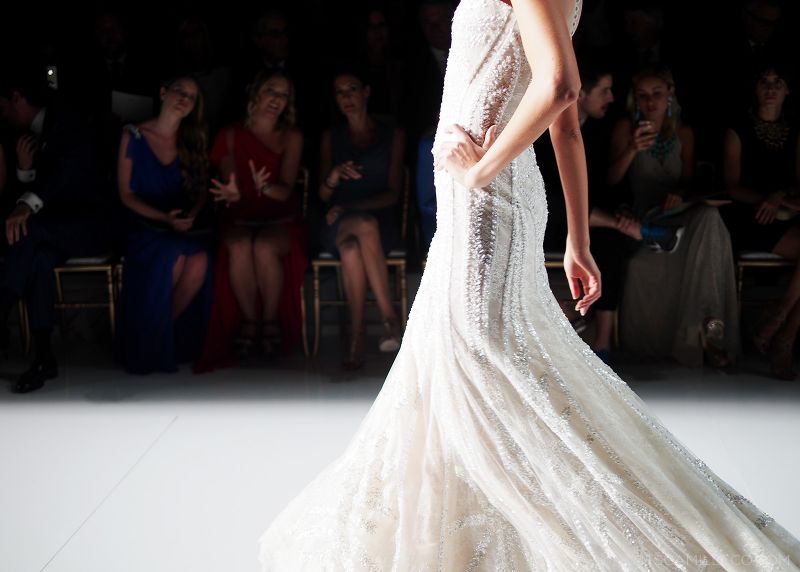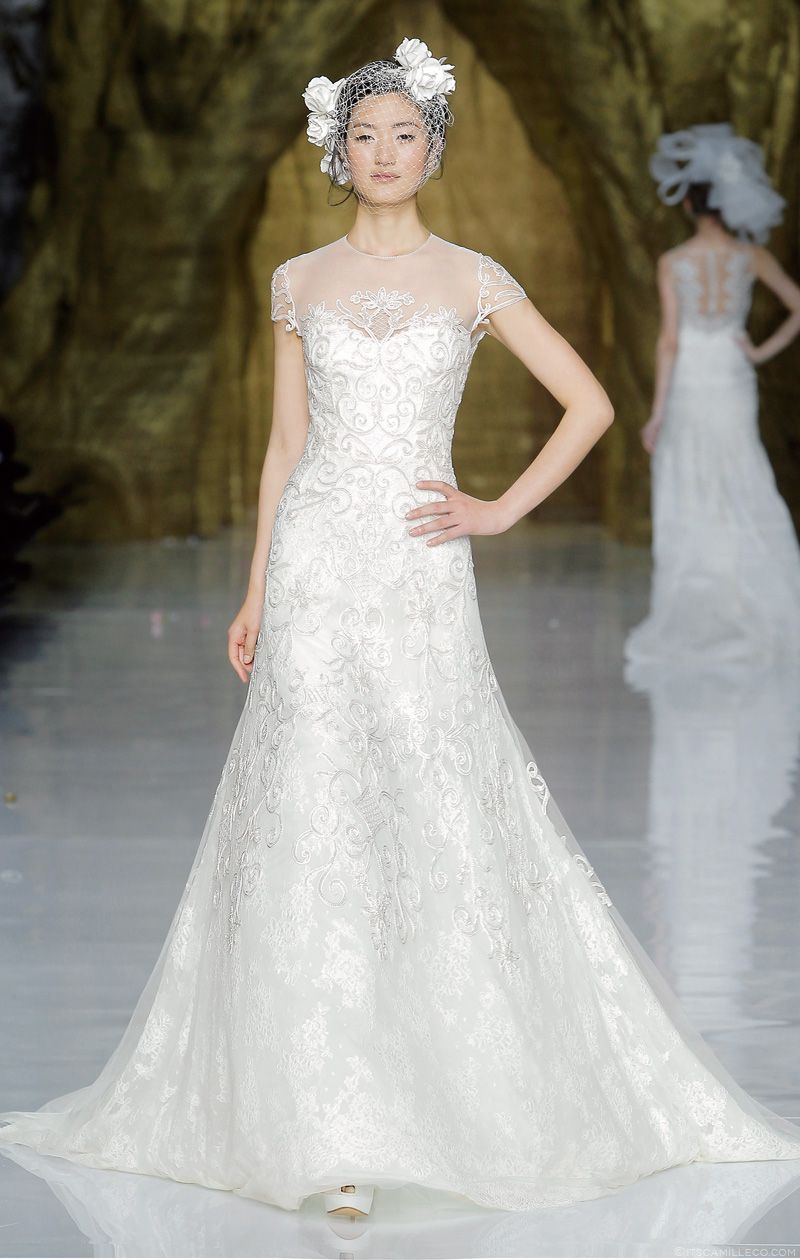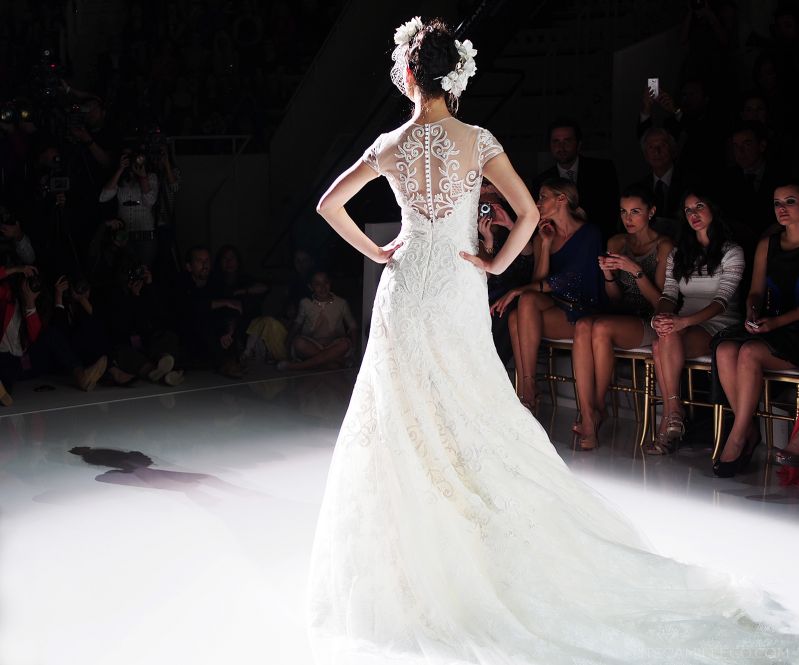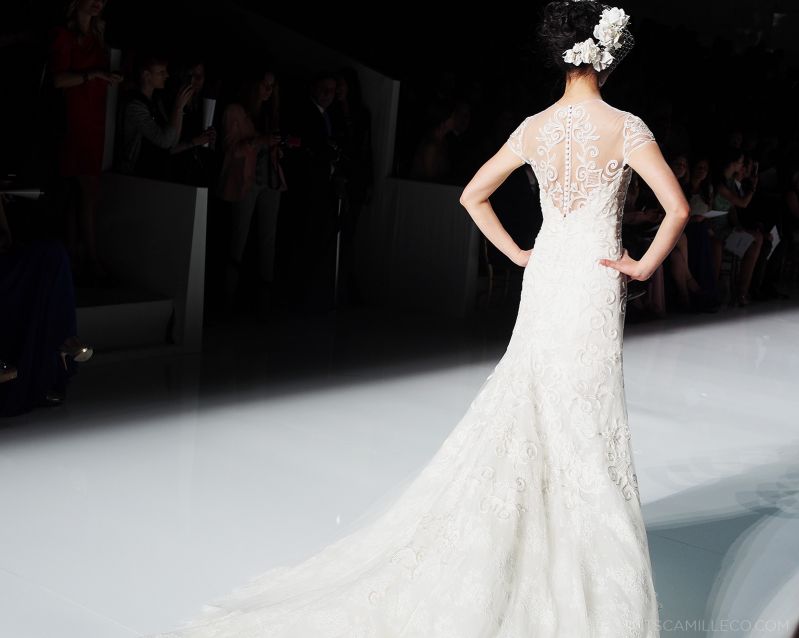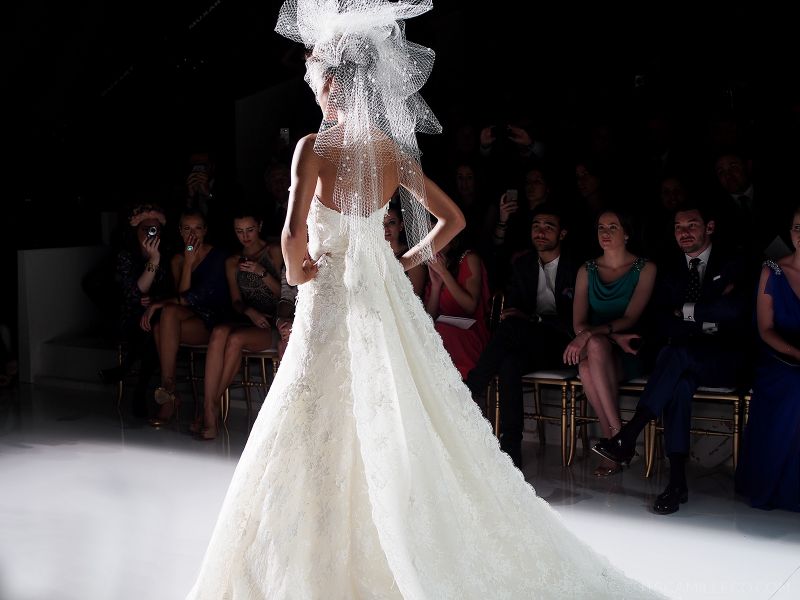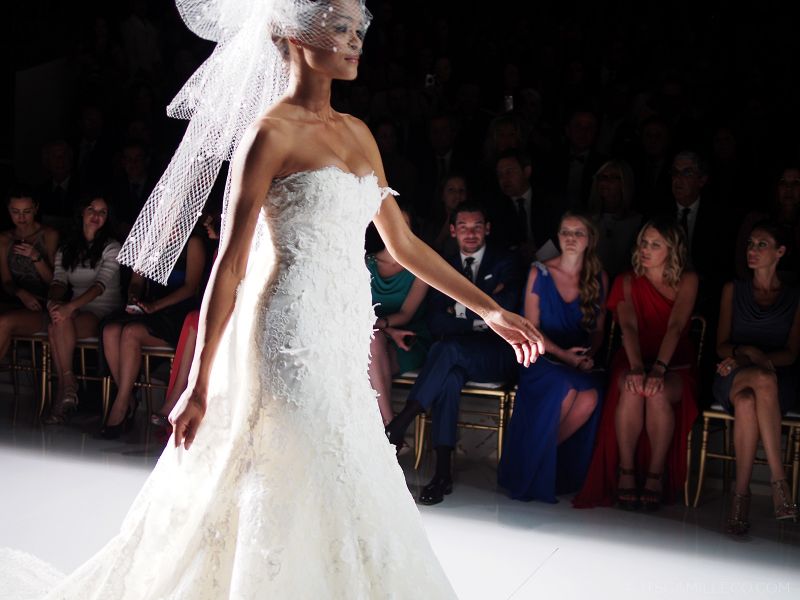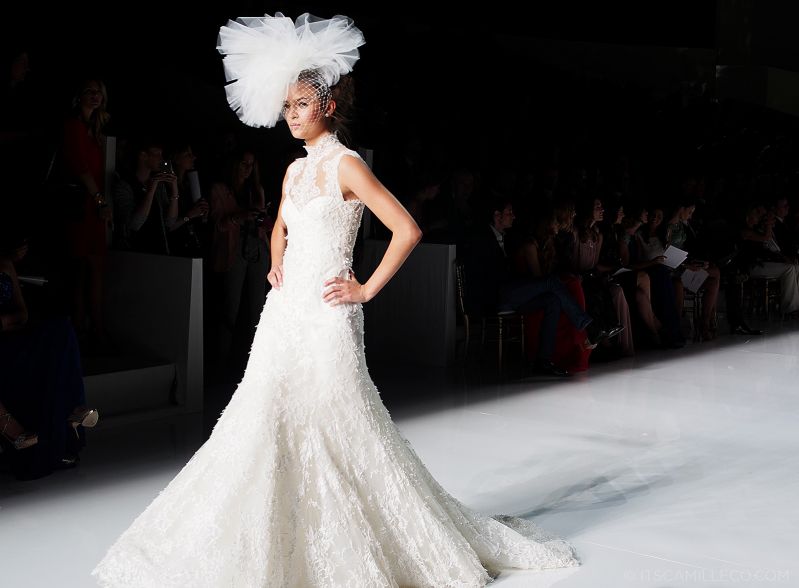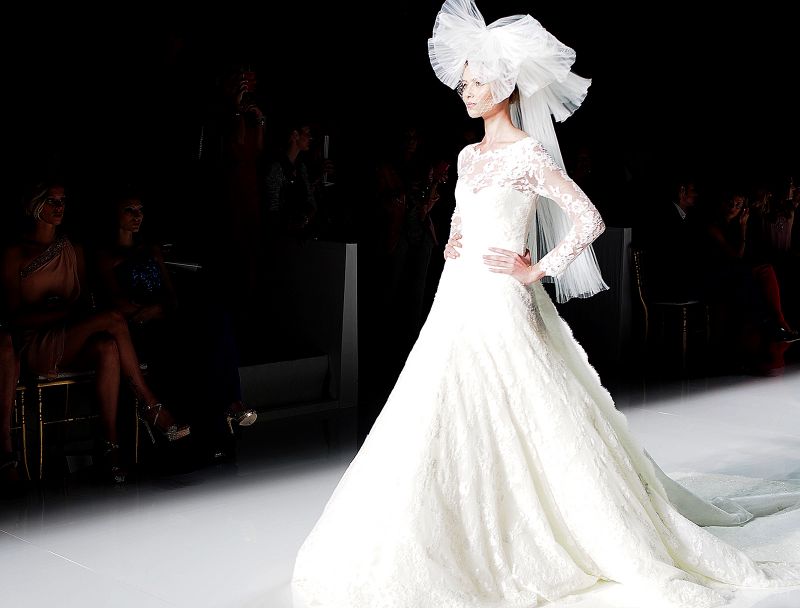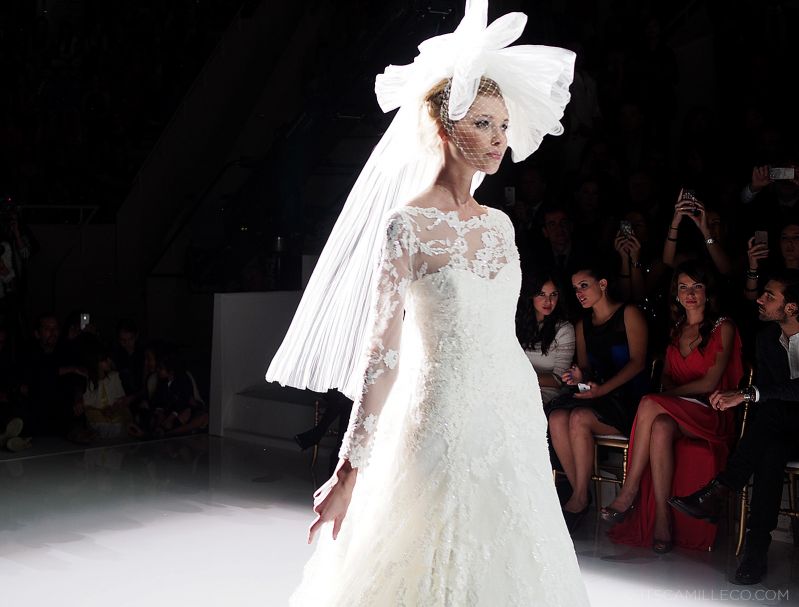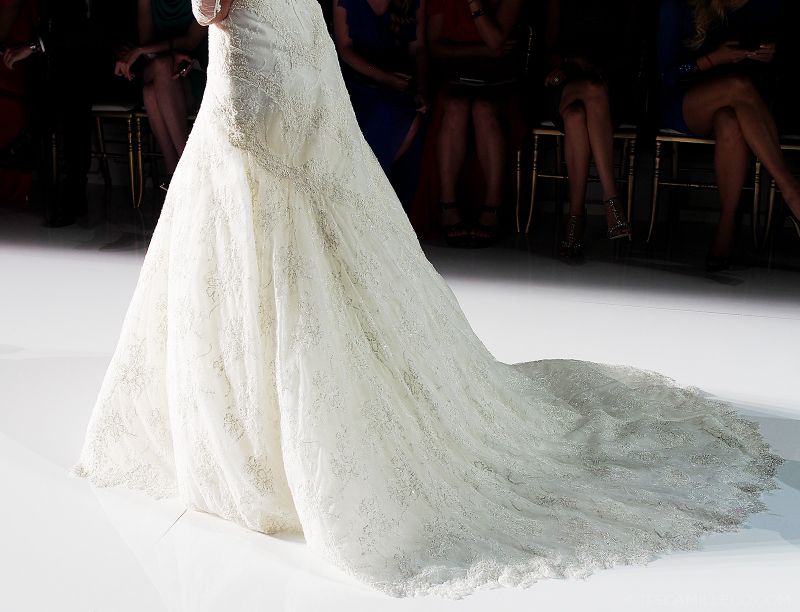 Chantilly lace, why must you be so lovely?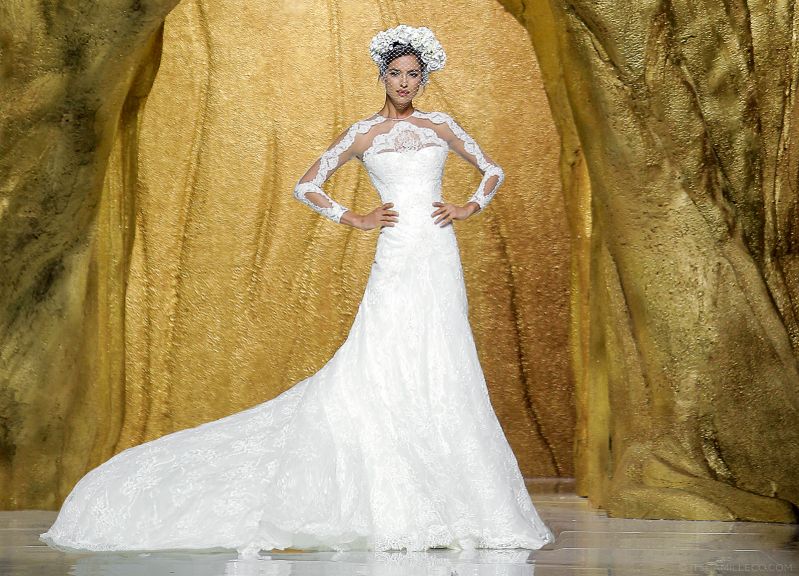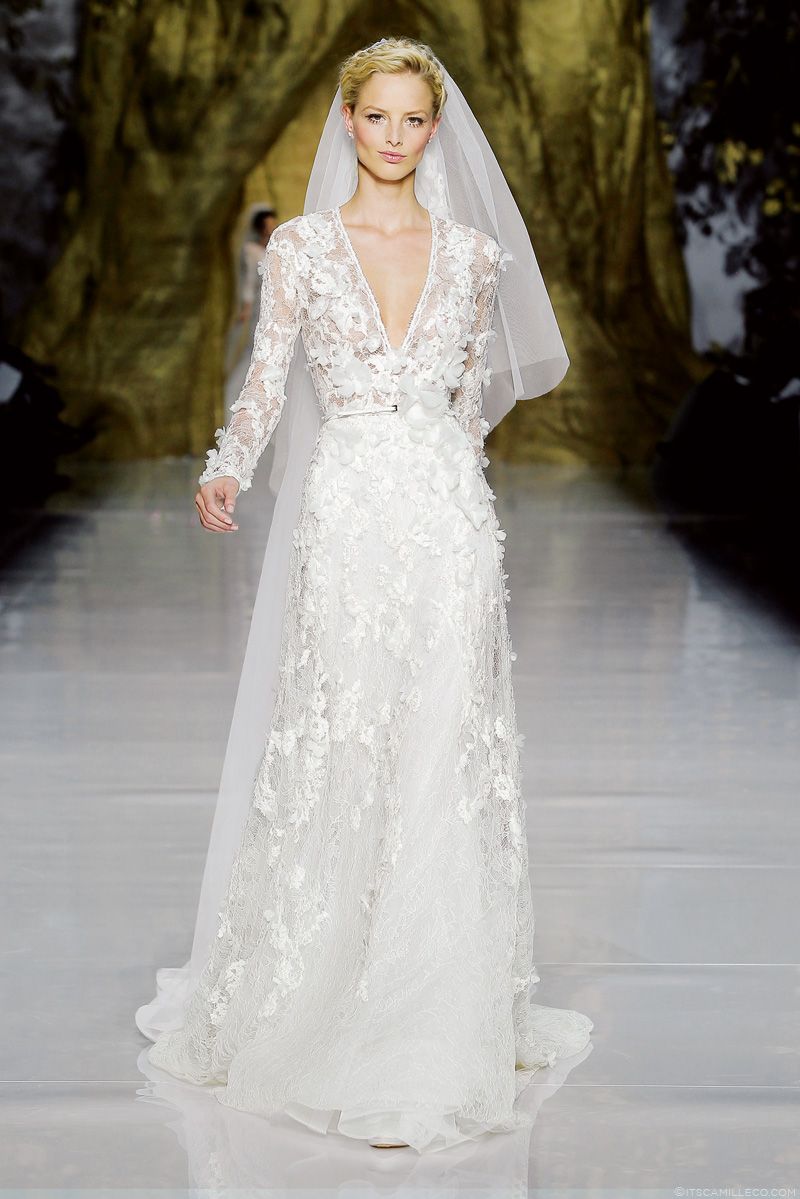 If you've got it, flaunt it–tastefully.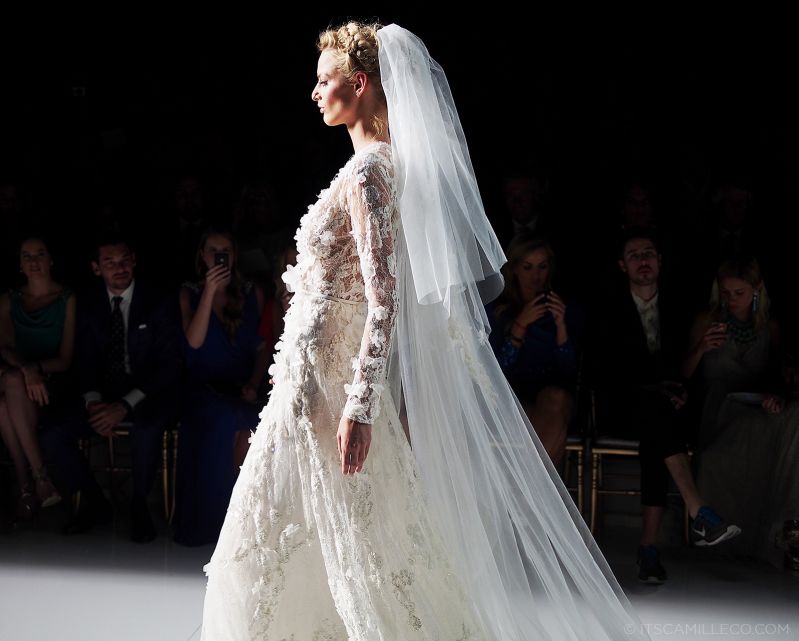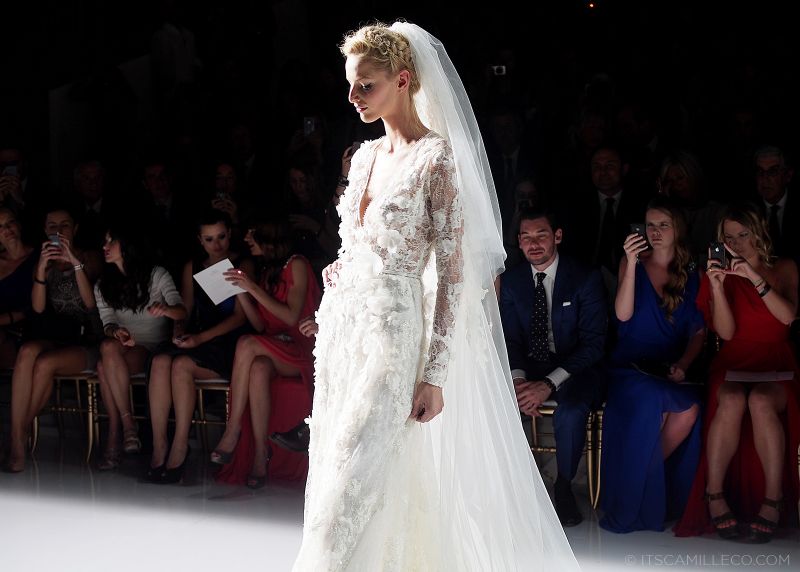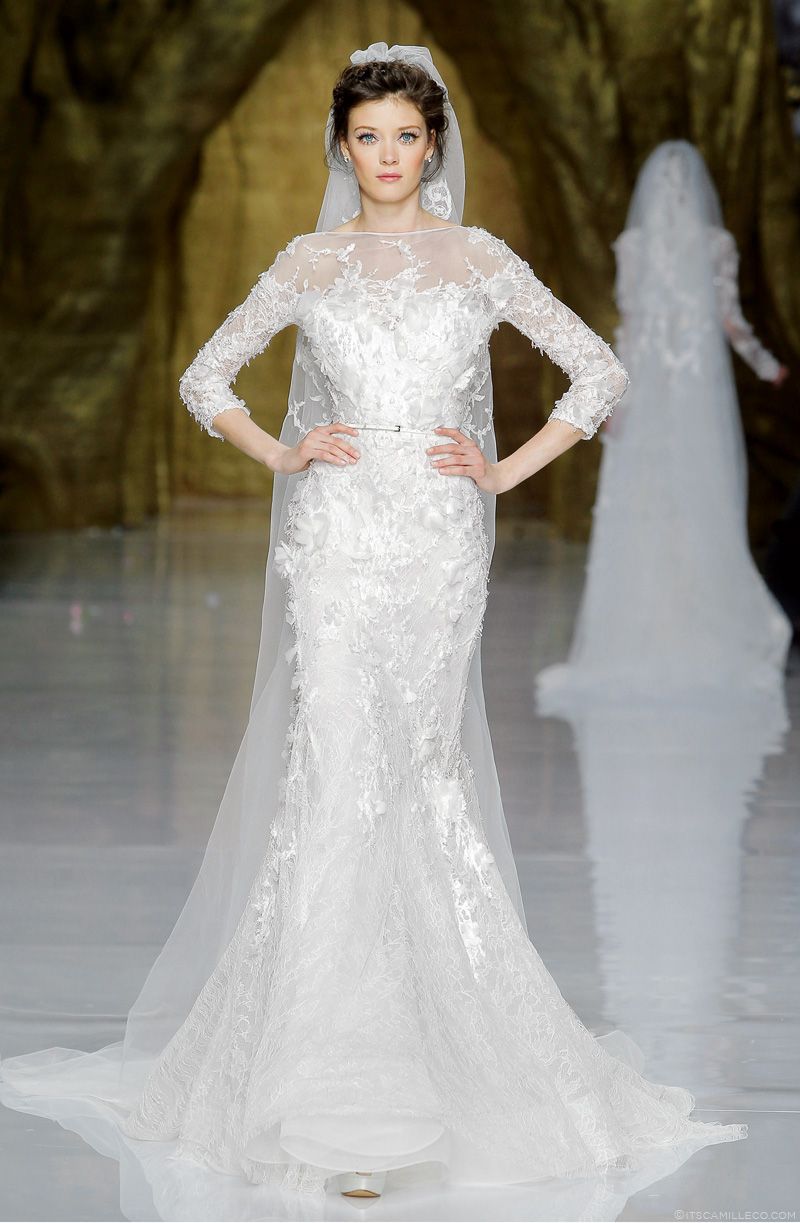 Who needs beadwork if you've got lace fabric like this?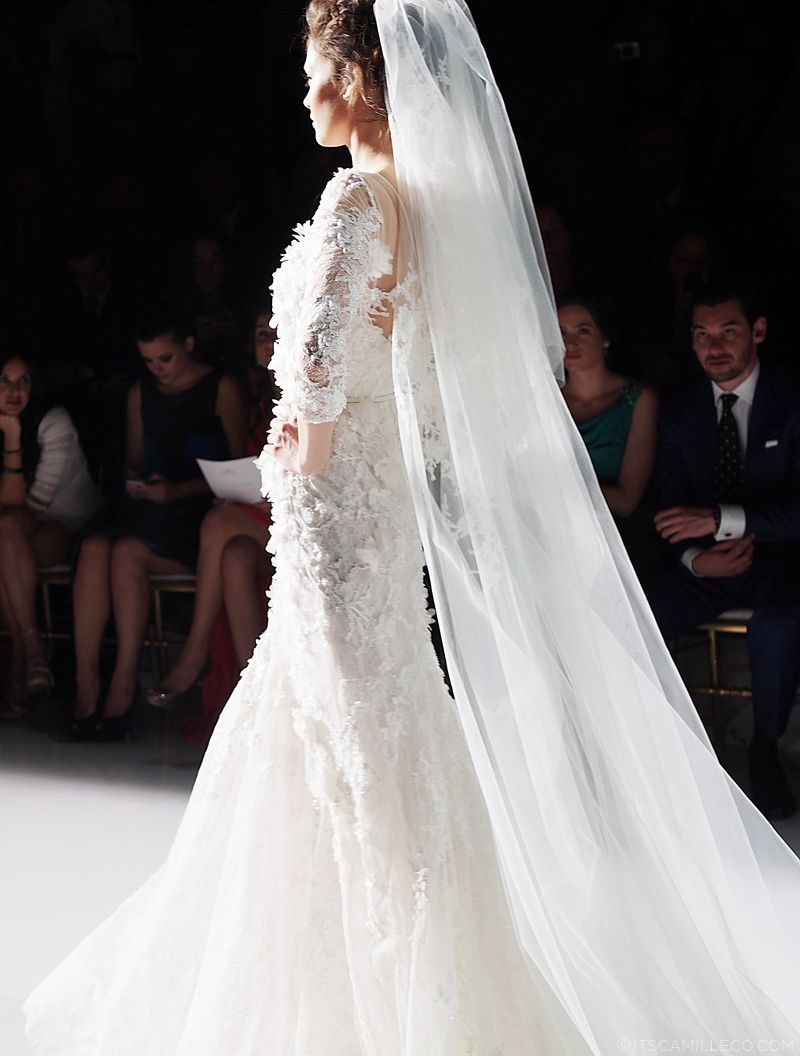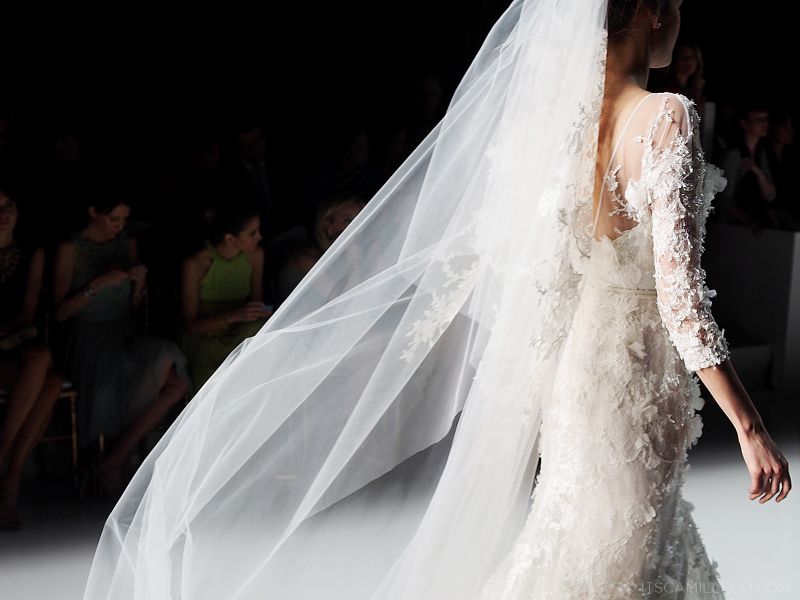 For the girls who've dreamt of becoming a princess, here's your ball gown!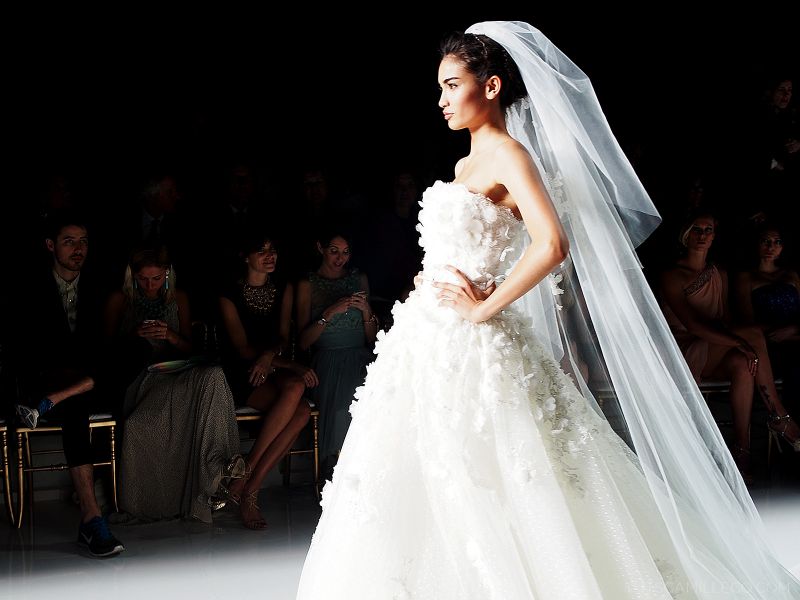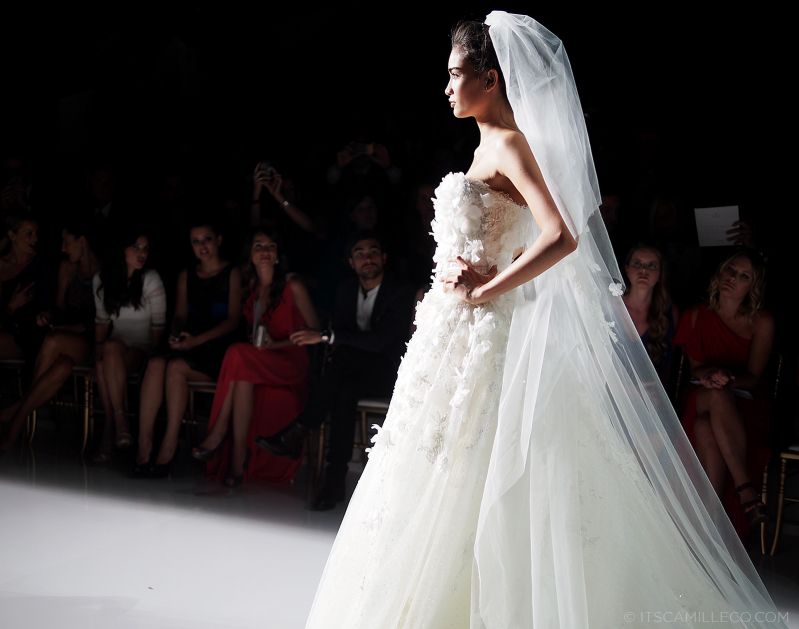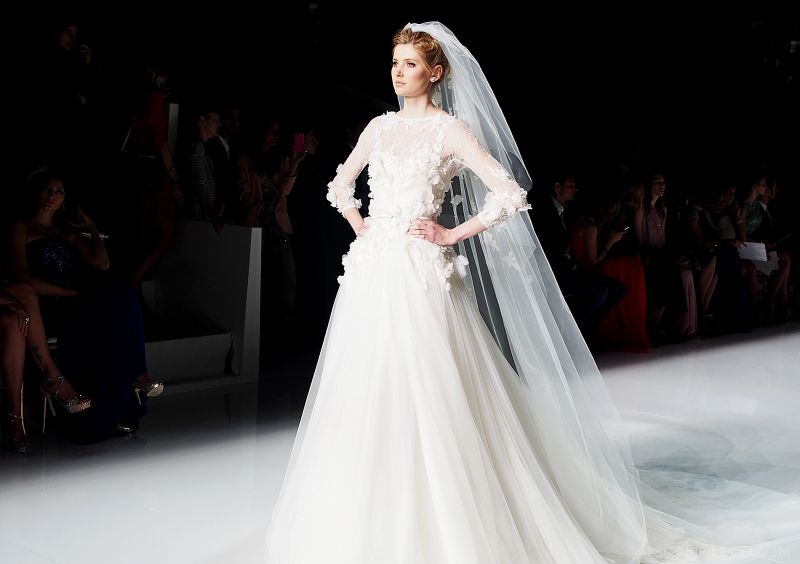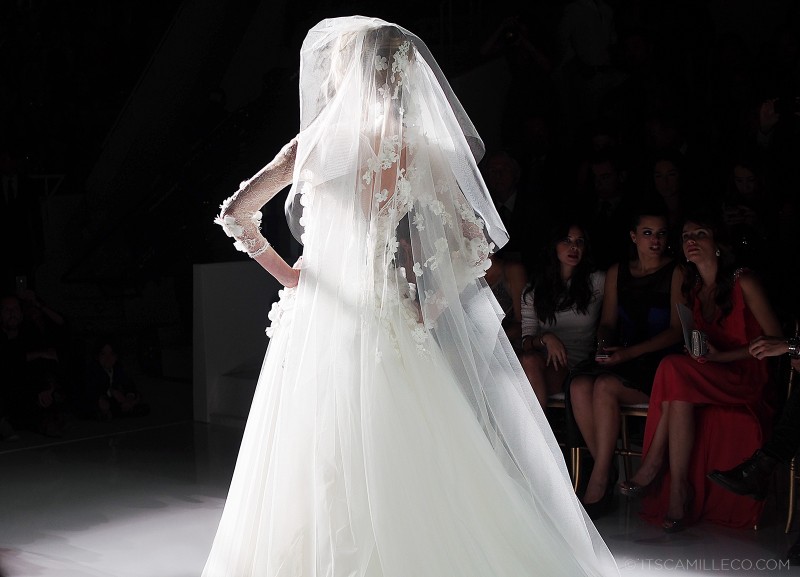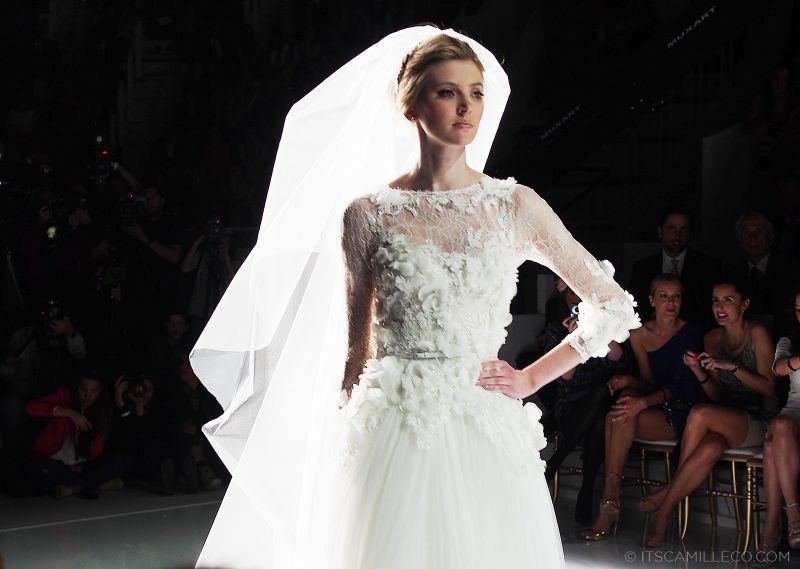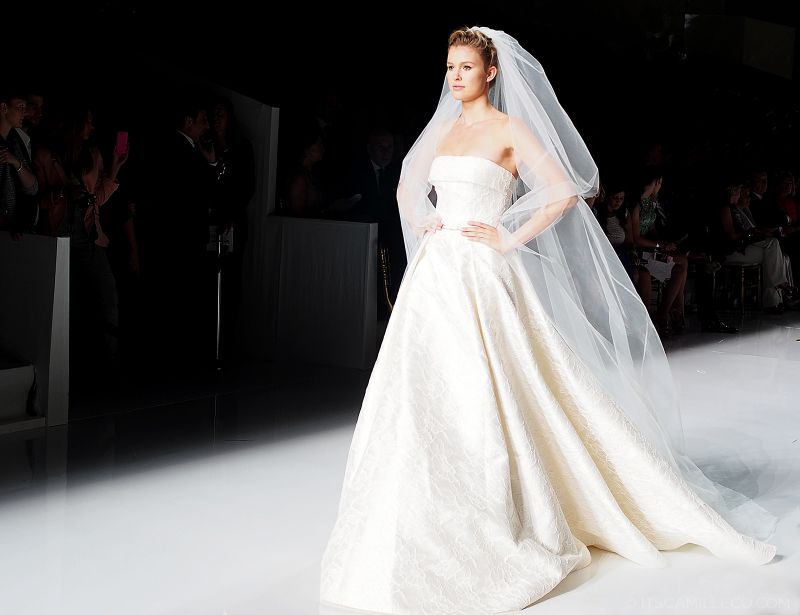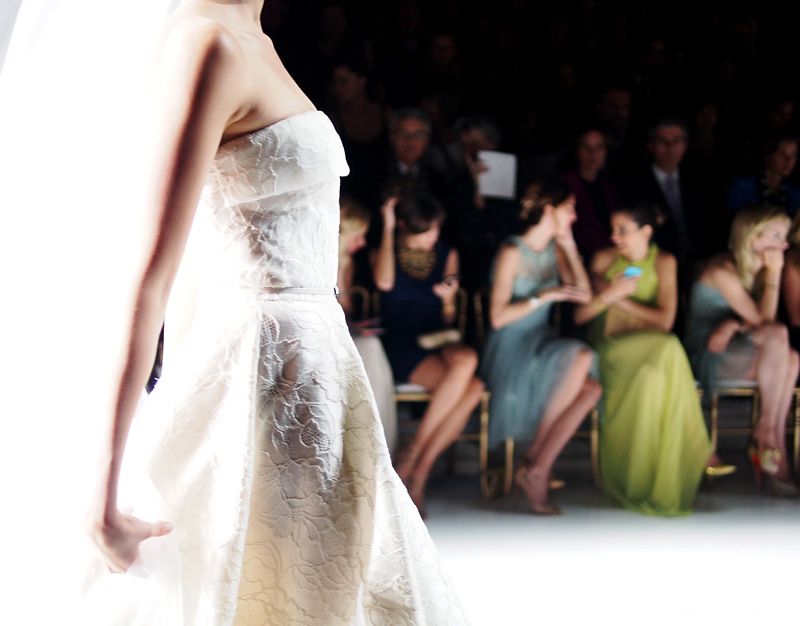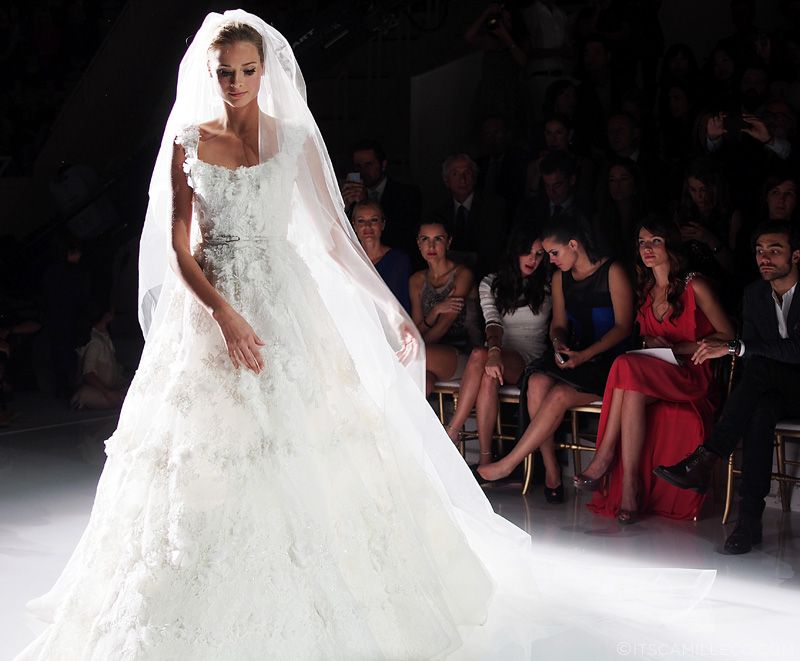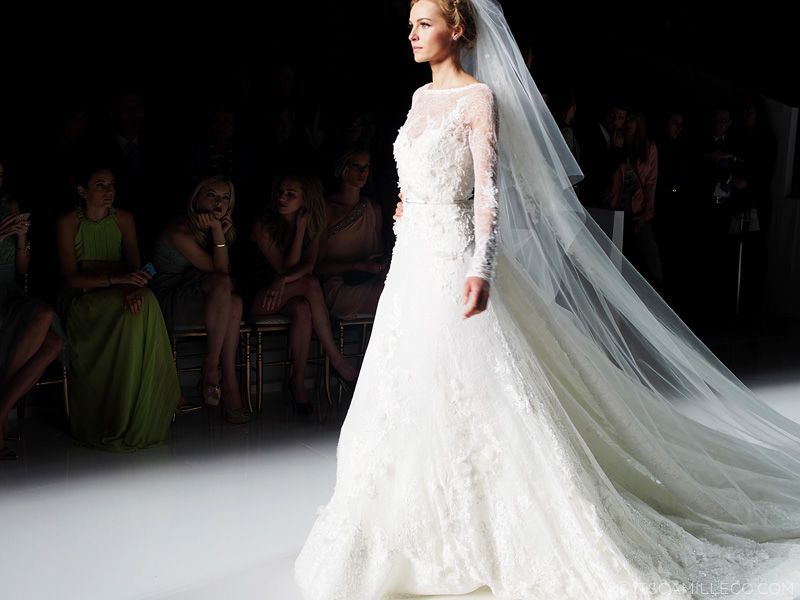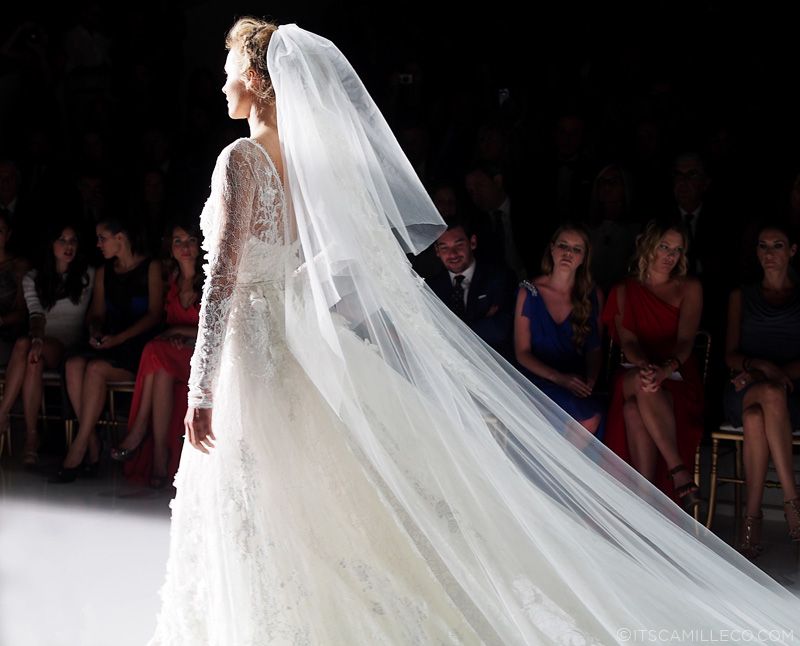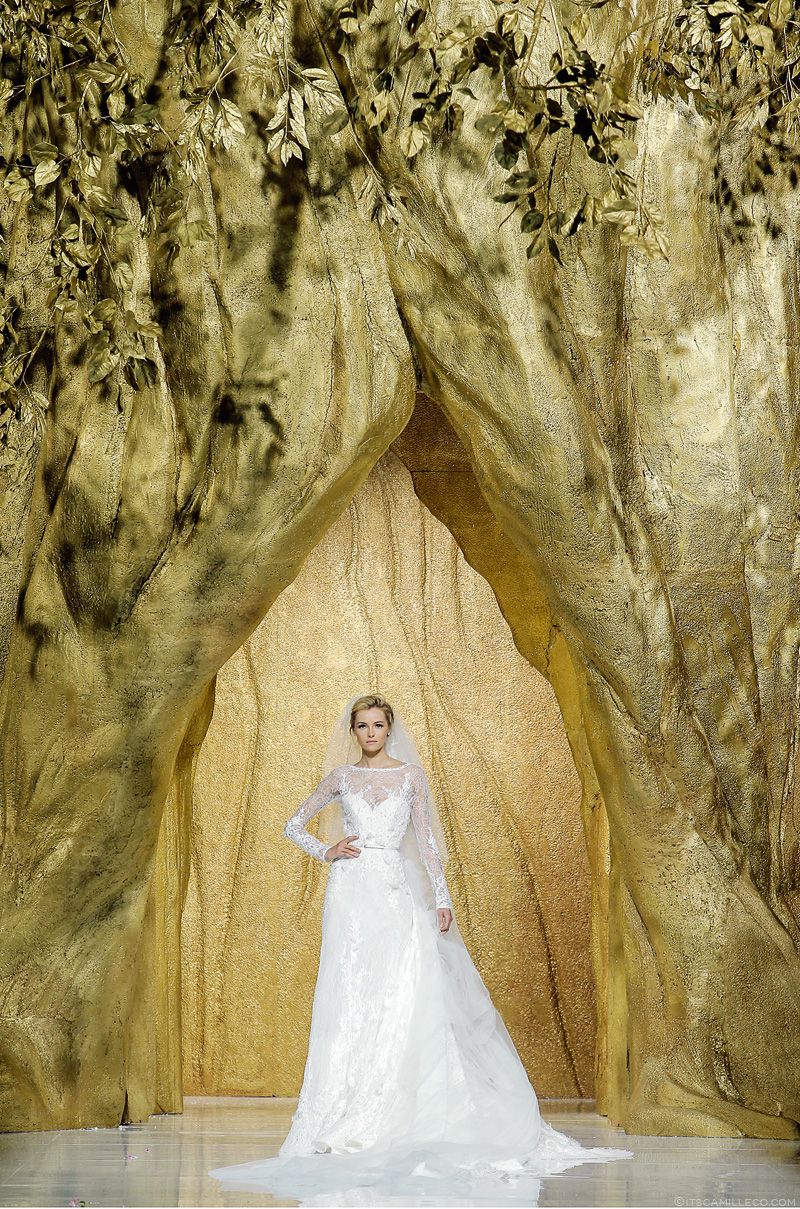 So as you can see, Pronovias presented a broad selection of gowns so that every bride can see her own dream come true. The designs range from classic-cut dresses with large skirts to fresh and simple modern dresses with differing necklines and materials. Whatever your body type is, there's a design for you.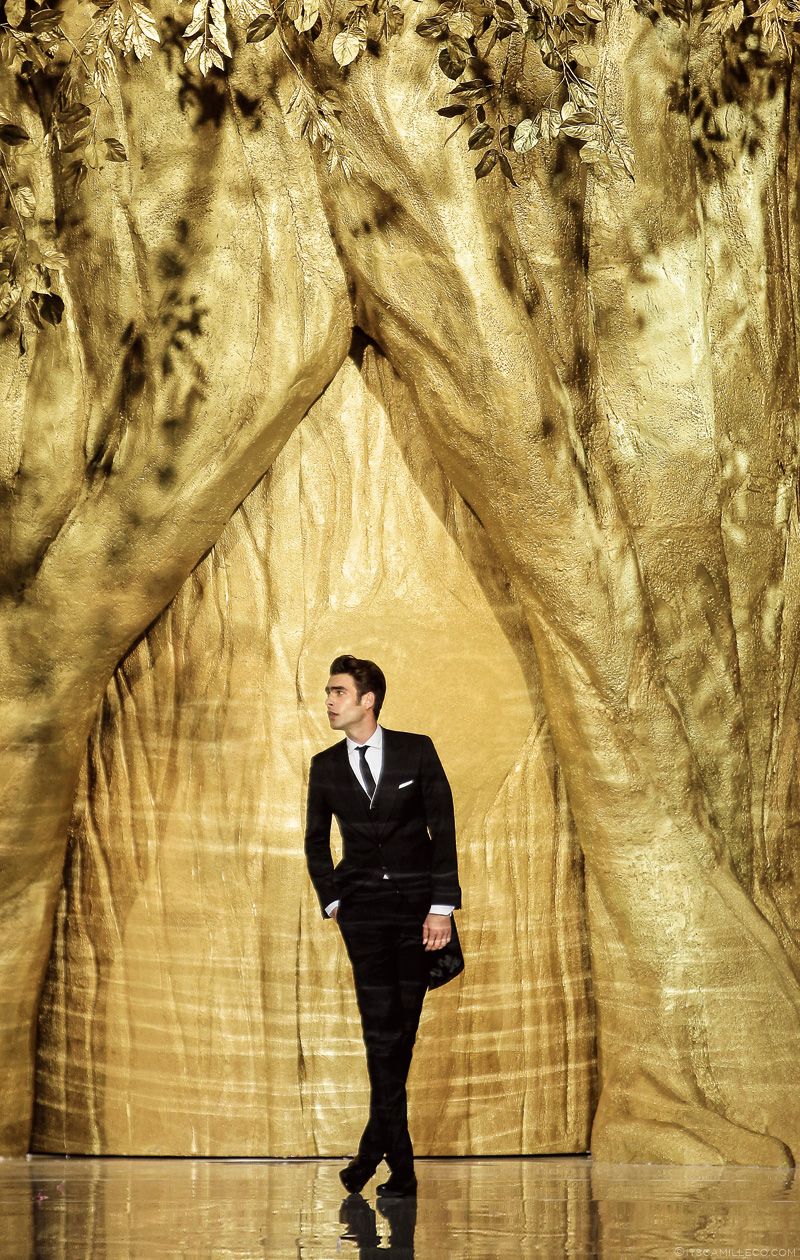 But that's not it! The show isn't over yet. To everyone's surprise (pleasant surprise if I might add), this male model pops out of nowhere from the end of the runway–as if searching for his bride, his first and true love.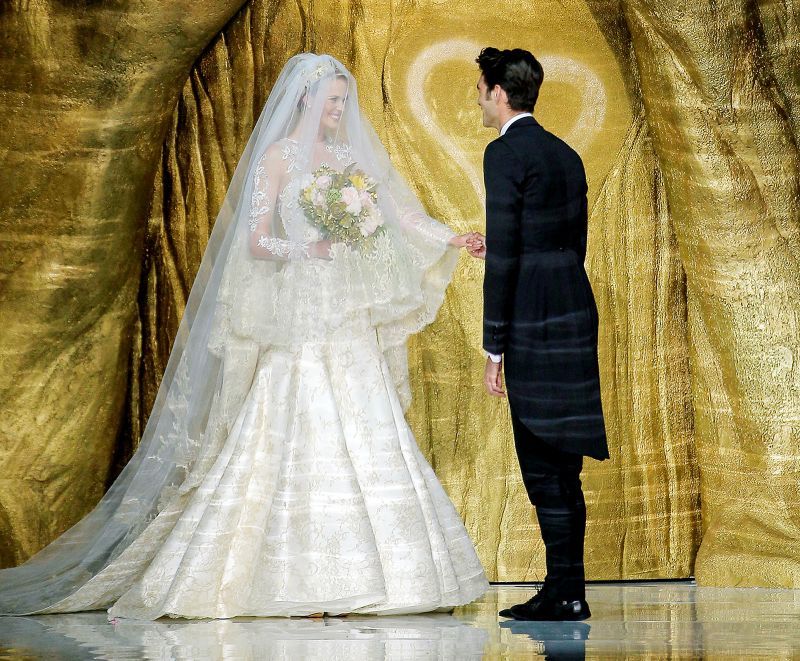 The two adorable little kids have grown up. They found their way back to each other's arms. How sweet do they look??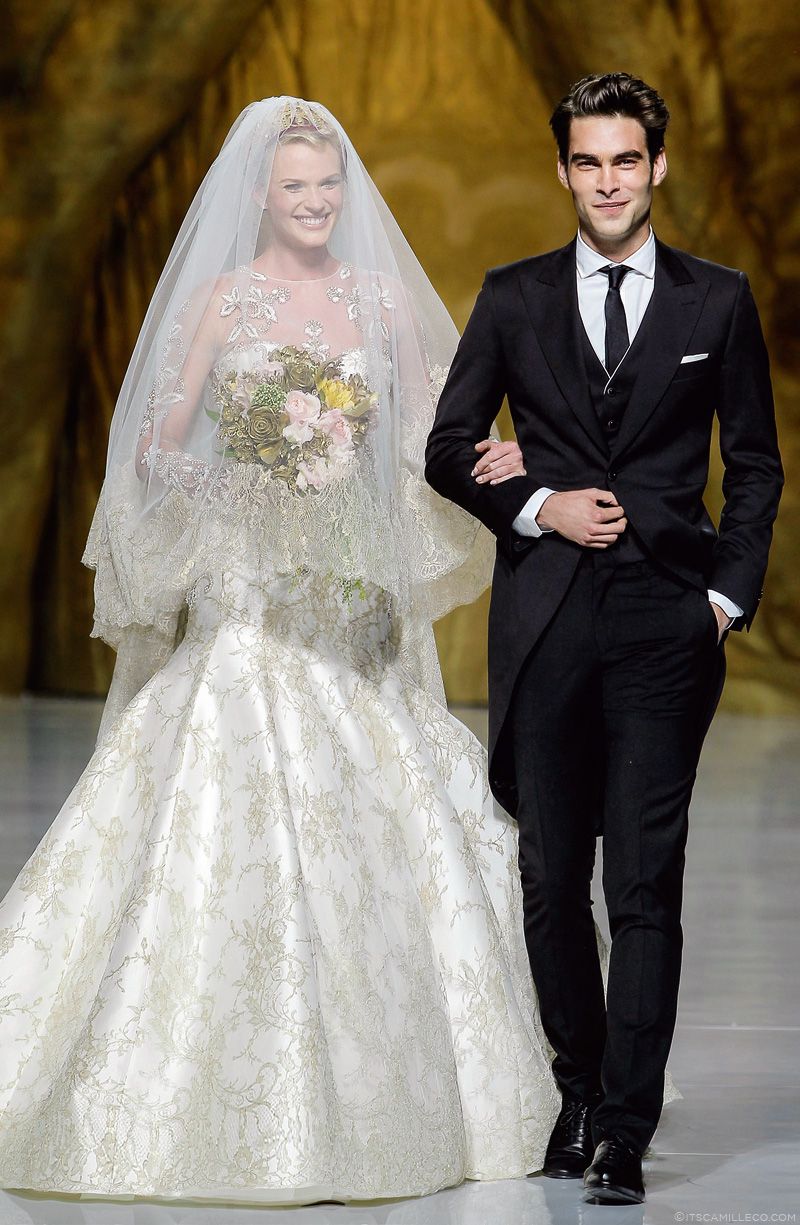 The grand finale!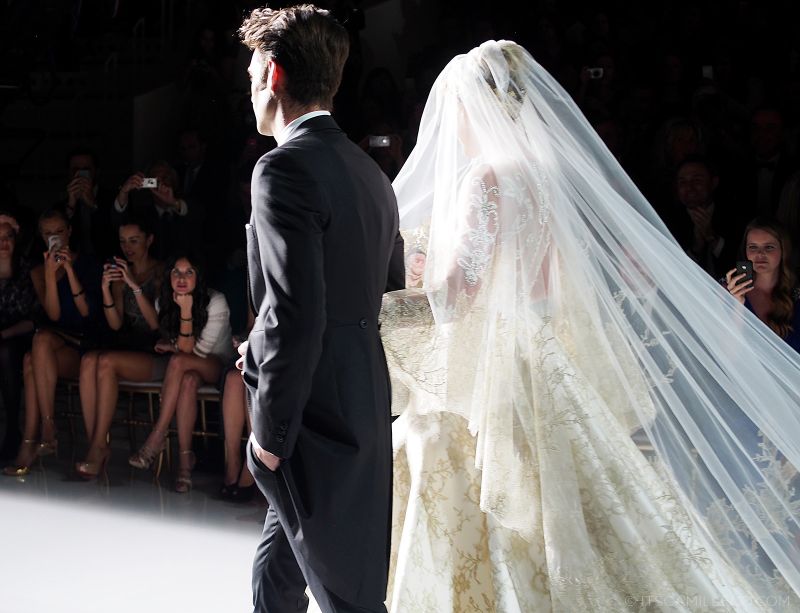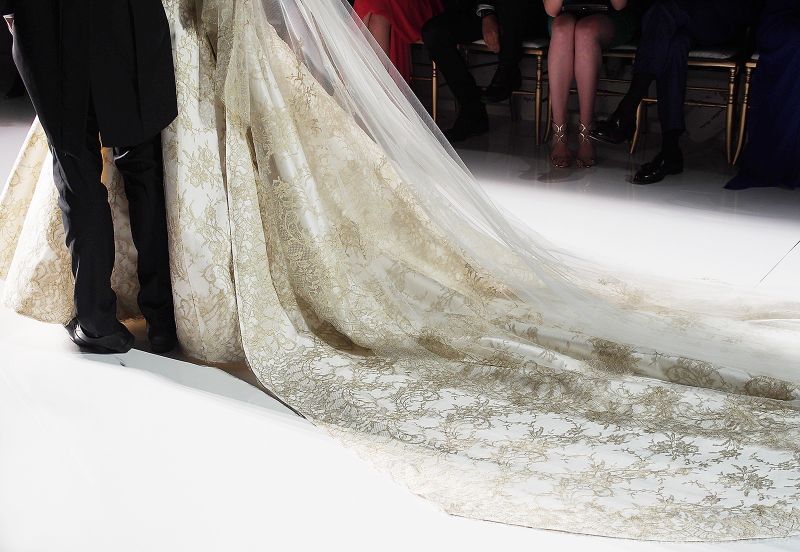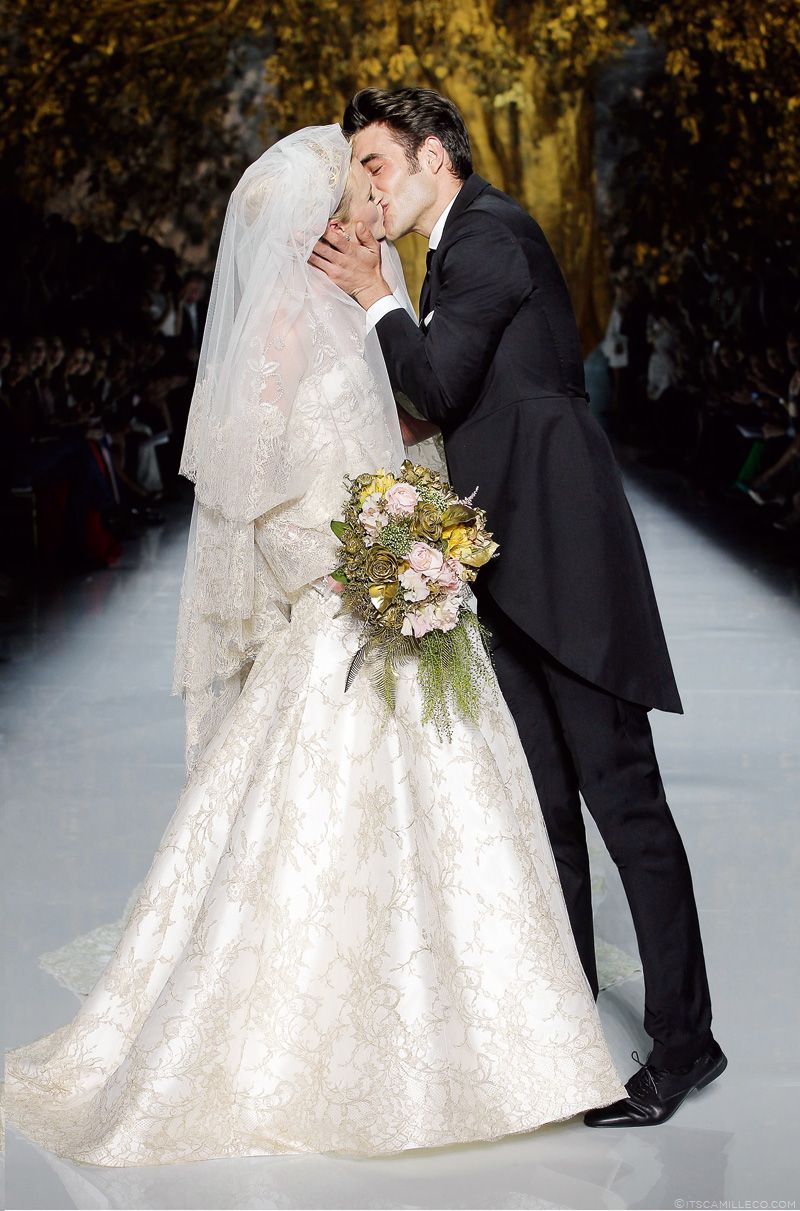 You may now kiss the bride.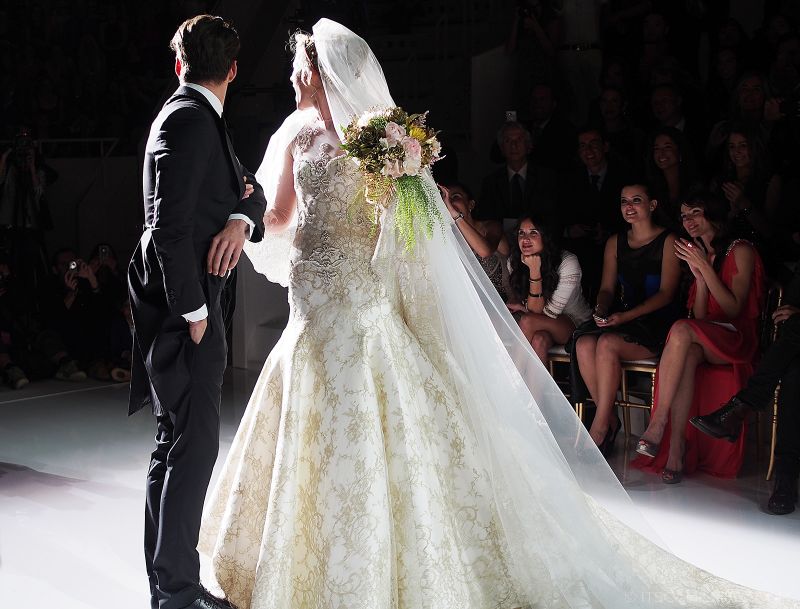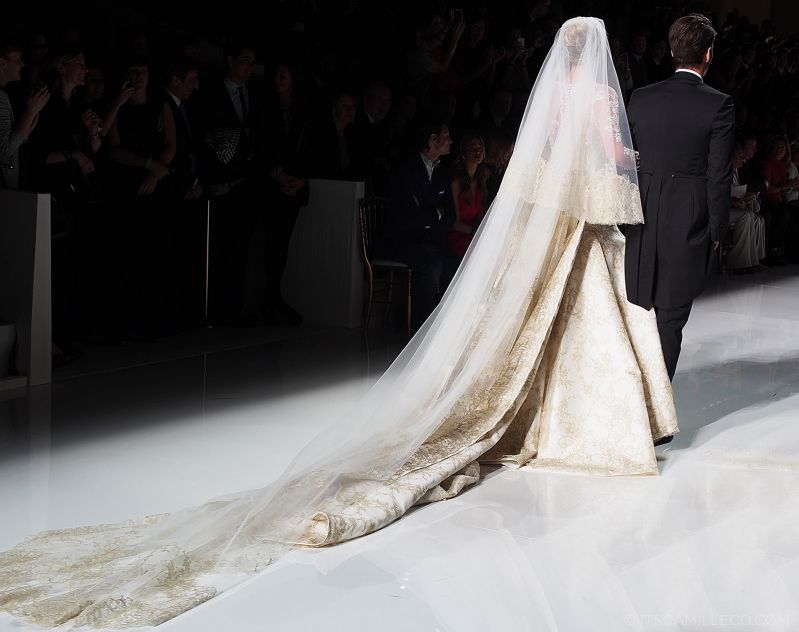 There you have it! After watching these two walk down the runway, I forgot for a minute there that I'm actually watching a fashion show, not a wedding. Everything just seemed so perfect!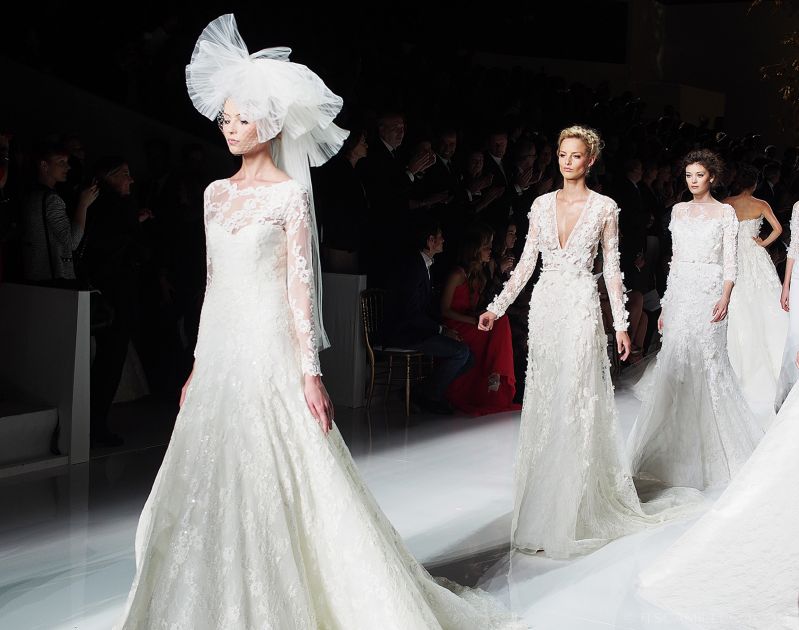 Let's take a look at some of the gowns once again. The final walk.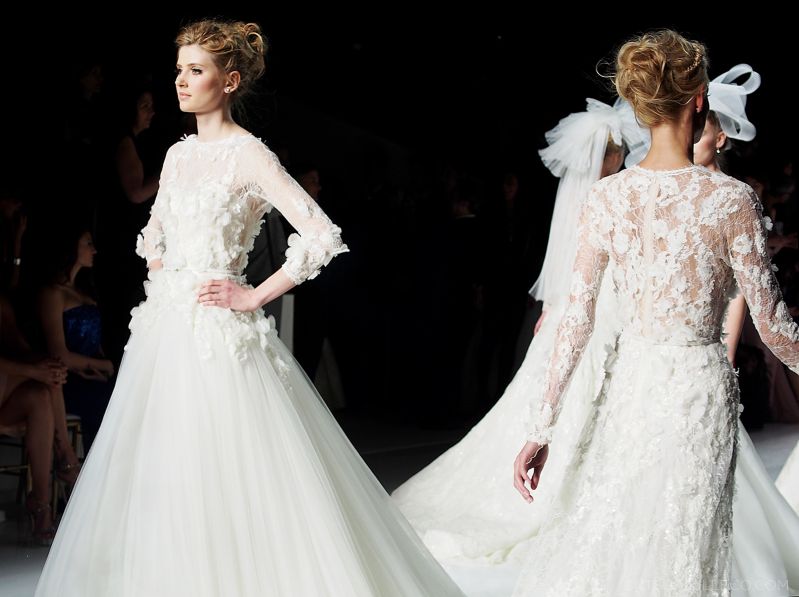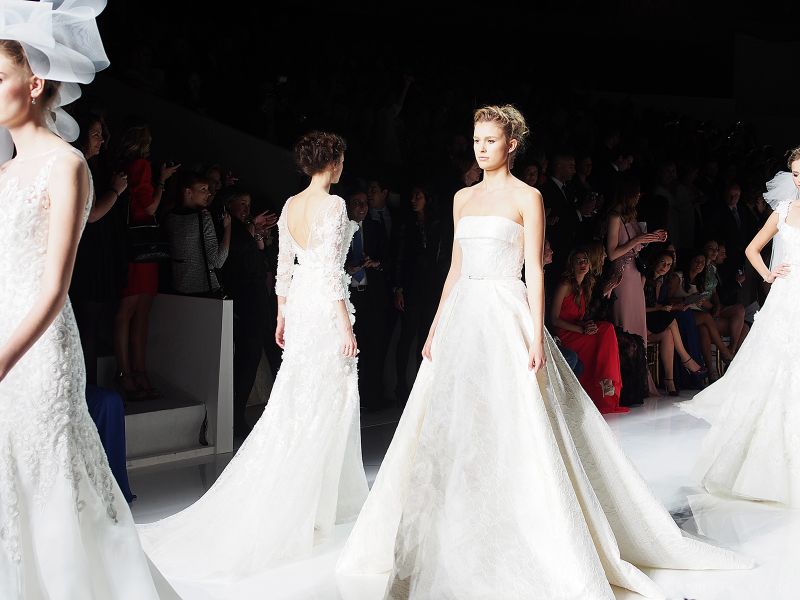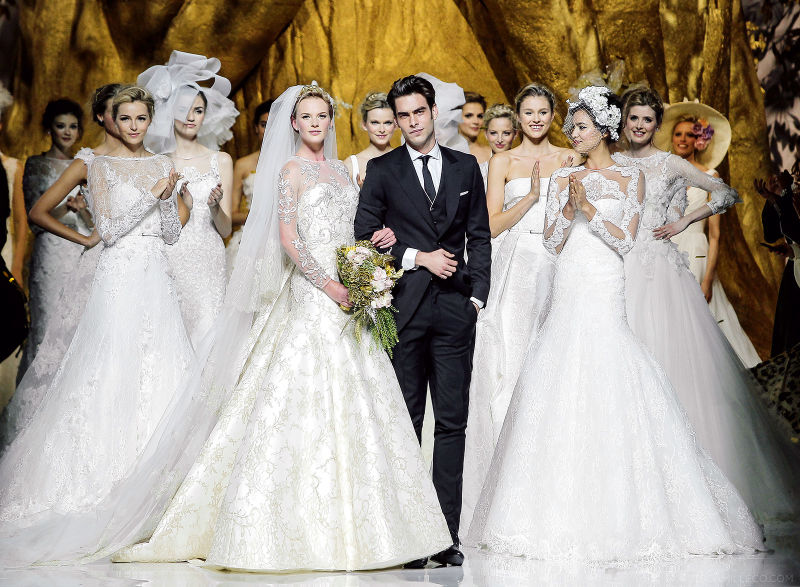 So many gorgeous gowns to choose from! Why must we get married only once? (Ideally, of course.) Brides should be allowed at least four wedding gown changes to compensate. LOL! But seriously speaking now, after watching this fashion show and experiencing for myself the beauty of Pronovias' pieces, I felt so in love. There's just something so dreamy about Pronovias. The brand truly understands what young girls have been dreaming about since they were little kids. It must feel great to be a Pronovias bride.
Before I end this post, I urge you to watch this video of the whole show. It's different when you see the gowns moving. You can see how they sway, flow and fall on the female body. You'll fall in love with not just the pieces, but the set design and music as well. You'll enjoy the little story behind First Love and you'll get lost in it all. Trust me! It's an experience I really want to share with you all.