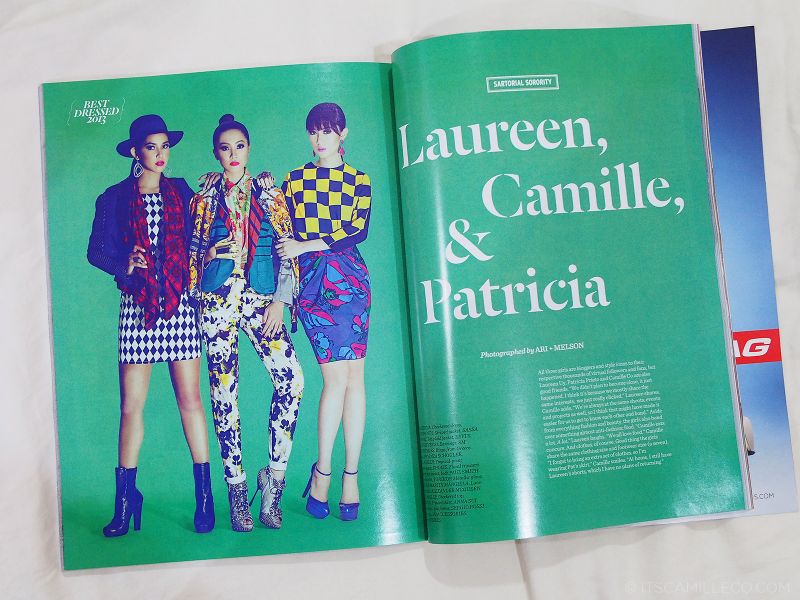 To those who were wondering why I didn't include my Preview Magazine feature on my previous blog post, "Hot Off The Press", it's because I prepared a special behind-the-scenes blog post for it! Hooray, hooray! So before we dive into the BTS photos, here's the actual feature from Preview Magazine's July 2013 issue. That's me along with my blogger friends, Patricia and Laureen. As you all know, every July, Preview comes out with it's Best Dressed List for the year. I've been part of the list already last 2011, so when I learned I'm part of the prestigious list again this year, I was more than surprised. I thought being included in the list can only happen once! I still remember how I felt the first time like it was yesterday! I was so ecstatic and unbelievably flattered! (You can read all about it here and here.) This second time is no different. It's an honor to even be considered! This is actually the first time for Preview to come out with a Best Dressed List like this. It was always just individual features. This year, Preview came up with this brilliant idea of featuring not just 10 women like usual, but 10 fashion bonds/groups. How awesome is that! I'm glad to be sharing this moment with, to quote Preview Magazine, my "sartorial sisters."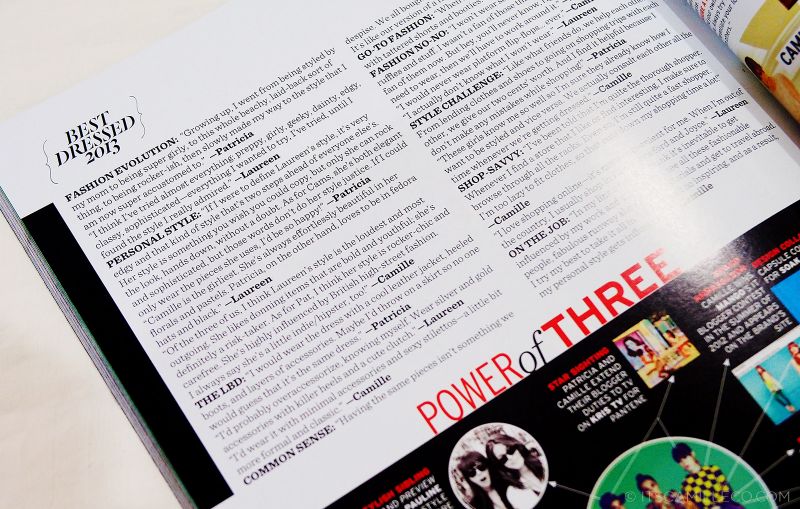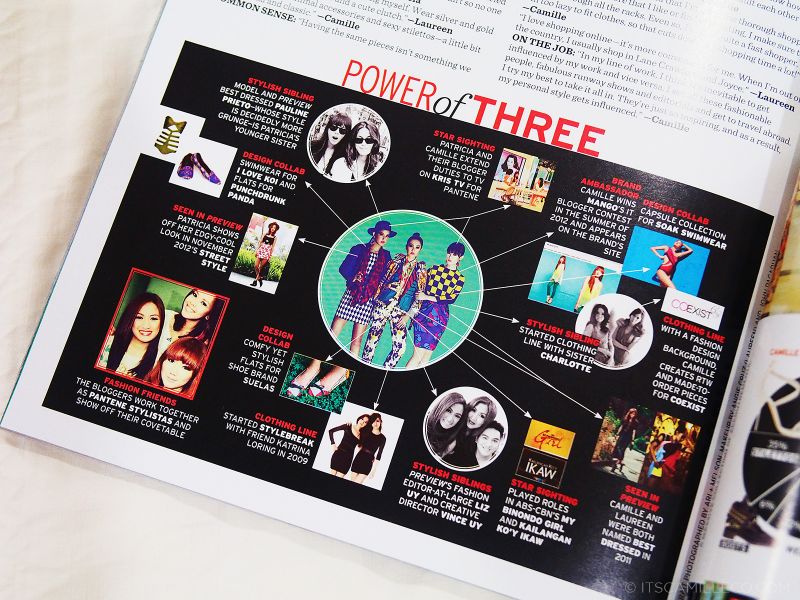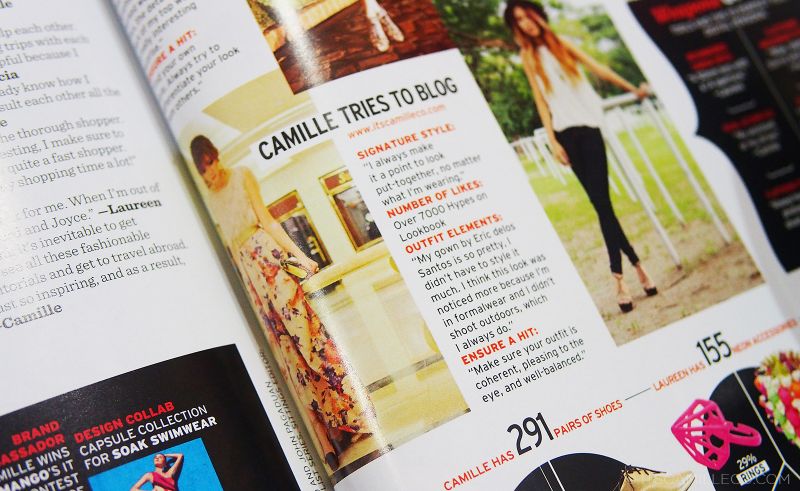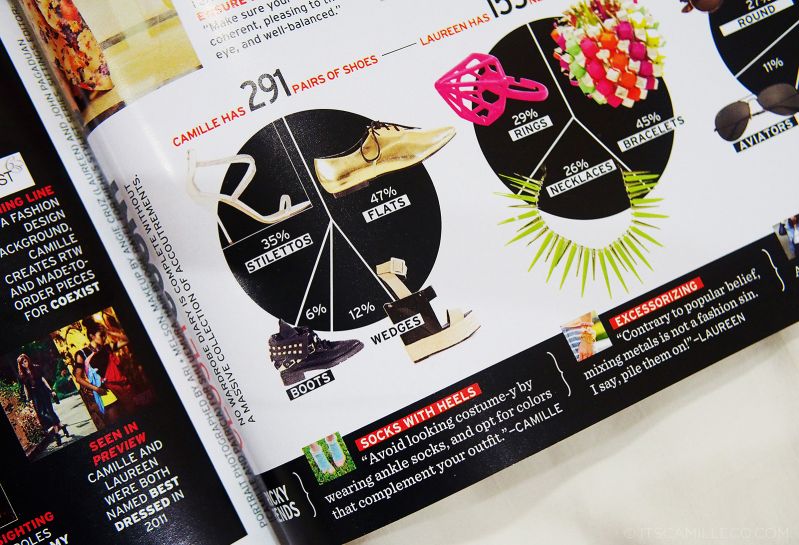 There you have it! I always get kilig whenever I see features like this. I hope to one day show this to my future kids and maybe even grandkids. (I'm getting ahead of myself again. LOL!) Anyway, for those of you who haven't grabbed a copy of this issue yet, maybe it's not too late. It's only the start of August so you might still be able to see a few copies out in the market!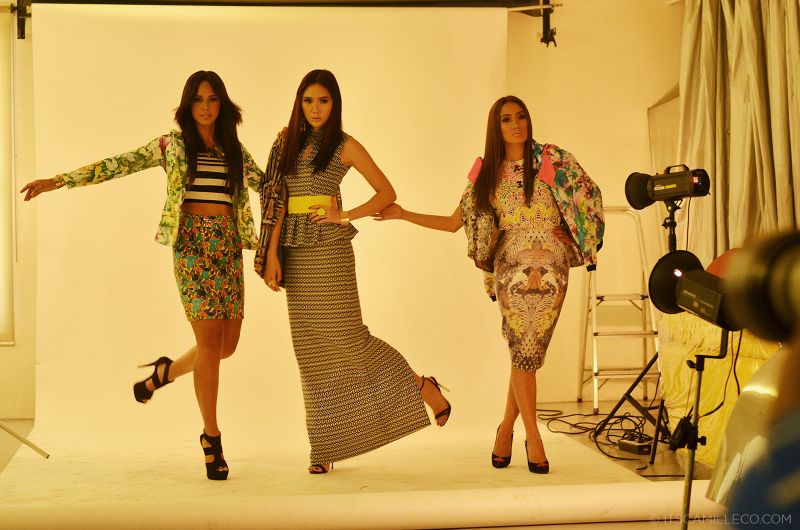 And for the BTS photos, here they are! Preview asked us to prepare our own print-on-print outfits for the shoot. As usual, they asked us to bring options. This was the first option. This is us trying to look fierce mid-jump!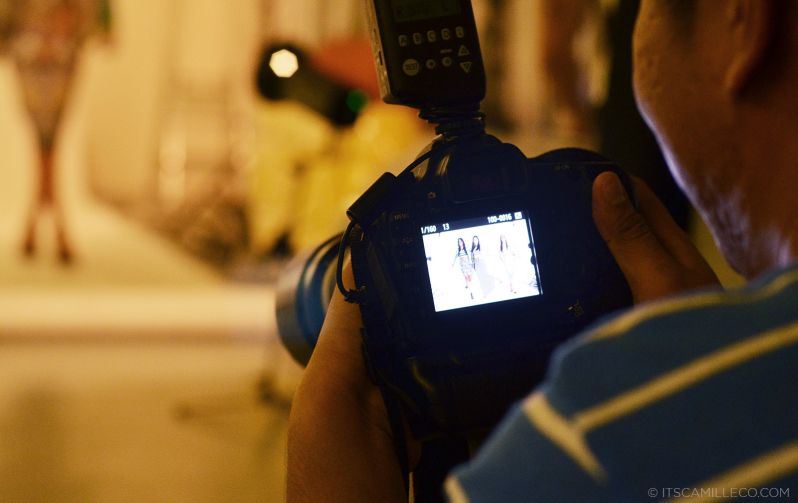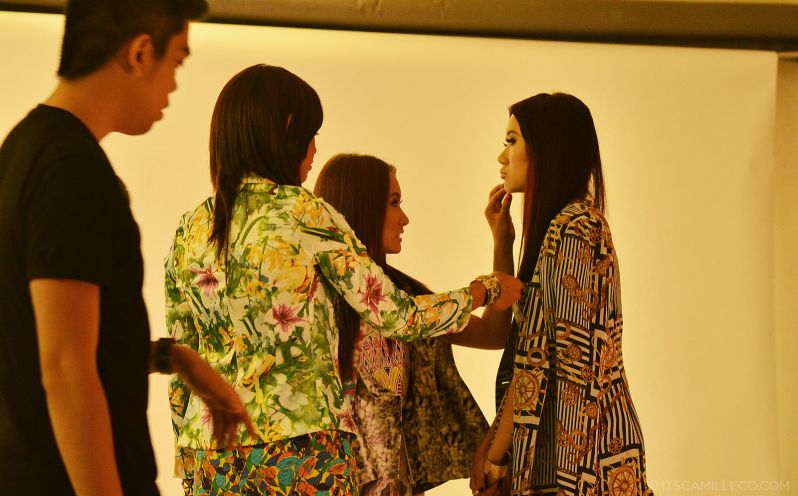 When you shoot with your friends, it's like you have an extra set of loving eyes. You watch out for each other and make sure everyone looks perfect. I love how this can easily be seen in this candid photo.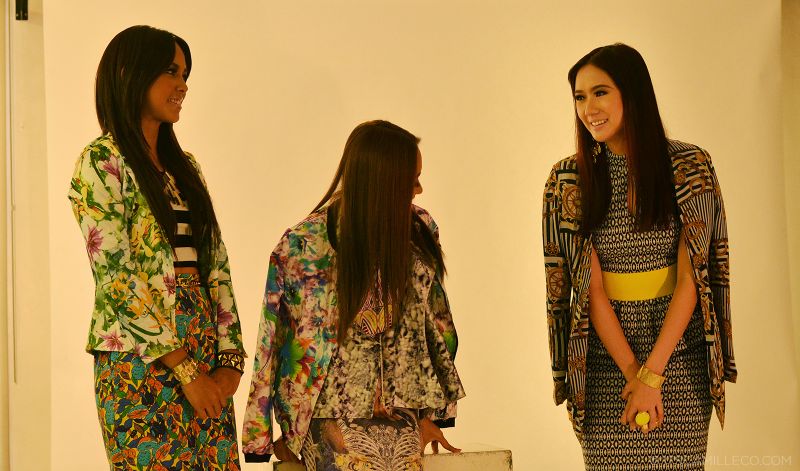 Needless to say, our shoot was so light, easy and full of laughs!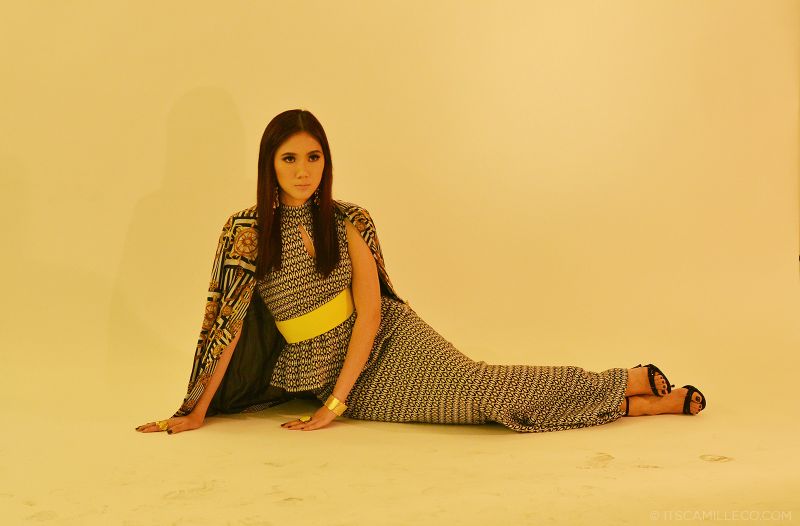 Meet Wednesday Adams. Har har! When our sittings editor, Lyca Puno, first showed me our hair peg. I told them jokingly, "Parang nahahalata ko nang may galit ang Preview sa bangs ko!" (rough English translation: "I'm somehow noticing that Preview has a little hatred towards my fringe.") LOL! Remember my Preview cover shoot? I'm not complaining though. I trust them completely and I believe the team knows exactly what they're doing. Who knows? Maybe if I'm lucky enough to be featured once again in Preview, they'll sweep my bangs to the back the next time. Side sweep, check! Middle part, check! That's the only hairstyle left to do! (Because I'm sure shaving my head isn't an option. Haha!) But seriously speaking, I love how Preview always tries to change our looks. I welcome it!
Too bad our outfits for this layout wasn't published though. To those wondering, this dress is available at MYTH, Greenbelt 5.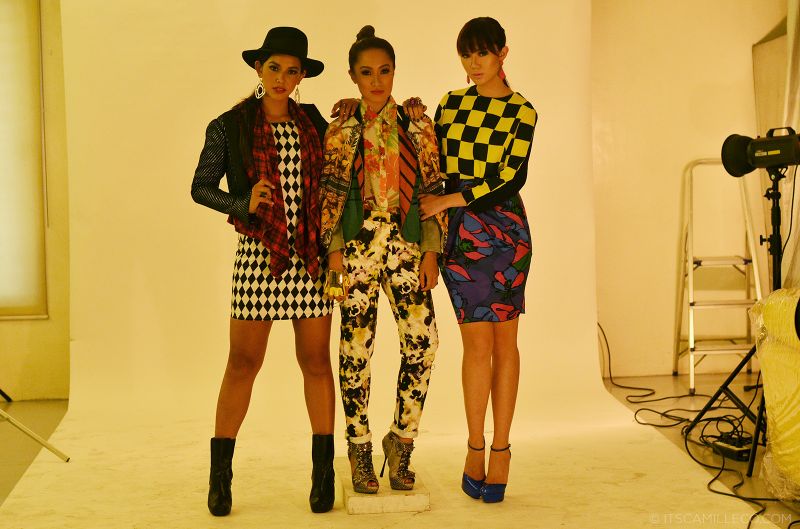 Here's the layout that made it to the magazine. It still baffles me how they were able to photoshop the apple box that Laureen's standing on away. It's so unbelievably cool!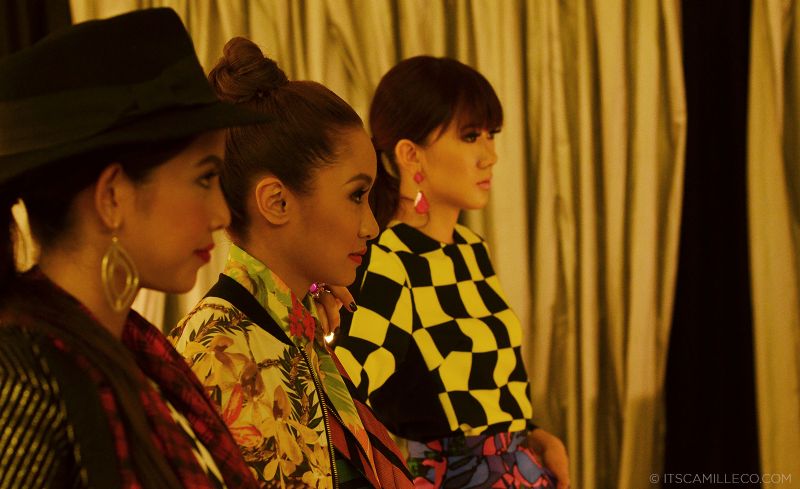 This is us listening intently to Preview's Eugene David.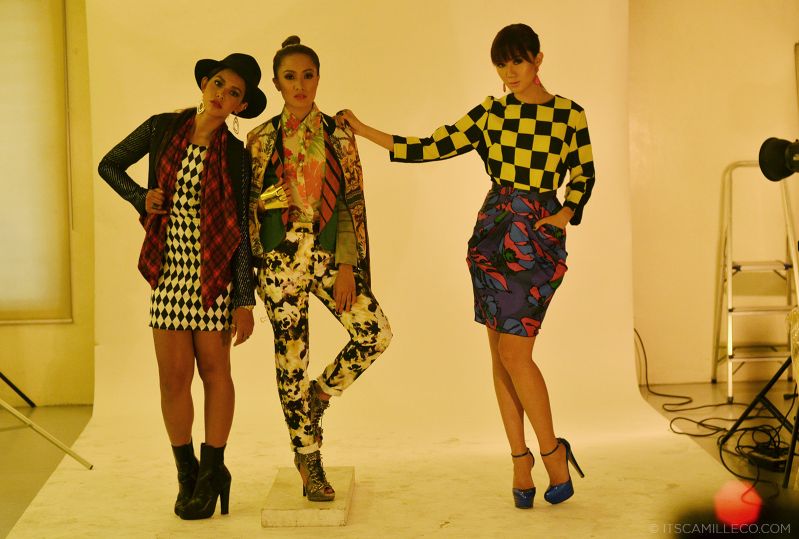 This is my favorite!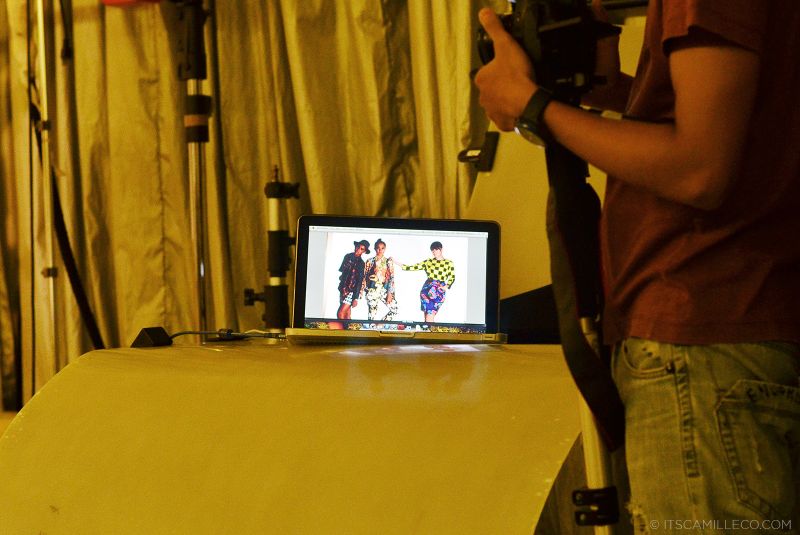 And that's a wrap! There's also a special behind-the-scenes video posted on StyleBible.ph. You can watch the video here and find out how I discovered that Laureen is holding a pair of my shoes hostage. I still have no idea what those shoes are. I will probably never know. LOL! Midnight Bonkers also made a special video of all the Best Dressed groups shown at the Preview Ball. You can watch that here.